2021 Big Ten/Big 12 Championship Watch Party
149 Is A Messy But Brutally Deep Weight At Big Tens
149 Is A Messy But Brutally Deep Weight At Big Tens
A breakdown of what makes 149 such a deep weight class and how to follow along at the 2021 Big Ten Championships.
Mar 5, 2021
by JD Rader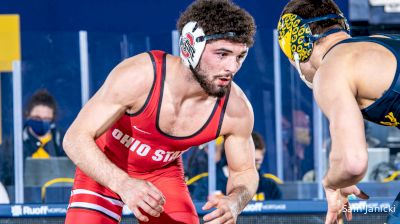 Unlock this video, live events, and more with a subscription!
Get Started
Already a subscriber? Log In
With Sammy Sasso leading the pack of 10 nationally ranked wrestlers, not including freshman hammer Beau Bartlett, 149 is a brutally deep weight with a lot of possible outcomes. While the action is live on the Big Ten Network, we'll be breaking it down from Flo HQ on a watch party. Here's everything you need to know about this 184 lbs bracket.
Watch the Big Ten/Big 12 Championships Watch Party LIVE on FloWrestling
Below are the pre-seeds, main storylines, and early matches to watch.
Pre-Seeds (7 auto qualifiers)
1. Sammy Sasso, Ohio State
2. Max Murin, Iowa
3. Griffin Parriott, Purdue
4. Yahya Thomas, Northwestern
5. Kanen Storr, Michigan
6. Michael Blockhus, Minnesota
7. Ridge Lovett, Nebraska
8. Mike VanBrill, Rutgers
9. Graham Rooks, Indiana
10. Peyton Omania, Michigan State
11. Beau Bartlett, Penn State
12. Drew Scharenbrock, Wisconsin
13. Christian Kanzler, Illinois
14. Michael North, Maryland
Can Sammy Sasso Bring Home An Individual Title For Ohio State?
Sammy Sasso was the #1 seed at the 2020 Big Ten Championships before getting tripped up in the finals by Pat Lugo. Undefeated against the field, including a pin over #2 Max Murin, Sasso isn't just a heavy odds-on favorite to make it back to the finals, but win it this time.
And this year, Sasso is Ohio State's only #1 seed and their best shot at bringing home a title to Columbus. Ohio State has had a Big Ten champion every year since 2011. Can Sasso keep that streak alive?
Watch Sammy Sasso pin Max Murin below.
The Mess In The Middle
Sasso and Murin are the consensus #1 and #2 wrestlers in the conference. Behind them, however, is quite a mess. Griffin Parriott is undefeated this year and received the #2 seed, but split matches with Yahya Thomas and was 0-1 against Kanen Storr last season. Michael Blockhus got the #6 seed with a win over Thomas in their last match of the season but a loss to Mike Van Brill in Van Brill's final match of the regular season. All the way down at #10 is Peyton Omania, but he beat #5 Storr 15-8 in his last match of the season.
As you can see, a lot of potential bracket busters and not an easy weight to predict.
How High Can Beau Bartlett Climb?
A potential bracket buster that a lot of people have circled is Penn State's Beau Bartlett. Bartlett has gone 7-1 so far during his true freshman campaign while splitting time between 141 and 149. His only loss was a 5-3 decision to Sasso, but his best win at 149 is Michigan backup Cole Mattin.
Coming out of high school, Bartlett was a four-time National Prep champion and the #4 overall recruit from the class of 2020. Being such a high recruit with so much talent, a lot of people are predicting Bartlett to finish much higher than his seed. His draw is less than favorable, however. He'll have to go through Blockhus, Parriott, and Murin just to make the finals.
Early Matches To Watch
#11 Michael Blockhus vs Beau Bartlett: the two have never wrestled

#7 Griffin Parriott vs #11 Michael Blockhus/Beau Bartlett: Parriott hasn't wrestled either

#8 Yahya Thomas vs #15 Kanen Storr: the two have never wrestled in folkstyle, but Thomas won at 2020 Senior Nationals