2021 Big Ten/Big 12 Championship Watch Party
Why 174 Might Be The Toughest Weight At Big Tens
Why 174 Might Be The Toughest Weight At Big Tens
Why you can't sleep on 174 in State College this weekend.
Mar 5, 2021
by JD Rader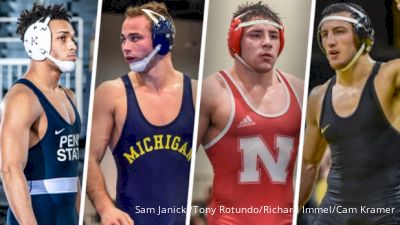 Unlock this video, live events, and more with a subscription!
Get Started
Already a subscriber? Log In
A lot of people talking about 285 and 141, but don't sleep on 174 in State College this weekend. The weight has the top three wrestlers and six of the top seven. While the action is live on the Big Ten Network, we'll be breaking it down from Flo HQ on a watch party. Here's everything you need to know about this 184 lbs bracket.
Watch the Big Ten/Big 12 Championships Watch Party LIVE on FloWrestling
Below are the pre-seeds, main storylines, and early matches to watch.
Pre-Seeds (8 auto qualifiers)
1. Michael Kemerer, Iowa
2. Mikey Labriola, Nebraska
3. Carter Starocci, Penn State
4. Logan Massa, Michigan
5. Donnell Washington, Indiana
6. Kaleb Romero, Ohio State
7. Jackson Turley, Rutgers
8. Jared Krattinger, Wisconsin
9. Jake Allar, Minnesota
10. Drew Hughes, Michigan State
11. DJ Shannon, Illinois
12. Emil Soehnien, Purdue
13. Troy Fisher, Northwestern
14. Philip Spadafora, Maryland
Is The Fourth Time The Charm For KemDawg?
Despite qualifying for NCAAs every year he's wrestled and never placing lower than fourth, Michael Kemerer has never won a Big Ten title. The two years he's made the finals, Kemerer has run into Mark Hall and Jason Nolf, so it hasn't been for lack of skill on Kemerer's end. This year is looking like his best odds yet as he is both the #1 seed and the #1 ranked wrestler in the country. KemDawg is 4-0 with two majors and a pin.
Listen to Michael Kemerer reflect on his 2020 Big Ten performance below.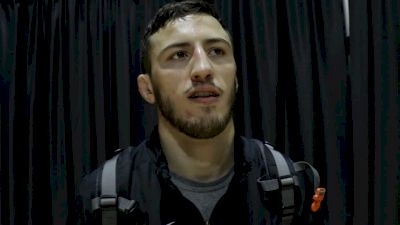 Unlock this video, live events, and more with a subscription!
Get Started
Already a subscriber? Log In
Labriola's Chance At Redemption
Kemerer's #1 seed didn't come without a bit of controversy. Mikey Labriola is 8-0 on the year with over a 50% bonus rate and a win over Donnell Washington. Kemerer did defeat Labriola last year in the dual and outplace him at Big Tens last year, so it is understandable why he is ranked higher and got the #1 seed, but here's the kicker: Labriola showed up to the Iowa dual and Kemerer did not. A lot of people thought Labriola should be rewarded for that and Kemerer punished, but the Big Ten coaches didn't see it that way and that's that.
Watch Michael Kemerer and Mikey Labriola's 2020 match below.
Super Semis
There is a decent chance the Kemerer - Labriola rematch doesn't even go down. I already touched on the top-two seeds, but 4-6 can't be ignored.
#3 Carter Starocci has looked tough this year outside of the Donnell Washington match, and Penn State peaks as good as anyone. Starocci already has a win over #6 Ethan Smith, which will go down again in the quarters. If we haven't seen the best version of Starocci yet, watch out.
If things go chalk, #4 Logan Massa is set to meet Kemerer in the semifinals. Massa will meet Washington in the quarters. Although Massa pinned Washington early in the season, Washington proved in his match with Starocci that he is dangerous and can't be slept on.
The Battle To Qualify
With the top three wrestlers in the country, the battle for the top spot will obviously be a tough one. However, with six of the top seven and ten total ranked in the top 25, the battle for the top spot won't be the only tough one. The fight just to qualify will be a tough one. With just eight allocation spots, that means at least two ranked wrestlers won't make it on Sunday and be left to hoping for an at-large bid.
Early Matches To Watch
#3 Carter Starocci vs #6 Kaleb Romero: Starocci won 2-1 in the regular season
#5 Logan Massa vs #7 DJ Washington: Massa won via fall in the regular season