2021 Big Ten/Big 12 Championship Watch Party
Who Gets The Horns? 165-Pound Big Ten Preview
Who Gets The Horns? 165-Pound Big Ten Preview
Previewing the Big Ten Conference Wrestling Championships at 165-pounds.
Mar 5, 2021
by Andrew Spey
Unlock this article, live events, and more with a subscription!
Get Started
Already a subscriber? Log In
Soon there will be a gathering where the Big Ten 165-pounders will vie for the great prize. While the fate of humanity does not hinge on the outcome, it is still a pretty big deal. As this strange covid season of 2021 reaches the conclusion, we find Alex Marinelli as the undisputed #1 seed, despite having only wrestled in two dual meets.
Who will be crowned 2021 Big Ten Champ? There can be only one.
Watch the Big Ten/Big 12 Championships Watch Party LIVE on FloWrestling
165 Pounds (8AQs)
1. Alex Marinelli, Iowa (#1)
2. Dan Braunagel, Illinois (#7)
3. Ethan Smith, Ohio State (#8)
4. Cameron Amine, Michigan (#13)
5. Andrew Sparks, Minnesota (#16)
6. Joe Lee, Penn State (#13)
7. Peyton Robb, Nebraska (#19)
8. Jack Tucker, Michigan State (#23)
9. Nick South, Indiana (#22)
10. Gerrit Nijenhuis, Purdue (#21)
11. Jonathan Spadafora, Maryland
12. David Ferrante, Northwestern
13. Brett Donner, Rutgers
14. Josh Otto, Wisconsin
Will The Bull See Red?
Alex Marinelli is the elder statesman of the conference. He's the only entrant in this bracket to have climbed the podium on Saturday, finishing sixth and seventh in 2018 and 2019 respectively. Before covid-19 canceled the 2020 tournament, Marinelli had locked up the #1 seed by dint of his 20-1 record and a win over Vincenzo Joseph in the 2020 Big Ten finals.
The Bull is also the only wrestler who is both a senior and ranked in the top 25 in the division. In short, Marinelli is the heavy favorite. The only potential unfavorable variable is the effects of having to sit out all but two matches this season due to everyone's least favorite coronavirus, the despised covid-19.
Watch Marinelli Dan Braunagel at last year's Big Ten tournament: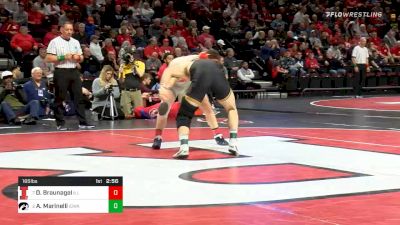 Unlock this video, live events, and more with a subscription!
Get Started
Already a subscriber? Log In
Don't Doubt The Commitment Of Sparkle Motion
You can't be successful in the Big Ten without being 100% committed, so don't doubt any of the contenders in the 165-pound division, even the youngins. One wrestler who has been proving doubters wrong all season is the true freshman from Minnesota by way of California, Andrew 'Sparkle Motion' Sparks.
Sparks is 8-1 on the season, with his only loss being an 8-4 decision to Alex Marinelli. He's also racked up wins over #19 Peyton Robb, #21 Gerrit Nijenhuis, and #23 Jake Tucker. Sparks also beat uber recruit and future Sun Devil Cael Valencia in the finals of the 2020 California State Championships. Though not a complete unknown, Sparks may end up being one of the best pickips from the class of 2020.
Watch Sparks drop a close one to Valencia at Doc B, which he would later avenge in the state finals: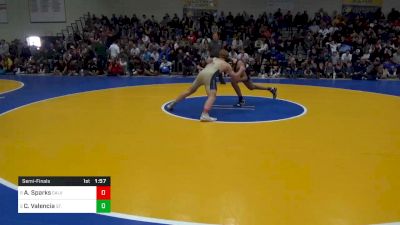 Unlock this video, live events, and more with a subscription!
Get Started
Already a subscriber? Log In
Besides #16 Andrew Sparks, expect #7 Dan Braunagel, #8 Ethan Smith, #13 Cam Amine, #14, Joe Lee, #19 Peyton Robb, #21 Gerrit Nijenhuis, #22 Nick South & #23 Jake Tucker to put forth maximum effort in State College, PA.
Other Contenders, Sleepers, and Landmines
I don't care what their records are, there are no easy outs at 165lbs in the Big Ten. The bottom four wrestlers according to the preseeds are a combined 2-21 on the season. That's life when you can only wrestle intraconference matches and the other 10 wrestlers in your weight class are all in the top 25.
So maybe it's not the expert analysis you came here to read, but everyone in this weight class is good. David Ferrante gave Sparks a 14-10 match. Jonathan Spadafora won 25 matches while redshirting last season, Josh Otto won 15. Brett Donner was 18-17 while starting varsity.
Sleep on any opponent at your own peril.
Most Anticipated Matchups
The quarters will be solid, particularly the 4/5 bout of Cam Amine vs Andrew Sparks, but the real fun is going to be in the backside of the bracket. Seeds 4 through 10 are all very close in talent level, and seeds 11 through 14 are all capable of an upset versus seeds 4 through 10.
So perhaps it's another cop-out but you can't go wrong with tuning in to any of these bouts. Marinelli is the only marquee name, but expect a scrap everywhere you look.
Spey's Spredictions
Nothing terribly groundbreaking with these picks. If Marinelli is healthy, he's winning this bracket, and he will likely pick up a pin or two along the way. Maybe he'll whip someone over with a cement job, maybe he'll bar an arm and figure-four someone's head. The man has options.
I'm saying Braunagel beats Smith for the second time this season in the semis, though revenge from Smith would not surprise me. And Sparks fends off all other challengers to the third-place bout but then Smith prevails.
Or not, these are just picks, I can't actually see into the future. Or can I?
1) Alex Marinelli, Iowa; 2) Dan Braunagel, Illinois; 3) Ethan Smith, Ohio State; 4) Andrew Sparks, Minnesota