2021 Big Ten/Big 12 Championship Watch Party
There Can Be Only One: 141-Pound Big Ten Preview
There Can Be Only One: 141-Pound Big Ten Preview
Previewing the Big Ten Conference Wrestling Championships at 141-pounds.
Mar 5, 2021
by Andrew Spey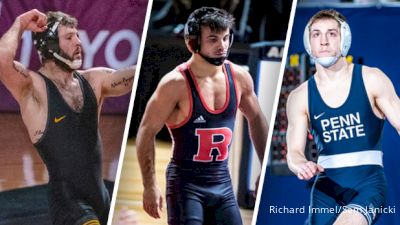 Unlock this article, live events, and more with a subscription!
Get Started
Already a subscriber? Log In
Soon there will be a gathering where the Big Ten 141-pounders will vie for the great prize. While the fate of humanity does not hinge on the outcome, it is still a pretty big deal. As this strange covid season of 2021 reaches the conclusion, we find the top four ranked wrestlers in the country all in the same conference.
Who will be crowned 2021 Big Ten Champ? There can be only one.
Watch the Big Ten/Big 12 Championships Watch Party LIVE on FloWrestling
141 Pounds (8AQs)
1. Jaydin Eierman, Iowa (#2)
2. Nick Lee, Penn State (#3)
3. Sebastian Rivera, Rutgers (#1)
4. Chad Red, Nebraska (#4)
5. Dylan Duncan, Illinois (#12)
6. Marcus Polanco, Minnesota (#22)
7. Dylan D'Emilio, Ohio State
8. Drew Mattin, Michigan
9. Parker Filius, Purdue
10. Cayden Rooks, Indiana
11. Danny Bertoni, Maryland
12. Matt Santos, Michigan State
13. Colin Valdiviez, Northwestern
14. Dominic Dentino, Wisconsin
The Big Three
There has been a debate raging all season long about who deserves the number one national ranking at 141-pounds. Unfortunately, due to the limited schedules of Iowa, Penn State and Rutgers, Eierman, Lee and Rivera have yet to face each other on the mat.
Flo's rankings differ from the Big Ten preseeds in that we weigh Rivera's past results at 125 and 133 a bit more heavily than the Big Ten coaches. This is an understandable interpretation of the results, as Lee and Eierman have both earned All-American status at 141. We're not making a judgment call, just pointing out the differences and explaining why we have Seabass #1, whereas the coaches seeded him #3.
It would also appear that neither Flo nor the coaches are factoring in freestyle results, otherwise, Lee would have the most recent win over Eierman. Counting only folkstyle results, it's Eierman's victory over Lee way back in the 2018 NCAAs that takes precedent.
Watch Lee defeat Eierman in a freestyle at 2019 Senior Nationals: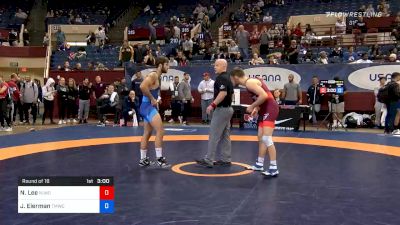 Unlock this video, live events, and more with a subscription!
Get Started
Already a subscriber? Log In
Watch Eierman take out Lee at the 2018 NCAA consolation semifinals: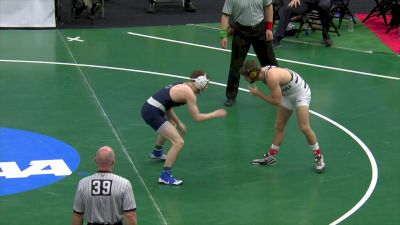 In any event, Lee, Eierman and Rivera have the most credentials, have beaten the most All-Americans and NCAA champs, and have the best odds of reaching the top steps of the NCAA podium in a few weeks.
Putting Some Respect On Chad Red's Name
More than a few people in Lincoln, Nebraska and elsewhere would take umbrage with the previous header. Like the so-called "Big Three", Chad Red is also a three-time All-American looking to become a four-timer in St. Louis. Additionally, neither Red nor any of the aforementioned title contenders have wrestled in an NCAA finals (although, in fairness, that may not be the case had covid not canceled the 2020 tournament).
Holding Red back in the rankings, and in the minds of various wrestling pundits, are the losses he's taken throughout his career, which would reflect negatively on his resume when compared to Rivera, Lee and Rivera.
However, we do not advise sleeping on Red. He has an electric style replete with pinning combos that make him dangerous in any match at any time.
Below is evidence to Red's deadly pinning abilities, in which a cement mixer is the weapon of choice: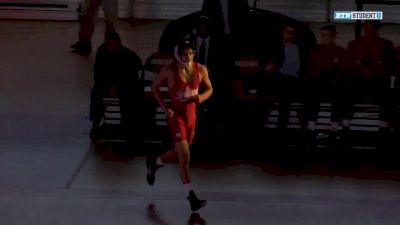 Unlock this video, live events, and more with a subscription!
Get Started
Already a subscriber? Log In
Other Contenders, Sleepers, and Landmines
Illinois' Dylan Duncan is the next highest-ranked (and seeded) wrestler outside the top quartet. He doesn't have the credentials as the top tier but he's got a win over 2021 MAC champ #9 Dresden Simon of Central Michigan.
Marcos Polanco also maintains a top 25 ranking thanks to his defeat of Parker Filius, who started the year in the top 25.
And look out for Colin Valdiviez, who only mustered a #13 pressed, but advanced to the round of 16 at the 2018 NCAA Championship.
Most Anticipated Matchups
Those early rounds will be entertaining but its the semifinals that everyone will have circled on their brackets. Assuming those four wrestlers all make it to the penultimate round, it'll look like this:
#1 Sebastian Rivera, Northwestern vs #3 Nick Lee, Penn State
#2 Jaydin Eierman, Iowa vs #4 Chad Red, Nebraska
Yes, that's awesome.
Spey's Spredictions
The big four seniors all have another potential year of eligibility, but if they do wrap up their careers in 2021, it will be in one of the gnarliest Big Ten brackets in recent memory. I don't think they'll get beat by anyone else outside that group of four, but I will predict that the Flo rankings will need a reordering at 141 after this tournament.
1) Jaydin Eierman, Iowa; 2) Nick Lee, Penn State; 3) Sebastian Rivera, Rutgers; 4) Chad Red, Nebraska