2021 Big Ten/Big 12 Championship Watch Party
Big Ten 125 Preview - Three Ranked Wrestlers Won't Auto Qualify
Big Ten 125 Preview - Three Ranked Wrestlers Won't Auto Qualify
With 11 of the 14 wrestlers in the national rankings, the battle to be an automatic NCAA qualifier will be a tough one.
Mar 3, 2021
by JD Rader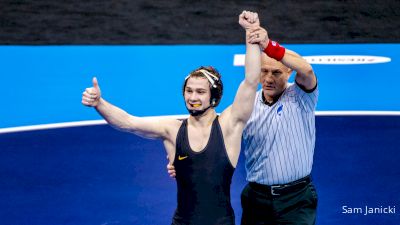 Unlock this video, live events, and more with a subscription!
Get Started
Already a subscriber? Log In
Reigning Hodge Trophy Award winner Spencer Lee looms large over the rest of the field at the lightest weight in the Big Ten. Don't let Lee distract you from the rest of the field, however. The battle to be an automatic NCAA qualifier will be a tough one. While the action is live on the Big Ten Network, we'll be breaking it down from Flo HQ on a watch party. Here's everything you need to know about this 125 lbs bracket.
Watch the Big Ten/Big 12 Championships Watch Party LIVE on FloWrestling
Pre-Seeds (8 auto qualifiers)
1. Spencer Lee, Iowa
2. Liam Cronin, Nebraska
3. Malik Heinselman, Ohio State
4. Patrick Mckee, Minnesota
5. Rayvon Foley, Michigan State
6. Eric Barnett, Wisconsin
7. Devin Schroder, Purdue
8. Michael DeAugustino, Northwestern
9. Dylan Ragusin, Michigan
10. Justin Cardani, Illinois
11. Robert Howard, Penn State
12. Jacob Moran, Indiana
13. Dylan Shawver, Rutgers
14. Zach Spence, Maryland
Spencer Lee Next Topic
Spencer Lee has somehow looked even better this season than he did last season when he won the Hodge. Granted, Lee has only wrestled four matches this year, but they have all ended via first-period pin and three came against top-15 ranked wrestlers. If Spencer somehow goes down here it would be one of the most unbelievably shocking.
Please watch this video narrated by Andrew Spey one year ago that still applies today.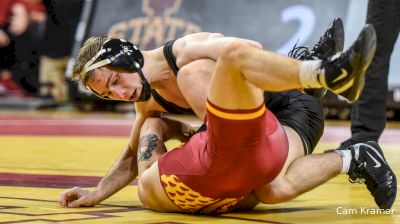 The Battle For Top 8
While it might be a one-pony race for the top spot, battle for spots 2-8 will be an absolute scrap. 11 of the 14 wrestlers are in the national rankings, meaning at least three will be left to hoping for a wildcard bid. Devin Schroder is the returning Big Ten finalist and he got the seven seed. Justin Cardani is on the outside looking in as of right now, but he does have a win over #6 Eric Barnett this season. The depth of this weight class will even make every consolation match tough, and not just tough but important. The consolation round of eights will help decide who gets to go to nationals and who doesn't.
How Will The True Freshmen Look?
Penn State's Robert Howard, Michigan's Dylan Ragusin, and Rutger's Dylan Shawver are three tough freshmen, with the limited matches this season, they sit at the nine, 11, and 13 seeds. They'll have to prove themselves in State College.
Ragusin split time between 125 and 133 this season, but now it's official that he's going 125 for the postseason. The true freshman has only wrestled three matches at 125 lbs, but that was enough to earn him the nine seed. The nine seed means Ragusin will have two tough opening matches. First, he'll have eight seed and #14 in the nation Michael DeAugustino followed by Spencer Lee if he wins.
Howard's draw isn't much better. As the 11 seed he'll have to go through the six, three, and two seeds just to make the finals. That means #10 Eric Barnett, #9 Malik Heinselman (who beat Howard 5-2 in the regular season), and #7 Liam Cronin. Talk about a tough draw.
Shawver received the 13 seed and is the most likely of these three to end up missing out on St. Louis. From Elyria, Ohio, Shawver was a three-time Ohio state place winner and likely champion before the tournament was canceled last year. He's 2-0 so far this season with wins over Brady Koontz and Kooper Loehr. Shawver is tough and earned the spot over Nic Aguilar, but he's got a large hill to climb. He'll have Heinselman first round.
Early Matches To Watch
First Round
#14 Michael DeAugustino vs #14 (133) Dylan Ragusin
#10 Eric Barnett vs #18 Robert Howard
#13 Devin Schroder vs #15 Justin Cardani
Quarters
#11 Patrick McKee vs #12 Rayvon Foley
#9 Malik Heinselman vs #10 Eric Barnett/#18 Robert Howard