Big Ten
Projecting Every Seed At The Big Ten Championships
Projecting Every Seed At The Big Ten Championships
An early look at what the Big Ten tournament seeds will look like.
Feb 26, 2021
by JD Rader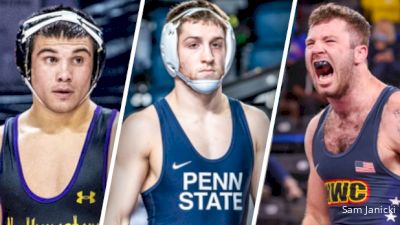 Unlock this video, live events, and more with a subscription!
Get Started
Already a subscriber? Log In
Unlock this article, live events, and more with a subscription!
Get Started
Already a subscriber? Log In
The post-season is here. We have to wait an extra week for the biggest and baddest conference tournament of them all, but that just gives us more time to preview, prognosticate, and predict what will happen. Below is the projected seed for every weight at the Big Ten tournament with the number of allocations listed below. Pre seeds will be released early next week.
125
Spencer Lee, Iowa

Liam Cronin, Nebraska

Malik Heinselman, Ohio State

Eric Barnett, Wisconsin

Patrick McKee, Minnesota

Rayvon Foley, Michigan State

Devin Schroder, Purdue

Michael DeAugustino, Northwestern

Justin Cardani, Illinois

Robert Howard, Penn State

Jack Medley, Michigan

Nic Aguilar, Rutgers

Jacob Moran, Indiana

Zach Spence, Maryland
Number of pre-allocations: 7
Pretty straight-forward here at the lightest weight. These are right in line with our Big Ten rankings. The only result putting a small wrench into things is Justin Cardani's 3-1 win over Eric Barnett. However, that was on January 17th and since then Cardani has gone 0-5 while Barnett has gone 4-0.
---
133
Roman Bravo-Young, Penn State

Austin Desanto, Iowa

Sammy Alvarez, Rutgers

Lucas Byrd, Illinois

Chris Cannon, Northwestern

Boo Dryden, Minnesota

Jordan Decatur, Ohio State

Kyle Burwick, Wisconsin

Jake Rundell, Purdue

Dylan Ragusin, Michigan

Tucker Sjomeling, Nebraska

Jordan Hamdan, Michigan State

Kyle Luigs, Indiana

Jackson Cockrell, Maryland
Number of pre-allocations: 7
Lucas Byrd and Chris Cannon present us with our first precedent I would like to set; when two wrestlers have similar resumes and one of them wrestles in the dual when the other doesn't, the one who wrestled should get rewarded. Byrd and Cannon's best win is both Boo Dryden and Cannon is undefeated while Byrd's only loss is to Austin Desanto. However, Cannon did not wrestle in the Illinois dual and Cannon pinned his replacement - Dylan Utterback. Therefore, Byrd gets the four seed.
I can see Dylan Ragusin going in two spots here: #7 or #10. I put him at #7 in the Big Ten Rankings because of Jack Medley's win over Jordan Decatur and Ragusin's common opponent win over Decatur in King Sandoval. However, that victory came at 125 and Ragusin has only wrestled two matches at 133, so I'm not so sure the Big Ten coaches will look as highly on that. I believe it is more likely that he fits into the 10 spot with his win over Jordan Hamdan. This matches Tucker Sjomeling's best win of the season and Ragusin's 3-0 record at 125 is enough to lift him above Sjomeling.
Watch Roman Bravo-Young and Austin Desanto square off in last year's Big Ten semifinals below.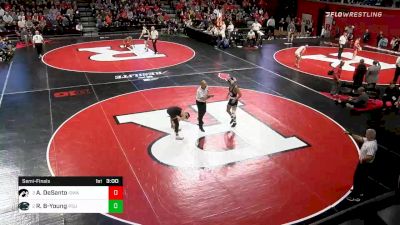 ---
141
Jaydin Eierman, Iowa

Nick Lee, Penn State

Sebastian Rivera, Rutgers

Chad Red, Nebraska

Dylan Duncan, Illinois

Marcos Polanco, Minnesota

Dylan D'Emilio, Ohio State

Parker Filius, Purdue

Drew Mattin, Michigan

Danny Bertoni, Maryland

Cayden Rooks, Indiana

Matt Santos, Michigan State

Colin Valdiviez, Northwestern

Dominic Dentino, Wisconsin
Number of pre-allocations: 7
The top three are highly up for debate here. However, I think the coaches will go in line with the most recent coaches' poll and have Jaydin Eierman #1, Nick Lee #2, and Sebastian Rivera #3.
It appears Dylan D'Emilio has earned the starting spot for Ohio State. This poses some issues as he earlier in the year he lost to Danny Pucino and Matt Santos. However, he now holds victories over both Parker Filius and Drew Mattin, so he fits in at #7. Santos falls to #12 with his losses to Mattin and Cayden Rooks.
Watch Jaydin Eierman and Nick Lee wrestle at the 2018 NCAA tournament below.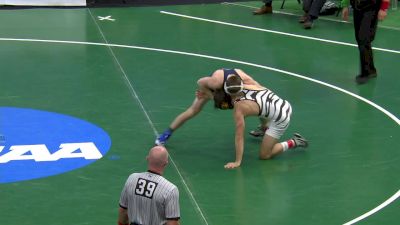 Unlock this video, live events, and more with a subscription!
Get Started
Already a subscriber? Log In
---
149
Sammy Sasso, Ohio State

Max Murin, Iowa

Michael Carr, Illinois

Griffin Parriott, Purdue

Michael Blockhus, Minnesota

Yahya Thomas, Northwestern

Kanen Storr, Michigan

Mike Van Brill, Rutgers

Ridge Lovett, Nebraska

Peyton Omania, Michigan State

Graham Rooks, Indiana

Drew Scharenbrock, Wisconsin

Beau Bartlett, Penn State

Michael North, Maryland
Number of pre-allocations: 6
149 is a bit of a mess. Michael Blockhus has wins over Yahya Thomas, Drew Scharenbrock, and Peyton Omania, but also a loss to Mike Van Brill and Brock Hardy, who Thomas beat. However, when it comes to conference seeding, head-to-head is critical. Omania upset Kanen Storr, but Storr stays ahead of Van Brill with a head-to-head win over him. Van Brill's win over Blockhus keeps him above Ridge Lovett, whose best win is Omania. Omania goes ahead of Graham Rooks because of his win over Storr.
---
157
Ryan Deakin, Northwestern

Kaleb Young, Iowa

Brayton Lee, Minnesota

Kendall Coleman, Purdue

Brady Berge, Penn State

Will Lewan, Michigan

Garrett Model, Wisconsin

Robert Kanniard, Rutgers

Chase Saldate, Michigan State

Elijah Cleary, Ohio State

Caleb Licking, Nebraska

Michael Doetsch, Maryland

Matt Ortiz, Indiana

Luke Odom, Illinois
Number of pre-allocations: 7
Actually pretty straight-forward seeding here. The only debatable spots are is #7 as Garrett Model and Robert Kanniard's resumes are basically identical. That seed could go either way and it wouldn't be wrong. Elijah Cleary and Caleb Licking also have similar resumes, but Licking's loss to Maxx Mayfield, who Matt Ortiz beat is holding him back. However, Licking has a head-to-head win over Ortiz and Michael Doestsch wrestled in the Maryland-Indiana dual when Ortiz did not, so Doetsch gets the #12 spot.
---
165
Alex Marinelli, Iowa

Danny Braunagel, Illinois

Ethan Smith, Ohio State

Cameron Amine, Michigan

Joe Lee, Penn State

Andrew Sparks, Minnesota

Peyton Robb, Nebraska

Jacob Tucker, Michigan State

Gerrit Nijenhuis, Purdue

Nick South, Indiana

Brett Donner, Rutgers

Jonathan Spadafora, Maryland

David Ferrante, Northwestern

Josh Otto, Wisconsin
Number of pre-allocations: 7
A nicely separated weight until #8 - #10. Jacob Tucker beat Gerrit Nijenhuis, Nijenjuis beat Nick South, and South beat Tucker. So, Tucker, who was a national qualifier last year and ranked the highest going into the fiasco, comes out on top followed by Nijenhuis and then South.
Brett Donner is actually 0-3 on the year but his losses came to Ethan Smith, Cameron Amine, and Andrew Sparks, so he stays ahead of Jonathan Spadafora. Spadafora's only win on the year is David Ferrante. Ferrante's only win on the year is Josh Otto.
---
174
Mikey Labriola, Nebraska

Michael Kemerer, Iowa

Carter Starocci, Penn State

Logan Massa, Michigan

DJ Washington, Indiana

Kaleb Romero, Ohio State

Jackson Turley, Rutgers

Jared Krattiger, Wisconsin

Jake Allar, Minnesota

Drew Hughes, Michigan State

DJ Shannon, Illinois

Emil Soehnlen, Purdue

Troy Fisher, Northwestern

Philip Spadafora, Maryland
Number of pre-allocations: 7
This could be the hottest contested seed of the tournament, and the coaches will more than likely will go with Michael Kemerer as the one because of his head-to-head victory over Mikey Labriola last season. However, they are both undefeated this season and Labriola wrestled in the dual when Kemerer did not. I think that should be rewarded.
Some might also be surprised to see Donnell Washington above Kaleb Romero, but Romero lost to Carter Starocci, and Washington beat Starocci.
---
184
Aaron Brooks, Penn State

Chris Weiler, Wisconsin

Owen Webster, Minnesota

John Poznanski, Rutgers

Max Lyon, Purdue

Layne Malczewski, Michigan State

Taylor Venz, Nebraska

Zac Braunagel, Illinois

Nelson Brands, Iowa

Rocky Jordan, Ohio State

Jelani Embree, Michigan

Kyle Cochran, Maryland

Jack Jessen, Northwestern

Drayton Harris, Indiana
Number of pre-allocations: 7
With Myles Amine up at 197, Aaron Brooks is the clear #1. #2 - #10 is a complete mess, however. I went with Chris Weiler #2 because although he lost to Rocky Jordan first match of the year, he has since beat Taylor Venz, Zac Braunagel, and Max Lyon while only losing to Brooks. Owen Webster has similarly come on strong at the end of the season but is being held back by his first loss of the season - freshman backup Nathan Haas and another early loss to Layne Malczewski. Webster's head-to-head victory over John Poznanski, who has wins over Jordan and Lyon, keeps him at #3. Lyon goes ahead of Malczewski because of his head-to-head win, despite that being Malczewski's only loss of the year. Venz ahead of Braunagel because he owns the head-to-head battle and similarly with Braunagel and Nelson Brands.
---
197
Eric Schultz, Nebraska

Myles Amine, Michigan

Jacob Warner, Iowa

Lucas Davison, Northwestern

Cameron Caffey, Michigan State

Michael Beard, Penn State

Thomas Penola, Purdue

Matt Wroblewski, Illinois

Gavin Hoffman, Ohio State

Billy Janzer, Rutgers

Nick Willham, Indiana

Garrett Joles, Minnesota

Jaron Smith, Maryland

Andrew Salemme, Wisconsin
Number of pre-allocations: 5
Interesting situation for the top seed here. In the Big Ten rankings, I put Amine #1 because he is a three-time All-American never placing lower than fourth, and already has wins over #5, #6, and #9 in the Big Ten. However, I am inclined to believe that seeds will be more like the latest coaches' poll with Eric Schultz #1 and Amine #2. With only three matches at 197, there is a possibility that Amine falls down below Jacob Warner and Lucas Davison as well, but his win over Cam Caffey will keep him no lower than #4.
---
285
Gable Steveson, Minnesota

Mason Parris, Michigan

Anthony Cassioppi, Iowa

Luke Luffman, Illinois

Christian Lance, Nebraska

Trent Hillger, Wisconsin

Tate Orndorff, Ohio State

Christian Colucci, Rutgers

Jamarcus Grant, Purdue

Christian Rebottaro, Michigan State

Greg Kerkvliet, Penn State

Jack Heyob, Northwestern

Rudy Streck, Indiana

Garrett Kappes, Maryland
What to do with Greg Kerkvliet? That might not just be the biggest question at this weight, but of the entire tournament. The freshman has two wins this year, both over winless Maryland heavies. Jack Heyob and Rudy Streck each only have one win on the season and it's Garrett Kappes for both. So, I think Kerkvliet slides in at #11 ahead of those three. However, the coaches could take into consideration his win of Cornell's Lewis Fernandes last year as a redshirt into play and put him at #7 or #8.
Watch Gable Steveson break down his 2020 Big Ten final with Mason Parris below.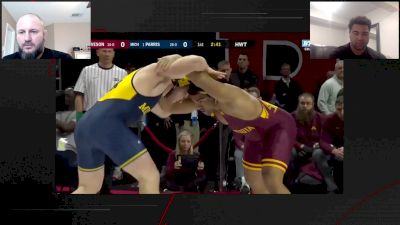 Unlock this video, live events, and more with a subscription!
Get Started
Already a subscriber? Log In