Stars & Storylines For High School State Tournaments On Trackwrestling
Stars & Storylines For High School State Tournaments On Trackwrestling
Trackwrestling has an outstanding group of high school stars on display this weekend. Check out the biggest storylines here.
Feb 25, 2021
by Andy Hamilton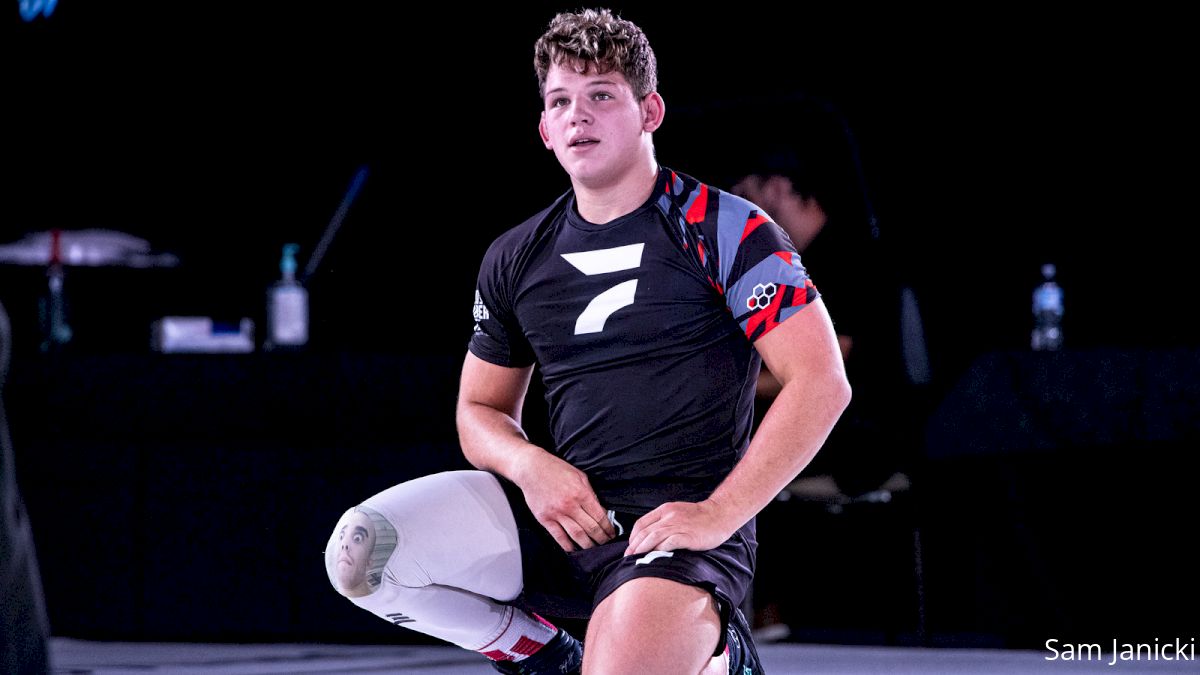 The turning point of Tate Picklo's sparkling high school career occurred three years ago after one of his prep goals crumbled in the Oklahoma state finals.
A major decision defeat destroyed Picklo's dream of winning four Oklahoma high school championships. But the season-long journey also crystallized his long-term vision in the sport.
"A lot of kids going into high school have the goal of (being a) four-time state champ, undefeated high school (career)," Picklo said. "At the time, I had that goal, but I kind of thought it was unrealistic, to be honest, until I started wrestling my freshman year and started doing really well. My freshman year I ended up having three losses and one of them was in the state finals. After that year I realized this could actually be something I could be forward (with), go D1 and accomplish some of my dreams in."
Since that loss in the 2018 Oklahoma state finals, Picklo has reeled off 114 consecutive victories. He also made a Cadet Greco-Roman World Team, ascended to the top of the national rankings at 195 pounds and signed a letter of intent to continue his career in college at Oklahoma.
This weekend he'll aim to wrap up his high school career with a third Oklahoma state title. He's 24-0 this season and one of two unbeaten wrestlers in the Class 6A bracket at 195. The other is Bixby sophomore Jersey Robb. Picklo pinned Robb last year in 49 seconds in the state finals.
In all, more than 40 nationally-ranked competitors are set to take the mat this weekend in state tournaments streamed on Trackwrestling.
Here's a look at some more of the stars and storylines to follow:
— This week's eight-state lineup showcases two of the nation's top-ranked individuals — Picklo and 145-pounder Cody Chittum. Both solidified spots atop their respective weight classes last fall with victories at Who's No. 1.
Chittum is bidding for another state title in Tennessee. He won his first as a seventh grader in 2018 when he pinned his way through the DII 120-pound bracket. The heavy-handed sophomore is an even different animal this time around after spending last year testing his skills against a Blair Academy schedule. Chittum won the Beast of the East last year, placed second to Beau Bartlett at National Preps and put on a dominant display against two-time Oklahoma state champ Jordan Williams as part of the Jordan Burroughs-David Taylor card.
— Tennessee's rising talent tide will be on display this week in Chattanooga. In addition to Chittum, five more nationally-ranked competitors are in the Tennessee state tournament field, including three from Baylor Academy: Returning state champs Nick Corday, Garrison Dendy and David Harper.
Baylor had 13 state medalists last year, all of whom placed fourth or better.
— Rylan Rogers wrestled alongside Chittum last year at Blair Academy before the COVID-19 pandemic put the Buccaneers' season in limbo and spurred Rogers to return to the Inland Northwest.
The second-ranked 182-pounder will vie for an Idaho state title this weekend for Coeur d'Alene, where teamed up with fourth-ranked 145-pounder Drew Roberts. Rogers takes a 7-0 record into the state tournament. He's competing at 195.
— Kyle Rice is chasing his third Idaho state title this year as a junior, putting him on track to match his brother Joe, who won four championships. But Kyle's quest to match his brother nearly ended before it began — in shop class of all places.
You might recall Rice's story from this Writing Time piece two years ago. He suffered a severe hand injury during a shop class accident roughly a month before the state tournament. Doctors advised Rice not to wrestle, telling him he'd have to deal with excruciating pain. He wrestled anyway and pinned his way through the postseason.
Rice breezed through his bracket last year as a sophomore and enters this year's tournament 33-0.
— Oklahoma's top 6A programs have staged a season-long tug-of-war for supremacy. Stillwater and Mustang downed Broken Arrow in dual meets. Broken Arrow topped the other two squads at the Bud Gainer Broken Arrow Classic and finished ahead of Stillwater last weekend at the regional tournament. And Edmond North captured the COAC Tournament title, beating a field that included Stillwater and Mustang.
It's a different game in Oklahoma City, though.
Broken Arrow and Mustang finished 1-2 at the state tournament each of the past two years. Stillwater turbo-charged its title hopes with an influx of talent, adding three-time Missouri state champ Teague Travis and brothers Anthony and Angelo Ferrari to a roster that already included state champions Cael Hughes and Carter Young.
One of the subplots to the 6A team race is a potential rivalry in the making at 160 pounds. Stillwater's Anthony Ferrari is 22-0 and ranked sixth nationally. Mustang's John Wiley is 33-1 and ranked seventh. Ferrari is headed to Oklahoma State. Wiley is committed to Oklahoma.
Their previous meeting this season went to overtime. Ferrari claimed a 3-1 victory. They're on opposite sides of the bracket this week.
— Oklahoma's four-time state champion club includes a collection of household wrestling names, including Olympic gold medalist Kenny Monday, Hodge Trophy winner T.J. Jaworsky, NCAA champions Teyon Ware, Michael Lightner and Chris Perry and Junior World champion Daton Fix and nearly three dozen others. But only pair of teammates has entered the club in the same year. Collinsville's Gary Wayne Harding and Will Steltzlen won their fourth titles together in 2014. Skitook's Josh Taylor and Cougar Anderson are trying to duplicate the feat this week in Class 4A.
In Class 3A, Cascia Hall's Eli Griffin is also trying to win his fourth state title.
— Wrestling tradition runs as deep as the red clay in Oklahoma. Two of the nation's top long standing powers reside inside state borders.
There's a monument park celebrating the sport and hometown hero Danny Hodge in Perry, home of the nation's most-decorated high school dynasty. The Maroons have won a national-record 43 state titles and haven't gone more than two years without a championship since 1961. They finished second last season and they face an uphill climb this weekend in Class 3A.
Tuttle is seeking its 12th consecutive state title in Class 4A. Last year's squad piled up 247 points and finished 131 ahead of second-place Cushing.
— The Frost twins made Louisiana wrestling history in October when they became the state's first Super 32 placewinners. Jacob Frost placed fourth at 126 while his brother Evan placed eighth at 120. The juniors are each seeking their third state title this week.
— Oklahoma and South Dakota will stage their first sanctioned girls state tournament this week, while Kansas holds its second girls championship. Oklahoma's girls tournament is expected to have nearly 100 participants, while 88 girls are entered in the South Dakota state tournament.
"We are excited by the continual growth of girls' wrestling in South Dakota," South Dakota High School Athletic Association assistant executive director John Krogstrand in a news release. "We had over 150 female participants in wrestling this regular season, a 3-to-1 increase over last year, and are excited that these championships will help us highlight our newest sport."
— South Dakota's Class A tournament ended last February with back-to-back falls and quite possibly a passing of the torch from one legendary high school big guy to another. Moments before Nebraska-bound defensive line prospect Nash Hutmacher became the state's first four-time heavyweight champion, eighth-grader Navarro Schunke took the first step toward one-upping Hutchmacher.
Schunke wrapped up a 39-2 season by pinning his way through the 220-pound bracket. Schunke moved up to heavyweight this season and he carries a 39-0 record into the South Dakota state tournament.
Navarro Schunke (Brandon Valley) just won a 220-pound South Dakota state title as an eighth-grader. #trackwrestling pic.twitter.com/Bu3D5y830h

— Trackwrestling (@trackwrestling) March 1, 2020
RANKED WRESTLERS COMPETING IN STATE TOURNAMENTS THIS WEEK ON TRACKWRESTLING
HIGH SCHOOL BOYS
Delaware
113 — No. 5 Gabe Giampietro (Smyrna)
Idaho
145 — No. 4 Drew Roberts (Coeur d'Alene)
182 — No. 2 Rylan Rogers (Coeur d'Alene)
Kansas
106 — No. 10 Nick Treaster (Newton)
182 — No. 20 Jared Simma (Overland Park-St. Thomas Aquinas)
195 — No. 9 Quentin Saunders (Wichita West)
285 — No. 19 Ethan Kremer (Shawnee-Mill Valley)
Oklahoma
120 — No. 13 Cael Hughes (Stillwater)
126 — No. 18 Cole Brooks (Collinsville)
126 — No. 20 Eli Griffin (Cascia Hall)
132 — No. 19 Zach Blankenship (Bixby)
138 — No. 4 Carter Young (Stillwater)
145 — No. 15 Teague Travis (Stillwater)
152 — No. 9 Jordan Williams (Collinsville)
160 — No. 6 Anthony Ferrari (Stillwater)
160 — No. 7 John Wiley (Mustang)
170 — No. 16 Cougar Anderson (Skiatook)
195 — No. 1 Tate Picklo (Mustang)
220 — No. 8 Harley Andrews (Tuttle)
220 — No. 9 Emmanuel Skillings (Broken Arrow)
South Dakota
285 — No. 18 Navarro Schunke (Brandon Valley)
Tennessee
113 — No. 18 Nick Corday (Baylor Academy)
120 — No. 20 Keyveon Roller (Lakeway Christian)
138 — No. 10 Garrison Dendy (Baylor Academy)
145 — No. 1 Cody Chittum (Cleveland)
170 — No. 11 Alex Whitworth (McCallie)
195 — No. 12 David Harper (Baylor Academy)
HIGH SCHOOL GIRLS
Kansas
122 — No. 16 Jordyn Knecht (Paola)
127 — No. 17 Madyson Gray (Lawrence Free State)
144 — No. 25 Livia Swift (Pratt)
225 — No. 24 Dajia Anderson (Topeka Washburn Rural)
Oklahoma
106 — No. 8 Alexis Miller (Wagoner)
106 — No. 20 Jordan Blair (Bethel)
117 — No. 11 Allison Hynes (Broken Arrow)
117 — No. 21 Khaleah Kirk (Guthrie)
127 — No. 15 Kearanie Johnson (Claremore)
164 — No. 10 Symphony Veloz (Elgin)
180 — No. 6 Ki'Eisha Cathey (Broken Arrow)
180 — No. 19 Sidney Milligan (Owasso)
200 — No. 2 Olivia Brown (Broken Arrow)
South Dakota
112 — No. 11 Paige Denke (Rapid City Stevens)
127 — No. 13 Taylor Fierback (Spearfish)
Tennessee
112 — No. 21 Kerra Strevel (Knoxville Heritage)
164 — No. 15 Maggie Graham (Bartlett)
164 — No. 17 Shelby Zacharias (Creek Wood)
200 — No. 17 Ariyanna Anderson (Creek Wood)
225 — No. 11 Valerie Smith (Nashville McGavock)