2021 EIWA Championship
2021 EIWA Championship Analysis And Predictions
2021 EIWA Championship Analysis And Predictions
In which we dig into the 117th EIWA Championship preseeds and analyze what that means for the wrestling programs at the competition.
Feb 24, 2021
by Andrew Spey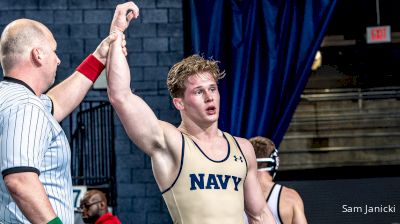 Unlock this article, live events, and more with a subscription!
Get Started
Already a subscriber? Log In
The EIWA Championships will be a one-day tournament for the first time since the Taft Administration, meaning by Friday we'll know the names of the first 45 qualifiers for the NCAA Tournament.
Watch the 117th EIWA Championship LIVE on FloWrestling
February 26 | 10:00 AM ET
That's a lot of qualifiers for a conference that will be missing its Ivy League members and F&M due to covid. But no matter what you think the allocations should have been, we're still going to crown ten new conference champs and punch those 45 tickets to nationals.
There will still be at-large bids for those who don't snag a bid in Manheim, PA, but unless you're one of the following wrestlers: #3 at 184 Louie DePrez of Binghamton, #9 at 165 Zach Hartman of Bucknell 165, #10 at 149 Kizhan Clarke of American 149, #10 at 174 Michael O'Malley of Drexel 174, #11 at 157 Markus Hartman of Army 157, or #11 at 285 Jordan Wood of Lehigh, you're probably going to be on the outside looking in.
Those guys were all the top nationally-ranked wrestlers in the EIWA, by the way.
Team Score Breakdown
Taking the pre-seeds and assigning tournament point values as if they were placements, we get the following team score point matrix.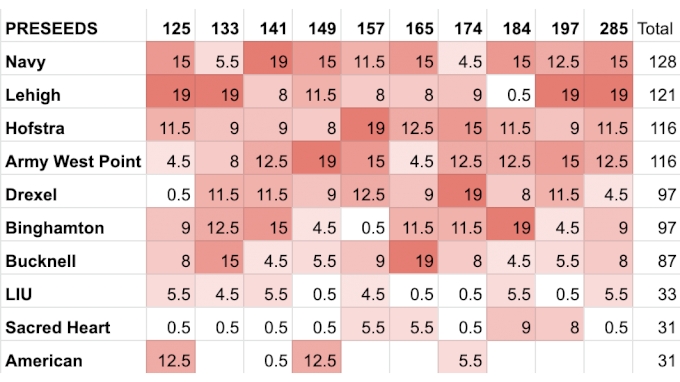 Of course this won't match up exactly with reality, but this gives us a pretty good idea of what to expect from the team race. Even without the Cornell and the Ivies, Lehigh is going to have their work cut out for them if they want achieve a four-peat.
History will be made one way or another. If any team besides Lehigh takes the title, it'll be the first time that a program other the Mountain Hawks or Cornell won 'the Easterns' since 2001, when Harvard claimed the championship.
Navy hasn't won a title since 1990. If Cary Kolat leads the Midshipmen to a title in his first year as head coach it would be the program's 14th ever. Arch-rival Army is another contender. The Black Nights haven't won an EIWA title since 1987. Which is their only title in program history.
Other contenders include Hofstra, Drexel, Binghamton, and Bucknell, which would all be hoisting their first championship in school history if they earn the title. More historical results can be found here, if that's your thing.
125 Pounds - 3 AQs
Jaret Lane is one of the many young talents that have been thrust into the Mountain Hawk lineup in 2021. He defeated Navy's Logan Treaster in a 1-0 nailbiter and earned the #1 seed as a result.
That was Treaster's only loss on the season. He's an All-American threat, as is Gage Curry, who is one of four American University athletes who will finally see action for the first time this season at EIWAs. Curry is a three-time national qualifier and not to be underestimated.
Don't have dark horses for every weight class but I think Army's Ryan Chauvin is going to finish above his #8 seed, though a top-three finish is likely not in the cards.
Predictions: 1) Treaster, Navy 2) Lane, Lehigh 3) Curry, American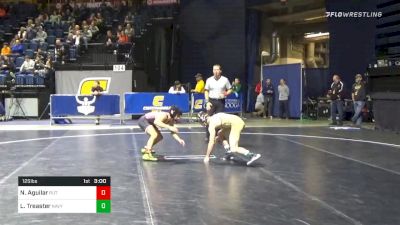 Unlock this video, live events, and more with a subscription!
Get Started
Already a subscriber? Log In
---
133 Pounds - 3 AQs
Malyke Hines, another true frosh from Lehigh, snagged the top seed thanks to his victory over the ranked Zach Trampe of Binghamton, who is ranked in the top 25 up at 141.
This is a wide-open weight class though. Army's Mark Montogmery beat Darren Miller of Bucknell, who defeated Tony Madrigal, a 2020 national qualifier for Oklahoma.
Binghamton's Anthony Sobotker beat Montgomery, who lost to Lehigh's Mitch Polito, who is backing up Hines. Sobotker also beat Rider's Richie Koehler of Rider, who handed Drexel's Chandler Olson his only loss of the short season. Olson beat Hofstra's Garrett Lambert, who beat Montgomery.
And so on and so forth. Dark horses would be just about everyone. Or nobody, depending on how you look at it.
Predictions: 1) Sobotker, Binghamton 2) Hines, Lehigh 3) Montgomery, Army
---
141 Pounds - 5 AQs
Lehigh rolling out another freshman in Connor McGonagle, this time of the redshirt variety, so it appears we won't see senior Brandon Paetzell this postseason, which is very unfortunate. McGonagle is a talented wrestler but took losses to Navy's Cody Trybus and Army's Lane Peters, who will both be favorites to earn an AQ in PA.
The aforementioned Zach Trampe should also safely qualify for nationals. After that trio, we should see a battle for the final two NCAA spots. Tyler Williams of Drexel and Vinny Vespa are the front runners. Long Island University's Drew Witham has an outside shot of becoming the Sharks' first ever D1 national qualifier at this weight.
Predictions: 1) Trampe, Binghamton 2) Peters, Army 3) Trybus, Navy 4) Vespa, Hofstra 5) McGonagle, Lehigh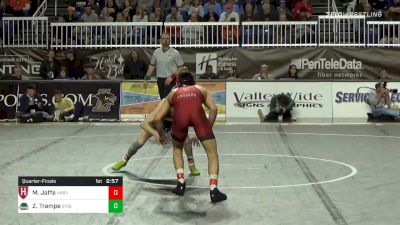 Unlock this video, live events, and more with a subscription!
Get Started
Already a subscriber? Log In
---
149 Pounds - 4 AQs
This may be the conference's deepest weight class, which should make for a dog fight for those four AQs.
Kizhan Clarke hasn't wrestled all year, but the AU senior qualified for 2020 NCAAs, amassing 37 wins on the season. He beat Army's PJ Ogunsanya at last year's EIWAs, but due to lack of activity this year it looks like the top seed will go to Ogunsanya, who beat Casey Cobb and Jimmy Hoffman in 2021.
That was Cobb's only loss this season, who beat U23 finalist Hoffman in Navy and Lehigh's dual.
Clarke is ranked #10, while Ogunsanya is #25, with Cobb and Hoffman right on the bubble. That's a quality foursome, which mean's Drexel's Luke Nichter and 2020 qualifier Greg Gaxiola, a former Fresno State wrestler now at Hofstra, will have to be at the top of their games if they want to punch a ticket to St Louis on Friday.
Predictions: 1) Clarke, American 2) Ogunsanya, Army 3) Cobb, Navy 4) Hoffman, Lehigh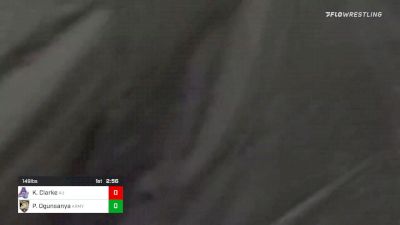 Unlock this video, live events, and more with a subscription!
Get Started
Already a subscriber? Log In
---
157 Pounds - 5 AQs
Holden Heller of Hofstra will try to hold down that #1 spot he earned by pinning Army's very accomplished Markus Hartman. Hartman spent all of this season and most of last season ranked thanks to wins over the likes of Zach Hartman of Bucknell and Princeton's Quincy Monday (and a win over Heller that was avenged this season).
Both Heller and Hartman should have no problem qualifying for NCAAs with five spots available. I also expect true frosh Andrew Cerniglia to claim one of those top five placements without too much difficulty.
And can Nick Palumbo be Sacred Heart's first NCAA qualifier since 2007? We'll find out soon!
Predictions: 1) Hartman, Army 2) Cerniglia, Navy 3) Heller, Hofstra, 4) Kropman, Drexel 5) Palumbo, Sacred Heart
---
165 Pounds - 5 AQs
Zach Hartman of Bucknell bumped up a weight class in the middle of last season, snuffing out the best Hartman vs Hartman rivalry in the NCAA. While he may have the #1 seed this season, he'll face a serious challenge from two-time defending EIWA champ Tanner Skidgel of Navy.
Skidgel defeated Hartman in the EIWA finals last season, and the two did not meet this season, so I'm not sure if those seeds won't change by first whistle, as Skidgel is 9-1 with the lone loss coming out-of-conference to #6 nationally Jake Wentzel of Pitt.
With five AQs available it ultimately shouldn't make much of a difference. Ricky Stamm of Hofstra and Brevin Cassella are both undefeated on the year but will be underdogs against either Hartman or Skidgel.
Also of note is Evan Barczak of Drexel who is 4-1, with a loss coming at the hands of Rider's Jake Silverstein in tiebreakers, who was defeated by Binghamton's Cassella 3-2.
Predictions: 1) Skidgel, Navy 2) Hartman, Bucknell 3) Casella, Binghamton 4) Stamm, Hofstra 5) Barczak, Drexel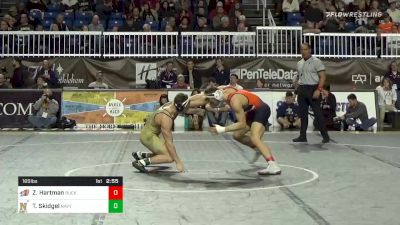 Unlock this video, live events, and more with a subscription!
Get Started
Already a subscriber? Log In
---
174 Pounds - 5 AQs
Drexel's Mike O'Malley is the most well-known commodity of the division. He is a 2020 qualifier and is 5-0 in 2021. He'll be the favorite to claim an EIWA title against a relatively inexperienced field.
Army's Ben Pasiuk, for instance, was able to snag the #3 seed with just a 2-0 record. He did beat Lehigh's redshirt freshman and #5 seed Jake Logan in one of those matches. McFarland of Hofstra is the #2 seed and is also a redshirt freshman. And Binghamton's Nolan is a true sophomore and #4 seed.
Predictions: 1) O'Malley, Drexel 2) Pasiuk, Army 3) Nolan, Binghamton 4) McFarland, Hofstra 5) Logan, Lehigh
---
184 Pounds - 6 AQs
Louie DePrez is the highest-ranked wrestler in the EIWA at #3 nationally, and he should easily qualify for NCAAs. He'll be the heavy favorite to win an EIWA title, but be prepared to be wowed by Navy's David Key, a freshman from Georgia.
Key wrestled a full collegiate schedule last year with the Navy Prep program and pinned NCAA qualifier Anthony Montalvo of Oklahoma State and wrestled #2 Trent Hidlay tough in a 3-2 loss along the way.
Drexel's Josh Stillings' did his high school wrestling not far from Manheim, PA, and may be able to sneak into that final qualifying spot close to home. Sacred Heart has another good opportunity to qualify a wrestler for NCAAs with Joe Accousti. The last time the Pioneers had two wrestlers at Nationals was 2006.
Predictions: 1) DePrez, Binghamton 2) Key, Navy 3) Brown, Army 4) Accousti, Sacred Heart 5) Small, Hofstra 6) Stillings, Drexel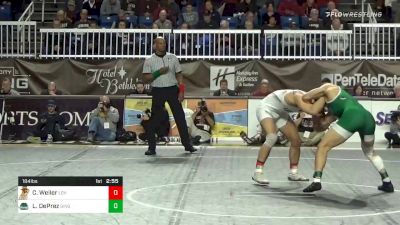 Unlock this video, live events, and more with a subscription!
Get Started
Already a subscriber? Log In
---
197 Pounds - 5 AQs
Jakobsen of Lehigh avenged a loss to Army's JT Brown that he suffered in the EIWA last season in a dual meet this season. That earned him pole position in a weight class that both he and Brown should have no trouble navigating their way to an AQ.
Navy's Koser and Drexel's McLaughlin are right there with him, and they should make for a dynamite semifinal round. The highly sought-after fifth-place will likely go to Hofstra's Trey Rogers, who beat Sam DePrez last season, and Robert Hetherman this year. Hetherman beat Mason McCready and TJ Frandan, which rounds out the competitors in the bracket.
Predictions: 1) Jakobsen, Lehigh 2) Brown, Army 3) McLaughlin, Drexel 4) Koser, Navy 5) Rogers, Hofstra
---
285 Pounds - 4 AQs
Jordan Wood will be the only participant at this year's event who has stood on an NCAA All-American podium. He probably wouldn't be the only one if there was a tournament last year, but regardless, he is a supremely talented heavyweight that should win his fourth EIWA title, which is quite an accomplishment regardless of the circumstances.
Birchmeier of Navy is undefeated on the year, having beaten Army rival Heald, securing the second seed, and should meet Wood in the finals.
Expect a battle between Knighton-Ward of Hofstra and Doyle of Binghamton for the final AQ spot, which would happen in the consolation semifinals if everything plays out according to seed.
Predictions: 1) Wood, Lehigh 2) Bichmeier, Navy 3) Heald, Army 4) Doyle, Binghamton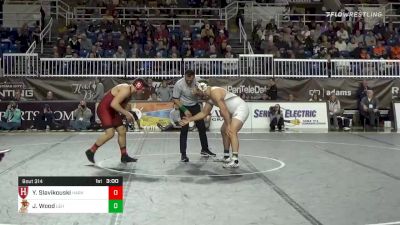 Unlock this video, live events, and more with a subscription!
Get Started
Already a subscriber? Log In