2021 Hodge Rankings Update #3
2021 Hodge Rankings Update #3
Now closing in on the final stretch of the season, who is still in contention to win the Dan Hodge Trophy?
Feb 22, 2021
by JD Rader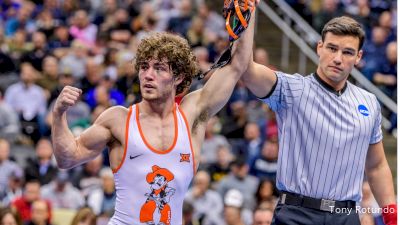 Unlock this video, live events, and more with a subscription!
Get Started
Already a subscriber? Log In
Unlock this article, live events, and more with a subscription!
Get Started
Already a subscriber? Log In
Daton Fix has arrived. The Cowboy went 4-0 at the Cowboy Challenge Tournament with three falls and added another pin to his record after Bedlam on Sunday. However, he stays below Gable Steveson because of Gable's superior strength of schedule.
Roman Bravo-Young jumped up five spots with a tech fall over Jordan Decatur raising his dominance score to four. Mikey Labriola moved ahead of Sebastian Rivera with a major decision over Trey Sizemore. Right below Labriola is now Ryan Deakin with his impressive 12-0 major over Brayton Lee.
Coming in at #17 and #18 is Greg Kerkvliet and Aaron Brooks respectively. Kerkvliet only be 2-0 going into Big Tens but with Gable and Mason Parris at his weight, he still has a good shot at winning the Hodge Trophy if he can dominate that bracket and the NCAA bracket. Brooks has been a major decision machine this season.
A reminder - the Dan Hodge Trophy uses seven criteria when determining the season's best wrestler. They are presented below in the order of importance.
Record

Number of pins

Dominance

Past credentials

Quality of competition

Sportsmanship/citizenship

Heart
Below you will find the rankings along with an explanation and some numbers. The dominance score is an average of how many team points a wrestler accrues every time they step on the mat.
This is not a prediction or a ranking of wrestlers in pound-for-pound order as that can be found HERE. This is a ranking of who is having the best season so far following the above criteria.
| | | | | | | | | | |
| --- | --- | --- | --- | --- | --- | --- | --- | --- | --- |
| | Name | School | Weight | Year | Record | Previous | Number Of Pins | Bonus Rate | Dominance Score |
| 1 | Spencer Lee | Iowa | 125 | SR | 4-0 | 1 | 4 | 100% | 6 |
| 2 | Gable Steveson | Minnesota | 285 | JR | 9-0 | 2 | 3 | 100% | 5.22 |
| 3 | Daton Fix | Oklahoma State | 133 | SO | 5-0 | NR | 4 | 100% | 5.8 |
| 4 | Mason Parris | Michigan | 285 | JR | 6-0 | 3 | 3 | 100% | 5.16 |
| 5 | Jaydin Eierman | Iowa | 141 | SR | 5-0 | 4 | 3 | 80% | 5 |
| 6 | David Carr | Iowa State | 157 | SO | 12-0 | 5 | 3 | 83% | 4.66 |
| 7 | Tanner Sloan | South Dakota State | 197 | SO | 13-0 | 6 | 3 | 90% | 5 |
| 8 | Keegan O'Toole | Missouri | 165 | FR | 9-0 | 7 | 3 | 77% | 4.88 |
| 9 | Sammy Sasso | Ohio State | 149 | SO | 9-0 | 8 | 3 | 44% | 4.22 |
| 10 | Hayden Hidlay | NC State | 157 | SR | 7-0 | 9 | 2 | 71% | 4.57 |
| 11 | Austin O'Connor | North Carolina | 149 | JR | 6-0 | 10 | 2 | 83% | 4.5 |
| 12 | Michael Kemerer | Iowa | 174 | SR | 4-0 | 11 | 1 | 75% | 4.25 |
| 13 | Austin Desanto | Iowa | 133 | SR | 5-0 | 12 | 0 | 100% | 4.8 |
| 14 | Nick Lee | Penn State | 141 | SR | 6-0 | 13 | 0 | 83% | 4.16 |
| 15 | Roman Bravo-Young | Penn State | 133 | JR | 6-0 | 20 | 1 | 50% | 4 |
| 16 | Mikey Labriola | Nebraska | 174 | JR | 8-0 | 15 | 1 | 62% | 3.87 |
| 17 | Greg Kerkvliet | Penn State | 285 | FR | 2-0 | NR | 2 | 100% | 6 |
| 18 | Aaron Brooks | Penn State | 184 | SO | 6-0 | NR | 0 | 83% | 4 |
| 19 | Ryan Deakin | Northwestern | 157 | SR | 3-0 | 21 | 0 | 66% | 4 |
| 20 | Sebastian Rivera | Northwestern | 141 | SR | 4-0 | 14 | 0 | 75% | 3.75 |
| 21 | Shane Griffith | Stanford | 165 | SO | 5-0 | 16 | 0 | 80% | 3.8 |
| 22 | Alex Marinelli | Iowa | 165 | SR | 2-0 | 17 | 0 | 0% | 3 |
| 23 | Eric Schultz | Nebraska | 197 | SR | 7-0 | 18 | 0 | 42% | 3.57 |
| 24 | Allan Hart | Missouri | 141 | JR | 9-0 | 19 | 1 | 44% | 3.88 |
| 25 | Hunter Bolen | Virginia Tech | 184 | JR | 7-0 | 22 | 0 | 57% | 4.14 |
| 26 | Brock Mauller | Missouri | 149 | JR | 13-0 | 23 | 0 | 23% | 3.23 |