Tech Notes: Carter Starocci vs Kaleb Romero
Tech Notes: Carter Starocci vs Kaleb Romero
Friday's Big Ten showdown between Penn State and Ohio State will feature a top ten clash at 174lbs. Mike Mal gives you some keys to victory.
Feb 18, 2021
by Mike Mal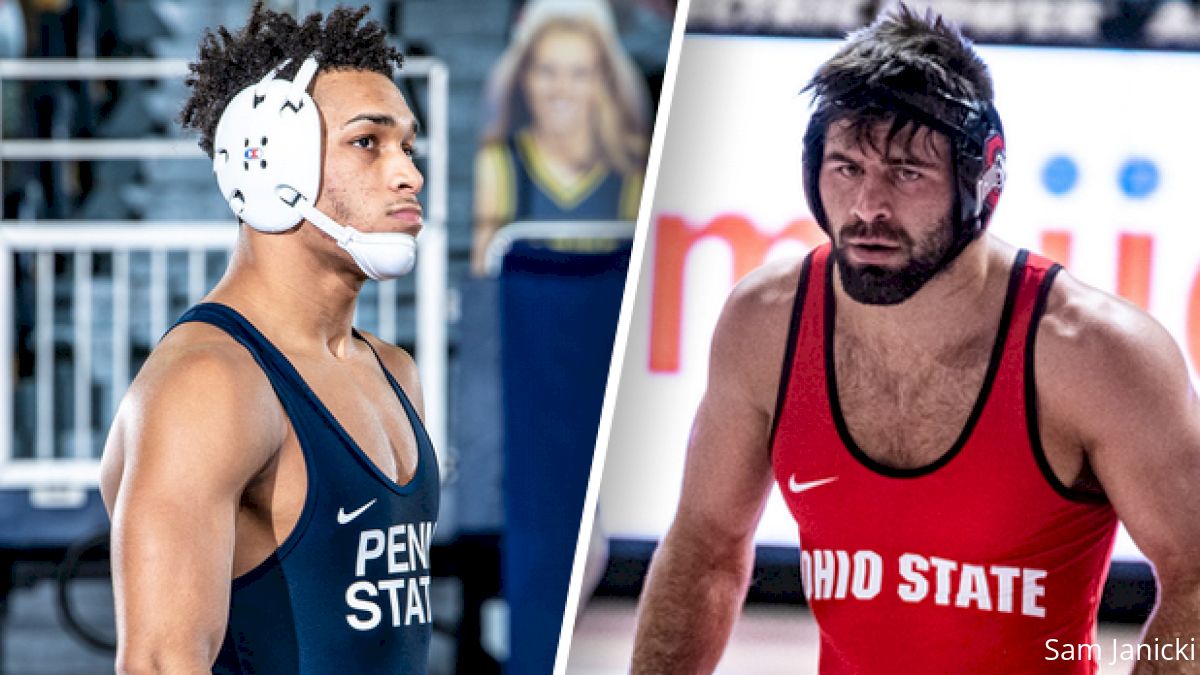 Unlock this article, live events, and more with a subscription!
Get Started
Already a subscriber? Log In
Tomorrow night the #3 ranked Penn State Nittany Lions will travel to Columbus to take on the #9 ranked Ohio State Buckeyes. One match up that I have circled is going to be at 174 pounds, No. 3 Kaleb Romero will be taking on #5 Carters Starocci. While both of these athletes have displayed an ability to get the job done against some of the nations top competition both have had technical and tactical hiccups in the past few weeks that leads you to believe that this match could go a number of different ways. Below are a few technical points for you to focus on before Friday's Big Ten showdown.
Chain Wrestling On Top
While at first glance Starocci's loss to then-unranked Donnell Washington looks like a low-light in a shortened season, but the story of that match reveals some encouraging things for the freshman. When evaluating freshmen I always look for them to exhibit an ability to chain wrestle on top and Starocci did just that in the Indiana dual. After giving up 10 points in the first period Starocci stormed back when given an opportunity on top. Check out the 6:58 mark of the video below, Starocci hits a Hazard Tilt for a two count, loses the wrist, and then immediately transitions into a Navy Ride for an additional 4 point near fall. When you add in the stall call that Starocci picked up at the beginning of the sequence he went from down by 9 to with in 2 points in about 20 seconds. That type of top work is so valuable in college wrestling.
Who Has A Better Double?
Kaleb Romero has a real good double from space. Carter Starocci has a real good double from space. So, who's got the better double? Both of these guys have the ability to time the hand fight well enough to drop in on a shot when their opponent is reaching (example of Starocci doing this can be found here), but I think I'd have to give the nod to Romero mostly because his double is a little bit more versatile. Watch this match against Krattiger from Wisconsin, Romero hits a low double from space AND ALSO a pull-post double from a collar tie.
Who Has Better Defense?
Kaleb Romero is very difficult to score on. The interesting thing to me is that it is becoming more difficult as of late. Last January at the Iowa dual Kaleb Romero dropped a 6-1 decision to Michael Kemerer giving up two takedowns in the process. This year Romero kept the Kemerer loss to 3-1 and didn't give up a takedown. Starocci's defense is solid too. In fact, forced to choose between the two I'd say Starocci's defense might be slightly better. His head-hands defense is just as good as Kaleb Romero's, but Starocci has shown an ability to pop an angle and reattack more consistently.