Week Eight Hodge Trophy Rankings Update
Week Eight Hodge Trophy Rankings Update
Now closing in on the final stretch of the season, who is still in contention to win the Dan Hodge Trophy?
Feb 16, 2021
by JD Rader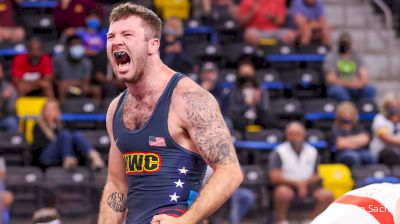 Unlock this video, live events, and more with a subscription!
Get Started
Already a subscriber? Log In
Unlock this article, live events, and more with a subscription!
Get Started
Already a subscriber? Log In
Two weeks after releasing our first set Dan Hodge Trophy rankings, we have our first updated set! Three wrestlers from the first set; Logan Massa, Noah Adams, and Boo Lewallen, took losses and were taken out. Previous #9, Mekhi Lewis, injury defaulted in the third period after trailing the entire match to Jake Wentzel, so he was shown the door as well.
Jaydin Eierman was the biggest riser going from #11 to #4 after racking up three-straight pins and increasing his dominance score to 5.
Ryan Deakin and Brock Mauller are the two new faces in this set of rankings. Deakin made his season debut with a tech fall and regular decision while Mauller continued his undefeated season with a big win over Boo Lewallen in the Cowboy Challenge Tournament finals.
A reminder - the Dan Hodge Trophy uses seven criteria when determining the season's best wrestler. They are presented below in the order of importance.
Record

Number of pins

Dominance

Past credentials

Quality of competition

Sportsmanship/citizenship

Heart
Below you will find the rankings along with an explanation and some numbers. The dominance score is an average of how many team points a wrestler accrues every time they step on the mat.
This is not a prediction or a ranking of wrestlers in pound-for-pound order as that can be found HERE. This is a ranking of who is having the best season so far following the above criteria.