2021 South Dakota State Wrestling Quad Meet
Double-Digit Top 10 Upsets In NCAA Week 7
Double-Digit Top 10 Upsets In NCAA Week 7
NCAA week 7 saw double digit top-ten upsets and 26 upsets over all. Check out all the madness from another week of college wrestling.
Feb 15, 2021
by David Bray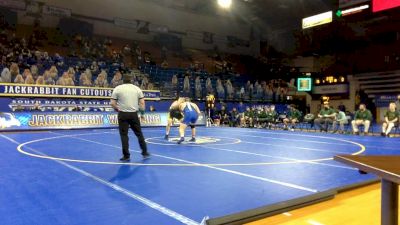 Unlock this video, live events, and more with a subscription!
Get Started
Already a subscriber? Log In
Unlock this article, live events, and more with a subscription!
Get Started
Already a subscriber? Log In
Week 7 of NCAA wrestling had another 26 upsets, and ten of those came against wrestlers ranked in the top 10. Conference tournaments are just around the corner, and these results will keep those seeding committees on their toes. Check out all the upsets we could find in week 7, and if you saw one we missed, email david.bray@flosports.tv or send a dm to @_davidbray on Twitter.
125
Both #8 McKee and #9 Schroder fell to #17 Barnett and #13 Foley respectively. After Spencer, the Big Ten is anyone's guess at 125. Noah Surtin also knocked of Mastro.
#17 Eric Barnett, Wisconsin M;17-4 #8 Patrick Mckee, Minnesota
#13 RayVon Foley, Michigan State D;10-4 #9 Devin Schroder, Purdue
Noah Surtin, Missouri D;9-6 #19 Trevor Mastrogiovanni, Oklahoma State
133
No top ten upsets here, but Heilmann, Redding, Price, and Crawford all had solid upsets on the weekend.
Joseph Heilmann, North Carolina D;2-0 #11 Louie Hayes, Virginia
Zach Redding, Iowa State D;6-5 #15 Kyle Biscoglia, Northern Iowa
#20 Zach Price, South Dakota State D;7-5 #16 Ty Smith, Utah Valley
Trey Crawford, Missouri D;10-3 #17 Job Greenwood, Wyoming
141
Matt Ryan had a nice upset for Buffalo.
Matt Ryan, Buffalo D;7-5 #22 Josh Mason, Bloomsburg
149
Current UNI Panther Tristan Lara and former UNI Panther Michael Blockhus both had upset wins this weekend. Lara's fall over All-American Jarrett Degen was especially impressive.
Tristan Lara, Northern Iowa F;4:30 #7 Jarrett Degen, Iowa State
#24 Michael Blockhus, Minnesota D;13-8 #22 Drew Scharenbrock, Wisconsin
157
Brady Berge's upset of #8 Will Lewan helped Penn State knock off #2 Michigan, and Jacob Wright's win over Wyatt Sheets earned him a nice Cowboy hat at the Cowboy Challenge.
#11 Brady Berge, Penn State D;3-1 #8 Will Lewan, Michigan
#20 Jacob Wright, Wyoming D;3-2 #16 Wyatt Sheets, Oklahoma State
165
Cam Amine beat out Joe Lee in a battle of first-year starters. These two will battle for years to come. Silverstein also upset Barczak.
#18 Cameron Amine, Michigan D;4-1 #14 Joe Lee, Penn State
Jake Silverstein, Rider D;5-3 #23 Evan Barczak, Drexel
174
Carter Starocci's four-point nearfall in rideouts helped give Penn State the dual meet victory over Michigan and earned him a nice upset over #2 Massa. Trey Munoz had two upsets, and Jared Krattiger took out Jake Allar.
#7 Carter Starocci, Penn State D;7-1 #2 Logan Massa, Michigan
Trenton Munoz, Arizona State D;3-2 #18 Lance Runyon, Northern Iowa
Jared Krattiger, Wisconsin D;5-3 #20 Jake Allar, Minnesota
Trenton Munoz, Arizona State D;7-1 #25 Julien Broderson, Iowa State
184
Tate Samuelson and Max Lyon beat top ten opponents in Dakota Geer and Layne Malczewski. The parity at 184 is intriguing.
#23 Tate Samuelson, Wyoming D;10-6 #7 Dakota Geer, Oklahoma State
#14 Max Lyon, Purdue D;6-1 #8 Layne Malczewski, Michigan State
197
The ACC is a nightmare to seed at 197, especially after Kaden Russell earned his first win of the season with a fall over #4 Isaac Trumble. Austin Stith also took out Bryan McLaughlin.
Kaden Russell, Duke F;:44 #4 Isaac Trumble, NC State
Austin Stith, George Mason D;6-4 #19 Bryan McLaughlin, Drexel
285
Upsets over #5 Gremmel and #6 Isley established Cohlton Schultz as a letigimate All-American contender at heavyweight. Wyatt Hendrickson also took out Brandon Metz.
#14 Cohlton Schultz, Arizona State D;3-2 #5 Gannon Gremmel, Iowa State
#14 Cohlton Schultz, Arizona State D;4-0 #6 Carter Isley, Northern Iowa
Wyatt Hendrickson, Air Force F;2:46 #18 Brandon Metz, North Dakota State