2021 South Dakota State Wrestling Quad Meet
Three #1s Make NCAA Season Debut - Week 7 Roundup
Three #1s Make NCAA Season Debut - Week 7 Roundup
Three of the nation's #1 ranked wrestlers made their season debut, Penn State upset Michigan, and the Cowboy Challenge shook up the rankings in NCAA week 7.
Feb 15, 2021
by David Bray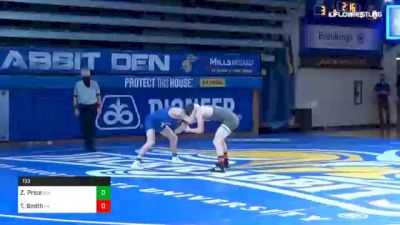 Unlock this video, live events, and more with a subscription!
Get Started
Already a subscriber? Log In
Unlock this article, live events, and more with a subscription!
Get Started
Already a subscriber? Log In
Week seven of NCAA wrestling had another set of high quality duals, and Oklahoma State's Cowboy Challenge tournament was one of the first times we've seen bracket-style competition between ranked opponents this season. If you're looking for full box scores, we have them at this link. Here are the biggest stories from week seven of NCAA wrestling.
Fix, Deakin, and Amine are Back
On Valentine's Day weekend, we got our first look at three of the nation's #1 ranked wrestlers. Daton Fix pinned his way through the Cowboy Challege at 133, Ryan Deakin earned a tech fall over Wisconsin's Garrett Model at 157, and Myles Amine earned a pair of ranked wins over #13 Michael Beard and Gavin Hoffman at 197.
Amine had previously been ranked at 184, so he'll move into that set of rankings next week making way for a new top dog at 184. The late arrival of these three #1s is just another reminder of what a bizarre season we're having in 2021.
Mekhi Lewis Injured As Virginia Tech Clinches ACC
After beating NC State in dramatic fashion last week, Virginia Tech needed a victory over Pitt to clinch the ACC dual meet championship. They did that with a 27-12 dual meet win, but it wasn't all good news for the Hokies.
NCAA champ Mekhi Lewis sustained an injury while trailing 3-0 to Pitt's #6 Jake Wentzel and defaulted from the match. Lewis is a major piece of the puzzle in Tech's hopes for a strong post season, so it will be important to see how quickly he can return to competition.
ACC 197 Chaos As Russell Tops Trumble
Isaac Trumble shook up the rankings a few weeks ago when he took out Pitt's Nino Bonaccorsi, but this week he was the one getting upset in NC State's dual against Duke.
Trumble lost to Duke's Kaden Russell by fall on Friday which makes seeding the 197 ACC bracket an unenviable task. Not only did Trumble get upset, he got upset by Russell who was 0-4 in ACC competition this year before earning the Trumble win. Regardless of who the conference decides to seed the bracket, 197 in the ACC should provide plenty of drama.
What a way to get your first win of the season @Krussell34 💪😤#GoDuke pic.twitter.com/zTMGGfdMmI

— Duke Wrestling (@DukeWRES) February 13, 2021
#5 Nittany Lions Claw Past #2 Wolverines
COVID-19 has impacted Penn State and Michigan more than most teams, but the two made up for a missed dual earlier this year with a Sunday morning meeting in Ann Arbor. Michigan was favored in the rankings, but Penn State got it done with some impressive individual results.
Robert Howard had a hard earned win against Jack Medley in his first bout of the year, and #11 Brady Berge upset #8 Will Lewan. Perhaps most importantly, #7 Carter Starocci took out #2 Logan Massa in a dramatic overtime affair that re-established Starocci as a title threat in March.
This match did not disappoint! @carterstarocci takes down No. 2 Massa with a 7-1 win. @pennstateWREST @trackwrestling

📍 @AutoOwnersIns pic.twitter.com/AoZRiUFRr4

— Penn State On BTN (@PennStateOnBTN) February 14, 2021
Michigan had an upset as well as #18 Cam Amine knocked off #14 Joe Lee at 165. The Wolverines were still missing Stevan Micic who has yet to represent Michigan in 2021.
Cohlton Schultz, Trey Munoz Keep Climbing For ASU
Earlier this season, Cohlton Schultz established himself as an All-American contender at heavyweight with a win over Brian Andrews, and Trey Munoz put himself on the map by knocking off Anthony Mantanona. Today, the pair of ASU freshmen continued to prove their legitimacy by beating two ranked opponents apiece.
Munoz took out #18 Lance Runyon of UNI 3-2 and #25 Julien Broderson of Iowa State 7-1. Schultz upset UNI's #6 Carter Isley and ISU's #5 Gannon Gremmel. The freshman pair helped ASU beat both UNI and Iowa State. Now, these two will enter the PAC-12 undefeated and look to earn high seeds at the NCAA Championships in March.
Cowboy Challenge Sets Stage For Big 12s, NCAAs
The Cowboy Challenge in Stillwater, Oklahoma was a refreshing reminder of what bracketed tournaments look like in NCAA wrestling. The event was small, but it still created significant results that will shape the post-season.
Missouri's Dack Punke topped teammate Noah Surtin in the finals at 125 lbs. Daton Fix returned to competition for the first time this year and won his bracket at 133 lbs with three falls. Josh Edmond won a second title for Missouri with a finals victory over Dusty Hone at 141 lbs. Brock Mauller and Boo Lewallen went to overtime in a top-five battle at 149 with Mauller getting the edge.
Wyoming took home four titles with four finals wins over ranked opponents. At 157, #20 Jacob Wright upset #16 Wyatt Sheets, at 174, #9 Hayden Hastings beat #14 Dustin Plott, at 184, #23 Tate Samuelson knocked off #7 Dakota Geer, and at 197, #6 Stephen Buchanan beat #7 Noah Adams for the second straight week.
The remaining two titles came from Oklahoma State's Travis Wittlake at 165 lbs who beat West Virginia's Peyton Hall in the finals, and Oklahoma State's Austin Harris who topped teammate Konner Doucet.
Iowa Misses Week 7 Bouts
It's worth mentioning that the #1 Hawkeyes weren't in action this weekend after pausing team activities due to COVID-19. While it is unclear if they will make up their previously scheduled dual with Penn State, the Hawkeyes' original release said that,
"The Big Ten, Iowa and Penn State are working on a new date."
Penn State's recent victory over Michigan featured a solid lineup that pulled off significant upsets at 157 and 174. An Iowa vs Penn State dual would tell us a lot about how much we can expect from these two teams in the post-season.