Big Ten
Complete Preview & Predictions: #2 Michigan vs #6 Penn State
Complete Preview & Predictions: #2 Michigan vs #6 Penn State
A little top-ten surprise showdown for your Valentine's Day as #6 Penn State traveling to Ann Arbor to take on #2 Michigan.
Feb 13, 2021
by JD Rader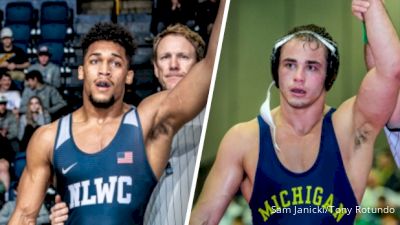 Unlock this video, live events, and more with a subscription!
Get Started
Already a subscriber? Log In
Unlock this article, live events, and more with a subscription!
Get Started
Already a subscriber? Log In
What a nice little Valentine's Day treat! After being postponed earlier this season due to a University of Michigan athletic department-wide pause, Penn State-Michigan has been rescheduled for Sunday at 11 AM ET in Ann Arbor. My friend and colleague Kyle Bratke will keep you updated Sunday with real-time live updates, but for now, get up to speed with my very preview and predictions below.
Projected Lineups
125: Robert Howard/Baylor Shunk vs #15 Dylan Ragusin/Kurt McHenry
We finally get to see at least one Penn State 125 in action this year. Both lightweights were forced to sit out PSU's first three duals due to what is believed to be COVID protocol. Now, the match we are hoping for is Robert Howard vs Dylan Ragusin. However, Michigan opted to go with backup Kurt McHenry Friday night against Ohio State. So, it will be interesting to see who both teams send out.
Let's pretend that we do get Howard vs Ragusin. Both are incredibly talented true freshmen. Howard finished #7 on the Class of 2020 Big Board and Ragusin #38. However, Ragusin has been really making a name for himself since graduating high school. He won UWW Junior Nationals, made the finals of Senior Nationals, and is now 3-0 this season. Expectations are sky-high for Howard as well, being a top-ten recruit. The New Jersey native was a two-time state champion and three-time Cadet World Team member in high school. A win for either guy would be huge.
Prediction: Ragusin by decision, Michigan: 3 PSU: 0
Watch to Mike Mall breakdown what to expect from Robert Howard below.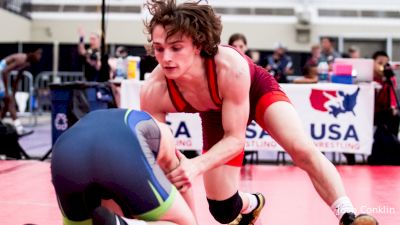 Unlock this video, live events, and more with a subscription!
Get Started
Already a subscriber? Log In
---
133: #3 Roman Bravo-Young vs Jack Medley
We can all hope and pray that Stevan Micic comes back, but it seems more than likely that we see Jack Medley for the Wolverines at 133 on Sunday morning. Medley looked solid against Jordan Decatur, he even tech falled him in the extra matches, but RBY will still be a heavy favorite against Medley. The game plan for Medley here should be to keep it close in the first and second periods and then break through in the third. However, I don't see that happening. RBY is too shifty on his feet and has too good of a gas tank to let that happen.
Prediction: RBY by decision, PSU: 3 Michigan: 3
---
141: #3 Nick Lee vs Drew Mattin
Drew Mattin dropped a tough one to Dylan D'Emilio on Friday, and I don't see a way he rebounds here against Nick Lee. Lee has been on a roll this year with two tech falls and one major in his three matches. If Nick gets to feeling himself on top, watch out. He could really break things open.
Prediction: Lee by major, PSU: 7 Michigan: 3
---
149: #16 Jarod Verkleeren/Beau Bartlett/Luke Gardner/Terrell Barraclough vs #8 Kanen Storr
It's unclear exactly who we'll see at 149 for the Nittany Lions. Beau Bartlett is listed as a possible starter, and could possibly be the best option, but has wrestled all of his matches at 141 so far. The other three guys listed have wrestled in one dual a piece. Storr will be the favorite no matter who PSU sends out, however. Storr outplaced Verkleeren by four spots at last year's Big Ten Championships and both wrestlers appear to be on approximately the same level in the limited times we've seen them this season.
Prediction: Storr by decision, PSU: 7 Michigan: 6
---
157: #11 Brady Berge vs #8 Will Lewan
This is a huge swing match that could have major dual outcome implications. Will Lewan won the dual for Michigan on Friday, but it took going to riding time criteria to do it against Ohio State's Elijah Cleary. At least on paper, Brady Berge is a step up from Elijah Cleary, so this one could get very interesting. Both wrestlers are undefeated on the season so far.
Prediction: Berge by decision, PSU: 10 Michigan: 6
---
165: #14 Joe Lee vs #18 Cameron Amine
Back-to-back important swing matches here. Cameron Amine looked great in the first half of his match with Ethan Smith on Friday, but ultimately ended up losing 4-3. Can he rebound? Joe Lee is undefeated in his first three matches in a Penn State singlet, squeaking past David Ferrante before majoring Patrick Spray. This one could go either way, but I think Amine pulls it out close.
Prediction: Amine by decision, PSU: 10 Michigan: 9
---
174: #7 Carter Starocci vs #2 Logan Massa
Possibly the feature match of the night. Expectations were through the roof for Starocci coming into this season. They have since cooled off a little bit with his loss to DJ Washington, but that shouldn't make you completely forget about the skill of Starocci. He has now won three-straight and is still a great wrestler with a variety of ways to score. Logan Massa has already proven himself both at the NCAA and Senior level, however. He pinned Washington 13 days before Washington upset Starocci. I predict Massa gets his first victory over a Penn State wrestler since January 1st, 2016.
Prediction: Massa by decision, Michigan: 12 PSU: 10
---
184: #5 Aaron Brooks vs Jelani Embree
Jelani Embree had a tough season debut against Rocky Jordan, losing 13-0. After seeing that it's hard to say that Aaron Brooks won't keep his bonus point season going. Things could be close for a bit, but Brooks will break things wide open.
Prediction: Brooks by tech fall, PSU: 15 Michigan: 12
---
197: #13 Michael Beard vs #1 (184) Myles Amine
If 174 isn't the feature match, it's probably 197. We finally got to see Myles Amine up at 197 on Friday. While an 8-5 W over Gavin Hoffman doesn't exactly blow one's socks off, it does show that the three-time All-American can win up two weights. If we see the best version of Michael Beard, things could get fun. I won't be surprised if Beard comes out and scores the first takedown, but I think Amine eventually gets to his single leg enough times to come out on top.
Prediction: Amine by decision, PSU: 15 Michigan: 15
Watch Myles Amine 197-lb debut below.
---
285: #13 Seth Nevills vs #2 Mason Parris
If the two teams start at 125 and my predictions hold true, this dual comes down to heavyweight where Mason Parris will be a huge favorite. With Kerkvliet probably out for the season, heavyweight is a clash of two titans this year: Gable Steveson and Mason Parris. Parris is 4-0 with two pins, one tech, and one major so far this season. He absolutely dismantled #15 Tate Orndorff, 20-5, on Friday evening. He's just too athletic and skilled for most heavyweights to hang with him. Parris puts up bonus points in his first win over a Nittany Lion and wins the dual for Michigan.
Prediction: Parris by major decision, Michigan: 19 PSU: 15