2021 Women's Captains' Cup
Top Five Matches To Look For At Captains' Cup
Top Five Matches To Look For At Captains' Cup
The Captain's Cup will feature some of the best of women's freestyle wrestling in the United States. We preview the top matches we are looking forward to.
Feb 11, 2021
by Mark Bader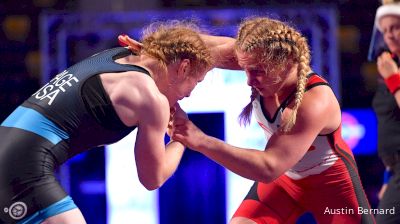 Unlock this video, live events, and more with a subscription!
Get Started
Already a subscriber? Log In
A big time weekend for women's freestyle wrestling, the Captains' Cup will be the first of its kind. Top senior level women from the United States will come together to have a team dual meet event. Six teams with wrestlers at the Olympic weights will wrestle in pools of three teams on Saturday and finish up with first, third and fifth place duals on Sunday.
Watch the Captains' Cup LIVE on FloWrestling
Saturday and Sunday February 13-14
This event will be held right before a National Team camp so there will be plenty of talent on each of the six teams. You list of teams and the schedule here and the full event preview here. Below are the five matches we are looking forward to the most in pool wrestling.
53 kg: #4 Katherine Shai (Team Burkert) vs. #1 Jacarra Winchester (Team Winchester)
Of course 2019 world champion Jacarra Winchester is the favorite, but Katherine Shai looked so good in winning the 2020 Senior Nationals in October, you'd think the wily veteran can make this one competitive. They met in 2020 at the wrestle-off for the Pan Am Olympic Qualifier and it was close, Winchester winning 5-0 and 2-0, though obviously Winchester stifled Shai's offense.
This is their last time wrestling each other, Jacarra won a close 2-0 match where things got a tad chippy at the end.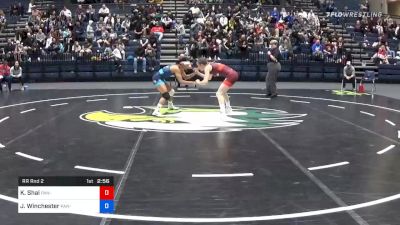 62 kg: #3 Mallory Velte (Team Burkert) vs. #4 Macey Kilty (Team Winchester)
This is a very interesting match. Mallory Velte was a 2018 World bronze medalist and Macey Kilty is a very accomplished wrestler at the age group World level and has transitioned nicely to senior level wrestling. It doesn't look like this match has happened before. If it has, it's buried somewhere in an internet cave. Either way, super compelling.
50 kg: #5 Alyssa Lampe (Team Winchester) vs. #6 Erin Golston (Team Miracle)
Another compelling matchup in weight class that has a lot of parity. When they met in 2014 & 2015, Alyssa Lampe owned both those matches, scoring tech falls in each. But with Erin Golston's development since then, this one should be interesting to watch.
Here is their match from 2015 at the World Team Trials where the veteran Lampe controlled the young Golston.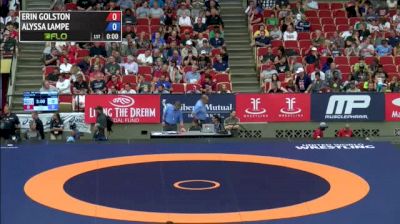 50 kg: #4 Amy Fearnside (Team Mensah-Stock) vs. #6 Emily Shilson (Team Francis)
This one was awful close the last time they hit at Senior Nationals 2019, with Amy Fearnside getting the better of the youngster 6-4, but Emily Shilson's development is obvious. If she can beat Fearnside, it would be one of her biggest wins to date on the Senior level.
Here is their match from Senior Nationals.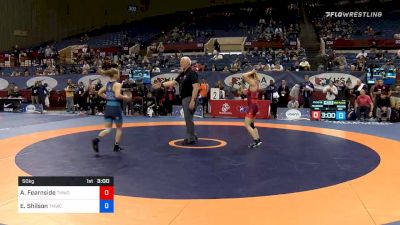 Unlock this video, live events, and more with a subscription!
Get Started
Already a subscriber? Log In
76 kg: #2 Dymond Guilford (Team Mensah-Stock) vs. #3 Victoria Francis (Team Francis)
The reason Dymond Guilford is #2 and Victoria Francis is #3 is because this match just happened a few weeks ago, with Guilford breaking through with a 4-2 win. That flipped their ranking. A great sequel coming up at the Captains' Cup! Can Francis reclaim the #2 spot? Stay tuned.