2021 America's Cup
The 7 Best Potential Matches At America's Cup
The 7 Best Potential Matches At America's Cup
Here are the seven matches we're dying to see at America's Cup on Wednesday and Thursday.
Feb 9, 2021
by JD Rader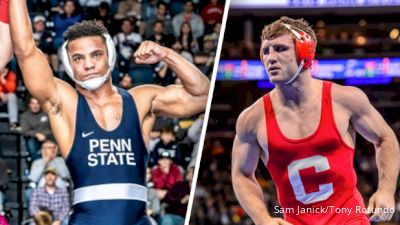 Unlock this video, live events, and more with a subscription!
Get Started
Already a subscriber? Log In
A little midweek entertainment for all the freestyle fans out there as USA Wrestling and FloWrestling decided last minute to put together a fun event called America's Cup.
Watch the 2021 America's Cup LIVE on FloWrestling
Wednesday & Thursday, February 10-11
With this being a National Team camp there is plenty of talent on the six teams. You can see the full list of teams HERE and the full preview HERE. Below are the seven matches we're hoping to see most.
86 kg - Mark Hall vs Gabe Dean
Two NCAA wrestlers that combined for three titles and six finals appearances with one being deprived of the chance his senior year. Not too bad.
After taking a couple of years off post-college, Gabe Dean has looked solid in his return. The Cornell grad held World champion David Taylor to a very close match, beat NCAA champion Mike Macchiavello, and won the 2020 Senior Nationals. In the finals, Dean defeated Nate Jackson on criteria. Recently, in Mark Hall's first match back since closing out his Penn State career and joining the Pennsylvania RTC, Jackson defeated Hall in a close one-point match. I expect Hall to come back from that match stronger after knocking off the cobwebs and compete hard against Dean.
74 kg - Julian Ramirez/Josh Shields vs Evan Wick
#10 on the Big Board, Julian Ramirez was a great pickup for the Big Red in 2019. Finishing strong with wins over Jonathan Spadafora and Robert Kanniard, the Florida native had a solid redshirt campaign. He's listed as Team 6's alternate behind two-time All-American Josh Shields.
Evan Wick will be a big-time favorite whether either guy takes the mat, but it's a win-win for the fans. Either a great match between two multiple-time All-Americans or we really get to see how good Ramirez will be for Cornell. This match is guaranteed in pool play.
Watch Julian Rameriz beat David Carr in high school at Beast of East.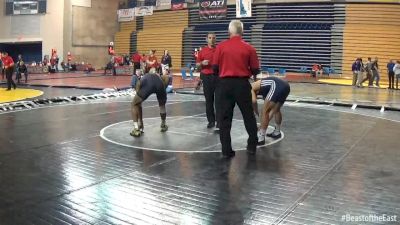 Unlock this video, live events, and more with a subscription!
Get Started
Already a subscriber? Log In
97 kg - J'den Cox vs Mike Macchiavello
It's so good to see J'den Cox getting all the matches he can at 97 kg. He's 5-0 so far including a win over multiple-time World medalist Salas Perez of Cuba. Recently the two-time World champion notched wins over Nate Jackson and Hayden Zillmer. Mike Macc is currently #3 on the 97 kg ladder in the US. Can Cox add another top contender notch to his belt?
97 kg - Hayden Zillmer vs Mike Macchiavello
Mike Macchiavello} Is Still Two Spots Above [p in the 97 kg domestic rankings, but Zillmer actually beat Macc at the RTC Cup. This evened their series to one match a piece as Macc beat Zillmer at the 2019 World Team Trials Challenge Tournament.
Good news too - this match is guaranteed to happen as their teams are in the same pool.
Watch Hayden Zillmer and Mike Macchiavello square off at the 2020 RTC Cup below.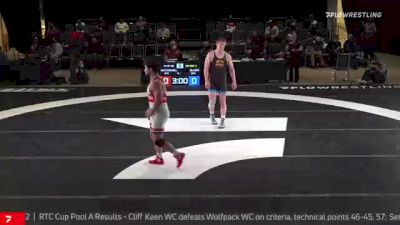 65 kg - Yianni Diakomihalis vs Nahshon Garrett
Who would have ever thought we'd see these two Cornell greats square off? Nahshon Garrett was an NCAA champion for the Big Red in 2016 at 133 lbs and already a two-time NCAA champion just two years into his career in Ithaca. While Yianni is still training in Cornell's room, Nahshon has moved up in weight and on to the SERTC in Blacksburg, Virginia. After only seriously training for two weeks, Nahshon looked solid at the RTC Cup, but dropped a couple of matches. Will the extra two months of training be enough to get him to Yianni's level?
65 kg - Pat Lugo vs Mitch McKee
Pat Lugo continues to improve in Iowa City. He won the Big Tens and now has freestyle wins over Luke Pletcher and Matt Kolodzik. He also held James Green to a one-point match in January. However, freestyle is notoriously Mitch McKee's best style. He recently made quick work of Tristan Moran in freestyle on the same card Lugo lost to Green.
Watch Mitch McKee tech fall Tristan Moran below.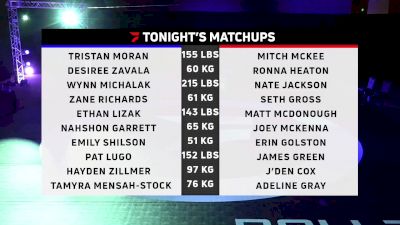 Unlock this video, live events, and more with a subscription!
Get Started
Already a subscriber? Log In
125 kg - Nick Gwiazdowski vs Dom Bradley
Despite both being in the top-four at 125 kg in the US, we have to go all the way back to 2017 to see this match. Gwiz won a tight one 3-2. Can Dom pull off the upset this time around?
Watch what happened the last time Gwiz and Bradley wrestled below.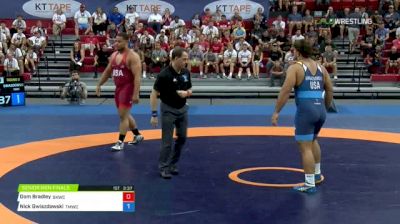 Unlock this video, live events, and more with a subscription!
Get Started
Already a subscriber? Log In