2021 South Dakota State Wrestling Quad Meet
Seven Reasons To Watch NCAA Duals On Flo This Weekend
Seven Reasons To Watch NCAA Duals On Flo This Weekend
A whole bunch of reasons to get pumped up for the eight NCAA dual meet live on FloWrestling this weekend.
Feb 10, 2021
by Andrew Spey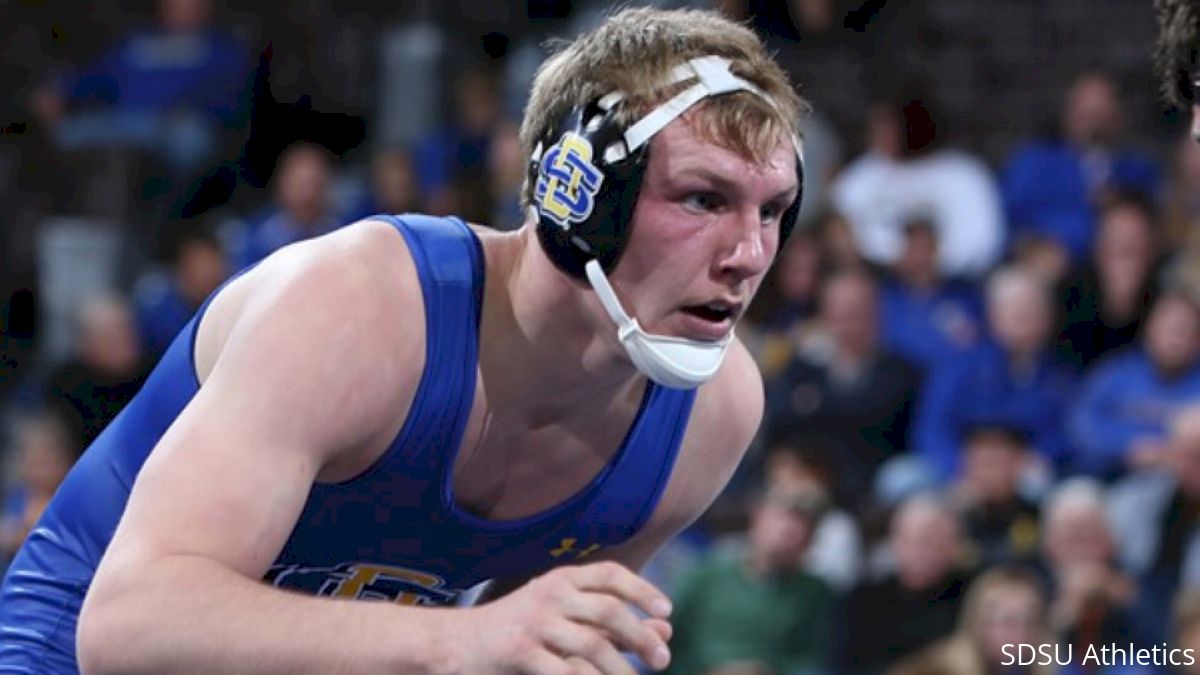 Unlock this article, live events, and more with a subscription!
Get Started
Already a subscriber? Log In
This is it, we've already made it to the end of the dual meet season (for most teams). Hard to believe it but here we are. So let's squeeze in the most wrestling screen time we possibly can with eight big dual meets all live on Flo!
Watch the South Dakota State Quad-Meet LIVE on FloWrestling
February 13 | 12:00 PM ET
---
Watch the Fresno State Tri-Meet LIVE on FloWrestling
February 14 | 4:00PM ET
So besides the obvious (it's wrestling, football is over, what else are you going to do? etc) here are some reasons to get inordinately excited about turning into FloWrestling for NCAA action this weekend.
1) Hey, how about posting the full schedule first?
Yes, good idea. Here it is!
Saturday, February 13
Mat 1: Air Force vs North Dakota State, 12:00 PM
Mat 2: Utah Valley at South Dakota State, 12:00 PM
After the duals, there will be a 10-minute break for mat cleaning
Mat 1: South Dakota State vs Air Force (no team score)
Mat 2: North Dakota State vs Utah Valley
After the duals, there will be a 10-minute break for mat cleaning
Mat 1: Extra Matches
Mat 2: Utah Valley vs Air Force
Sunday, February 14
Oklahoma vs Oregon State, 2:00 PM
Oklahoma at Fresno State, 4:00 PM
Oregon State at Fresno State, 6:00 PM
All times Eastern. Sorry, all my central, mountain, pacific, Alaska and Hawaii peeps, I don't make the time zone rules around here.
That's a full quad (minus one, as SDSU and NDSU wrestled last week) follow by a full tri. If all seven teams were in one location it would be a hepta-meet (I think, I also don't make the rules on what to call dual meets with more than two teams, either).
*These duals were canceled after I wrote the preview :( I'm not deleting anything, though. Not letting that good preview content go to waste!
2) Dangerous Dom Demas vs DJ Lloren
We've got #7 Dom Demas of Oklahoma and #12 DJ Lloren of Fresno State slated to wrestle at 141 pounds on Sunday afternoon. Demas might one of the most electric wrestlers in college. Few wrestlers would consider using an inside-trip to set up the rest of their attacks from neutral, but that's what Dom does, and that's what makes him so dangerous.
Here's our very own Monstupolous Mike Mal to break down Dom's technique: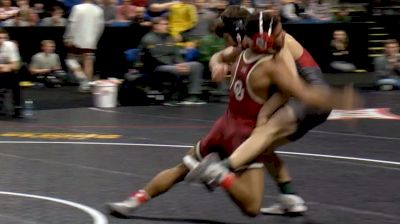 The All-American Sooner will need to be at the top of his game against Lloren as the Bulldog senior is undefeated on the season and has been pouring on the points, bonusing over half of his opponents. This should be one of the more exciting matchups of the weekend.
3) A Possible Ranker's Delight at 133
A 'ranker's delight', for the initiated, is when when you have three wrestlers -- A, B, & C -- who all wrestle each other and finish with one win and one loss. In other words, A beats B, B beats C, and C beats A. Thus making it unclear as to what rankers should do with them.
We could all witness a fresh ranker's delight occur before our very eyes as 16 Ty Smith of Utah Valley, #18 Jared Van Vleet of Air Force, and #20 Zach Price of South Dakota State are scheduled to compete in matches that should all be considered essentially toss-ups.
And why shouldn't that occur when the lower half of 133 has been one big ranker's delight this season. More like a ranker's web of life even.
For example, Smith beat Jason Miranda and Devan Turner but lost to Mosha Schwartz. Mosha Schwartz beat Job Greenwood but lost to Jared Van Vleet and Haiden Drury. Van Vleet beat Schwartz but lost to Greenwood. Drury beat Schwartz but lost Van Vleet and Smith. And so on and so forth, you get the idea. It's what makes doing rankings such a delight!
Anyway, here's Van Vleet victory over Schwartz from last weekend. It was a very nice bout and you should watch it.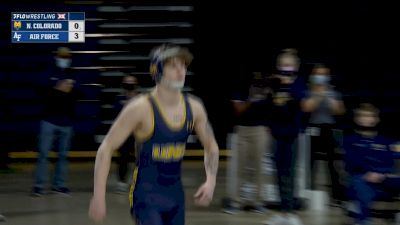 Unlock this video, live events, and more with a subscription!
Get Started
Already a subscriber? Log In
4) A Possible Ranker's Leisure at 141
The converse to a ranker's delight is a ranker's leisure. An instance where the outcome of the match results in a simple decision for a hypothetical ranker.
Although there's no guarantee we see the match on Saturday, especially since it already happened earlier this season in Colorado Spring, but should #18 Clay Carlson of South Dakota State wrestles #19 Lenny Petersen of Air Force wrestle, the result will make for an easy decision. If Carlson wins, they stay the same; if Petersen wins, they switch places in the rankings.
It's a decision any ranker of quality could make at their leisure, unvexed by the complexities of the typical ranking conundrum.
5) Astrid Tuminez, Utah Valley University President & Wrestling Superfan
As a university president, I feel that I get tougher every time I watch our student wrestlers on the mat. Here are my latest musings on wrestling, leadership, and life. https://t.co/rRbAESf0jJ#leadership #highereducation

— President Astrid S. Tuminez (@uvu_president) February 3, 2021
Although she probably won't be there in person, you can bet your aspic that Utah Valley University President Astrid S. Tuminez will be cheering along the likes of #5 Demetrius Romero and #11 Taylor LaMont in spirit.
During wrestling season at #UVU, Astrid Tuminez is a fixture on the sidelines, cheering on a sport she had never seen in person until she became the seventh president of Utah Valley University in 2018. | By @DN_Marjoriehttps://t.co/0RKQI5hFfG

— Deseret News (@DeseretNews) February 10, 2020
If you ever watch any Utah Valley home duals, which of course you should be doing, you'll know President Tuminez is a fixture on the sidelines, waving pom-poms and vociferously urging on her Wolverines.
Tremendous alley for the sport, President Tuminez is.
6) I Think We're A Sloan Now
There doesn't seem to be anyone around to challenge Tanner Sloan this weekend. The Jackrabbit sophomore is 12-0 on the season and should head into the Big 12 championships with an unblemished record.
And yes, I know I used this pun last week. It's a good pun and I'll probably use it again.
Here's a video of Tanner Sloan beating Marcus Coleman of Iowa State from last weekend.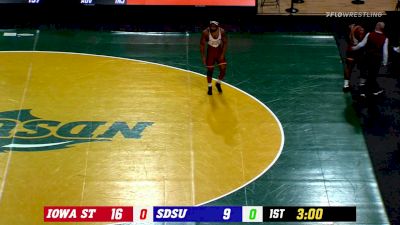 Unlock this video, live events, and more with a subscription!
Get Started
Already a subscriber? Log In
And here's a video of Tiffany singing 'I Think We're Alone Now' in Japan from the 1980s.
7) The Justin Thomas Revenge Tour
We assume the Justin Thomas revenge tour a stop at our doorstep, to give us a stern admonishment for what we did last week.
You see, last weekend, Justin Thomas of Oklahoma, then ranked #12 at 157 pounds, beat then #8 Wyatt Sheets of Oklahoma State 4-3 in tiebreakers at Bedlam. Subsequently, Thomas dropped three spots in the rankings to fall to #15.
The rankers should be ashamed of themselves, no?
Well, we are, but for other reasons that have nothing to do with the rankings.
You see, we didn't want to drop Thomas after he beat Sheets, but the week before, Stanford's Requir van der Merwe beat Thomas, and then this week, van der Merwe lost to Hunter Willits of Oregon State, and earlier this season, Willits lost to ND State's Jared Franek, and Franek was ranked 16th last week and had results that limited him from moving up too much higher. Therefore, everyone else had to be moved down and Thomas became what's known in the ranking community as collateral damage.
There are always other mitigating factors, but the recency determining factor required us to more heavily consider the results that occurred more recently. Thus, we didn't like it, but our hands were tied.
The good news is Thomas has an opportunity to make the rankers look foolish, at least more foolish than usual, by beating the current #13 Hunter Willits and gaining a modicum of revenge on the cold, heartless rankers.
As always, we look forward to being made a fool of this weekend, and we hope you all enjoy watching the events unfold along with us!