2021 Wyoming Tri-Meet
Conference Crowns & 197 Chaos - NCAA Week 6 Roundup
Conference Crowns & 197 Chaos - NCAA Week 6 Roundup
The end of this strange season is in sight, and week six of NCAA wrestling set the stage for conferences and NCAAs.
Feb 8, 2021
by David Bray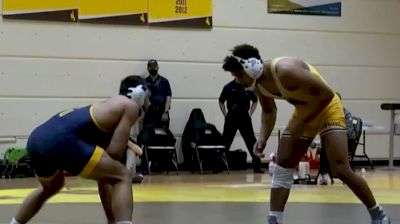 Unlock this video, live events, and more with a subscription!
Get Started
Already a subscriber? Log In
Unlock this article, live events, and more with a subscription!
Get Started
Already a subscriber? Log In
Week six of NCAA wrestling brought its share of wild developments in this season that's rapidly drawing to a close. If you missed any of this weekend's action, get caught up by checking out our complete box scores. Here are the biggest stories of the week.
Virginia Tech Tops NC State for ACC Title
This weekend's dual between NC State and Virginia Tech wasn't the final ACC dual meet as there are still more events to be contested, but it was a showdown between the conference's top two teams and essentially served as the championship dual. Both teams certainly competed as if the ACC title was on the line.
The dual started at 133 lbs which meant it concluded with a showdown between #2 Jakob Camacho of NC State and #10 Sam Latona of Virginia Tech. The nights final match went to the wire. Sam Latona got a last second takedown and 2 nearfall to win the match and give Virginia Tech the dual meet victory by putting Virginia Tech ahead of NC State in total match points by a single point.
𝙁𝙧𝙞𝙙𝙖𝙮 𝙉𝙞𝙜𝙝𝙩 🔁🔁🔁

LET'S GO #HOKIES #ALLINALLTHETIME🦃🏆 pic.twitter.com/gxqbUEuQQC

— Virginia Tech Wrestling (@HokiesWrestling) February 7, 2021
Another incredibly significant bout for Virginia Tech was the 184-pound match between #3 Trent Hidlay of NC State and #2 Hunter Bolen of Virginia Tech. Bolen moved to 3-0 in his college career against Hidlay with a 2-1 victory decided by riding time.
Campbell Wins SoCon in Dramatic Fashion
The Campbell Camels traveled to Chattanooga for a showdown with the Mocs on Friday in a dual to decide the top team in the SoCon. Chattanooga won five of the first six matches and put Campbell's backs against the wall.
Austin Murphy got things rolling for the Camels with a fall at 174 lbs. Caleb Hopkins, Chris Kober, and Taye Ghadiali added three decisions, and despite being deducted a team point after the 184 lbs match, Campbell held on for a 17-15 dual meet win. Needless to say, the Camels were fired up after bringing home their third SoCon title in as many years.
This is what is feels like to win three straight SoCon Championships. #GoCamels🐪 pic.twitter.com/PQmS71rUc5

— Campbell Wrestling (@GoCamelsWrestle) February 5, 2021
Chaos at 197 in Wyoming, West Virginia, and Arizona State Duals
Friday night's excitement rolled into Saturday when three of the nation's toughest 197-pounders squared off in Laramie, Wyoming. Wyoming's #14 Stephen Buchanan kicked off the chaos with two takedowns over #1 Noah Adams in the last 30 seconds.
Just when Buchanan looked unstoppable, he ran into a tough #9 Kordell Norfleet of Arizona State. Norfleet not only beat Buchanan, he took him down twice and pinned him in the first two minutes of the match creating a real conundrum for our rankers this week.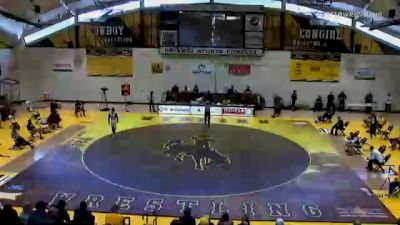 Unlock this video, live events, and more with a subscription!
Get Started
Already a subscriber? Log In
Schultz Beats Caffey, Makes Case For #1 at 197
While the above bouts shook up the rankings at 197 lbs, Eric Schultz made a strong case for himself as the nation's top man. He earned a 6-5 decision over #8 Cam Caffey of Michigan State.
Schultz's win helped the Huskers to a 27-10 dual meet victory over Michigan State, but more importantly, it kept him undefeated on the season. The Nebraska senior is now 7-0 on the year with wins over #4 Jacob Warner and #8 Cam Caffey.
197 | Schultz stays undefeated and picks up another win over a ranked opponent with a 6-5 decision over Caffey 💪 pic.twitter.com/E0U5nXe0ZR

— Husker Wrestling (@HuskerWrestling) February 6, 2021
Air Force Routes #24 Northern Colorado in Upset
The Air Force Academy Falcons traveled north to Greeley on Saturday to take on the Bears of Northern Colorado. UNC entered the dual as the favorites, ranked #24 in our most recent NCAA Dual Rankings.
Air Force earned upsets over three ranked foes en route to their 31-7 victory. At 133 lbs, #17 Jared Van Vleet won a wild one with #8 Mosha Schwartz to shake up the Big 12 seeds.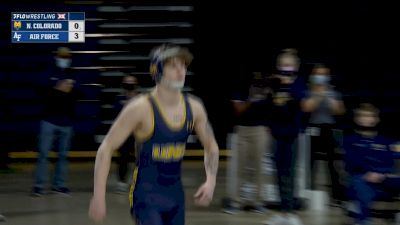 Unlock this video, live events, and more with a subscription!
Get Started
Already a subscriber? Log In
The Falcons earned another dramatic upset at 174 as unranked Cody Surratt topped NCAA qualifier #23 Jackson Hemauer in sudden victory. The third upset was the most dominant. Kayne Hutchison dumped Jacob Seely to his back twice before earning a first period fall.
AJ Ferrari Gets Ranked Win in Bedlam Dual
Oklahoma State freshman AJ Ferrari remains undefeated on the season, but he hadn't faced a ranked opponent until this weekend. Perhaps it's fitting that his first opportunity to earn his way into the rankings cam in a Bedlam dual against Oklahoma.
Ferrari topped #13 Jake Woodley 3-2 to help Oklahoma State beat Oklahoma 24-10. Before NCAAs, the Cowboy freshman will have to navigate the end of his regular season and a tough Big 12 tournament that includes five ranked 197-pounders.
Massive Upset For Ethan Laird Pushes Rider Past Lehigh
Rider's Ethan Laird is a two-time NCAA qualifier at 197 lbs, and in his first year as a heavyweight, he had his work cut out for him against Lehigh All-American Jordan Wood.
Adding to the drama of this bout was the fact that the team score of the dual was in the balance. Laird needed an escape late in the match to break a 5-5 tie. Not only did he earn the escape, he added a takedown to upset #5 Jordan Wood 8-5 and give Rider the 17-15 victory.
🚨 285 UPSET 🚨

Rider's @ethan_laird picks up the upset over No. 5 Jordan Wood of Lehigh.#NCAAWrestling x 🎥 @RiderWrestling pic.twitter.com/AgXrxc2iX5

— NCAA Wrestling (@ncaawrestling) February 7, 2021