2021 North Dakota State Tri-Meet #2
Five Reasons To Get Pumped Up To Watch The North Dakota State Tri-Meet
Five Reasons To Get Pumped Up To Watch The North Dakota State Tri-Meet
Iowa State and South Dakota State are in Fargo to take on the Bison. Here's why you should be pumped to watch this excellent wrestling event.
Feb 6, 2021
by Andrew Spey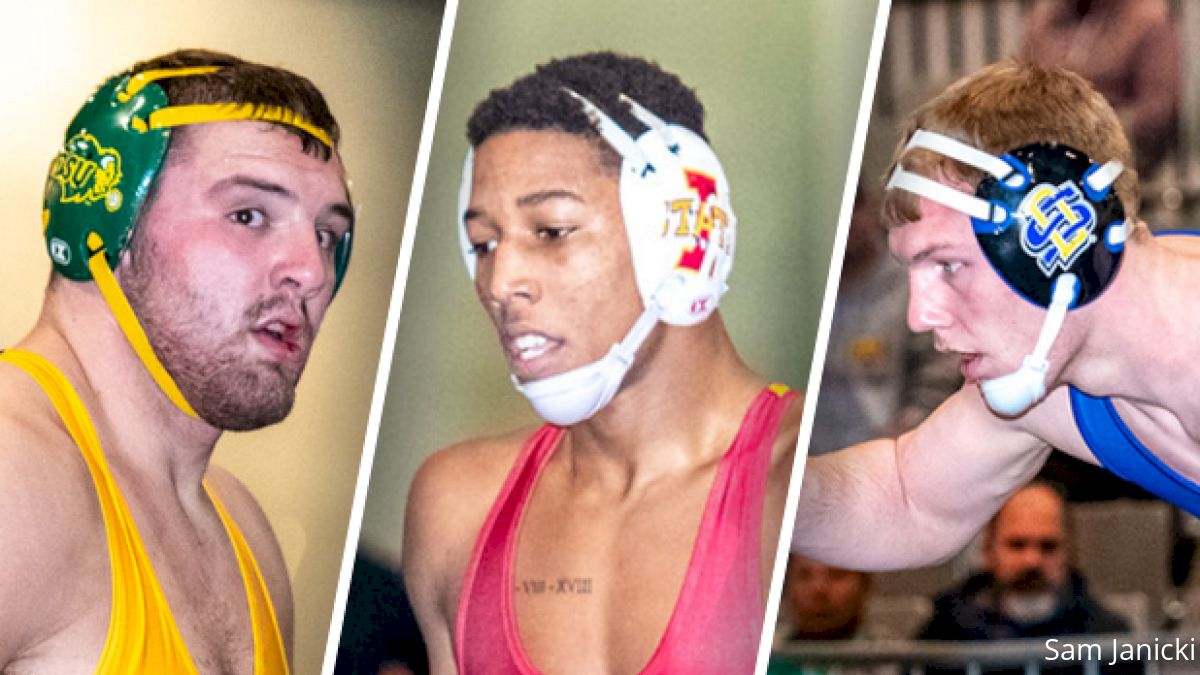 NCAA wrestling has entered the final sprint to the postseason. With just two weekends of dual meets before conference championships, each match matters more than ever. And what better way to pre-game on Super Bowl Sunday* than with these super duals?
Watch The North Dakota State Tri-Meet LIVE on FloWrestling
Sunday, February 7 | 12:00 PM, 2:00 PM, & 4:00 PM ET
1) It's Three Duals For The Price Of One!
It's actually the same price no matter how many duals you watch on FloWrestling, such is the beauty of a FloSports subscription. Sales pitches aside (and I do not get a commission btw) this really is the perfect way to spend your afternoon. Below is the match order in eastern time.
Noon - South Dakota State vs North Dakota State
2 PM - #12 Iowa State vs North Dakota State
4 PM - #12 Iowa State vs South Dakota State
2) Carr Go Vroom Vroom
The Cyclone sophomore will be the highest-ranked wrestler in the gym, checking in at a lofty #3 at 157-pounds, with only Hayden Hidlay and Ryan Deakin ahead of him.
The reigning Big 12 champ hasn't lost since the 2019 Cliff Keen Las Vegas Invitational, which is so far the only loss of David Carr's varsity career. Carr will have two top 20 opponents to contend with in Fargo, Jared Franek for #16 NDSU and #19 Cade DeVos for SDSU. Those two will look to hit the brakes** on Carr's undefeated season.
Carr's teammates Ian Parker and Gannon Gremmel are the next two highest-ranked wrestlers at the tri-meet, at #5 and #6 respectively.
3) You Can Ring My Bell
What is even the point of college sports if not for the rivalries? As the only two programs in either Dakota, it is only natural that the Bison and Jackrabbits developed a healthy wrestling rivalry.
And what's a college rivalry without a random trophy to be passed back and forth between victors? In this case, North Dakota State and South Dakota State will battle for the right to claim possession of a kettle bell, dubbed the Border Bell. One side is pained blue, the other green.
Here is a closer look at the Jackrabbit side.
T H R E E reasons to get to the dual early:

1️⃣ Senior Day❕

2️⃣ FREE pint glasses to the first 300 fans❕

3️⃣ Photo opp. with the Border Bell❕#GetJacked pic.twitter.com/ceWddNrZVo

— Jackrabbit Wrestling (@GoJacksWrestle) February 21, 2020
And here is the Thundering Herd's side.
BORDER BELL CHAMPS! 🏆

The Bison picked up a win against rival South Dakota State 19-18 last night to take home the 'Border Bell' trophy, and the team will be back in action against Iowa State tomorrow. #ThunderRolls📷: @NDSUwrestling pic.twitter.com/q2x79Eu2cl

— NCAA Wrestling (@ncaawrestling) February 22, 2020
The Bison lead the series, which was inaugurated in 2013, 4-3. Results courtesy of the North Dakota State SID:
Nov. 30, 2013—in Brookings, NDSU 30-13
Dec. 14, 2014—in Fargo, NDSU 23-14
Dec. 13, 2015—in Brookings, SDSU 24-15
Feb. 19, 2017—in Brookings, SDSU 20-18
Feb. 16, 2018—in Brookings, SDSU 22-12
Feb. 15, 2019—in Fargo, NDSU 31-10
Feb. 21, 2020—in Brookings, NDSU 19-18
4) Meet the Metz
Come on out and greet Brandon Metz!
Brandon Metz with the takedown and the pin! 😤#TakedownTuesday 🤘 pic.twitter.com/wM09ctiA6M

— NDSU Wrestling (@NDSUwrestling) September 15, 2020
Metz is deceptively nimble and is not afraid to go big, as evidences by the video in the tweet above. He'll have his hands full with Cyclone fan-favorite G-Grems, who is 3-0 in his career against the Bison big man.
5) I Think We're A Sloan Now***
There doesn't seem to be anyone around to challenge Tanner Sloan this season, as he's 10-0 so far and will be the heavy favorite against whoever he wrestles on Sunday. Likely opponents for 11th ranked 2019 UWW Junior world-teamer are Yonger Bastida for Iowa State and either Owen Pentz or Luke Rasmussen for ND State.
*That fulfills our quota for Super Bowl references and the use of 'super' as an adjective that is obligatory for every piece of content this weekend.
**Automotive puns are not obligatory when creating content involving David Carr. They are, in fact, frowned upon, though I'm going to keep doing them anyway.
***Tiffany puns are actively discouraged, explicitly forbidden even, but that won't stop me. Nothing can stop my wordplay!