2021 America's Cup
All The Wrestlers Eligible To Compete At America's Cup
All The Wrestlers Eligible To Compete At America's Cup
All the senior level wrestlers eligible to compete for cash prizes at the very first America's Cup team event.
Feb 5, 2021
by Andrew Spey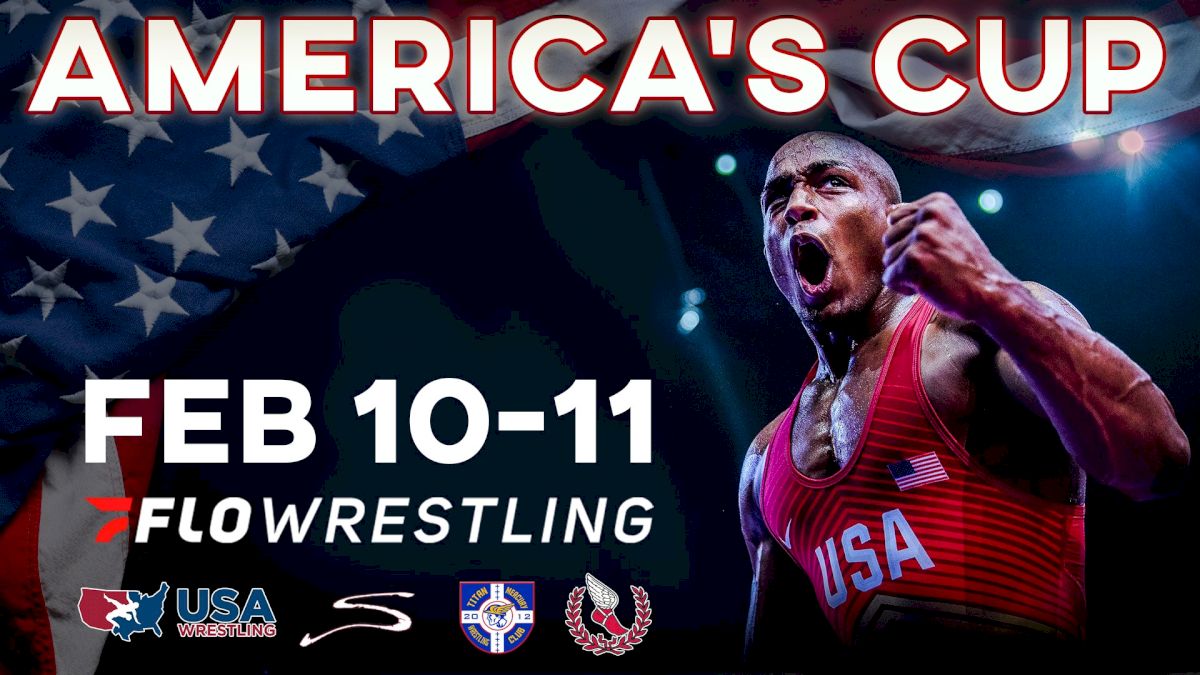 List of eligible men's freestyle athletes for America's Cup dual meet competition released
The list of men's freestyle wrestlers who are eligible to compete at the America's Cup was released Thursday night by event organizers.
These athletes are available and have made a commitment to compete if selected for one of the teams participating in America's Cup, presented by the Sunkist Kids, Titan Mercury WC and the New York AC. This new event will be held in Concord, NC, Feb. 10-11 and broadcast live by FloWrestling.
Team rosters are expected to be announced on Friday.
Eligible athletes (listed by weight alphabetically)
---
57 kg
Vito Arujau (Titan Mercury WC/Spartan Combat RTC)
Daniel DeShazer (Gopher WC)
Josh Kramer (Sunkist Kids
Frank Perrelli (Titan Mercury WC/ Lehigh Valley RTC)
Guesseppe Rea Villarroel (Ecuador/Lehigh Valley RTC)
Sean Russell (Gopher WC)
Zach Sanders (Gopher WC)
---
65 kg
Yianni Diakomihalis (Titan Mercury WC/Spartan Combat RTC)
Nahshon Garrett (Titan Mercury WC/Southeast RTC)
Evan Henderson (Titan Mercury WC/Spartan Combat RTC)
Ethan Lizak (New York AC/PRTC)
Pat Lugo (Titan Mercury WC/Hawkeye WC)
Mitch McKee (Gopher WC)
Josh Saunders (Titan Mercury WC/Spartan Combat RTC)
---
74 kg
Jevon Balfour (Canada/Spartan Combat RTC)
Jasmit Phulka (Canada/Cyclone RTC)
Elroy Perkin (Gopher WC)
Quincy Monday (Sunkist Kids/Tar Heel WC)
Julian Ramirez (Spartan Combat RTC)
Josh Shields (Sunkist Kids)
Chad Walsh (Wrecking Crew Academy LLC)
Evan Wick (Titan Mercury WC/Wisconsin RTC)
---
86 kg
Max Dean (Titan Mercury WC/Spartan Combat RTC)
Gabe Dean (Titan Mercury WC/Spartan Combat RTC)
Ryan Epps (Gopher WC)
Chris Foca (Spartan Combat RTC)
Mark Hall (Titan Mercury WC/Pennsylvania RTC)
Jonathan Loew (Spartan Combat RTC)
Muhamed McBryde (New York AC/USOPTC)
Brett Pfarr (Gopher WC)
---
97 kg
Scott Boykin (Titan Mercury WCSpartan Combat RTC)
J'den Cox (Titan Mercury WC/USOPTC)
Ben Honis (Titan Mercury WC/Pennsylvania RTC)
Mike Macchiavello (Titan Mercury WC/Wolfpack RTC)
Austin Schafer (New York AC)
Hayden Zillmer (Gopher WC)
---
125 kg
Dom Bradley (Sunkist Kids/Tiger Style WC)
Nick Gwiazdowski (Titan Mercury WC/Wolfpack RTC)
Tanner Hall (Sunkist Kids)
Tony Nelson (Gopher WC)
Garrett Ryan (Sunkist Kids)
Shawn Streck (Titan Mercury WC/Cowboy RTC)