Can Anyone Topple Michigan's High School Dynasties?
Can Anyone Topple Michigan's High School Dynasties?
Detroit Catholic Central, Lowell, and Dundee look to continue their dominant runs through Michigan's high school divisions.
Feb 2, 2021
by Mark Spezia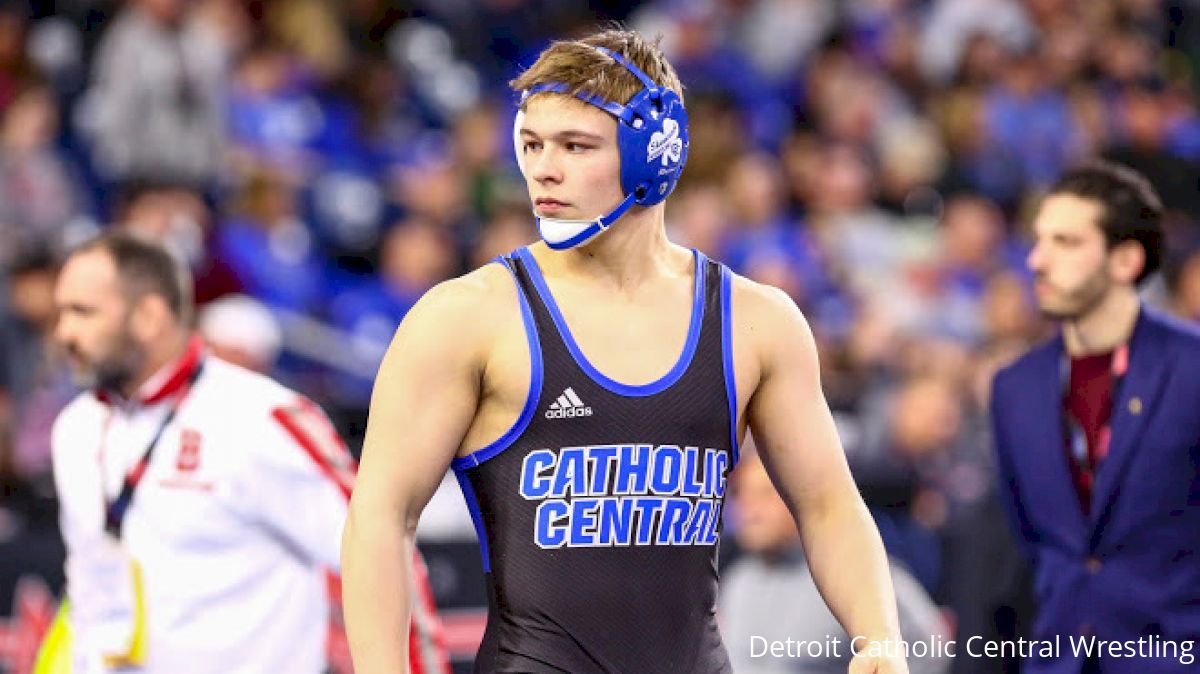 Unlock this article, live events, and more with a subscription!
Get Started
Already a subscriber? Log In
Will the dynasties continue?
That's the biggest question when it comes to Michigan high school wrestling where Detroit Catholic Central, Lowell and Dundee have ruled the state's top three divisions during the past decade.
All three programs are loaded again and intend to keep a firm grip on state championship trophies.
DCC is seeking a fifth straight Division 1 state championship and 10 in the past 12 seasons while Lowell is looking for an eighth consecutive Division 2 title and ninth in 13 seasons. Dundee is going for its fourth Division 3 crown in a row and seventh in nine seasons.
In Division 4, Clinton gave teams with the goal of derailing dynasties hope last season by winning its first state championship after only New Lothrop or Hudson had captured the previous 11 Division 4 titles. Clinton hopes that was the beginning of its own dynasty.
The four teams will be among those worth watching in Michigan when the season finally begins, likely at the end of February, along with Davison and Hartland, who have the horses to challenge DCC in Division 1.
DETROIT CATHOLIC CENTRAL
The Shamrocks, who finished 20-3 last season, return seven of 13 state qualifiers and have some talented wrestlers ready to succeed the departed standouts. In all, six returnees placed at the state tournament.
DCC will be led by Manny Rojas, last season's 189-pound state champion, who is currently ranked fourth in the nation at 170 pounds. The junior was 46-1 last season and has been busy beating quality competition in the offseason.
Rojas, an Iowa State recruit, was one of only four wrestlers in the nation to win both Super 32 and Grappler Fall Classic titles last fall.
Among those he has beaten since July are sixth-ranked, two-time Oregon state champion James Rowley, 13th-ranked two-time Minnesota state champion Carson Manville, No. 15 Sammy Starr (Pennsylvania) and 16th-ranked Virginia state champion and Campbell recruit Domonic Baker.
Sophomore Dylan Gilcher (40-3) was 112-pound state champion last season. He has knocked off four state champions since July and was fourth in the Grappler Fall Classic. Sophomore Drew Heethuis is ranked eighth in the nation at 106 and captured the 103-pound state title last season, finishing 40-8. He was second at the GFC.
Senior Camden Trupp (35-6) was second in the state at 135 while sophomore TJ Bunn (29-12) was fifth at 125. Senior Phil Burney (40-11) was sixth at 135.
Junior Anthony Walker (32-10) was a state qualifier last year and has enjoyed a productive offseason. Walker (119 pounds) was third at GFC and went 4-2 at Super 32. Freshman Darius Marines (145) went 3-2 at GFC and recently placed third at Tulsa Nationals. Sophomore Clayton Jones (112) went 4-2 in Tulsa.
DAVISON
The Cardinals, 20-3, last season have tremendous depth and hope to finally unseat DCC and win their first state championship since 2006. They have finished second five of the past eight seasons, including last year.
Davison returns eight state medalists, including champions Alex Facundo, Caden Horwath and Josh Barr. The Cardinals also have a 2019 state medalist.
Facundo, a senior, is the only Michigan wrestler currently appearing in FloWrestling's pound-for-pound rankings (third). He is also ranked No. 1 at 170 pounds.
The Penn State recruit captured his third state championship (Division 1, 171) and finished 39-2 last season. Barring a major upset, Facundo will become Davison's third four-time state champion, joining Iowa legend and two-time NCAA champion Brent Metcalf and former Oklahoma State and Central Michigan wrestler Lincoln Olson.
As usual, Facundo has spent the offseason tangling with high-level competition and racking up noteworthy victories.
The biggest of which came at the UWW Junior and U23 Nationals in November when he defeated a nationally-ranked college wrestler. Facundo rolled to a 12-2 decision over Princeton's Grant Cuomo during the 74-kilogram junior freestyle competition. Cuomo ended last season ranked No. 21 at 174 pounds and was an NCAA qualifier.
Facundo also knocked off California's Cael Valencia, No. 12 in the latest pound-for-pound rankings, for the second time in a month at the event. Valencia, an Arizona State recruit, is also ranked fourth at 160 and a two-time state champion. Facundo also beat three-time Idaho State champion Kekana Fouret for third place.
Earlier this month, Facundo beat two opponents ranked among the top five nationally at the Tyrant Duals in York, Pennsylvania. He bested Oregon's James Rowley (No. 6, 170) and New Jersey's Brian Soldano (No. 5, 182). The two have combined for three state titles.
Horwath, a sophomore, is ranked seventh nationally at 120 pounds and won a 103-pound, Division 1 state title last season. He finished 43-2. Horwath was one of only four wrestlers in the nation to sweep 2020 Super 32 and Grappler Fall Classic titles.
He handled Cole Hunt, a Georgia state champion, with a 7-1 decison in the Grappler Fall Classic final. Horwath actually received a stiffer test from eighth grade phenom P.J. Duke in the Super 32 final. Duke went 45-0 last season in becoming New York's first seventh-grade state champion last season. Horwath edged him, 4-3.
Horwath also emerged victorious from a war in the semifinals, nipping Alabama's Cory Land, 4-3. Land, ranked No. 3 at 113, is a three-time state champion boasting a 110-match high school winning streak. In his most recent competition, Horwath bested Maryland state champion Brady Pruett at the Tyrant Duals.
Barr, also a sophomore, went 39-0 last season in capturing a state title at 152. He is ranked No. 14th nationally has defeated No. 15 RJ Weston during the offseason. Weston, a Northern Iowa recruit, is a Georgia state champion. Barr also beat Tennessee state champion Gavin Cagle recently.
Junior Jimmy Colley (35-10), a two-time state medalist, was third in the state at 215 last season while senior James Johnston (26-7) was third at 145. He was seventh at GFC and beat Delaware state champion Alex Poore recently.
Sophomore Evan Herriman (30-12) was fourth at 135. Senior Tyler Jelinek (24-18) was sixth at 285. Senior Kyle White (29-15) was seventh at 125. Junior Aiden Williams (32-10) will likely wrestle at 112 this season after going 1-2 at the state tournament. As a freshman, he went 26-5 and was second in the state at 103 pounds.
Freshman Justin Gates (103) was sixth at GFC while sophomore Max Callahan (189) was seventh, beating two-time Georgia state champion David Bertrand.
DUNDEE
The Vikings return eight of 11 state medalists, including six champions, from last season's team which finished 23-1.
Sophomore Braeden Davis, ranked third nationally at 106 pounds, went 38-4 last season and won the Division 3, 103-pound state title. He stayed active in the offseason, winning a Grappler Fall Classic title and placing second at Super 32.
At GFC, he edged eighth-ranked Drew Heethius (Detroit Catholic Central) in an all-Michigan final at 105 pounds by a score of 3-2.
At Super 32, Davis knocked off No. 4 Beric Jordan (Ohio) and 16th-ranked Caleb Thoennes (Minnesota). He also faced fellow Michigander Nolan Wertanen, a St. Joseph junior who was Division 2, 103-pound state champion last season and finished 46-2. Davis took an 11-1 decision.
Junior Casey Swiderski, ranked sixth at 132 pounds, finished 39-1 last season and captured the 135-pound state title. Swiderski was 103-pound state champion as a freshman and boasts an 85-3 high school record. The Iowa State recruit has never lost to a Michigan wrestler in high school competition.
Swiderski has spent the offseason knocking off highly-ranked foes, including Iowa's Drake Ayala, ninth in the current pound-for-pound rankings and No. 1 at 126. Swiderski decisioned the Iowa recruit, 6-4, at last summer's Midwest Ironman Duals.
At the Fall National Duals, Swiderski took care of No. 7 Nico Nardone, a Penn recruit. Swiderski placed fourth at Super 32, beating Tom Crook, No. 6 at 138 and a two-time Florida state champion. He also took down Nathan Lucier (Pennsylvania), a Binghamton recruit who is ranked 20th at 138 pounds.
In winning a Grappler Fall Classic title, Swiderski bested No. 14 Dy'Vaire Van Dyke (Ohio) before defeating two-time Florida state champion Danny Nini in the final.
Senior Stoney Buell, a Purdue recruit, can become just the third Michigan wrestler to win four individual and four team state championships this season, joining Davison's Brent Metcalf (2002-05) and Lowell's Austin Boone (2017-20).
Buell, ranked 14th at 160 pounds, would also be Dundee's second four-time state champion, joining current North Carolina wrestler Brandon Whitman, a 2019 NCAA qualifier. Buell takes a 133-15 high school record into this season and was 45-3 last year.
Buell's most impressive offseason win came at the Midwest Ironman Duals where he needed just 54 seconds to finish off two-time Iowa state champion Hayden Taylor, currently ranked 15th.
Senior Austin Fietz finished 41-6 last season, winning the state championship at 130. He has two other top-five state finishes to his credit. Fietz was 3-2 at the Grappler Fall Classic. After placing second in the state as a freshman and sophomore, senior Tyler Swiderski captured the championship at 145 pounds last season and finished 47-3.
Senior Dominick Lomazzo (24-4) was 152-pound state champion. He also beat Taylor during the offseason as well as two-time Colorado state champion Antonio Segura. As a freshman, Lomazzo was third in the state in Division 1 at 130 pounds while wrestling for Detroit Catholic Central.
Sophomore Aiden Davis (42-5) was second in the state at 125 and was 4-2 at Super 32. Sophomore Kaden Chinavare (35-9) placed third in the state at 112. Sophomore Jacob Fenbert (23-19, 119) is also a returning state qualifier.
HARTLAND
The Eagles, always a threat in Division 1, reached the state quarterfinals last season and finished 26-2. They return all nine state qualifiers and a 2019 state medalist.
Junior Avery Dickerson (45-3) was fourth in the state at 171 and sixth at GFC, besting two-time Georgia state champion Dalton Battle. Senior Justin VanVaerenbergh (46-5) was fourth at 145. Junior Patrick Wloydyga (45-5) took fourth at 103.
Nick Rochowiak, a sophomore, was fifth at 140 and finished 44-8. Junior Ethan Kinch, fifth in the state at 119 in 2019, was 30-5 last season at 130 and a district champion. However, he was unable to compete in the regional.
Other returning state qualifiers are seniors Nick Huntsman (112, 35-14), Paul Corder (189, 38-10) and Cameron Shirley (285, 31-18), junior Gabe Cappellano (130, 37-12) and sophomore Nick Dimitroff (145, 28-12).
LOWELL
The Red Arrows have lineup holes to fill having lost six of 11 state medalists and seven of 14 state qualifiers, but the program usually reloads well.
Senior Keegan Nugent (35-8) placed second in the state at 215 while senior Zeth Strejc (27-14) was second at 130. He was also eighth in the state in 2018. Senior Jacob Lee (36-10) finished third at 171 after taking fifth in the state in 2019. He beat South Dakota state champion Gavin Gulbranson during the offseason.
Senior William Link (30-13) placed fourth at 140 while senior Doak Dean can become a four-time state medalist this season. The Harvard recruit was sixth at 160 last season after placing seventh and eighth the previous two seasons.
Other returning state qualifiers are senior James Link (125, 29-14) and junior Ramsy Mutschler (112, 29-17).
CLINTON
Clinton's chances of defending its state crown appear excellent with all 13 state qualifiers returning, including a two-time state champion and two three-time state medalists. The team finished 31-5 last season.
Junior Logan Badge went 37-0 en route to winning a state title at 189. He was 215-pound champion as a freshman. Senior Brayden Randolph (54-5) was second at 171 after finishing second in the state in 2019 and third as a freshman.
Senior Spencer Konz (40-4) was third at 160 after placing third in the state as a sophomore and eighth in 2018. Junior Kent McCombs (37-10) took second at 145 after finishing fifth in 2019 while junior George Ames (39-9) was third at 135 after taking sixth in 2019.
Sophomore Connor Busz (48-8) was third at 103 and seniors Jack Voll (41-13 at 215) and Will Felts (33-10, 285) both finished sixth in the state. Senior Chase Packard (34-17) was eighth at 112.
Senior AJ Baxter (49-5) fell short of the state tournament podium last season, but the 140-pounder can still become a three-time state medalist after placing fifth in the state in 2019 and second in 2018.
Other returning state qualifiers are senior Landis Gillman (130, 42-10) and sophomores Ethan Younts (112, 32-18) and Zak Shadley (119, 32-13). Gillman went 3-2 at GFC.