2021 Oklahoma State vs Northern Iowa
NCAA Week 5 Roundup
NCAA Week 5 Roundup
Week 5 of NCAA wrestling gave us our first look at Penn State and a whole lot of storylines. Here are the things you need to know.
Feb 1, 2021
by David Bray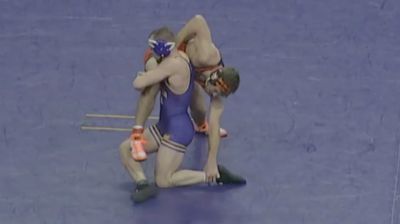 Unlock this video, live events, and more with a subscription!
Get Started
Already a subscriber? Log In
Unlock this article, live events, and more with a subscription!
Get Started
Already a subscriber? Log In
Penn State had mixed results, and a number of upstarts made strong impressions in week 5 of NCAA wrestling. Here are the biggest storylines of another wild week of the strangest college wrestling season ever.
Mixed Results for Penn State
After two weeks of cancelled competitions, the Nittany Lions finally got on the mat on Saturday with a tri that included Indiana and Northestern. Penn State was missing Robbie Howard, Michael Beard, and Greg Kerkvliet, so their opening dual with Indiana wasn't a true test, but still, the 2019 NCAA champs didn't see the results they expected. Kyle Luigs kept RBY to an 11-8 decision, #15 Graham Rooks upset #10 Jarod Verkleeren, and DJ Washington upset #5 Carter Starocci.
174 | WHAT. A. START.@DonnellWashin12 | #IUWR pic.twitter.com/mUg0Gk0vdT

— Indiana Wrestling (@IndianaWR) January 30, 2021
In their second dual of the day, Penn State looked stronger against Northwestern with incredible bonus point performances from RBY, Nick Lee, Aaron Brooks, and Seth Nevills. While we didn't get any of the ranked matchups we had hoped for, Penn State did demonstrate how dangerous they can be when they're locked in.
NC State & Virginia Tech Set Up ACC Showdown
Both NC State and Virginia Tech remained undefeated this weekend. NC State took out North Carolina 28-10 while Virginia Tech beat the Tar Heels 23-9 on Saturday after a 42-3 victory over Duke on Friday.
One of the most consequential moments in the NC State vs UNC dual was #11 Tariq Wilson's dramatic win over #10 Zach Sherman. The ACC proves once again that it's an action packed conference, and next weekend's dual between the Wolfpack and the Hokies should decide the whole thing.
#AboutLastNight: #11 R-Sr. @Iamtariqwilson was down late, but went 2+2 with a takedown and a 2-pt near fall in the closing seconds to score a top-10 win over #10 Sherman, 9-6!#PackMentality pic.twitter.com/4biwzOo9CY

— NC State Wrestling 🤼‍♂️ (@PackWrestle) January 30, 2021
Upset Specials on the Menu in Virginia vs Pitt
Higher ranked wrestlers were getting picked off left and right in Friday's dual between Virginia and Pitt. #24 Brian Courtney took out #16 Cole Matthews at 141, #13 Jake Wentzel knocked off #9 Jake Keating at 165, and #14 Nino Bonaccorsi upended #2 Jay Aiello at 197.
Bonaccorsi's win over Aiello was the biggest numerical upset even though it was probably the least surprising result given Nino's incredible performances over the years. His #14 ranking was the result of a loss to NC State freshman Isaac Trumble last week, but Bonaccorsi bounced back against the #2 man in the land and reminded everyone that the ACC is one of the premier conferences in the country, especially for 197-pounders.
✌️✌️✌️ @NeenBon

Watch the three key takedowns by Nino Bonaccorsi in his huge victory over No. 3 Jay Aiello from Virginia!#pinzburgh » #H2P pic.twitter.com/kJ0sx505Ss

— Pitt Wrestling (@Pitt_WRES) January 30, 2021
Iowa Continues its Dominance Against #7 Illinois
The Hawkeyes were missing #2 Alex Marinelli on Sunday, but that didn't stop them from rolling to a 36-6 win over Illinois, the #7 ranked dual meet team in the country. Illinois' two wins came at 165 against Iowa backup Joe Kelly and at 184 where #8 Zach Braunagel got another win over #9 Nelson Brands in overtime.
Iowa has impressive performances up and down the lineup, but perhaps most importantly, they got wins at 149, where #6 Max Murin beat #7 Michael Carr, and at heavyweight where Anthony Cassioppi pinned rising star #9 Luke Luffman. The Hawks continue to consistently impress this year. Coach Brands talked about the performance he saw from the Hawkeyes this week.
Tom Brands. 125/133/141. pic.twitter.com/71xpe4bsvC

— Iowa Hawkeye Wrestling (@Hawks_Wrestling) January 31, 2021
Malik Heinselman Leads the Way for Ohio State
Buckeye fans have been waiting for this year's version of Malik Henselman to emerge since the Colorado 125-pounder got into the lineup as a true freshman during the 2-18-2019 season. The two-time NCAA qualifier is looking like an All-American contender this year and had the biggest win of his career this weekend against Michigan State AA Rayvon Foley.
Malik's efforts this weekend helped lead Ohio State to a 24-9 victory over Michigan State and a 41-0 victory over Maryland. Heinselman and the rest of the Buckeyes face the biggest possible test when they travel to Iowa to see Spencer Lee and the rest of the Hawkeyes next weekend in Iowa City.
The Teske Train Keeps Rolling for Solid UNI Squad
Northern Iowa's Brody Teske continued his undefeated season this weekend with another ranked win over Oklahoma State's #19 Trevor Mastrogiovanni. Teske continues to be one of the brightest spots in the lineup for Doug Schwab's Panthers.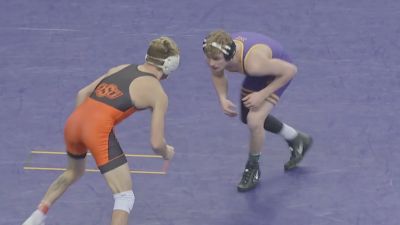 Unlock this video, live events, and more with a subscription!
Get Started
Already a subscriber? Log In
Teske wasn't the only Panther with a ranked win against the Cowboys as 184-pounder Parker Keckeisen upset #6 Dakota Geer in sudden victory. This UNI squad didn't return many starters from last year, but the new guys have looked ready to step up thus far.
Christian Lance Seals the Deal for Nebraska Over Wisconsin
With two matches to go in Lincoln, the Huskers trailed the Badgers 13-15 due in large part to a fall by Wisconsin's Garrett Model at 157 and a ranked win for #7 Chris Weiler over All-American #10 Taylor Venz. Then the Huskers came in clutch. #3 Erick Schultz teched Andrew Salemme to give Nebraska a 18-15 lead, but #14 Christian Lance had his hands full with #5 Trent Hillger.
The final bout of the day went to sudden victory where Christian Lance earned perhaps the biggest win of his NCAA career by taking down Trent Hillger to up his stock in the rankings and lock in the victory for his team. After an impressive freestyle season for Lance, he seemed poised to make this kind of jump in folkstyle, and it looks like he's doing just that.
Christian doing it for Christian. ❤️

Christian Lance walks it off in sudden victory defeating HWT Trent Hillger! @HuskerWrestling wins the dual! pic.twitter.com/GNuBKTiC93

— Nebraska On BTN (@NebraskaOnBTN) January 31, 2021