2021 Oklahoma State vs Northern Iowa
6 Reasons You Can't Miss Oklahoma State vs UNI On Saturday
6 Reasons You Can't Miss Oklahoma State vs UNI On Saturday
The #3 ranked Oklahoma State Cowboys taking on the top-20 dual ranked UNI Panthers. Here are the major storylines.
Jan 28, 2021
by JD Rader
Unlock this video, live events, and more with a subscription!
Get Started
Already a subscriber? Log In
Unlock this article, live events, and more with a subscription!
Get Started
Already a subscriber? Log In
The #3 ranked Oklahoma State Cowboys are making their way up north to Cedar Falls looking for redemption one year after being upset by Northern Iowa. Always scrappy, the Panthers just made their way into the top 20 dual rankings setting up a big dual between Big 12 rivals.
Watch Oklahoma State vs Northern Iowa LIVE on FloWrestling
Below are the projected starting lineups as well as six great reasons you can't miss this dual.
Projected Lineups
125: #19 Trevor Mastrogiovanni, OK State vs #5 Brody Teske, UNI
133: Andrew Nieman, OK State vs #14 Kyle Biscoglia, UNI
141: Dusty Hone, OK State vs Drew Bennett, UNI
149: #4 Boo Lewallen, OK State vs Tristan Lara, UNI
157: #8 Wyatt Sheets/Jalin Harper, OK State vs Derek Holschlag/Cayd Lara, UNI
165: #5 Travis Wittlake, OK State vs Pat Schoenfelder, UNI
174: Dustin Plott, OK State vs #20 Lance Runyon, UNI
184: #6 Dakota Geer, OK State vs Parker Keckeisen, UNI
197: AJ Ferrari, OK State vs Tyrell Gordon, UNI
285: Austin Harris, OK State vs #7 Carter Isley, UNI
1) Teske Train or Marvelous Mastro?
Brody Teske has come out hot this season. The Panther is 5-0 and worked his way into the top ten at 125 lbs with a couple solid and very exciting wins including one over two-time national qualifier and Big 12 finalist Alex Mackall of Iowa State. However, Teske could be up against his biggest test so far this season in Oklahoma State freshman Trevor Mastrogiovanni.
Mastro is undefeated so far this season and a top recruit coming out of high school. The New Jersey native attended Blair Academy and was a three-time National Prep champion and two-time Ironman champion.
Watch Trevor Mastrogiovanni defeat Patrick McKee at UWW Juniors in 2019 below.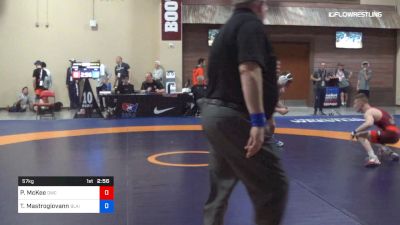 Unlock this video, live events, and more with a subscription!
Get Started
Already a subscriber? Log In
2) Big-Time Freshman Faceoff At 174
Similar to Brody Teske, UNI freshman Lance Runyon has excited Panther fans with how well he has wrestled this season. The Iowa native is 5-1 with the lone loss coming to Missouri's Peyton Mocco. Runyon's latest victory was a fall over 2020 national qualifier Anthony Mantanona.
Don't let the lack of ranking next to Dustin Plott's name fool you, however. Plott will still be the favorite here. In high school he was a Super 32 champion and the #11 overall recruit in the class of 2020. He's undefeated so far this season, but just needs a big win to crack into the rankings. Runyon could be that win or Runyon could show how much being in a college room for one year is beneficial to improvement.
Watch Dustin Plott win a Super 32 title over Iowa's Patrick Kennedy below.
3) AJ Ferrari
At this point AJ Ferrari is must watch TV. Another blue chip recruit for Oklahoma State, Ferrari was #10 on the Class of 2020 Big Board. In high school he won both Fargo and Ironman before earning a bronze medal at the 2018 Cadet World Championships. So far as a Cowboy Ferrari has gone 5-0 with three tech falls and two majors. Prior to the season he beat Missouri's Rocky Elam for the 92 kg UWW Junior National title.
Look for Ferrari's blast double as when he takes on UNI's redshirt sophomore Tyrell Gordon.
4) Somebody's 0 Has Got To Go At Heavyweight
It will be a battle of unbeaten when Carter Isley and Austin Harris take the mat Saturday afternoon. They are a combined 9-0 this season. Isley will hold the advantage as he won their one and only meeting.
Watch Carter Isley beat Austin Harris in the 2020 dual below.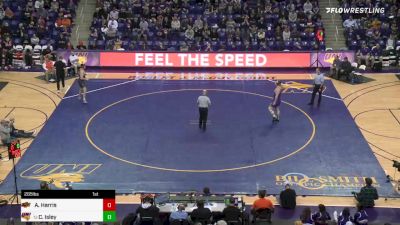 Unlock this video, live events, and more with a subscription!
Get Started
Already a subscriber? Log In
5) Can OSU Get Redemption From Last Year?
Speaking of last year's dual, I doubt John Smith and co. have forgotten about the last time they were in Cedar Falls. The Panthers won 19-15. It was the first time UNI beat Oklahoma State in almost 30 years.
Oklahoma State will be a bigger favorite this year powered by their 2020 recruits, but don't dismiss a scrappy UNI squad in Cedar Falls. We all saw what happened last year.
6) 9 Total Ranked Wrestlers, Others With Opportunity
Almost every match will feature at least one ranked wrestler with 125 being a showdown of top-25 athletes. However, this is an opportunity for wrestlers like Dustin Plott, Parker Keckeisen, and Austin Harris to possibly make their way into the next set.
#4 149: Boo Lewallen, OSU
#5 125: Brody Teske, UNI
#5 165: Travis Whittlake, OSU
#6 184: Dakota Geer, OSU
#7 285: Carter Isley, UNI
#8 157: Wyatt Sheets, OSU
#14 133: Kyle Biscoglia, UNI
#19 125: Trevor Mastrogiovanni, OSU
#20 174: Lance Runyon, UNI