2021 Utah Valley Round Robin Tournament
NCAA Week 4 Roundup
NCAA Week 4 Roundup
Week 4 brought incredible performances from the NCAA's top performers plus upsets and strong team efforts. Here are the biggest stories of the week.
Jan 25, 2021
by David Bray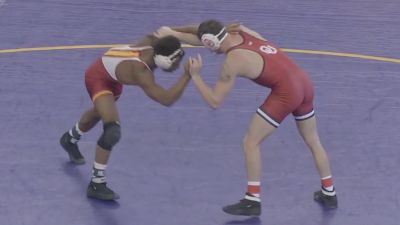 Unlock this video, live events, and more with a subscription!
Get Started
Already a subscriber? Log In
Unlock this article, live events, and more with a subscription!
Get Started
Already a subscriber? Log In
Spencer Lee and Gable Steveson brought their A games to the Hodge race this week. We also saw some wild upsets and strong team performances. Here are the biggest stories from week 4 of NCAA wrestling.
Kaleb Young Beats Brayton Lee, Gable Majors Cassioppi
The Iowa vs Minnesota matchup was the top dual on Friday night. If you missed it, you can read full match notes here. Spencer Lee looked outstanding as usual with a first period fall over #9 Pat McKee. Iowa rolled from there until the final bout of the dual.
"Unbelievable. I have ran out of adjectives."

No. 1 @LeeSpencerlee36 pins No. 9 Pat McKee in the first period. 🤯@Hawks_Wrestling x @trackwrestling pic.twitter.com/K2hUWhGa5R

— Iowa On BTN (@IowaOnBTN) January 23, 2021
The biggest surprise came at 157 lbs where #8 Kaleb Young upset #6 Brayton Lee. The bout came down to rideouts where Young ultimately got the victory.
Gable Steveson kept his bonus rate at 100% with a major decision over #3 Anthony Cassioppi, a feat that has escaped him until this match. He pushed the pace throughout and looked dominant against the third ranked big man in the land. In the end, his was the only Gopher win, but it was a big one.
Trumble Topples Bonaccorsi as NC State Dominates Pitt
#5 NC State took on #14 Pitt this weekend in an ACC dual, and the Wolfpack were out for blood. They routed the Panthers 27-6 taking eight of ten bouts in the dual.
The biggest upset of the night came at 197 lbs where unranked Isaac Trumble took out #5 Nino Bonaccori. Ever since moving up from 184, Bonaccorsi has been considered an NCAA title threat, so Trumble's upset is noteworthy. Nino will look to settle the 6-1 score when the two potentially meet at the ACC Championships at the end of the season.
Campbell Takes Lead In SoCon With Win Over App State
Campbell and App State have become the top two teams in the Southern Conference these last few years, so their dual this weekend carried tremendous importance for the conference crown. The Camels are led by first year head coach Scotti Sentes who is looking to build a head coaching legacy on top of the one he created as Cary Kolat's assistant.
The Sentes led Camels trailed App State 17-3 after six bouts in the dual, but a strong effort from the back half of the lineup and falls at 184 and 197 gave them the dual meet victory and pole position in the conference. Campbell looks strong in 2021.
Taye dominates the heavyweight bout to give Campbell the dual meet win. The roller coaster of emotions was crazy. #CamelUp🐪 pic.twitter.com/Sj5GXW3y27

— Campbell Wrestling (@GoCamelsWrestle) January 23, 2021
Mizzou Keeps Climbing
Each week, the Missouri Tigers have shown how dangerous they can be, and each week another starter seems to climb in the national rankings. This week, star freshmen Keegan O'Toole finally got his crack at a ranked 165-pounder. He beat #20 Izzak Olejnik 5-1 and should expect to see his name in the rankings this week.
The Tigers beat Ohio and Illinois by a combined score of 70-12 to prove once again that they are a trophy contending team. The weekly Missouri Tiger saga has become one of the most interesting and important in all of the NCAA.
🎥 HIGHLIGHTS l #Mizzou wins 7-of-10 bouts versus Northern Illinois, improving to 3-0 in MAC play❗#TigerStyle 🐯💪 pic.twitter.com/TOePVrPfOe

— Mizzou Wrestling (@MizzouWrestling) January 24, 2021
Ian Parker Leads Iowa State Past Oklahoma
#5 Ian Parker and #7 Dom Demas have had a back and forth rivalry throughout their college careers. Heading into their match on Sunday, Demas led the match tally 3-2. The series is even now after Parker pulled out a gritty win in Cedar Falls. He used third period toughness to edge Demas in a match that helped make the difference in an important Big 12 conference dual.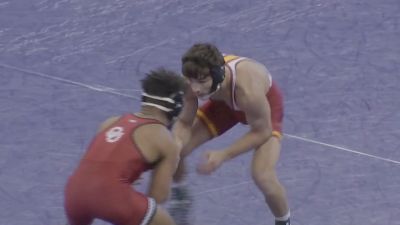 Unlock this video, live events, and more with a subscription!
Get Started
Already a subscriber? Log In
The dual started at 125 lbs and came down to heavyweight where #6 Gannon Gremmel had to come from behind against unranked Josh Heindelman. The dramatic victory for Gremmel secured Iowa State's 18-16 win over Oklahoma in their first conference dual of the season.
3 Upsets In Insane tOSU vs Rutgers Dual
Ohio State hosted Rutgers in a mostly empty arena in Columbus, and what the dual lacked in fans it made up for in action. If you missed the action, you can read full match updates here.
Like a fish hanging onto the hook. 🎣@Cbass_Rivera works a major decision over Dylan D'EMilio!@RUWrestling | @trackwrestling pic.twitter.com/ohYdv6ck0U

— Rutgers On BTN (@RutgersOnBTN) January 24, 2021
As predicted, the Buckeyes and Scarlet Knights took two matches apiece through the first four bouts, but the dual became unpredictable from there. At 157, unranked Robert Kanniard took out #25 Elijah Cleary with a dramatic double in overtime.
Ohio State took the next two bouts as their rankings predicted they would, but at 184, Rutgers' unranked John Poznanski knocked off #8 Rocky Jordan to set up a potential dual meet victory for his squad.
Ohio State wasn't ready to concede, however, and unranked Gavin Hoffman beat Rutgers' #14 Billy Janzer in a tight one. After that, #11 Tate Orndorff sealed the deal for the Buckeyes in a dual that had its share of drama.
Little Rock Makes History
Before this weekend, Little Rock had yet to win a division 1 dual. On Sunday they won two including their first PAC 12 conference dual. The Trojans took out Fresno State 35-11 and beat CSU Bakersfield 24-21.
This is a major step forward for Coach Neil Erisman's second year program. Individual Trojans went 12-8 in the 20 bouts in those duals. Next up for Little Rock is Stanford on Sunday, January 31.
Eric Barnett's Badgers Upset #13 Purdue
Wisconsin may have been the underdog against Purdue, who sits at #13 in our dual rankings, but they competed like they expected to win. The dual started at 149 lbs, and through three matches, it was going according to plan for the Boilermakers, but then, unranked Jared Krattiger took out #12 Emil Soehnlen 3-2.
The other upset on the day decided the dual as unranked Eric Barnet pinned #3 Devin Schroder in one of the most surprising upsets of the weekend. Not only did that fall give the Badgers the dual, it shook up Big Ten seeds in a year without a whole lot of data points. In short, Barnet might have just earned another NCAA bid for the Big Ten Conference.
🚨 UPSET ALERT AT 125! 🚨@BadgerWrestling's @ericbarnett1117 pins No. 2 Devin Schroder at the end of the 2nd period. @trackwrestling

📍 @AutoOwnersIns pic.twitter.com/h4bXmcpf36

— Wisconsin On BTN (@WisconsinOnBTN) January 24, 2021