2021 Women's Captains' Cup
USA Wrestling Releases Draft Eligible 50 kg Women For Captains' Cup
USA Wrestling Releases Draft Eligible 50 kg Women For Captains' Cup
The Captains' Cup is right around the corner, and USA Wrestling has just released the stacked list of draft-eligible women at 50 kg.
Jan 17, 2021
by David Bray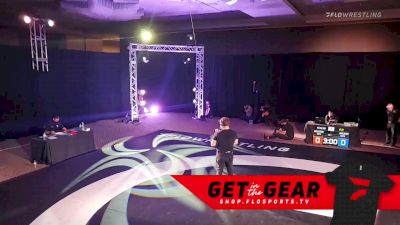 Unlock this video, live events, and more with a subscription!
Get Started
Already a subscriber? Log In
The Captains' Cup, an event featuring many of the best women in the United States, is right around the corner. Teams for the event will be decided by a draft, and USA Wrestling has just released the athletes who are eligible to be drafted at 50 kg.
Watch the Captains' Cup LIVE on FloWrestling
Friday-Saturday, February 13-14, 2021
---
Original Release by Taylor Miller of USA Wrestling
Next week, six team captains will draft their teams for the Captains' Cup presented by Titan Mercury Wrestling Club, a dual event that will showcase the top women's freestyle athletes in the United States competing for $50,000. The draft is set for January 23 live on FloWrestling.org.
The plan is to have the women who qualified the USA for the Olympic Games serve as the captains: Sarah Hildebrandt (50 kg), Jacarra Winchester (53 kg), Helen Maroulis (57 kg), Kayla Miracle (62 kg), Tamyra Mensah-Stock (68 kg) and Adeline Gray (75 kg), pending confirmation of their participation.
The competition will take place February 13-14, broadcasted by FloWrestling.
As the draft date approaches, USA Wrestling will periodically release draft eligible athletes by weight.
Today, we take a look at draft eligible athletes at 50 kg/110 lbs.
Ava Bayless
Student at Wyoming Seminary Prep School
Third at 2020 U23 Nationals
Third at 2019 Cadet Women's Nationals
Second at 2018 Fargo Nationals
Second at 2018 Cadet Women's Nationals
Whitney Conder
Five-time U.S. Senior World Team member (2011, 2014, 2015, 2018, 2019)
Silver at 2019 World Military Games
Two-time Pan American Games champion (2015, 2019)
Six-time U.S. Open champion (2011, 2014, 2015, 2017, 2018, 2019)
2007 Junior World champion
Amy Fearnside
Two-time National Team member
Bronze at 2020 Henri Deglane Grand Prix
Second at 2020 Senior Nationals
Third at 2019 Senior Nationals
2017 U23 World Team member
2014 Junior World Team member
Erin Golston
Two-time National Team member
Silver at 2019 Pan American Championships
Second at 2019 U.S. Open
Third at 2017 and 2018 U.S. Open
Three-time Junior World medalist
Alyssa Lampe
Two-time World bronze medalist (2012, 2013)
Six-time National Team member
Five-time World Team member (2010, 2012, 2013, 2014, 2015)
2019 Senior Nationals champion
Third at 2018 Senior Nationals
Emily Shilson
Student athlete at Augsburg University
Two-time U23 Nationals champion (2019, 2020)
2020 Junior Nationals champion
2018 Cadet World champion
2018 Youth Olympic Games champion
Silver at 2017 Cadet World Championships
Five-time Fargo champion
Maria Vidales
Student-athlete at Emmanuel College
Two-time WCWA All-American
Second at 2020 U23 Nationals
Second at 2019 U23 Nationals
Eighth at 2019 Senior Nationals
Also to be featured at 50 kg is 2018 World silver medalist Sarah Hildebrandt, who will be a team captain.
Keep an eye for more Captains' Cup news coming soon!