2021 Henri Deglane Grand Prix
Full Henri Deglane Registration List
Full Henri Deglane Registration List
The Henri Deglane Grand Prix has attracted a number of the world's top wrestlers. Check out the full registration list here.
Jan 11, 2021
by David Bray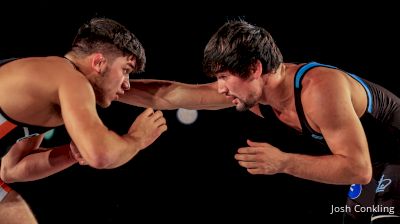 Team USA is sending a monster squad to France for the Henri Deglane, and they'll be challenged by some of the world's best. Check out everyone who pre-registered.
Watch the Henri Deglane Grand Prix LIVE on FloWrestling
Friday-Sunday, January 15-17 | 4:00 AM EST
The complete registration list was originally posted by Eric Olanowski on the United World Wrestling website.
Men's Freestyle

57kg
Chakir ANSARI (MAR)
Mahir AMIRASLANOV (AZE)
Islam BAZARGANOV (AZE)
Giorgi EDISHERASHVILI (AZE)
NilsL EUTERT (SUI)
Niklas STECHELE (GER)
Adam BIBOULATOV (FRA)
Temerlan AZIZOV (FRA)
Beka BUJIASHVILI (GEO)
Razvan KOVACS (ROU)
Andrei DUKOV (ROU)
Reineri ANDREU ORTEGA (CUB)
Vitali ARUJAU (USA)
Thomas GILMAN (USA)
Nicholas SURIANO (USA)

61kg
Nino LEUTERT (SUI)
Viktor LYZEN (GER)
Nico MEGERLE (GER)
Arman ELOYAN (FRA)
Valentin DAMOUR (FRA)
Khamzat ARSAMERZOUEV (FRA)
Beka LOMTADZE (GEO)
Leomid COLESNIC (MDA)
Ayub MUSAEV (BEL)
Ivan GUIDEA (ROU)
Anvar SUVINIITTY (FIN)

65kg
Juan Pablo GONZALEZ (ESP)
Ali RAHIMZADE (AZE)
Alexander SEMISOROW (GER)
Marwane YEZZA (FRA)
Quentin STICKER (FRA)
Ilman MUKHTAROV (FRA)
Théo MAZOYER-VEAUTIER (FRA)
Magomedmurad GADZIHEV (POL)
Vladimer KHINCHEGASHVILI (GEO)
Maxim SACULTAN (MDA)
Evghenii VOLKOV (ROU)
Nikolai OKHLOPKOV (ROU)
Alexandru MATEA( ROU)
Stefan COMAN (ROU)
Alejandro Enrique VALDES TOBIER (CUB)
Agustin Alejandro DESTRIBATS (ARG)
George RAMM (GBR)
Yianni DIAKOMIHALIS (USA)
James GREEN (USA)

70kg
Turan BAYRAMOV (AZE)
Tobias PORTMANN (SUI)
Kevin HENKEL (GER)
Abdulla TOMOV (FRA)
Zurab ILAKOBISHVILI (GEO)
Mihail SAVA (MDA)
Vasile DIACON (MDA)
George BUCUR (ROU)
Norbert MOLNOS (ROU)
Nicolae COJOCARU (GBR)

74kg
Jonathan ALVAREZ (ESP)
Khadzhimurad GADZHIYEV (AZE)
Joshgun AZIMOV (AZE)
Gadzhimurad OMAROV (AZE)
Joel MEIER (SUI)
Marc DIETSCHE (SUI)
Kubilay CAKICI (GER)
Matthias SCHMIDT (GER)
Charles AFA (FRA)
Sofiane PADIOU BELMIR (FRA)
Eduard GREGOREW (POL)
Avtandi lKENTCHADZE (GEO)
Daviti TLASHADZE (GEO)
Valentin BORZIN (MDA)
Avghenii NEDEALCO (MDA)
Zurab KAPRAEV (ROU)
Geandry GARZON CABALLERO (CUB)
Jorge Ivan LLANO (ARG)
Charlie BOWLING (GBR)
Mitchell Louis FINESILVER (ISR)
Kyle DAKE (USA)

79kg
Eduard TATARINOV (GER)
DanielS ARTAKOV (GER)
Andreas WALTER (GER)
Saifedine ALEKMA (FRA)
Adlan VISKHANOV (FRA)
Simon MARCHL (AUT)
Nika KENTCHADZE (GEO)
Stanislav NOVAC (MDA)
Grigore CARASTOIAN (MDA)

86kg
DamianI GLESIAS (ESP)
Abubakr ABAKAROV (AZE)
Osman NURMAGOMEDOV (AZE)
Stefan REICHMUTH (SUI)
Lars SCHAEFLE (GER)
Akhmed AIBUEV (FRA)
Sebastian JEZIERZANSKI (POL)
Radoslaw MARCINKIEWIC (POL)
Benjamin GREIL (AUT)
Dato MARSAGISHVILI (GEO)
Andrian GROSU (MDA)
Syerus ESLAMI (GBR)
Amir GHASEMIKIA (GBR)
Clayton PYE (CAN)
Zahid VALENCIA (USA)

92kg
Samuel SCHERRER (SUI)
Robin FERDINAND (GER)
Zbigniew BARANOWSKI (POL)
Irakli MITSURI (GEO)

97kg
Alejandro CANADA (ESP)
Sharif SHARIFOF (AZE)
Erik THIELE (GER)
Radoslaw BARAN (POL)
Radu LEFTER (MDA)
Reineris SALAS PEREZ (CUB)
Josef KLIMCAK (GBR)
Kyle SNYDER (USA)

125kg
Jose CUBA (ESP)
Gennadij CUDINOVIC (GER)
Asghar LAGHARI (GER)
Kamil KOSCIOTEK (POL)
Johannes LUDESCHER (AUT)
Geno PETRIASHVILI (GEO)
Jere HEINO (FIN)
Nicholas GWIAZDOWSKI (USA)

Greco-Roman

55kg
André SILVA (POR)
Sargis GEVORGIZYAN (AUT)
Nugzar iTSURTSUMIA (GEO)
Ekrem ÖZTÜRK (TUR)
Serif KILIÇ (TUR)
Elcin ALİ (TUR)

60kg
António CABRAL (POR)
Albert BAGUMYAN (ESP)
Murad MAMMADOV(AZE)
Luis AlbertoORTA SANCHEZ (CUB)
Kerem KAMAL (TUR)

63kg
Julinho DJU (POR)
Andy JUAN (ESP)
Murad BAZAROV (AZE)
Tigran GALUSTYAN (FRA)
Yanis NIFRI (FRA)
Mcateusz SZEWCZUK (POL)
Abdurahman ALTAN (TUR)
Mehmet ÇEKER (TUR)
Fatih ÜÇÜNCÜ (TUR)
Colton RASCHE (USA)
Devin HESTER (USA)

67kg
Marcos SANCHEZ SILVA (ESP)
Namaz RUSTAMOV (AZE)
Islambek DADOV (AZE)
Stefan CLEMENT (FRA)
Mamadassa SYLLA (FRA)
Yasin OZAY (FRA)
Gagik SNJOYAN (FRA)
Aleksander MILEWCZYK (POL)
Aker AL OBAIDI (AUT)
Ismael BORRERO MOLINA (CUB)
Atakan YÜKSEL (TUR)
Jamel JOHNSON (USA)
Raymond BUNKER (USA)

72kg
Ulvu GANIZADE (AZE)
Ibrahim GHANEM (FRA)
Selcuk CAN (TUR)
Cengiz ARSLAN (TUR)

77kg
Sanan SULEYMANOV (AZE)
Marcel STERKENBURG (NED)
Evrik NIKOGHOSYAN (FRA)
Johnny BUR (FRA)
Patryk BEDNARZ (POL)
Maksym ZAKHARCZUK (POL)
Beka MAMUKASHVILI (GEO)
Yosvanys PEÑA FLORES (CUB)
Yunus Emre BAŞAR (TUR)
Fatih CENGİZ (TUR)
Patrick SMITH (USA)
Peyton WALSH (USA)

82kg
Alejandro CONCEPCION (ESP)
Rafig HUSEYNOV (AZE)
Michael WAGNER (AUT)
Burhan AKBUDAK (TUR)
Emrah KUS (TUR)
Salih AYDIN (TUR)
John STEFANOWICZ (USA)

87kg
Yuisralembert CARRION (ESP)
Islam ABBASOV (AZE)
Tyrone STERKENBURG (NED)
Saba DJAVAKHICHVILI (FRA)
Michal DYBKA (POL)
Szymon SZYMONOWICZ (POL)
Lesyan Osvaldo COUSIN OTOMURO (JAM)
Guram KHETSURIANI (GEO)
Daniel GREGORICH HECHAVARRIA (CUB)
Emrah KUŞ (TUR)
Terrence ZALESKI (USA)
Vaughn MONREAL BERNER (USA)

97kg
Pedro GARCIA (ESP)
Jesus GASCA (ESP)
Murad LOKIAEV (AZE)
Loic SAMEN (FRA)
Melonin NOUMONVI (FRA)
Piotr CHUDZIK (POL)
Gerard KURNICZAK (POL)
Daniel GASTL (AUT)
Markus RAGGINGER (AUT)
Giorgi MELIA (GEO)
Gabriel Alejandro ROSILLO KINDELAN (CUB)
Metehan BAŞAR (TUR)
Daniel MILLER (USA)

130kg
Sabah SHARIATI (AZE)
Sulkhani BUIDZE (GEO)
Jakob KAJAIA (GEO)
Oscar PINO HINDS (CUB)
Mijain LOPEZ NUÑEZ (CUB)
Yasmani ACOSTA (CHI)
Diego ALMENDRAS (CHI)
Cenk ILDEM (TUR)
Riza KAYAAL P(TUR)

Women's Freestyle

50kg
Ana TORRES (ESP)
Jonna MALMGREN (SWE)
Lisa ERSEL (GER)
Julie SABATIÉ (FRA)
Félicia GALLO (FRA)
Yusneylis GUZMAN LOPEZ (CUB)
Taru VAINIONPÄÄ (FIN)
Evin DEMİRHAN (TUR)
Aynur ERGE (TUR)
Sarah HILDEBRANDT (USA)
Amy FEARNSIDE (USA)

53kg
Marina RUEDA (ESP)
Sofia MATTSSON (SWE)
Nina HEMMER (GER)
Annika WENDLE (GER)
Angelina PURSCHKE( GER)
Hilary HONORINE (FRA)
Emma LUTTENAUER (FRA)
Florine SCHELDER (AUT)
Lianna de la Caridad MONTERO HERRERA (CUB)
Samantha STEWART (CAN)
Diana WEICKER (CAN)
Zeynep YETGİL (TUR)
Esra PUL (TUR)
Jacarra WINCHESTER (USA)
Sara ETTAKI (ITA)
Oriana DI STEFANO (ITA)
Carmen DI DIO (ITA)

57kg
Maria VICTORIA BAEZ (ESP)
Graciela SANCHEZ (ESP)
Johanna LINDBORG (SWE)
Laura MERTENS (GER)
Sandra PARUSZEWSKI (GER)
Elena HeikeBRUGGER (GER)
Josefine PURSCHKE (GER)
Mathilde RIVIERE (FRA)
Gaëlle RUIZ (FRA)
Jeannie KESSLER (AUT)
Tianna KENNETT (CAN)
Bediha GÜN (TUR)
Mehlika ÖZTÜRK (TUR)
Lauren LOUIVE (USA)
Helen MAROULIS (USA)
Arianna CARIERI (ITA)
Francesca INDELICATO (ITA)
Aurora RUSSO (ITA)
Morena DE VITA (ITA)

63kg
Lydia PEREZ (ESP)
Johanna MATTSSON (SWE)
Luisa Helga Gerda NIEMESCH (GER)
Andrea GRASRUCK (GER)
Anne NURNBERGER (GER)
Améline DOUARRE (FRA)
Kelsey BARNES (GBR)
Jessica BROUILLETTE (CAN)
Michelle FAZZARI (CAN)
Gamze NurADAKAN (TUR)
Cansu AKSOY (TUR)
Kayla MIRACLE (USA)
Macey KILTY (USA)
Rebecca DE LEO (ITA)
Aurora CAMPAGNA (ITA)
Sara DACOL (ITA)
Elena ESPOSITO (ITA)
Yulia TKACH (UKR)

68kg
Nerea PAMPIN (ESP)
Maria SELMAIER (GER)
Eyleen SEWINA (GER)
Koumba LARROQUE (FRA)
Kendra DACHER (FRA)
Yudari SANCHEZ RODRIGUEZ (CUB)
Luz Clara VAZQUEZ (ARG)
Olivia DI BACCO (CAN)
Asli DEMİR (TUR)
Nesrin BAŞ (TUR)
Nazar BATIR (TUR)
Tamyra MENSAH STOCK (USA)
Forrest MOLINARI (USA)
Victoria FRANCIS (USA)
Veronica BRASCHI (ITA)

76kg
Carla LERA (ESP)
Francy RADELT (GER)
Johanna MEIER (GER)
Lilly SCHNEIDER (GER)
Pauline LECARPENTIER (FRA)
Cynthia VESCAN (FRA)
Martina KUENZ (AUT)
Milaimys de la Caridad MARIN POTRILLE (CUB)
Georgina NELTHORPE (GBR)
Erica WIEBE (CAN)
Epp MAE (EST)
Ay Segul ÖZBEĞE (TUR)
Merve PUL (TUR)
Vahide Nur GÖK (TUR)
Elenj PJOLLAJ (ITA)
Enrica RINALDI (ITA)