2021 South Dakota State Wrestling Tri-Meet
All The Upsets From NCAA Week 2
All The Upsets From NCAA Week 2
Week 2 brought more chaos. We gathered every upset we could find and broke down how they shift this year's NCAA landscape.
Jan 11, 2021
by David Bray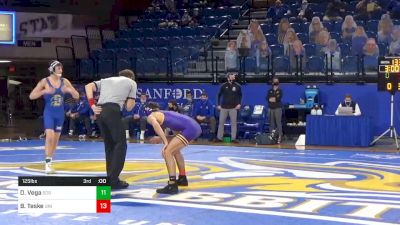 Unlock this video, live events, and more with a subscription!
Get Started
Already a subscriber? Log In
Unlock this article, live events, and more with a subscription!
Get Started
Already a subscriber? Log In
The rankings will get shuffled a bit more this week as we had more than double the upsets we saw in week 1. Check out all the upsets we could find in weight class order. If you saw an upset I missed, let me know with an email to david.bray@flosports.tv or a dm to @_davidbray on Twitter.
125
Four upsets here including two by true freshmen Trevor Mastrogiovanni of Oklahoma State and Dylan Ragusin of Michigan. We'll see how high they climb this season.
Jake Ferri, Kent State D;4-3 #12 Killian Cardinale, West Virginia
#22 Justin Cardani, Illinois D;3-1 #13 Brock Hudkins, Indiana
Trevor Mastrogiovanni, Oklahoma State D;8-2 #18 Fabian Gutierrez, Chattanooga
Dylan Ragusin, Michigan F;:59 #19 Nic Aguilar, Rutgers
133
Michael McGee stays undefeated for ASU with a nice win over Madrigal. Biscoglia and Shaner both have NCAA qualifiers on their rosters at 133, but each took advantage of his starting opportunity with nice upsets over Price and Witcraft respectively.
#12 Michael McGee, Arizona State M;13-3 #10 Anthony Madrigal, Oklahoma
Kyle Biscoglia, Northern Iowa F;6:22 #13 Zach Price, South Dakota State
Jason Shaner, Oregon State D;6-4 #16 Reece Witcraft, Oklahoma State
Job Greenwood, Wyoming F;:52 #19 Andrew Marten, Central Michigan
Patrick Gould, Kent State Default #21 Mario Guillen, Ohio
Alex Urquiza, NC State D;5-4 #25 Sean Carter, Appalachian State
Ryan Jack, NC State D;9-2 #25 Sean Carter, Appalachian State
141
Allan Hart looks like he's getting closer and closer to securing his starting role for Mizzou. This top 10 win certainly helps.
#14 Allan Hart, Missouri D;4-2 #9 Dresden Simon, Central Michigan
149
Brock Hardy put a stamp on 149 with a win over Blockhus after getting the starting nod over Kevon Davenport. Jonathan Millner wrestled four different NC State 149-pounders, and while he beat Ed Scott, the freshman starter, in the dual, he was pinned by Hunter Lewis in extra matches.
Brock Hardy, Nebraska D;9-2 #18 Michael Blockhus, Minnesota
Hunter Lewis, NC State F;1:29 #21 Jonathan Millner, Appalachian State
157
Justin Thomas had a solid performance to take out Jacori Teemer. Kevon Davenport was ranked at 149 but bumped up with Hardy in the lineup. Davenport struggled in his match with Carlson. He'll be interesting to follow this year.
#16 Justin Thomas, Oklahoma D;6-2 #10 Jacori Teemer, Arizona State
Cael Carlson, Minnesota T;17-2 #20 Kevon Davenport, Nebraska
165
We saw two top ten upsets at 165 as Formato upended #7 Bullard and Andrew Sparks, the guy who upset Cael Valencia in the California state finals last year, took out #10 Peyton Robb.
#25 William Formato, Appalachian State D;4-0 #7 Thomas Bullard, NC State
Andrew Sparks, Minnesota D;7-6 #10 Peyton Robb, Nebraska
Peyton Hall, West Virginia M;9-0 #22 Colt Yinger, Ohio
174
ASU freshman Trey Munoz made his varsity debut in impressive fashion with a win over #6 Anthony Mantanona. Thomas Flitz of App State had a top ten upset of his own over NC State's Daniel Bullard although he fell to Bullard's teammate Faison.
Trey Munoz, Arizona State D;8-3 #6 Anthony Mantanona, Oklahoma
#21 Thomas Flitz, Appalachian State D;6-4 #10 Daniel Bullard, NC State
Alex Faison, NC State D;10-4 #21 Thomas Flitz, Appalachian State
184
Haas took out Webster to help Nebraska beat Minnesota, and Tate Samuelson took a couple of losses after his upset over Clothier last week.
Nathan Haas, Nebraska D;5-2 #15 Owen Webster, Minnesota
#23 Jeremiah Kent, Missouri D;6-4 #19 Tate Samuelson, Wyoming
Colton Hawks, Missouri D;4-3 #19 Tate Samuelson, Wyoming
197
Rocky Elam was in the Mizzou lineup for the first time. He got an injury default win over Stephen Buchanan, so that won't impact the rankings. Still, his presence on the mat confirms that he's starting as many believed he would.
Rocky Elam, Missouri Default #18 Stephen Buchanan, Wyoming
285
Big win for Trussell over Northern Colorado's #11 Dalton Robertson, and SIUE's McKiernan took out Northern Illinois' Max Ihry.
Chase Trussell, Utah Valley D;3-0 #11 Dalton Robertson, Northern Colorado
#25 Colton McKiernan, SIU Edwardsville D;2-1 #24 Max Ihry, Northern Illinois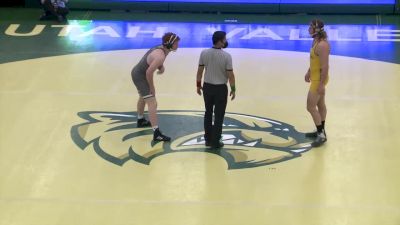 Unlock this video, live events, and more with a subscription!
Get Started
Already a subscriber? Log In