FloWrestling 3: Adeline vs. Tamyra
Match Notes For The Adeline vs Tamyra January 9 Card
Match Notes For The Adeline vs Tamyra January 9 Card
Follow all the action from Austin, Texas with live updates of the Adeline vs Tamyra January 9 Card.
Jan 9, 2021
by Andrew Spey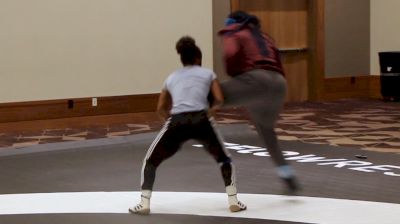 Unlock this video, live events, and more with a subscription!
Get Started
Already a subscriber? Log In
Unlock this article, live events, and more with a subscription!
Get Started
Already a subscriber? Log In
Tonight is the night! Two defending world champs at Olympic weights meet here in Austin, Texas to headline the biggest card of 2021!
Watch FloWrestling: Burroughs vs Taylor LIVE
Saturday, January 9, 2021 | 8 PM EST
We're all weighed in and ready to go. When the action begins, the blogging does too!
155 lbs: Mitch McKee vs Tristan Moran
1st period: These guys didn't get a chance to settle things in folkstyle at 141-pounds at the 2020 NCAA tournament unfortunately, but they're going to get a chance to face off in freestyle. Tristan finished his career at Wisconsin and now has an Askren Wrestling Academy singlet. McKee was and is a Gopher. Moran in on a leg early, and McKee, will on the mad slips a leg in and flips Moran over. Moran finishes on top so it's 2 McKee, 1 Moran rarely. McKee in on the next dangerous attack. Moran defends. 2 offered but 1 is confirmed as they go out of bounds. Grounded could have been called but no dice. McKee in on another shot. Moran looking jonesy tilt but McKee powers through for two more. Par terre strength for McKee shining through as he gets two powerful gut wrenches to run the score up to 9-1. Moran shoots to try and get back in the match but McKee chest wraps Moran head over heels and that'll be the match, 11-1 Mitch McKee is victorious!
Mitch McKee gets the first period tech in tonight's opening bout.

— FloWrestling (@FloWrestling) January 10, 2021
---
61kg: Ronna Heaton vs Desiree Zavala
1st period: Ronna ranked #5 domestically at 53kg, Desiree #8 at 62. They meet at 61. Heaton not letting the size get to her, she ties up and underhooks Zavala out of bounds for the first point. Zavala then shoots in and comes close to converting but Heaton scrambles and collects two. Heaton close with a gut wrench but Zavala hip heists out of danger and gets a reversal for one. Another shot by Zavala, this time Heaton kicks free after a brief scramble. Still 3-1 with a minute to go. Heaton with a shot but the reattack from Zavala has Heaton in trouble. Short pike run has Heaton on her butt and Zavala gets the takedown. We go to the break and it's 3-3, Zavala leads by criteria.
2nd period: Zavala shoots early and has Heaton's right leg. Heaton floats her hips, gets her legs back to collects two more for a takedown. Heaton looking for another gut but Zavala again steps over. They trade exposures and Heaton leads by two. 8-6. Another shot by Zavala equals a score by Heaton to extend her lead to 4. 10-6 Heaton. Now Zaval scores on a shot from Heaton, 10-8. 30 seconds to go. Zavala in on a shot with 20 to go, it will give Desiree the lead with criteria. Heaton scrambling for her life, and she holds on! Ronna Heaton gets the 10-8 win an action-packed second bout!
Ronna Heaton is able to hold on to the win in the last moments of the match, she wins 10-8 over Desiree Zavala.

— FloWrestling (@FloWrestling) January 10, 2021
---
215 lbs: Nate Jackson vs Wynn Michalak
1st period: Nate is moving up a weight class and Wynn is taking off his coaching whistle to mix it up again on the mat. Jackson actually has an inch of height on Michalak though so he'll have to use his thickness to neutralize Jackson's length. The first period is very cautious and then Jackson gets a front head in short offense. He throws it by, almost didn't get it but then just kind of slides behind for the first two. Their back on their feet. Bread and butter CRAM double by Jackson, switch off to a single and converts for two more. Then a lace, on the second attempt to lock it up gets himself two more. Jackson up 8-0. Single leg for Jackson, switch to a double and it's 8-0. Another scramble, this time Michalak pushes Jackson out and scores his first point. Good thing for Wynn as Jackson gets another takedown with 2 seconds left in the period.
2nd period: Jackson up 10-1 with a fresh period on the clock. Michalak tries to get back into this match with a nice single leg grab, but Jackson is too sharp. He stops Wynn's momentum and counters for two more, ending the match with a 12-1 win by technical superiority.
---
61kg: Seth Gross vs Zane Richards
1st period: Gross has got some serious height on Richards but he's quite slender, and so will have a significant length advantage over Illini-RTC's Zane Richards. Gross looks for a two-on-one and whizzer kick, Richards is ready and catches his leg. A WILD scramble ensues. Richards comes out on top and leads 2-0. Richards looking for a go-behind in the next exchange but Gross magics himself out of danger and their back in neutral. Richards then drives Gross out of bounds. Richards back in on a double, wrapped tight around his legs, but they fall to their hips and Gross somehow avoids the takedown. Another made scramble ensues and Gross gets two turns out of it. Gross in on the next shot, drives Richards out of bounds and get the step out penalty to make it 5-3 in a wild first period. Mercifully for my metacarpals we go to the break.
2nd period: Another scramble and Richards is trying to limp arm out a whizzer. He does, but they go out of bounds and the call is grounded. No points. Richards in again but Gross is using his length to his advantage, get his arms locked around Zane's body and slithers his way behind and makes it 7-3. Richards underneath on a shot again. Gross trying to scramble behind, Richards wings him over but Gross holds on tight enough and (I guess) changed direction to make it his turn and it's 9-3. Another shot by Richards and another takedown by Gross, he's been pouring it on since early in the first. Time running out for Richards, who shoots again but Gross and his savvy scrambling keeps Richards from climbing above 3 on the scoreboard. That'll do it, Gross and his superior scrambling made for an entertaining bout. He picks up the dub with an 11-3 win!
Seth Gross matches are fireworks from whistle to whistle. Gross wins big over Zane Richards.

— FloWrestling (@FloWrestling) January 10, 2021
---
143 lbs: Ethan Lizak vs Matt McDonough
1st period: After a five-year hiatus, two-time NCAA champ Matt McDonough is back on the mat. His opponent, NCAA finalist Ethan Lizak. McD in on a shot early, now Lizak with a Russian tie. Level change from Lizak and a double gives him two. High gut wrech, Lizak jumping over the top of McDonough in parterre and he picks up and is looking for more. McDonough keeps looking to step over and his grabbing legs but Lizak powers through and keeps rolling around. Lizak gets three more exposures and just like that, former gopher, now Penn RTC athlete Ethan Lizak gets a 10-0 technical fall victory!
---
65kg: Nahshon Garrett vs Joey McKenna
1st period: Thicc Garrett moving up to 65kg. Not sure if it's permanent but he looks every bit the 65kg. McKenna has been a force at this weight for a few years now, so an excellent test for Nahshon. Feeling out for almost a minute but then a snatch single by McKenna and Nahshon goes to his back. Looking like Garrett my have been thinking gator bacon but it's all McKenna's points. Joey looking for a lace now but can't get the turn. Garrett now looking to step over, can't get that but does 'escape' for now points. Garrett trying a snap down go behind without breaking contact, grabs an ankle and gets a roll thru for two. It's 4-2 and we finally get brought up to neutral after a crazy couple of sequences. Less action but a couple flurries in the final 30 seconds of the period. Still 4-2 McKenna at the break.
2nd period: McKenn gets his hooks behind Garretts knees but Garrett pulls the hands up and counters. McKenna attacks again and they scramble out of bounds. They call continuation this time and it's 6-2 McKenna. 2 minutes remaining. McKenna with a cobra strike single leg, and powers Garrett down for a takedown. McKenna locks up a gut wrench and pops his hips through for a turn. That looks like Coach Brandon Slay's influence at the Penn RTC. You can hear Slay yell 'run run run' when McKenna needs that extra effort for the turn. One more of those and its a 12-2 tech fall by McKenna. Joey looked very strong.
Joey McKenna proves to be too much for Nahshon Garrett and he gets the tech.

— FloWrestling (@FloWrestling) January 10, 2021
---
51kg: Emily Shilson vs Erin Golston
1st period: Both wrestlers have age level UWW World medals. Golston has more experience on the next level, as Shilson is just getting her feet wet in the senior circuit. Shilson strikes first on a low single but she hasn't scored yet. Shilson brings Golston up off the mat and drives her back down but out of bounds for a single point. 1-0 Shilson. Now Golston in on a shot. Shilson trying to cut the corner but Golston finishes cleanly for the 2-1 lead. Now a tight lace for Golston. Two turns extends Golston's lead to 5. It's 6-1 and we're back in neutral. A flurry in the center but no score. One minute left in the period. Golston in on a shot, SHilson furiously trying to stop it, but Golston powers through and makes it 8-1. Short time in the period, and that's how the first half ends.
2nd period: Back to the center, Golston shoots, Shilson looking for a go behind, grounded action and we're back to the center. Nice strong shot by Golston but stronger hips from Shilson keeps the score at 8-1. Shilson taking ground, has Golston on her heels at the edge. Now a flurry as they trade shots. Down on the mat they spin around but no scores and back to the center. One minute left. Golston cruising, but then relaxes in short time at the edge and Shilson picks up a snap down go behind. Shilson keeps attacking in the final 10 seconds and gets another takedown but it's moot. 8-5 win by Erin Golston!
Erin Golston started off quick with this exchange and never looked back. Golston beats Shilson 8-5.

— FloWrestling (@FloWrestling) January 10, 2021
---
152 lbs: James Green vs Pat Lugo
1st period: Both of these guys wrestled in the 150-Pound 8-Man challenge. Both lost to Bajrang Punia, unfortunately for Lugo his match was in the first round and that's the only match he got. Green won his first two and fell to Bajrang in the finals. Green is on his way down to 65kg, weighed in at 149ish, or about 67.5kg. Not much after about a minute but then Green scores first with a savvy level change and clean finish. 2-0 back in neutral. Shot by Lugo, Green nearly turns it into his points with his counter. Another flurry but no scores as we go to short time. We go to the break 2-0.
2nd period: They get going early with a gnarly flurry. They go out of bounds, tough to see who touched out of bounds first. Call is one for Lugo. Green's corner challenges. Green has Princeton head coach Chris Ayres, filling in for the SE-RTC coaches who are with the Virginia Tech team. Challenge is successful so Green makes it 3-0. Lugo wrestling tough with the overs and under. Green hunting for legs. Another brusing flurry, and we break the action as Green looks hurt. Could be a knee, not a good scene. Scratch that, Lugo's foot slips off Green's lat and pops him in the face. Green shakes it off, hopefully just a little stunned. We're back in action, still 3-0. More action but no scores. These flurries are something else. Green drops to his knees while going out of bounds but the ploy fails and he gives up a step out. Green also went on the clock a few seconds ago. Shot clock expires and Green's lead is down to one. Lugo still needs more than another single point to win. It's 3-2 with time running out. Lugo pressuring but the level changes aren't there and Green fends of the Hawkeye to pick up the 3-2 win!
It was a close one, but this takedown was the deciding factor in James Green's 3-2 victory over Pat Lugo. J'den Cox vs. Hayden Zillmer up next!

— FloWrestling (@FloWrestling) January 10, 2021
---
97kg: J'den Cox vs Hayden Zillmer
1st period: J'den Cox back on the mat for first time in almost a year. The Cerro Pelado in Cuba last February was J'den's last competitive match. Hayden Zillmer the Jack Pine Savage wrestled more recently at the RTC Cup among other competitions. Collar ties but not a lot of action. Cox goes on the clock first. Basically was a coin flip to decide who got the passivity. Cox gives up the point. Not much else happens and now it's Zillmer's turn to pick up a passivity. Final ten seconds and Cox starts changing levels and goes on the prowl for ankles. Zillmer avoids giving up a late score and Cox ends the period with a smile, though down 1-0.
2nd period: Sweep single after 20 seconds and Cox now collects a leg. He climbs up Zillmer's long frame and pounces to cover for two. He gets a good amount of time to work on top and manages a gut, despite Zillmer doing a good job making himself heavy on the mat. They're back on their feet, J'den with a 3 point lead. Zillmer trying to get back in the match but Cox is elusive. Toward the edge of the mat, Zillmer thought he was giving up just one but Cox essentially teleports behind him for his second takedown and a 6-2 lead. Zillmer gets a single up in the air and has Cox hopping with just a few seconds remaining. A step out gives Zillmer a second point but this match was all J'den, he wins 6-2! So good to see our Olympic bronze and two-time world champ back on the mat.
Confirmed: J'den Cox still really good at wrestling. J'den gets the 6-2 victory and now it's time for our main event!

— FloWrestling (@FloWrestling) January 10, 2021
---
Main Event 76kg: Adeline Gray vs Tamyra Mensah-Stock
1st period: Champ vs champ, here we go! Adeline struts out to Seven Nation Army. Tamyra's song sounds familiar but probably too new and hip for my old ears to recognize. The gold medal favorites in two different Olympic weight classes are scrapping on the mat! Good shot by Tamyra but Adeline with a deep srpawl. They're back on their feet. Another single leg and Tamyra converts this one. Now it's Tamyra with Adeline ina. lace. One turn, while she get another? No, Gray bellies out. They're back in neutral but Mensah-Stock has a 4 point lead. A couple shots by Adeline but nothing else for the scoreboard in the first period.
2nd period: Pressure is on Adeline, but she's been able to battle back in high pressure situation. And he has that parterre offense in the form of a devastating lace in her arsenal. Gray reaching in. Now a level change and shot but Mensah-Stock keeps her at bay. 90 second left. Under a minute. Mensah-Stock circling and staying in position. 10 seconds. And that'll do it! Tamyra gets the shut out victory! Incredible work from Tamyra Mensah-Stock!
In the battle of world champs, Tamyra Mensah-Stock is able to shut down Adeline Gray and win 4-0.

— FloWrestling (@FloWrestling) January 10, 2021
And the night is over just like that. Flew by. Which will happen with entertaining wrestling!
I don't know about y'all but I have a good feeling about the state of American wrestling. Lots of champs and world medalists on the mat. Lots of action. No injuries. Only one (correctly thrown) challenge brick. Thanks for following along, apologies for the typo and we'll see you all Wednesday in Lincoln!