FloWrestling 4: Burroughs vs. Taylor
How Michael Jordan vs LeBron James = Jordan Burroughs vs John Smith
How Michael Jordan vs LeBron James = Jordan Burroughs vs John Smith
Bratke breaks down how the Michael Jordan vs LeBron James debate equals the Jordan Burroughs vs John Smith GOAT debate.
Jan 7, 2021
by Kyle Bratke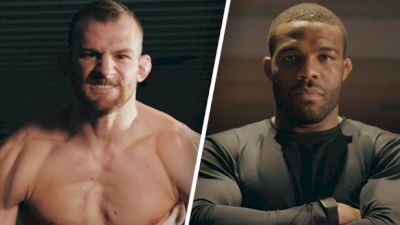 Michael Jordan vs LeBron James. The argument of who is the greatest basketball player of all-time divides family, friends, and instantly provokes a response from everyone no matter what side you are on. While John Smith is widely considered the greatest American wrestler of all-time, we hear you Bruce Baumgartner fans, Jordan Burroughs is currently making a push at the crown. The debate between Smith and Burroughs may not be as heated as MJ-LeBron, but there are several similarities between the two debates.
Watch FloWrestling: Burroughs vs Taylor LIVE
Saturday, January 13, 2021 | 8 PM EST
Six For Six
In every MJ-LBJ argument, the first data point that Jordan fans point to is that Jordan was undefeated in the NBA finals going a perfect 6-0 against the Western Conference on the sports biggest stage. While LeBron has been to more NBA finals, 10, so far in his career, his record in those appearances is 4-6.
In the wrestling world, John Smith brought home a gold medal from the six World Championships & Olympic Games he competed in. Not only did Smith win a gold medal in each of his appearances at the World Championships or Olympic Games, but he did so in six consecutive years.
Watch John Smith beat two-time Olympic champion Sergei Beloglazov.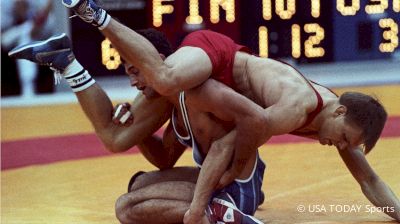 Unlock this video, live events, and more with a subscription!
Get Started
Already a subscriber? Log In
Jordan Burroughs opened his Senior-level career with three straight gold medals at World Championships and Olympic Games before bringing home a bronze medal from the World Championships in 2014. Burroughs will likely not replicate Smith's six for six achievement, but he's already surpassed Smith's total medal count with eight World and Olympic medals. The New Jersey native also has the same number of World Championships.
Changing The Sport
Jordan and Smith are considered GOATs not for just being champions, but for how they changed their sports forever.
When Jordan entered the NBA, the league was nowhere near as popular in the United States as it is now and wasn't a big deal in overseas countries. By doing things on the court that no one had ever seen before, Air Jordan put the NBA on his back and helped the league reach unbelievable heights both in the U.S. and globally.
Smith also brought his own style to the sport and helped change wrestling forever. One of my favorite videos on the site is Smith talking about how maniacally obsessed he was when he was working on developing the low single.
Watch Smith talk about how he worked to develop his low single.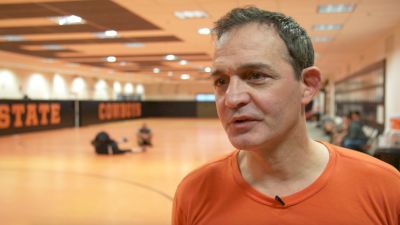 While James and Burroughs' impact on their sports may not be truly known until they retire, you can already begin to see the legacy they are leaving behind.
Just like Jordan, James entered the NBA doing things no one had ever seen done on a basketball court. Let alone by an 18-year old who is 6'9 and 250 lbs. Not only that, but you could and still can feel comfortable playing James at every position on the court.
The year before Burroughs made his first World Team in 2011, Team USA failed to win a single medal at the 2010 World Championships. Since then, Team USA has never finished below ninth and has finished in the top three on six occasions. Alongside an emerging Regional Training Center system, Burroughs was the unquestioned leader of a new era in United States wrestling history. Senior-level freestyle wrestling has never been more popular in the United States, and each year the audience grows larger and larger.
Watch Burroughs win his first World title in 2011.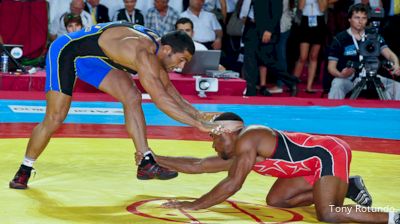 Unlock this video, live events, and more with a subscription!
Get Started
Already a subscriber? Log In
Sustained Success
While James and Burroughs may not be perfect like Jordan and Smith were, they each have been arguably the best in the world at their sport for over a decade in James' case and approaching a decade with Burroughs. From 2011-2018, James made eight straight NBA finals for two different franchises. Burroughs has made nine straight U.S. World Teams and will go for his tenth consecutive team at the 2021 Olympic Team Trials.
In 2019, James failed to make the NBA playoffs in his first year with the Los Angeles Lakers. In 2020, the Lakers were the #1 seed in the Western Conference, and he won his fourth NBA championship. In 2016, Jordan Burroughs went into the Rio Olympic Games as the favorite to defend his 2012 Olympic gold medal. However, he returned to the United States empty-handed. In 2017, Burroughs returned to the top of the wrestling world when he won his fourth World championship. Burroughs has gone on to win two more medals at the World Championships, and James enters his 18th year in the NBA and is still clearly the best player in the league. Neither is showing signs of slowing down anytime soon.
Watch Burroughs beat Khetag Tsabalov in the 2017 World Championship finals.
While Jordan and Smith had long periods of dominance, neither were as dominant for as long as we're currently seeing from James and Burroughs. Basketball players and wrestlers that grew up idolizing the duo are now becoming their rivals on the court and mat.
Evolution Of Their Game
As the old saying goes, you either evolve or die. While James and Burroughs would likely still be successful had they not evolved their game over time, they may not have stayed at the top of their sport for as long as they have.
In the first decade of James' career, he would take over games and many times carry his team to a win, a finals appearance, or an NBA title. However, in recent years James has become much more of a facilitator on the court. James is also widely regarded as one of the smartest players in the NBA and is always two to three steps ahead of his opponent mentally. James can and still does take over games when he needs to, but the days of him doing so on a nightly basis are gone.
Burroughs burst onto the Senior-level scene in 2011, fresh off an NCAA title, and quickly developed a reputation of having a quick-strike offense that could put points up on the board in bunches. After his first world title, opponents had plenty of film on him and attempted to implement strategies to slow his explosive offense down. Burroughs would then become proficient at staying calm, picking his spots, and making the most of the few opportunities presented to him in matches. Like James, time and time again we witnessed Burroughs make savvy and heady decisions that not every wrestler is wise enough to make in the heat of battle. Over the years, Burroughs has also developed a level of grit and perseverance that few on the planet in any walk of life possess. This grit and mindset have helped separate Burroughs from many of his opponents and challengers just like it did for Jordan, Smith, and James.
Watch Burroughs gut out a win over Isaiah Martinez at Final X - Lincoln.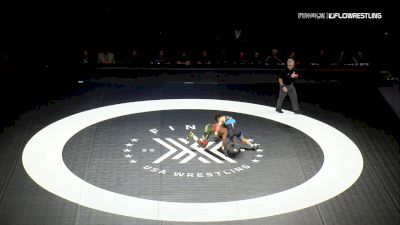 Unlock this video, live events, and more with a subscription!
Get Started
Already a subscriber? Log In
---
On Saturday night, Burroughs has the chance to add to his legacy. Not only can he improve to 5-0 against world champion David Taylor, but this time as an undersized wrestler bumping up a weight class to take on one of the best pound-for-pound wrestlers on the planet. Will matches like this one and what he does in the next quad be enough to push Burroughs past Smith as the greatest American wrestler of all-time?