FloWrestling 4: Burroughs vs. Taylor
Jordan Burroughs vs David Taylor Betting Odds
Jordan Burroughs vs David Taylor Betting Odds
Betting odds for all 11 wrestling matches on the January 9th Jordan Burroughs vs David Taylor pro card.
Jan 6, 2021
by Andrew Spey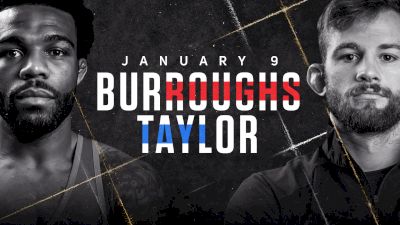 Unlock this article, live events, and more with a subscription!
Get Started
Already a subscriber? Log In
At last! I chance to prove you are an elite wrestling handicapper! Below are the point spreads for all 11 matches on this Saturday evening's wrestling bonanza according to the so-called quote-unquote experts.
Watch FloWrestling: Burroughs vs Taylor LIVE
Saturday, January 13, 2021 | 8 PM EST
If these odds-makers of dubious provenance did their job correctly, few will be able to correctly pick all 11 matches against the spread. To prove you possess superior wrestling acumen, click here and participate in this Pick Em Content. You can also win a free t-shirt on top of brandishing your wrestling credentials.
You can also use the point spreads to make friendly wagers with your pals. Or unfriendly wagers with your enemies. What you do with your free time and with whom you do it is frankly none of our business.
155lbs: Tristan Moran vs Mitch McKee -3.5
Moran defeated McKee in two of their last three collegiate wrestling matches, including their most recent encounter. But Mckee has the more accomplished wrestling pedigree, which should work in his favor, as this match will be in freestyle.
Their first meeting in the 2019 season dual was a thriller: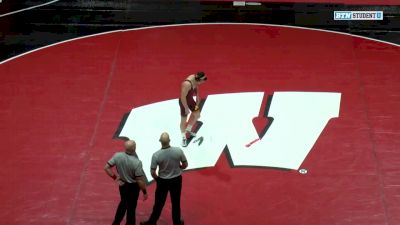 Unlock this video, live events, and more with a subscription!
Get Started
Already a subscriber? Log In
60kg: Ronna Heaton vs Desiree Zavala -2.5
Heaton will be going up nearly two Olympic weight classes to take on Zavala. Both wrestlers are ranked in the top 10 domestically. Tough to know what's going to happen at a catchweight like this.
215lbs: Wynn Michalak vs Nate Jackson -3.5
Jackson is also giving up weight to Michalak, however, Jackson has been improving his stock recently as evidenced by his performance at 2020 Senior Nationals, the 195-Pound 8-Man Challenge, and the RTC Cup.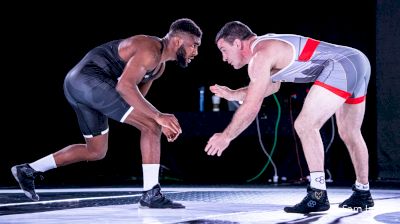 Unlock this video, live events, and more with a subscription!
Get Started
Already a subscriber? Log In
61kg: Zane Richards vs Seth Gross -3.5
Both wrestlers are in the top 10 domestically at 57kg (where they plan to compete for a spot on the Olympic team), however, Gross' results have been more impressive. Had the so-called experts set an over/under for this bout, you can rest assured it would easily clear double digits.
143lbs: Ethan Lizak vs Matt McDonough -0.5
McDonough's last international competition was in 2015, where he went beast mode and wrestled in two different weight brackets at the same event. He's been mostly committed to coaching since then. Lizak finished his collegiate career in March of 2019 and was on the mat at 2020 Senior Nationals last October. A difficult match to handicap, given the uncertainty of two-time NCAA titlist McDonough's readiness, hence the tight spread.
65kg: Nahshon Garrett vs Joey McKenna -2.5
Garrett is looking like a full size 65kg, so we don't expect weight to be much of an issue for either wrestler.
Good couple days of work with @nahshongarrett he's a full size 157lber now 🤣. @flowrestling card this weekend and then I'm off to France 67kg! Let's go! #GreenIsTheNewGold pic.twitter.com/zAUg97atjH

— James Green (@WhoIsJamesG) January 5, 2021
McKenna has been competing more consistently at the top tier of 65kg, however, and has an advantage according to the bookies.
51kg: Emily Shilson vs Erin Golston -1.5
The youth of Shilson vs the experience of Golston. Both have multiple medals from age-level world championships. Golston holds the edge at the senior level, however, the question is for how much longer.
152lbs: Pat Lugo vs James Green -3.5
Green has the accolades, but all Lugo has to do is keep it to under a two takedown match to cover the spread. Lugo was able to hold Bajrang's margin of victory at the 150-Pound 8-Man to five points. Green lost to Bajrang in the finals by four points, suggesting the two aren't far apart.
97kg: Hayden Zillmer vs J'den Cox -9.5
Zillmer gave Cox all he could handle in the 2018 US Open finals, then kept the first match close at Final X. Cox blitzed through Zillmer with a whirlwind lace-tech, and has been on a global rampage ever since. If Zillmer can weather six minutes of J'den, he'll beat the spread and make winners of anyone who picked him.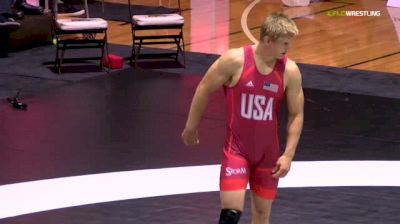 Unlock this video, live events, and more with a subscription!
Get Started
Already a subscriber? Log In
76kg: Tamyra Mensah-Stock vs Adeline Gray -4.5
It was an 8-0 victory for Gray back in 2017 in the only other meeting between these two world champs. Mensah-Stock is also moving up to Gray's weight and Adeline's trophy case features five-times the UWW senior world golds compared to Mensah-Stock's. In Tamyra's favor is that she wrestled the best she's ever looked at 2019 Worlds, where she also qualified the weight class for Tokyo, so it reasons that she has narrowed the gap since 2017.
86kg: Jordan Burroughs vs David Taylor -1.5
You shouldn't need any more analysis to make a pick at this point. But if you do, just rummage around here, we've got scads of it for you. You either think Burroughs still has the edge of David or you think Taylor is going to be too much for Jordan. It's 86kg and the spread is 1.5, so, who ya got?