FloWrestling 3: Adeline vs. Tamyra
Nothing But Gold. Watch All 14 Titles Hauled In By The JB vs DT Field
Nothing But Gold. Watch All 14 Titles Hauled In By The JB vs DT Field
The wrestlers on the Jordan Burroughs vs David Taylor card have won an incredible 14 World or Olympic gold medals. Watch them all in one place!
Jan 1, 2021
by David Bray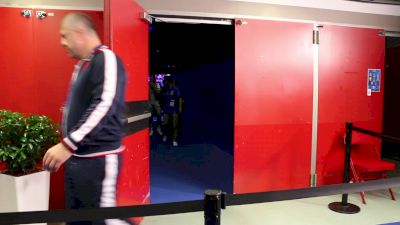 Unlock this video, live events, and more with a subscription!
Get Started
Already a subscriber? Log In
Before you watch two incredible clashes between World champions, relive, in sequential order, the 14 moments that made each wrestler on this card #1 on the planet. Then, get hyped for Jordan Burroughs vs David Taylor, Adeline Gray vs Tamyra Mensah-Stock, and the return of J'den Cox as he takes on Hayden Zillmer.
Watch FloWrestling: Burroughs vs Taylor LIVE on FloWrestling
Saturday, January 9, 2021 | 8:00 PM EST
Burroughs Burst On The Scene In 2011
After winning his second NCAA title, Jordan Burroughs made his first senior level World team and made most of his opportunity. He knocked off Sadegh Goudarzi of Iran in the finals for title #1. This was also the year that Adeline Gray won her first senior level bronze medal (while she was still Junior eligible, by the way).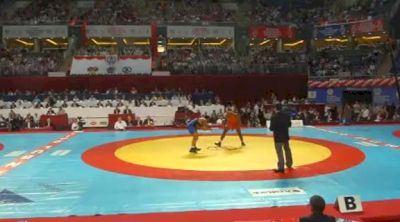 2012 - Olympic Gold For JB & Adeline's First World Title
The 2012 Olympics brought familiar opponents for Burroughs. He had Goudarzi again, this time with wrestling's most prestigious prize on the line.
Adeline Gray earned her first World title this year at the non-Olympic World Championships over Dorothy Yates of Canada. It was clear that she, like Burroughs, was just getting started.
Jordan Makes It Three In A Row In 2013, and Adeline Tacks On Bronze
By 2013, Burroughs was looking pretty much unstoppable. After he won gold number 3, the news broke that he had competed on a broken ankle. The man was starting to look invincible.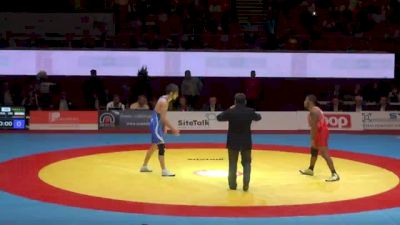 Meanwhile, just two years removed from being on a Junior World team, Adeline Gray brought home her second World bronze and third medal overall.
Adeline Runs It Back In 2014, JB Brings Home Bronze
Adeline Gray's second World gold came in 2014 at the hands of Brazil's Aline Da. Burroughs suffered an injury during that tournament but was able to wrestle back for bronze.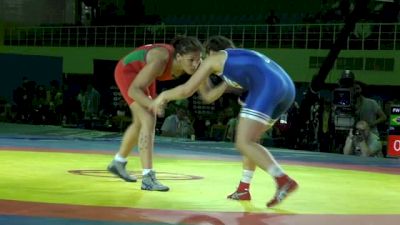 2015 - Burroughs & Gray Ball Out On US Soil, Green Medals
The Las Vegas World Championships were magical for team USA. JB and Adeline were big parts of that as was James Green who the first World medal of his career. Burroughs cruised in his final against Purevjav of Mongolia.
Gray was even more dominant as she used a series of turns to tech Zhou of China.
2016 didn't yield any titles for this group, but J'den Cox did win an Olympic bronze in his first attempt. The medal was hard-earned in a wild one with Salas of Cuba.
Burroughs Back On Track In 2017, Cox & Green Medal
After JB's loss at the Rio Olympics, nobody knew if he'd return to the mat. He returned and did so in impressive fashion. He beat Tsabalov of Russia to win his 5th title and helped the USA win a team title. Also helping in that effort were J'den Cox who brought home bronze, and James Green who punched through in the semis to win a silver.
Taylor, Cox, Gray All Gold; JB & Mensah-Stock Bronze In 2018
J'den Cox and David Taylor were in separate weight classes for the first time in 2018, and both won World gold. Taylor navigated a brutal bracket before reaching the finals then dominated to reach the top of the podium.
Cox's first gold came in a tight one over Belarus' Yankouski.
Adeline won gold number four by technical superiority win to prove that she still had it after taking a year off.
While JB and Tamyra Mensah-Stock didn't get the ultimate prize, each rebounded from losses to win bronze medals.
2019: Gray, Mensah-Stock, & Cox Top The Podium; Burroughs Wins Bronze
In another banner year for the US squad, Tamyra Mensah-Stock proved that she the best in the world by winning her first World gold over Fransson of Sweden.
Adeline added a fifth gold medal to her trophy case with a win in the finals over Suz of Japan.
J'den Cox won his second gold in a row when he shut out Karimi of Iran. Burroughs added to his medal tally with a third Bronze.