FloWrestling 3: Adeline vs. Tamyra
Jordan Burroughs vs David Taylor Card By The Numbers
Jordan Burroughs vs David Taylor Card By The Numbers
The list of credentials for the 22 competitors on the Jordan Burroughs vs David Taylor card is long. Check out this insanely accomplished group.
Jan 5, 2021
by David Bray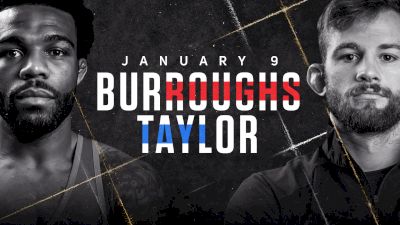 When Jordan Burroughs and David Taylor headline the January 9 card, they'll be joined by a number of incredibly credentialed athletes. The number of accolades this group has collected are staggering. Check out the stack of credentials earned by Saturday night's competitors.
Watch FloWrestling: Burroughs vs Taylor LIVE on FloWrestling
Saturday, January 9, 2021 | 8:00 PM EST
22 Wrestlers With A Pile Of Accolades
Before diving into what each of these athletes has already accomplished, it's worth pausing to appreciate what they've done as a group. Get a load of this list.
| | |
| --- | --- |
| World/Olympic Titles | 14 |
| World/Olympic Medals | 24 |
| World/Olympic Teams | 33 |
| Age Level Titles | 3 |
| Age Level Medals | 13 |
| Age Level Teams | 28 |
| NCAA Titles | 11 |
| NCAA AA Finishes | 40 |
5 World/Olympic Champs With 14 Total Golds
Very few people in the history of the planet have 5 World or Olympic titles. Two of them will be wrestling in Austin on January 9. On top of that, we have three more world champions taking the mat.
Jordan Burroughs was the first of this group to bring a title home for team USA when he was victorious in Budapest in 2011. Since that time, he won the Olympics in 2012 and World championships in 2013, 2015, and 2017.
Jordan Burroughs' gold medal match in 2011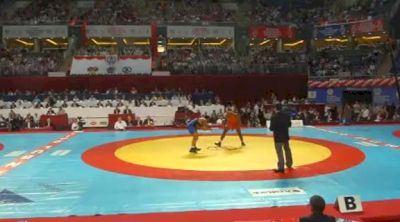 Adeline Gray also has five titles. The came in 2012, 2014, 2015, 2018, and 2019. Her longevity in the sport is also incredible as she made two senior level teams when she was still eligible to compete at the Junior level.
Adeline Gray's 2014 gold medal match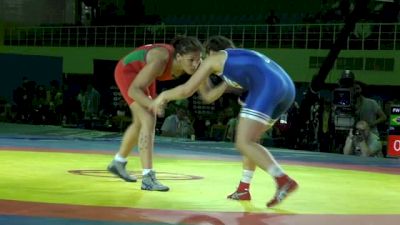 J'den Cox has struck gold at the last two World Championships at 92 kg. Tamyra Mensah-Stock was a World champ in 2019 as was David Taylor in 2018.
A Couple Dozen World/Olympic Medals
This group has more golds than it does any other color of medal, but when you factor in the silvers and bronzes, we have six medalists with 24 total medals.
In addition to Burroughs' five golds, he also has three bronzes in 2014, 2018, and 2019 for a total of eight World or Olympic medals. Adeline brought home Bronze in 2011 and 2013 for a total of seven, J'den won Olympic bronze in 2016 and World bronze in 2017 for a total of four, and Tamyra tacked on a bronze in 2018 for a total of two. The other World medalist on the card is James Green who won silver in 2017 and bronze in 2015.
J'den Cox's wild 2016 Olympic bronze medal match
Double Digit Age Level Medals
These competitors have also had World level success at a young age. In addition to Adeline Gray's 7 senior level medals, she also has a Junior World gold and a Junior World silver. Erin Golston has won a Junior World silver and two Junior World bronzes. Her opponent, Emily Shilson, was a Cadet World champ and also won a Cadet World silver.
Joey McKenna earned a silver at the Junior World Championships and a bronze at U23 Worlds. His opponent, Nahshon Garrett, doesn't have any age level medals, but he did make a senior level World Team by winning Final X in 2018. He had to miss the event due to injury.
Mitch McKee is the final age level medalist on the card. He has made both Junior and U23 World Teams and brought home a Junior World silver.
Between her Cadet and Junior career, Ronna Heaton was on 5 teams and won two medals including a Cadet World gold. Seth Gross also made a Cadet and Junior team, and Ethan Lizak and Matt McDonough also made Junior teams. McDonough also won a University World medal back before the U23 category existed.
The 2014 Junior World semi that earned Joey McKenna a medal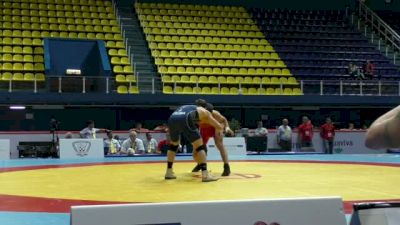 NCAA Titles & AA Honors For Days
In addition to all this global success, this card has accomplished plenty at the NCAA level. Here's a list of each NCAA champion or All-American's honors:
Jordan Burroughs - 2x champ, 3x AA
David Taylor - 2x champ, 4x AA
J'den Cox - 3x champ, 4x AA
Matt McDonough - 2x champ, 3x AA
Nahshon Garrett - 1x champ, 4x AA
Seth Gross - 1x champ, 2x AA (2 seed in 2020)
James Green - 4x AA
Joey McKenna - 3x AA
Wynn Michalak - 3x AA
Ethan Lizak - 3x AA
Nate Jackson - 2x AA
Zane Richards - 2x AA
Pat Lugo - 1x AA (1 seed in 2020)
Mitch McKee - 1x AA (10 seed in 2020)
Hayden Zillmer - 1x AA