Delbarton Headlines New Jersey's Top 10 High School Teams
Delbarton Headlines New Jersey's Top 10 High School Teams
An in depth breakdown of the top 10 teams headed into New Jersey's high school season.
Dec 21, 2020
by Brendan Scannell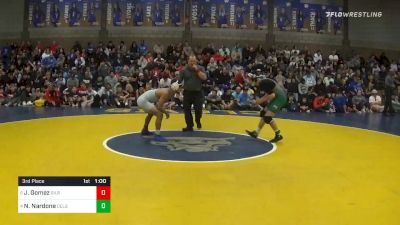 Unlock this video, live events, and more with a subscription!
Get Started
Already a subscriber? Log In
Unlock this article, live events, and more with a subscription!
Get Started
Already a subscriber? Log In
After the debut of the preseason Top 20 on November 26th, I wanted to dig a little deeper and break down the Top 10 teams – plus a few more.
Keep in mind, it's still really early. We're not even quite sure what this season is going to look like. Hopefully, in the next three months Covid cases will begin to drop and restrictions will loosen. I'm trying to stay optimistic the NJSIAA will find a way to make a season happen, but so much is still up in the air.
We know there will be some duals, though. Just last week, there was some excitement shot into the arm of Jersey wrestling fans when it was announced Delbarton would be taking on Bergen Catholic on April 10th, outdoors at Jack McGovern Field. Other organizations have announced cards that include some of the state's best wrestlers, so we should see some type of competition soon.
In the meantime, enjoy an in-depth breakdown of New Jersey's Top 10 teams.
1) Delbarton
For the first time since 2013 there's a new team at the top. Delbarton enters this year as the undisputed #1 after dethroning the mighty Bergen Catholic last year 45-12 in the group playoffs. This team is just filthy. There's a reason many think it's one of the country's best. The stretch from 120lbs to 160lbs will be lethal, where every wrestler is ranked in the state, including three #1's and two nationally ranked guys. Let's not forget about state champ and #3 in the nation PJ Casale up at 220lbs. Not only is this team good, but it's young. At the end of this season, Nardone is the only ranked wrestler Delbarton will lose to graduation. Look out NJ.
Standouts: Nico Nardone, PJ Casale, Andrew Troczynski, Colin Calvetti, Tyler Vazquez, Simon Ruiz, Cross Wasilewski, Joe Davi, Nicholas Olivieri
Watch Lehigh recruit PJ Casale advance to the finals of the prestigious Doc B in this 2020 semifinals match: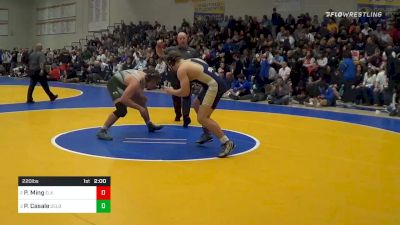 Unlock this video, live events, and more with a subscription!
Get Started
Already a subscriber? Log In
2) St Joseph's
This is a team that's been steadily trending upwards for a few seasons now and the prospects in 2021 look even better for St Joe's. Entering this season, they come in with more state ranked wrestlers (8) than any other team in the state, as well as some serious title contenders. Freshman heavyweight champ, Jim Mullen has his eyes on history as the first ever NJ wrestler to win four heavyweight state titles. Meanwhile, teammates Almeyda, Cetta, and Dellagata have turned heads all offseason. If there is no Group Championships this year, I'm sure I'm not alone with hopes of a dual meet matchup between St Joe's and Delbarton in the near future.
Standouts: Jim Mullen, Alex Almeyda, Michael Cetta, Michael Dellagata, Jack Farinaro, Mike Toranzo, Joe Manno, AJ Fricchione
Watch Almeyda get a win over the very tough Jake Niffenegger at the 2020 NHSCA Duals: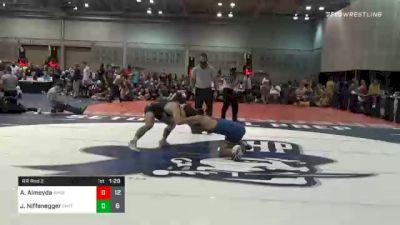 Unlock this video, live events, and more with a subscription!
Get Started
Already a subscriber? Log In
3) Brick Memorial
I was high on the Mustangs at the end of last season when they dominated the toughest region in the entire state before putting three wrestlers in the finals in AC. This year, all three state finalists return. To keep the good news coming, the addition of transfer Evan Tallmadge makes for quite the murderer's row down low, where he'll accompany the Santaniello brothers, Vincent and Anthony. Add in state qualifier Ryan Smith and district champ Braden Scott giving Brick flexibility in duals and this might just be the best public-school team in the state.
Standouts: Vincent Santaniello, Anthony Santaniello, David Szuba, Evan Tallmadge, Ryan Smith, Braden Scott
4) Kingsway
Flaunting a lineup that includes solid lightweights, a mean group of middleweights, and a couple rising stars up top, depth throughout is what puts Kingsway in the top five. Few teams in the state enter the season with expectations as high as this Kingsway team. Much of the expectation comes from that middleweight group that includes state placer Dakota Morris and recent transfer from Cherokee, Cooper Pontelandolfo. If those two and seniors Finn McFadden and Jake Gentile can deliver high podium finishes, the Dragons could give Brick Memorial some trouble in Group IV.
Standouts: Dakota Morris, Cooper Pontelandolfo, Jake Gentile, Finnegan McFadden, Kevin Pandorf, David DiPietro, Joey Miranda
5) Bergen Catholic
I'm sure it's a surprise for most wrestling fans to see Bergen Catholic down at #5. Unfortunately, the 2020 Crusaders lost one of the best senior classes we've seen in years. After graduating six starters from last year's lineup, including five state placers, there will be some new and unproven faces this season. Still, a backup for Bergen Catholic would make for a dependable starter on a lot of teams. So, there's plenty of potential for them to climb. Look out for state-placers Cangro and Wallace leading the way down low, while Camiscioli's enjoyed a nice offseason when he jumped all the way to #5 in the state rankings.
Standouts: Joey Cangro, Aiden Wallace, Nate Camiscioli, Remy Brancato, Justin Onello, Eric Broadie, John Fiore
6) Camden Catholic
Similar to Bergen Catholic, this Irish team lost a loaded class to graduation. With that said, a couple of nice transfers bolsters an already stout upperweight group into one of the best in the state. In order to retain its grip of South Jersey supremacy, Camden Catholic will hope to get a dual with Kingsway on the schedule. This offseason, Matt Walsh handed the reigns to Bill Heverly who takes over in his first head coaching role since 2014 when he was at Haddonfield. I don't expect the Irish to miss a step under Heverly - a two-time state finalist who now gets a chance to lead his alma mater. I think this team will have even more depth than anticipated and definitely has the potential to break into the top five.
Standouts: Martin Cosgrove, Hunter Suter, Jurius Clark, Alexi Giordano, Austin Raynor, Chase Casey
Watch Cosgrove pick up a hard fought win over Jack Darrah at 2020's Super 32: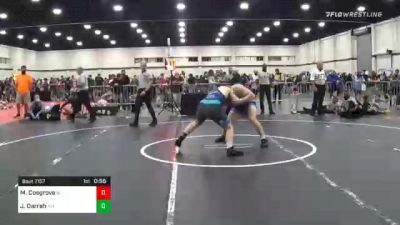 Unlock this video, live events, and more with a subscription!
Get Started
Already a subscriber? Log In
7) Southern
A year after taking home the Group V title with a first-year head coach, Southern looks like one of the state's best public schools once again. This is a team that just brings it every year. Hummel and Collins will enter the season as title contenders and Velardi should make some big jumps in his sophomore season. In Group V, they'll need to hold off some tough rivals in Howell and Hunterdon Central – two teams that could match up well with Southern in a dual. With that said, that was the story around Southern at the beginning of last year before going 20-1, winning a Group title, and placing four wrestlers in AC.
Standouts: Eddie Hummel, Conor Collins, Cole Velardi, Matt Brielmeier, Stephen Jennings, Pat Iacoves, Nick Bennet
8) St Augustine
With much of the South Jersey talk centered around Kingsway and Camden Catholic, St Augustine has to be thinking "what about us?". A team that returns its entire lineup, the Hermits believe they can contend with South Jersey's other top teams. After all, it was only last year that St Augustine fell to Kingsway on criteria after the dual ended in a 28-28 tie. Led by #13 in the country, Mike Misita, and some talent in the lightweights, this team will be hard to beat in a dual. Don't be surprised if this is one of the state's breakout teams.
Standouts: Mike Misita, Brock Zurawski, D'Amani Almodovar, Kaaden Naame, Alex Marshall, Nick Marshall, Jake Slotnick
9) St Peter's Prep
St Peter's big moment last year came in a shocking regular season win over St Joe's. St Joe's got its revenge in the playoffs, but at the time it felt like this St Peter's team was just a year away. Not unlike the aforementioned Kingsway, St Peter's will be asking a lot out of its stars. The stretch from 113lbs to 138lbs is where St Peter's really shines, including four state-ranked wrestlers. Talent in the lightweights can be a recipe for an upset, as we saw last year. So, I'll have my eye on these guys.
Standouts: Sean Rendeiro, Donovan Chavis, Felix Lettini, Patrick Adams, Angelo Pellicci, Roger Diaz, Evan Scribner
10) South Plainfield
After what may have been considered a down year in the eyes of most South Plainfield fans, the Tigers return a full lineup that looks like it could be the class of Group II. Not only does South Plainfield bring back all of its starters, but also some point scorers. There's plenty of breakout potential on this team. Rutgers commit Anthony White was one of the biggest climbers in the rankings this summer after a fourth-place finish at Super 32. Meanwhile, Thomas Renna returns after placing seventh in the state last year. Look out for a big bounce back year from #TIGERSTYLE.
Standouts: Anthony White, Thomas Renna, Jeff Jacome, Jacob DelVecchio, JJ Giordano, Xavier Santos, Julian Medina
Here's a few more teams in the Top 20 that might feel like they belong in the top 10.
At #11, St John Vianney head coach Chris Notte believes his team can contend for a Shore Conference title and he's not wrong. Aside from Who's #1 champ and #2 in the country Dean Peterson, Vianney returns three additional state-ranked wrestlers.
Enjoy one of the best bouts of the year as Dean Peterson knocked off Jordan Titus at 2020's Who's #1.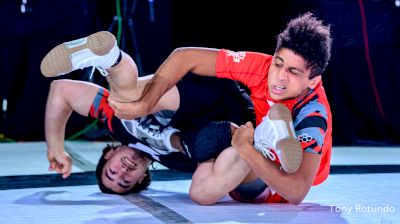 #12 North Hunterdon was one of last season's standouts when they beat teams like Kingsway and Phillipsburg en route to a Group IV title. The Lions lost a few guys in key parts of the lineup to graduation, but after a busy offseason of competition, North Hunterdon expects to pick up right where they left off.
Some others…
#16 Howell has endured a Southern-sized thorn in its side the past two seasons after falling in back-to-back sectional finals. Howell lost some heat up top, but the Rebels are a team never to be counted out. A big addition came this offseason when Pennsylvania state qualifier Hunter Mays transferred from Conwell Egan.
One of the teams I was really looking forward to watching this year was #18 Rumson Fair-Haven. With state title contenders at 170lbs and 182lbs, as well as a solid supporting cast, I'm sure this team was hoping for a chance to contend for a group title.
Keep your fingers crossed we get to see all of these teams go at it this Spring!