2020 FloWrestling 8-Man Challenge: 150 lbs
Six Reasons Bajrang Punia Is An International Superstar
Six Reasons Bajrang Punia Is An International Superstar
What exactly makes India's three-time World medalist Bajrang Punia beloved by so many fans from all over?
Dec 14, 2020
by JD Rader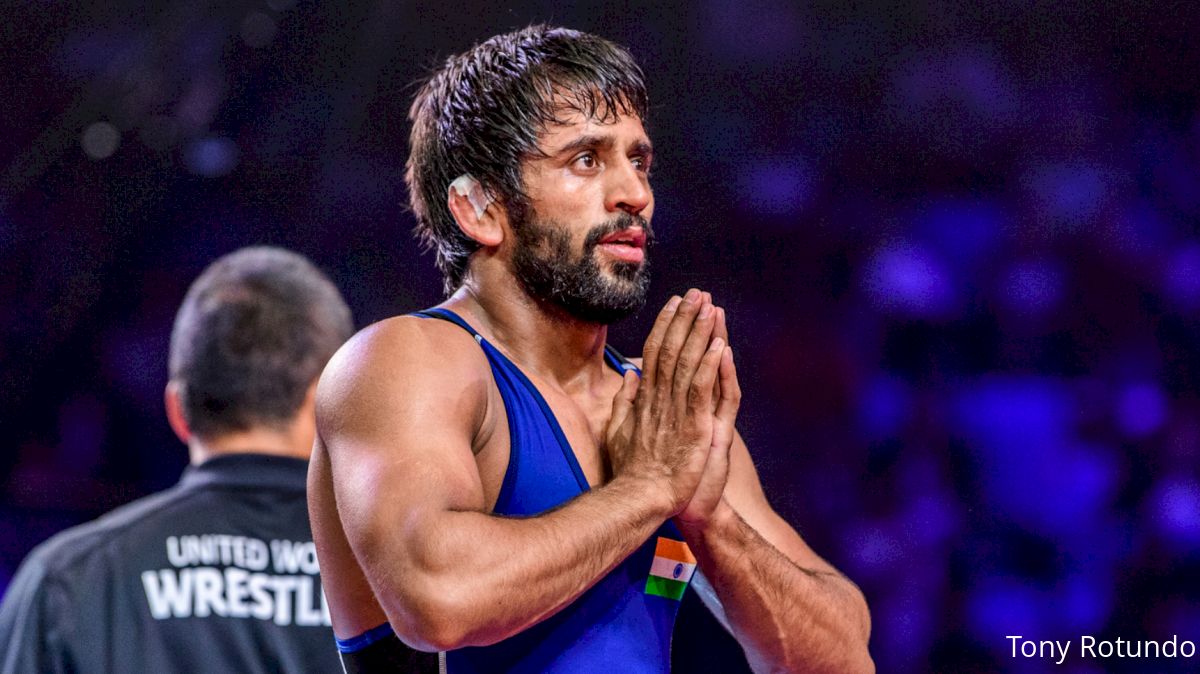 On Friday, December 18th, India's three-time World medalist Bajrang Punia will compete on US soil for the first time since taking on Yianni Diakomihalis at Beat the Streets 2019. He is the #1 seed at FloWrestling's 150-lb 8-Man Challenge.
Watch the FloWrestling 8-Man Challenge: 150 lbs LIVE
Bajrang Punia isn't just a national hero in India. He is beloved by fans all over the world, including the US. This isn't by chance. Below are the six reasons Bajrang is an international superstar.
1) Bajrang Wrestles Like An American
When foreigners think of how an American will stereotypically wrestle, it's wilting their opponent with their pace. Thank you Dan Gable. American fans have embraced this as well. There are few things as exciting as watching your favorite wrestler's opponent start to deteriorate before succumbing to complete exhaustion. It's exhilarating.
Bajrang wrestles as high a pace as anyone in the world at any weight, Americans included. This often leads to exciting matches and even the occasional carcass from foreign opponents.
Watch Bajrang use his pace to beat current world #10 Murshid Mutalimov below.
2) No Deficit Is Too Large For Bajrang To Come Back From
This goes hand in hand with wrestling like an American. Bajrang can be down with nine points and as long as there's still time on the clock, there's still hope for him. He regularly gives up the first few points only to come back. This puts Bajrang in many close and exciting matches.
Watch Bajrang comeback after getting down 6-0 to win World bronze below.
3) Bajrang Wrestlers Everywhere
Unlike many of the top international wrestlers, Bajrang competes all the time, giving fans many chances to enjoy his skills. He has wrestled 67 times since the beginning of 2018. That's the most of any freestyle wrestler on the planet, according to international wrestling expert Jon Kozak.
4) Bajrang Wins
Bajrang doesn't just wrestle all the time, he wins. Of those 67 matches since the beginning of 2018, the India native has won 61 of them. He's a three-time World medalist and an eight-time Asian medalist including three golds.
His biggest wins include three-time World champion Haji Aliyev, 2019 World champion Beka Lomtadze, two-time World medalists Alejandro Valdés Tobier, Daulet Niyazbekov, and Vladimir Dubov. Americans he has beat include Jordan Oliver, Zain Retherford, Joey McKenna, Reece Humphrey, and Jimmy Kennedy.
5) Bajrang Comes From Humble Beginnings
According to Bajrang's Wikipedia page, "Punia grew up in rural India, a poor part of the country. His family did not have money for traditional sports. Instead, he had to partake in free sports like wrestling. Punia's father was a wrestler as well and at a young age, his family started him at a local mud wrestling school. Punia started to skip school to go to wrestling practice. In 2015, his family moved to Sonepat so that he can attend a regional centre of Sports Authority of India."
Punia often pays tribute to these humble Indian beginning on his social media pages. This mud wrestling post, for example.
Bajrang's Instagram brings me to my final point.
6) Bajrang Has Big-Time Swagger
Bajrang is a must-follow on Instagram for any wrestling fan. He is a content machine, leaving no doubt about how hard he trains or how well dresses.
A+ model content.
A+ athlete content.
A+ agriculture content.
Bajrang Punia: a man of many talents and international mystery.