Seasoned veterans like James Green and Dave Habat, Yianni looking to continue to add to his already impressive resume, and young up and coming stars like Anthony Echemendia, Sammy Sasso, Brayton Lee, and Mitch McKee. 65kg has a little bit of everything and will be one of the most fun weights in Cincinnati. Let's take an in-depth look at the weight.
Watch the 2020 RTC Cup Pres. by TMWC LIVE on FloWrestling
Friday, Dec 4 - Saturday, Dec 5
The Field
Ohio RTC - Sammy Sasso/Anthony Echemendia
NJRTC/SERTC - James Green/Matt Kolodzik
Spartan Combat RTC - Yianni Diakomihalis
Cliff Keen WC - Dave Habat/Alec Pantaleo/Kanen Storr
Gopher WC - Brayton Lee/Mitch McKee
Wolfpack WC - Kevin Jack/Tariq Wilson
How Will James Green Look Down At 65 (+3) kg
As our international ranker, Jon Kozak, pointed out earlier this week on Twitter, James Green has been outstanding since 2016 against domestic competition. However, all of those matches have been at 70 or 74kg. This will be the lightest Green has wrestled since the 2016 Olympic Trials when he went down to 65kg and went 0-2 and was just not comfortable at the weight.
James Green is competing this weekend and has been fantastic on the senior level.

Here are his some of his stats:
5X World Team Member
2015 World 🥉
2017 World 🥈
Total Record - 90-25
40 techs
3 pins
17-1 against domestic competition since Nov. 2016

— Jon Kozak (@KozakJon) December 1, 2020
With the three additional kilos, the weight is essentially 150 lbs, which Green will also be wrestling at in Austin in the 8-man bracket on December 18. It will be interesting to see how Green handles the weight cut and performs at the weight on a three-hour weigh-in before his first match, which is the same amount of time he will have for the 8-man bracket.
Green talked to Bader about how he is using the RTC Cup as a test for the 8-man bracket.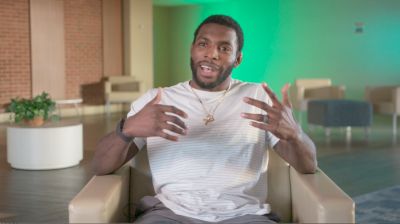 Unlock this video, live events, and more with a subscription!
Get Started
Already a subscriber? Log In
While Green will certainly be the favorite in every match he wrestles, he won't go unchallenged. On the first day alone, he will have pool matches with Yianni Diakomihalis and Sammy Sasso or Anthony Echemendia.
Yianni D Back In Action
When the two-time NCAA champion and two-time Cadet World champion takes the mat, it will have been almost three months since he fell to Olympic Champion Vladimer Khinchegashvili at Beat The Streets.
The loss didn't set well with Yianni, and I'm sure he's champing at the bit, to get back on the mat against some of the best the U.S. has to offer and established Senior level hammers like the aforementioned Green and Dave Habat.
One of the most exciting matchups of the weekend could come on Friday night when Diakomihalis could potentially take on Anthony Echemendia. While he did recently fall to Diakomihalis' teammate, Evan Henderson, I believe that Echemendia can match Diakomihalis' athleticism and create flurries that could open up scoring opportunities. No matter who he's on the mat with, Yianni is must-see TV.
Yianni talks about not caring who steps out on the mat with him.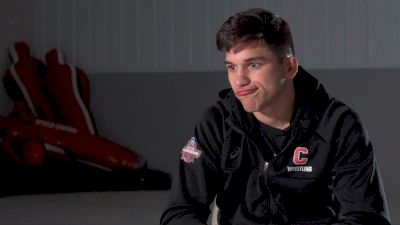 Unlock this video, live events, and more with a subscription!
Get Started
Already a subscriber? Log In
Which Young Star Will Turn Heads
It feels like every major Senior-level tournament there's a younger wrestler who makes noise and strings together a couple of big-time wins and I expect that to be the case again this weekend. The question is, will that young wrestler come from this weight?
Echemendia will present problems to everyone he wrestles, but can he put it all together and beat someone like Habat or Alec Pantaleo? His Ohio RTC teammate, Sammy Sasso, already has a folkstyle win over Alec Pantaleo and wrestled Tyler Berger tough at the Burroughs-Zahid card.
Could it be one of the Gopher WC young studs? Mitch McKee is a Junior World silver medalist and is fresh off a U23 Nationals championship. Brayton Lee had an awesome freshman campaign for Minnesota and last year beat Sammy Sasso in two straight matches to make the Junior World team.
Watch Brayton Lee take out Sammy Sasso in the Junior World Trials finals.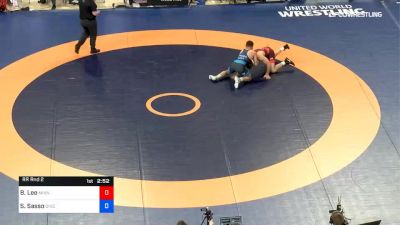 Unlock this video, live events, and more with a subscription!
Get Started
Already a subscriber? Log In
The future of wrestling in the United States is in good hands and I'm excited to find out which young up and coming star we're talking about at the end of the weekend.