Championship Caliber: A Speculative 2021 Iowa Hawkeye Lineup Preview
Championship Caliber: A Speculative 2021 Iowa Hawkeye Lineup Preview
We speculate on what the Hawkeye lineup might look as Iowa makes another championship run in 2021.
Dec 11, 2020
by Anna Kayser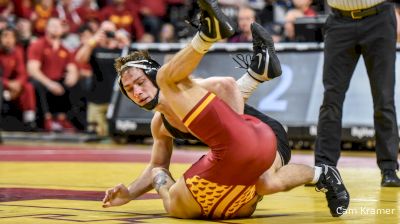 Unlock this video, live events, and more with a subscription!
Get Started
Already a subscriber? Log In
Unlock this article, live events, and more with a subscription!
Get Started
Already a subscriber? Log In
With the 2021 college wrestling season quickly – or painstakingly slowly – approaching, the Iowa Hawkeye lineup is returning to the shape it was in when it took the No. 1 spot in the nation last season.
The breakdown of each weight is pretty clear cut, with nine of 10 wrestlers returning and the addition of transfer three-time All-American Jaydin Eierman. Eight of Iowa's returning wrestlers earned an automatic bid to NCAAs following their performances at the Big Ten Championships with Kaleb Young rounding out the lineup with an at-large bid.
While the majority of the lineup is straight forward, unaffiliated competition so far this season has made things interesting in the back half. The Hawkeye Wrestling Club Showdown on Nov. 1 served as Iowa's unofficial wrestle-off, with the results of head-to-head matchups possibly shifting things.
125: Spencer Lee
The top of the Hawkeye lineup is set in stone, if there ever was a stone to set something in under head coach Tom Brands. Two-time NCAA champion Spencer Lee will get his chance to become a four-timer with a free year of eligibility this season.
The Pennsylvania native – a three-time state champion who lost to future teammate Austin DeSanto to end runner-up his senior season – went 18-0 in the 2019-20 season, with only four of those matches going a full seven minutes. He outscored opponents 234-18 in those matches and only gave up one point in the month of January.
Lee's average of 5.0 team points per match gives the Hawkeyes a powerful start to any dual and is the perfect way to kick off an all-star lineup. Set in stone.
133: Austin DeSanto
Part two of arguably the best 1-2-3 punch in college wrestling lies with DeSanto. He went 17-4 last year with bonus points in 12 matches, helping boost the Hawkeyes after Lee's exclamation point start to a dual.
DeSanto's 2019-20 season began on a strong note when he took down then-No. 1 Seth Gross of Wisconsin to be named the Big Ten Wrestler of the Week. It wasn't the first matchup between the two, and Gross rebounded at Midlands. Following two more ranked matchups in January, DeSanto and Penn State's Roman-Bravo Young faced off for the third time in their careers, with DeSanto falling with an injury default.
Despite the rocky ending to last season, DeSanto has the opportunity to be a dominant force in the Big Ten when Iowa's season starts in January.
Watch DeSanto defeat Travis Piotrowski in the semifinals of the 2019 Midlands: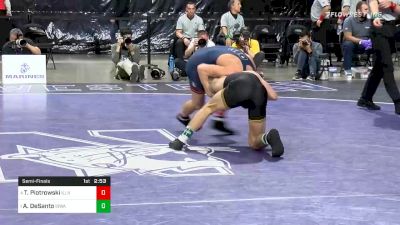 Unlock this video, live events, and more with a subscription!
Get Started
Already a subscriber? Log In
141: Jaydin Eierman
Coming off of an Olympic redshirt, Eierman fits nicely into Iowa's lineup. He finished third at NCAAs in 2019 at 141 pounds, his third consecutive All-American finish. He is a three-time MAC champion.
The only Iowa wrestler to graduate following the cancelation of 2020 NCAAs was Pat Lugo at 149 pounds. Lugo entered NCAAs as the No. 1 seed after winning Big Tens. With a little shifting, Eierman can step into Iowa's lineup and immediately fill a spot without the team missing a step.
149: Max Murin
With Eierman slotting in at 141, that shifts Murin up to 149 pounds. He battled with injuries for a large part of last season, but when his signature shoulder brace came off he was a force to be reckoned with on the mat.
Murin notched wins over then-No. 7 Josh Heil of Bampbell and then-No. 4 Mitch McKee of Minnesota during the regular season, and finished fifth at Big Tens to earn an automatic bid to NCAAs. His overall record of 16-3 included a career-long winning streak of 10 wins to open the season. He had seven wins over ranked opponents.
Watch Murin defeat Shakur Laney in the semifinals of the 2019 Midlands: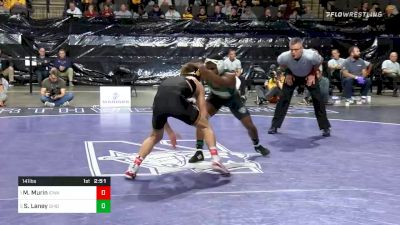 Unlock this video, live events, and more with a subscription!
Get Started
Already a subscriber? Log In
157: Kaleb Young
Kaleb Young's season was a rocky one. He started off on a low note with losses to Iowa State's then-No. 11 David Carr and Princeton's then-No. 9 Quincy Monday before taking first place at Midlands with a pin of then-No. 9 Kendall Coleman of Purdue.
Young then swept the field, going undefeated in Big Ten duals and not losing again until the final dual of the season vs. Oklahoma State. Things shifted again at Big Tens, when Young failed to win a single match. He entered NCAAs with the No. 8 seed and an at-large berth.
The 157 pounder has the opportunity to rebound in his senior season. He reached as high as second in the national rankings last year with wins over some of the best in the nation.
165: Alex Marinelli
Alex Marinelli begins the back half of Iowa's lineup in a strong way. He went 20-1 in 2019-20 and is continuing to be more dominate every year he is in an Iowa singlet. His work has been ramping up over the course of this preseason, with his only official competition coming against world silver medalist James Green at the HWC Showdown.
Some of Marinelli's best matches came against the best 165-pounders in the nation, and it showed from duals to Big Tens. After losing to Vincenzo Joseph in the dual vs. Penn State – his only loss in four matches – Marinelli won his second straight Big Ten title vs. the No. 1 wrestler in the weight.
174: Michael Kemerer
After sitting out 2018-19 with multiple injuries and surgeries, Michael Kemerer came into his own at his first year at 174 pounds. He showed dominance with wins over the top wrestlers in the weight, most notably his win over Mark Hall of Penn State in the 2020 dual meet.
Entering the season, Kemerer should be the No. 1 wrestler at 174 pounds. Last season, he won 10 matches against ranked opponents, showing he can be an important member of the lineup and can rack up bonus points when they're needed.
184: Nelson Brands
184 is where things start to get interesting. In January 2020, without a clear idea of whether Nelson Brands or Cash Wilcke would be the go-to wrestler at 184, Tom Brands pulled the redshirt of Abe Assad. Assad went onto a fourth-place finish at Big Tens with an automatic berth to NCAAs.
Then the HWC Showdown happened. In the undercard, which featured a number of Hawkeyes facing off against each other, Nelson Brands thoroughly dismantled Abe Assad, 9-0. At least for the beginning of the season, look for Brands to step into that role with Assad in the background ready to jump in when needed.
Watch Brands defeat 2019 U23 World Teamer Muhamed McBryde in the semifinals at 2020 U23 Nationals: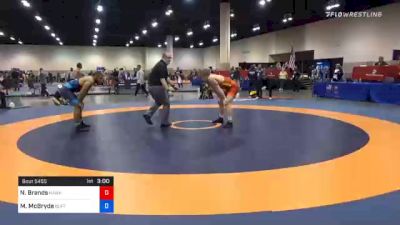 Unlock this video, live events, and more with a subscription!
Get Started
Already a subscriber? Log In
197: Jacob Warner
Jacob Warner stood out in 2019-20 against highly ranked opponents, beating Princeton's Patrick Brucki and Purdue's Christian Brunner, who were both ranked No. 2 at the time of their matches. He finished third at Big Tens for the second year in a row and was the No. 5 seed entering NCAAs.
He hasn't been the most dominant wrestler, sometimes falling to his opponents' level versus keeping his own intensity through every match, but as a junior in the Big Ten there is room for Warner to grow into an important wrestler in Iowa's lineup.
285: Tony Cassioppi
Tony Cassioppi is Iowa's go-to heavyweight for the next three years, and it's clear why. Cassioppi was dominant against his weight class in 2019-20, falling only to the best of the best.
The sophomore's path to a title features a logjam of heavyweights, all of which Cassioppi can go seven minutes with. Minnesota's Gable Steveson is the far and away No. 1 heavyweight in the nation, but Cassioppi has shown he can be on the defensive in matches vs. the dominant Big Ten champion.