Pool A has familiar faces Nate Jackson, Sammy Brooks, and Drew Foster while Myles Amine stands out as the top man in Pool B which also has Domonic Abounader, Bret Pfarr, Devin Skatzka, and Nick Reenan. We'll see some outstanding rematches on day 1, but the real intrigue begins when the pools cross over and Myles Amine gets to test himself for the first time against some of the US' best at 86kg.
Watch the 2020 RTC Cup Pres. by TMWC LIVE on FloWrestling
Friday, Dec 4 - Saturday, Dec 5
The Field
The list of competitors looks a bit different now than it did last week, so before diving into this weekend's matchups, take a look at who each squad will be bringing to Cincinnati.
Ohio RTC - Sammy Brooks
NJRTC/SERTC - Nate Jackson
Spartan Combat RTC - Drew Foster
Cliff Keen WC - Myles Amine/Dominic Abounader
Gopher WC - Brett Pfarr/Devin Skatzka
Wolfpack WC - Nick Reenan
Day 1 Matches
Pool A is fascinating with Nate Jackson, Sammy Brooks, and Drew Foster all having recently competed in the 195 lb 8-Man Challenge and also all having history against one another. We'll start the day with Nate Jackson vs Sammy Brooks, a rematch from October 31 where Jackson finally got over the freestyle hump against Jackson. The all-time series between the two dates back to college. Jackson now holds two wins to Brooks' 3. He has the momentum, and he'll look to even the series on Friday.
Watch Jackson's win over Brooks from the 195 lb 8-Man Challenge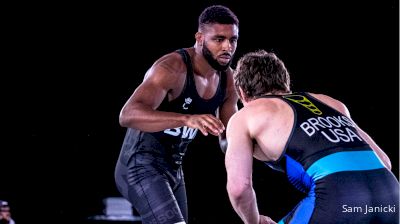 Unlock this video, live events, and more with a subscription!
Get Started
Already a subscriber? Log In
Match two is another rematch, this time between Sammy Brooks, a late addition to the Ohio RTC squad, and Drew Foster, Spartan Combat's most recent pick-up. These two met twice in 2019. Brooks had a 14-4 tech at the World Team Trials, but their match at Senior Nationals was more competitive. Foster proved he could score and even took an 8-2 lead on Brooks. It didn't last though as Brooks stormed back and ultimately won the bout 19-11. Foster has continued to improve since that match, but the question of whether he's ready to overcome Brooks is one of the more interesting elements of 86kg this weekend.
The final match in pool A features Jackson and Foster who met in a competitive Senior Nationals semi in October. Jackson got the 7-4 win, but Foster proved he's right there. Foster did have a win over Jackson in college. These two have been improving as much as anyone in the US at this weight, and this one could go either way.
Watch this Senior Nationals semi between Nate Jackson and Drew Foster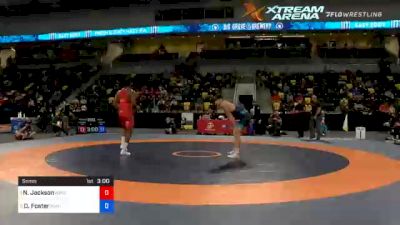 Unlock this video, live events, and more with a subscription!
Get Started
Already a subscriber? Log In
Pool B kicks off with either Myles Amine or Domonic Abounader against either Brett Pfarr or Devin Skatzka. Since focusing on freestyle, Pfarr has earned wins over Abounader at the 2019 Dave Schultz and 2019 Bill Farrell, so there's a good chance we see Myles Amine take the mat for Cliff Keen. His international resume suggests that he'll win this one whether he sees Pfarr or Skatzka.
Match two will pit either Amine or Abounader against Wolfpack WC's Nick Reenan. Trent Hidlay was listed as an option for Wolfpack WC previously but was left off the most recent list. At his best, Reenan has been a US National Team member at 86kg, but he hasn't had that kind of performance recently. He was 2-2 at 97kg at Senior Nationals making him an underdog with wildcard potential against Amine or Abounader.
To close out day 1 we'll see Brett Pfarr or Devin Skatzka against Nick Reenan. We haven't seen Reenan against Pfarr or Skatzka, and either match feels like a toss-up. Rennan is the most accomplished freestyler of the group, but he and Pfarr have both have such a wide range of performances that it's hard to pick a winner. The outcome of this match will likely be critical to the outcome of the dual. \
Day 2 Dream Matches
Once we get into the bracket, 86kg gets really fun because, while we know how Myles Amine has stacked up against some of the world's best, we haven't seen him wrestle any of the US' best at 86kg. Matches between Amine and Nate Jackson, Sammy Brooks, or Drew Foster would all be fascinating. How will Amine handle Brooks' handfight and brutal pace, Nate Jackson's timing and 4-point potential, or Foster's nearly constant leg attacks? We should get answers to at least some of those questions on Saturday.
Hear Myles Amine talk about his outstanding performance to qualify for the 2021 Olympic Games
Unlock this video, live events, and more with a subscription!
Get Started
Already a subscriber? Log In