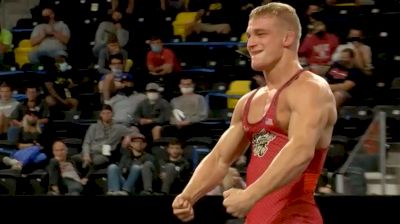 Unlock this video, live events, and more with a subscription!
Get Started
Already a subscriber? Log In
Unlock this article, live events, and more with a subscription!
Get Started
Already a subscriber? Log In
Expectations around the NJRTC/SERTC squad at this weekend's RTC Cup are understandably measured after it was seemingly put together like a jigsaw puzzle of wrestlers from the New Jersey, Southeast and Lehigh Valley RTC's. To be honest, I'm not exactly sure what to even call them. NJRTC/SERTC feels like a mouthful but it seems we have no choice.
Watch the 2020 RTC Cup Pres. by TMWC LIVE on FloWrestling
Friday, Dec 4 - Saturday, Dec 5
In the last week or two, a few other participating clubs capitalized on the "free agent" caveat by adding wrestlers of their own in attempt to provide some additional firepower to their teams. With that said, the NJRTC/SERTC team is the only one made up of wrestlers from three different training centers.
Representation from the NJRTC may be limited this weekend, but the Garden State's presence will surely still be felt. Here's why.
The Coach
In the last few years, the NJRTC has rapidly grown into an attractive destination for prospective athletes both in and out of college. Not only is it a room full of high-level wrestlers located at the heart of one of the sport's hotbeds, but it just looks like a fun team to be a part of. The program and the wrestlers continue to do such an excellent job with branding and promotion that it's no surprise to see NJRTC wrestlers scattered across wrestling cards throughout the country in the past few months.
Much of that is a reflection of USA Wrestling's Freestyle Coach of the Year and NJRTC head coach Reece Humphrey.
Humphrey's youthful energy is contagious and has led to one of the highest approval ratings of anyone in American wrestling. We often hear the term "player's coach" get thrown around in other sports to describe coaches with a keen ability to connect with their athletes. Humphrey is a player's coach. He is the type of coach that guys like to have in their corner. The result has been a team united in its support for one another. He expects his wrestlers to feed off of that support this weekend.
Listen to Reece mic'd up at the 2020 Matteo Pellicone in Italy:
Unlock this video, live events, and more with a subscription!
Get Started
Already a subscriber? Log In
"If you watch the NJRTC guys compete, you'll see their teammates behind them [in the corner]." Humphrey said. "You miss that stuff on the senior level"
Combining programs and balancing the power that comes with it is not something unfamiliar to Humphrey and the rest of the NJRTC program. After all, the NJRTC is a combination of wrestlers and coaches from both Rutgers and Princeton. He recognizes he won't be alone on the bench this weekend, where SERTC's Jared Frayer and Lehigh Valley's Jeff Buxton will join him along with their team's wrestlers. Collaboration is something Humphrey welcomes.
"James, Mekhi, and Nashon, and Jordan aren't on my team [at the NJRTC] but I think that one of my best qualities is bringing people together."
Although the team is made up predominantly of SERTC wrestlers, these guys are no strangers to Humphrey and he's looking forward to teaming up with them. He identified countless trips he's made overseas with James and scraps in the Rutgers room with Mekhi. Nashon Garrett, a late addition at 57kg, is a friend that Humphrey admitted the NJRTC actively pursued and nearly signed back in 2017.
"I think we already have really good chemistry and I think we're going to feel like a team even though we are two, or three separate teams." Humphrey confirmed.
The NJRTC/SERTC team is lucky to have Humphrey is on its side this weekend.
The Jersey Connection
For most New Jersey wrestling fans, the additions of James Green and Mekhi Lewis to the RTC Cup squad were among the most anticipated. Despite competing under the banner of the SERTC, the pair's New Jersey roots made the merging of the clubs for the RTC Cup a no brainer.
When they pitched it to us. We just said yes. They didn't even have to give a reason.
Both Green and Lewis won New Jersey state titles in what were historic high school careers. Green won back in 2011 for Willingboro, while Lewis was a two-time champ for Bound Brook, more recently. Now, they've teamed up in Blacksburg, where the talent pipeline from New Jersey has been ever-flowing for a few years now.
In need of someone to match the star power that teams like Spartan RTC and Ohio RTC laud, the NJRTC/SERTC team has its answer in James Green. The five-time World team member and two-time World medalist enters this weekend with the most international freestyle credentials of anyone in the field not named Kyle Dake.
This weekend though, for the first time since 2016, we'll get our first glance at "Skinny James" – as he called himself, referencing his cut down from his usual competition weight of 70kg to 65kg for the RTC Cup and FloWrestling's upcoming 150lb 8-Man Challenge on December 18th. His inevitable matchup against Spartan's Yianni Diakomihalis is circled as this weekend's best.
New home, same goal! Can't wait to compete in the @titan_mercury clubs cup dec 4th-5th. Skinny James will be making an appearance! pic.twitter.com/rRhClMoqK3

— James Green (@WhoIsJamesG) November 16, 2020
Meanwhile, if Green is the answer for Team NJRTC/SERTC, Mekhi Lewis is the question.
Lewis' talent and potential are undeniable. But what can we expect from him this weekend? The confidence in his abilities as a freestyler is high after his junior world title back in 2018. Still, he's only a sophomore at Virginia Tech and much of the NJRTC/SERTC's strength this weekend is fueled by expectations of the young NCAA champion at 74kg. What are his chances against Kyle Dake? Could he be the future of the weight? There are just so many questions. If Mekhi is truly a contender at an already loaded 74kg weight class at the Olympic trials, we'll find out this weekend
It'll be fun seeing these two guys lace it up alongside their New Jersey teammates, even if only for a couple of days.
The Nate Jackson RTC
When news broke that Nashon Garrett would be joining the SERTC and taking the place of Pat Glory in the RTC Cup lineup, it left Nate Jackson as the lone starter representing the NJRTC this weekend.
It feels appropriate that it would be Jackson, who's been with the NJRTC since the beginning. Humphrey even joked that when he got on board, the NJRTC might as well have stood for the "Nate Jackson RTC". Jackson has since settled into a leadership role within the team, spearheading much of the growth we've seen in Piscataway the past few years.
Humphrey speaks highly of his team's leader.
I expect the most out of Nate. The reason the NJRTC is where it is because of Nate. Now it's time for Nate to shine.
The NJRTC doesn't name Captains. But if they did, Jackson would be it. Humphrey acknowledged that he sees Jackson as a leader of the NJRTC team and expects that same leadership from him among his temporary teammates at the RTC Cup.
The role comes natural to Jackson, who stays active both on and off the mat. He's an assistant coach at Princeton, as well as the president of the recently founded Black Wrestling Association - an organization built to inspire, connect and empower black wrestlers and allies to grow wrestling through representation, equality, and opportunity. All the while, he's competed as often as anyone else on the NJRTC roster. Most recently, placing third and winning $5,000 in FloWrestling's first ever 8-Man Challenge.
Watch Jackson defeat Keith Gavin at the 8-Man Challenge: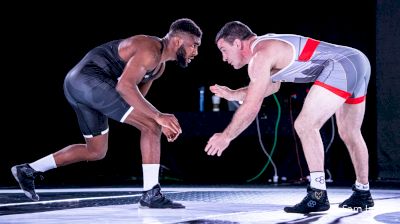 Unlock this video, live events, and more with a subscription!
Get Started
Already a subscriber? Log In
His coach admits he asks a lot out of Jackson but knows he can count on him to deliver. Said Humphrey, "I told him that it's time. It's time for him to run the team. I want him to have that role."
The team will be counting on him this weekend, especially on Day 1. He'll be busy in the opening round of pool play, eyeing rematches from earlier this year against Gabe Dean and Myles Martin. Wins in either of those matches will put Jackson's team in tremendous position to advance in the tournament.
Don't count New Jersey out.
Be sure to tune in Saturday, December 4th & 5th for the first ever RTC Cup ONLY on FloWrestling!