Unlock this article, live events, and more with a subscription!
Get Started
Already a subscriber? Log In
The Johnson & Wales University wrestling program has been around since 1997 and has become one of the top programs in Division III. The JWU program had small beginnings, Head Coach Lonnie Morris started with just four wrestlers in the inaugural season. It didn't take long for Coach Morris to build a roster and start to create buzz around the Wildcat program but he knew he needed help to make his vision a reality. Coach Morris didn't just find help, he found his right-hand man in Brian Allen.
Growing Up In A Hockey Town
Brian Allen was born, raised, and currently resides in Burrillville, Rhode Island with his wife Melissa and two daughters. Burrillville is a big hockey town and that was the first sport Brian pursued growing up. "Burrillville was one of the top of hockey programs in the area," stated Brian. "I knew I wanted to pursue that and I played hockey for a good five years before I got involved with the sport of wrestling."
Allen eventually found his way onto the mat in seventh grade. His father was a big influence on him. Bert Allen was a state champion and was named The Outstanding Wrestler in Rhode Island during his competition days. Bert finally got through to Brian and convinced him to try out wrestling in seventh grade. It was not a good first go-around for Brian. "I gave it a shot in seventh grade and got my face smashed in," Brian said jokingly. "I decided the sport was not for me and quit that season. Decided to still just focus on hockey."
A year later Brian gave it another go and decided to stick it out for a season. Brian still faced a lot of adversity in his first full year as a wrestler but he was able to get a win which changed his entire perspective about the sport.
I still remember the feeling of getting my hand raised for my first win.
Remarked Brian, "It is something I never felt after scoring a goal or success in any other sport. I knew right there and then wrestling was going to be the sport I pursue."
High School and Collegiate Success
Wrestling became a priority in his life and he really started to hit his stride in high school. Brian qualified for the New England Championships three times and won it as a sophomore. A high school rival ended up helping Brian get noticed by his future college. Allen used to battle with Scott Carlsten all through high school.
Scott is the son of legendary Rhode Island College Coach Rusty Carlsten. Coach Carlsten saw potential in Allen from Allen's matches with his son and recruited him to come to Rhode Island. "I was on the fence about wrestling for the dad of my arch nemesis in high school," Brian laughed.
It turns out going to Rhode Island College was one of the best decisions I ever made.
The results speak for themselves, Allen is one of the most decorated wrestlers in program history. He was a two-time All American and four-time NCAA qualifier for the Anchormen. Allen posted a career record of 141-33 with 45 wins by fall and was part of four New England College Conference Wrestling Association team titles. He was inducted into the NECCWA Hall of Fame in 2002.
From Competing to Coaching
After his illustrious career at Rhode Island College, Brian Allen became Coach Allen. Brian returned to Burrillville High School as an assistant coach and eventually took over the program. Michael Hauser, his high school coach and mentor, helped show Brian the ropes and what it took to run a high school program. Brian was able to help develop Burrillville into a competitive program and eventually coaching helped him reconnect with one of his old college teammates, Lonnie Morris.
Coach Morris was the coach at perennial powerhouse Coventry High School in Rhode Island. Before they were partners at JWU they were college teammates for a season, but really gained mutual respect for each other as competitors. "I was fortunate enough to coach my younger brother during his high school career," Brian explained. "During his senior year my brother's arch-rival was from Coventry High, one of Lonnie's wrestlers. First time around we won handily, second time around they made adjustments and won, the rubber match was going to be the state finals."
Brian was right, the two wrestlers and coaches met again in the state finals. "It came down to the final seconds and we were down by one," stated Brian. "I knew we were better on the mat and I told my brother to hit a standing switch to get a reversal to win the match. After the restart we got the reversal and I was ecstatic!" Brian got the upperhand on Lonnie that night, the two still had no idea they would go from competitors to partners in just a few short years.
Coach Allen returned to Rhode Island College as an assistant coach for the 1997-1998 season after five successful years at Burrillville. Coach Morris also joined the college ranks at the same time as a coach to start a brand new program at Johnson & Wales University.
Forming The Dynamic Duo at JWU
"I left after one year at Rhode Island College because I needed to take a break. I was not sure if coaching was a path I wanted to continue on," Brian remarked. "That was when I got a call from Lonnie and he asked me to check out a dual meet they were going to have against Roger Williams." The Wildcats ended up winning that dual meet and sparked Brian's interest in potentially joining forces with Lonnie."
After the dual meet Lonnie came up to me and said he needed someone he could trust to help run the program. He was persistent and eventually got me to say yes. It was a decision I was on the fence about but turns out to be one of the best I ever made."
Morris and Allen went to work with the focus on bringing Johnson & Wales to conference, regional, and national prominence. The duo has seen it all, through the highest of highs to the lowest of lows they have stuck together. From logo and color changes to new obstacles, Morris and Allen have been a constant for the Wildcat program.
They put together some talented squads that accomplished a lot and helped them climb the ranks in their first decade of existence. They showed early on they were able to mentor and develop All-Americans. Longtime JWU Assistant Coach James Gilbert was their first All American in 2002. Gilbert was the first All-American in any sport in Johnson & Wales history. Individual success on a national level was happening but as a team they were still waiting for that breakthrough moment.
Putting the Pieces Together
That moment happened during the 2013-14 season. The 2014 NCAA championships was an eye opener for them after the team took 8th in the country with three All Americans, their first top-ten finish. A new confidence was among them and they saw they were not far off from what they set out to do back in 2000.
"We had three All-Americans in 2014 but after day one we were sitting in fifth place," Brian stated.
It just gave Lonnie and I the realization we were not far off from being one of the best programs on an annual basis on a national scale.
A new motto was coined for the Wildcats program, "Win at Everything", and this mindset was instrumental in continuing the momentum from the 2014 championships. "The 'Win at Everything' motto was about doing all the little things right. In the classroom, nutrition, sleeping habits, and more. It was a lifestyle our wrestlers started to buy into," Brian explained.
The results show as the Wildcats have been doing a lot of winning, especially over the last five years. From getting their first team trophy in 2017 to the first individual champion, Jay Albis, in 2018, Johnson & Wales continues to trend up. The Wildcats are the four-time reigning team champions of the Northeast Regional and have seen 20 individuals claim All American status.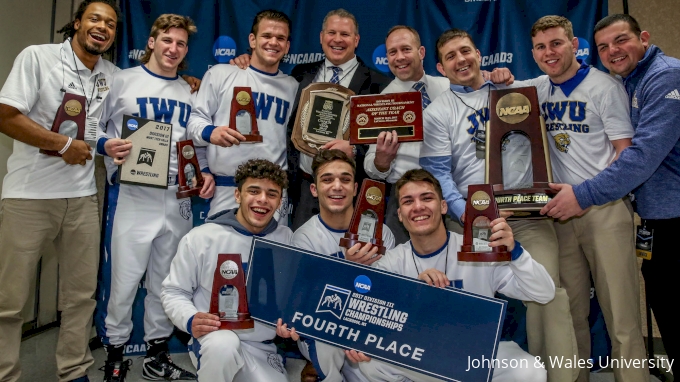 Head coach Lonnie Morris and Associate Head Coach Brian Allen are entering their 21st season together at JWU. The dynamic duo doesn't have any plans of slowing down and believes the Wildcats are a few pieces away from bringing an NCAA title back to the east coast. Unfortunately, they will not have a season this year due to the Great Northeast Athletic Conference's decision on winter sports because of the ongoing pandemic. The Wildcats may be sidelined for the 2020-21 season but will look to continue their winning ways whenever they get the opportunity to step back on the mat.