Michigan High School Wrestling Attempts To Move Forward With Masks
Michigan High School Wrestling Attempts To Move Forward With Masks
How will Michigan high school wrestling handle the new covid-19 mask requirements? The responses have been mixed at best.
Nov 20, 2020
by Mark Spezia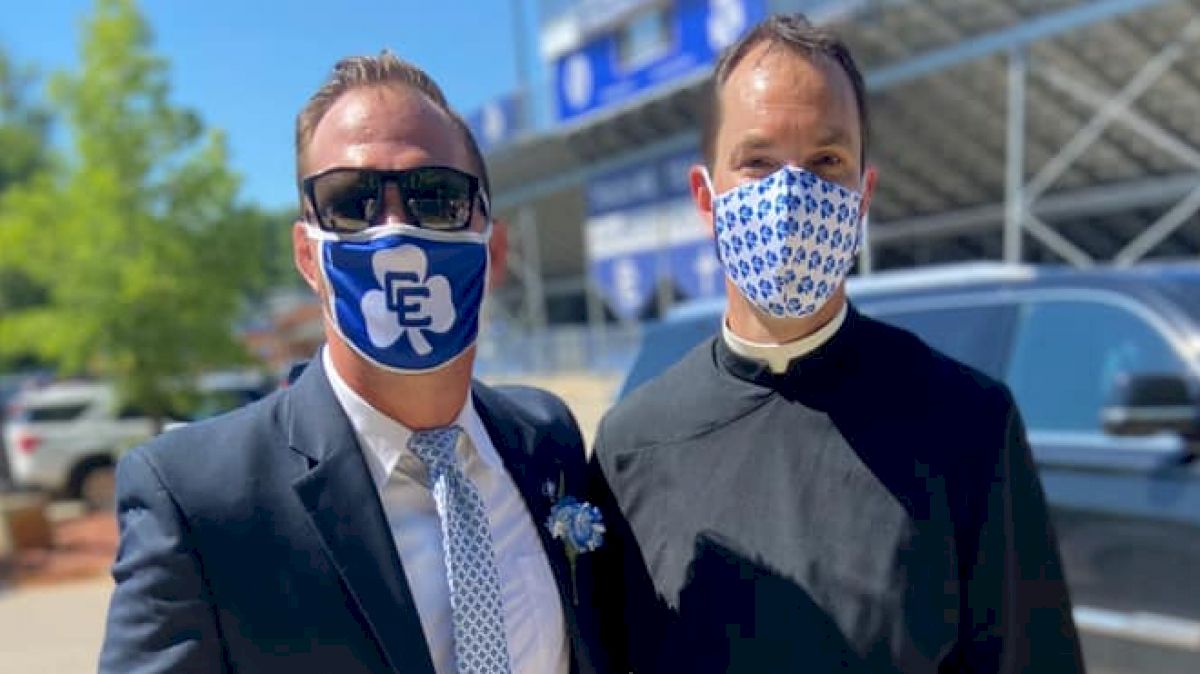 Even with a mandate requiring wrestlers to mask up during competition, the Michigan high school wrestling community was relieved when the Michigan High School Athletic Association announced last month that practice would begin Nov. 16 and competition Dec. 9 -- almost the same time as usual.
However, the day before teams were to begin practicing, new set of orders issued by Michigan Governor Gretchen Whitmer through the Michigan Department of Health forced the MHSAA to suspend all high school sports activity for three weeks.
The MHSAA's Representative Council then established new dates as Dec. 9 for practices and Jan. 4 for season-opening competition.
"By waiting until January to begin Winter competition, the Council is allowing our teams to continue activity but also restricting the mixing of communities to further promote reducing COVID spread," MHSAA Executive Director Mark Uyl said in a release.
The Representative Council is the 19-member legislative body of the MHSAA. All but five are elected by member schools. Four members are appointed by the Council to facilitate representation of females and minorities, and the 19th position is occupied by the Superintendent of Public Instruction or designee.
The Council meets again Dec. 4 for its annual Fall Meeting, and at that time will consider possible tournament adjustments necessary due to the shortened Winter competition season. There is a strong possibility team and individual state tournaments will be pushed back due to the start of the season being pushed back.
The MHSAA will announce team and individual state tournament information at a later date along with where the competitions will take place. Divisions 1 and 2, for example, could be held first before Division 3 and 4 similar to what was done with this season's cross county state meets. That would minimize the number of wrestlers, coaches and others at each tournament.
The MHSAA posted a 17-page Return to Play document on its web site Oct. 30, the most eye-opening aspect of which is a requirement that wrestlers wear masks at all times -- even during competition.
For more than four months, the state's wrestlers have been testing themselves against some of the nation's best at competitions in places like South Carolina, Maryland, Nebraska, Indiana and South Dakota. At those events, they were only required to don masks when not competing.
It appears that will be case in most states, including those that border Michigan like Indiana, Ohio and Wisconsin. However, the face coverings rule also applies to out-of-state teams who travel to Michigan for competition.
The mask requirement was prompted by the Michigan Department of Health's mandate that face coverings must be worn during indoor activities where physical distancing is not possible.
Return to Play regulations further state that face coverings must be made of cloth or approved medical grade fabric/material which covers the nose and mouth and that extra, unused face coverings should be on hand and available in the event a face covering becomes damaged or unusable while competing.
As with other indoor sports, coaches, event staff, officials, media and spectators must wear masks at all times.
The MHSAA is also recommending that wrestlers use a different face covering for each match during a single day of competition and periodically changing face coverings during practice. Wrestlers should also have separate masks to wear when not competing.
Naturally, the mask mandate provoked some strong reactions on social media.
"The sheer stupidity of this is amazing!!," tweeted one wrestling coach from Ohio.
"I would rather have the mask rule and have a season than not," one wrestler posted.
Another Twitter post predicted that "The masks ain't gonna last through a double leg takedown."
The MHSAA guidelines also addressed what happens during competition as it pertains to the face coverings requirement.
If a mask comes down, it will be treated the same as if a head gear comes off during a match. The official will verbally inform the wrestler in question to adjust the face covering appropriately. Officials will stop action for the adjustment as soon as action allows or if either wrestler is placed in a dangerous situation.
If a mask comes down during a scoring or pinning situation, action will continue and the mask adjustment will be made at the conclusion of the scoring situation. Wrestlers will be penalized for unsportsmanlike conduct should they purposely pull down an opponents' face covering.
Wrestlers will be allowed to replace damaged or broken masks during a match. As such, coaches are being encouraged to have a supply of clean, unused face coverings at each match.
Coaches may to try find face coverings which can be somehow attached to head gear to limit the times matches have to stopped for masks which have come off.
Another option could be the use of the same face coverings sometimes used to simulate high altititude training like Training Mask 3.0, offered on trainingmask.com, which features a velcro strap. Airflow can even be adjusted.
Other stipulations limiting spectators, number of competitions and number of teams and wrestlers competing in events are being implemented.
Teams will be limited to one competition per week (Monday through Sunday) and wrestlers can only compete in three matches per competition. Only four teams are allowed to compete in the same building at the same time, meaning competitions will be limited to duals, tri-matches and quads.
That also means no individually bracketed tournaments during the regular season such as county and even league tournaments. Conferences larger than four teams will have to use other methods to determine their champions such as the final dual-match standings.
Coaches must remain on their benches during matches and benches will be at least 10 feet from the mat.
As with fall sports in Michigan, scrimmages are prohibited and, at least to begin the season, attendance will be limited to two spectators per participant.
Regarding practice, coaches are being asked to limit the number of training partners each wrestler has and limit the number of wrestlers in the practice room at one time even if that means running split practices.
The MHSAA is also requesting that teams eliminate bonding activities like team dinners and other such gatherings outside of competition and practice.