2020 UWW Jr and U23 Nationals
Junior & U23 Men's Freestyle Nationals Bracket Reactions
Junior & U23 Men's Freestyle Nationals Bracket Reactions
Rapid reactions from the junior and U23 men's freestyle national championships from Omaha, Nebraska.
Nov 14, 2020
by Andrew Spey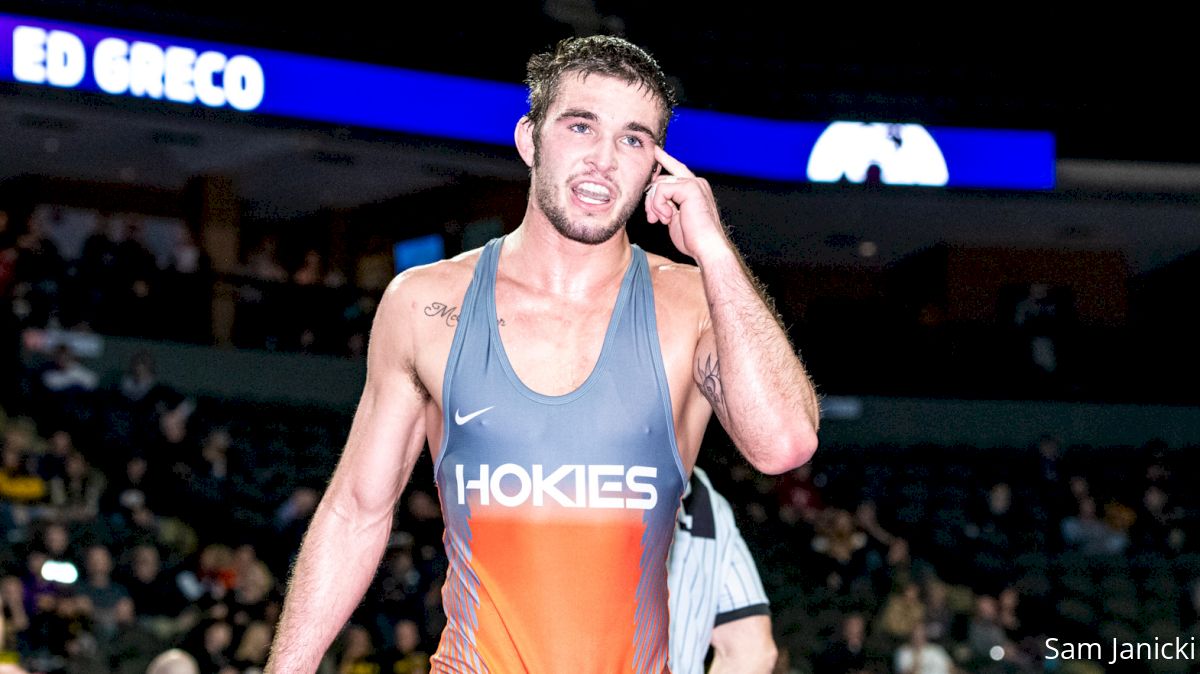 Unlock this article, live events, and more with a subscription!
Get Started
Already a subscriber? Log In
It's Junior and U23 men's freestyle eve and the brackets are hung from the walls of FloArena for your viewing pleasure. We've viewed them, and we've got rapid reactions that we want to share with you!
Watch UWW Jr and U23 Nationals LIVE on FloWrestling
Friday, November 13 - Sunday, November 15
Junior Brackets
JR 57 kg
The biggest bracket of the day will not disappoint. Pat Glory, who would have most likely been the first seed (if the tournament officially had seeds), opted to go U23. This weight is still stacked. In the very first round we get Iowa State commit and Greco champ Connor Knopick vs Michigan commit Chance Lamer.
With Glory out, Senior Nationals finalist Dylan Ragusin gets the top spot in the bracket, setting up a potential quarter-final with high school standout Jesse Mendez. Gabe Whisenhunt vs Reece Whitcraft could be fireworks in the round of 32.
---
JR 61 kg
Rutgers sophomore Sammy Alvarez was originally registered here, but bumped up to 65 kg, so it's SDSU's Zach Price at the unofficial #1 seed. At the #2 seed is Pitt national qualifier Cole Matthews. Matthews will most likely have to go through two-time Pennsylvania state champion Sam Hillegas or NC State freshman Ryan Jack to make the finals. Circle their round of 16 match.
---
JR 65 kg
What a great weight. As expected, Joshua Saunders is here. He'll meet Sammy Alvarez in the quarters and we'll get to see if Alvarez has been working on his freestyle since taking on another Cornell wrestler in Vito Aruja back in July.
Unfortunately Cody Chittum this weekend. It is rumored that he became sick this week. However, another #1 ranked high schooler, Victor Voinovich, is here and at the bottom of the bracket. He'll end up with the winner of Joey Zargo, Cullan Schriever, Cam Picklo in the quarters and that winner will get the pleasure of taking on either Josh Edmond or Julian Chlebove in the semis.
On the top side, we get to see how Anthony Ferrari will respond after taking a loss at NHSCA Duals last weekend.
---
JR 70 kg
Keegan O'Toole will be the heavy favorite here, but he'll have to go through Michigan State freshman and California state champion Chase Saldate to make it to the finals. Don't be surprised if Virginia Tech freshman Clayton Ulrey racks up some bonus point wins on the bottom side.
---
JR 74 kg
We could get a potential Who's #1 rematch in the quarterfinals here between Alex Facundo and Cael Valencia. South Dakota state redshirt freshman and Iowa standout Cade Devos is at the bottom of the bracket and favorite to make the finals.
---
JR 79 kg
Several Pennsylvania hammers are catching my eye at this weight: Gerrit Nijenhuis, Tyler Stoltzfus, and Dylan Reinert. Penn's Michael O'Malley is a threat, but everyone is excited to see Patrick Kennedy representing Iowa/the Hawkeye Wrestling Club.
---
JR 86 kg
Iowa State sophomore Joel Shapiro snagged the unofficial #1 seed here, setting up a fun semifinal with 2020 national qualifier Cole Urbas of Penn. Rutgers redshirt freshman John Poznanski is on the bottom half of the bracket.
---
JR 92 kg
AJ Ferrari is the big question here. Just how good is he? If he makes it to the semi-finals, he'll most likely have Iowa freshman and two-time state champion Gabe Christensen. The winner of that match will most likely get Missouri redshirt freshman Rocky Elam. Elam is hot off of a solid performance at Senior Nationals.
---
JR 97 kg
The smallest bracket of the day, 97 kg is just a four-man round robin. Joseph Reimers of Nebraska-Kearney, Tyrell Gordon of Northern Iowa, Tyrie Houghton of NC State, and Nick Soto.
---
JR 125 kg
I am extremely high on two-time Pennsylvania state champion and Super 32 champion Hunter Catka. For the first time since arriving on campus at Virginia Tech, we get to watch him. If sees prevail, he'll have high schooler Apollo Gothard in the semis and Joshua Heindselman in the finals.
---
U23 Brackets
U23 57 kg
The lower weights are insanely deep at pretty much every division here in Omaha and 57kg for the U23 men's freestyles is no exception.
Though there are no seeds, Danny Vega sits at the top of the bracket and has a good shot at making the semis. His opponent will likely come from one of Codi Russel, Joey Prata, Joe Manchio, and Pat McKee.
The bottom half of the bracket gets even gnarlier. At the very bottom, Rutgers Nic Aguilar will wrestle Iowa State's Ramazan Attasauov. The winner will have to get by Lock Haven's Luke Werner just to make the quarters. The other three quarterfinals could have All-American inhabitants as Pat Glory is in the other bottom quarter and Rayvon Foley and Devin Schroder are in the other 2 quarters above him.
---
U23 61 kg
Two All-Americans in Ian Parker and Mitch McKee could meet in the round of 16. They are both taking advantage of the two-kilo allowance and day-before weigh-ins to make 61kg. The winner from that will likely meet All-American Mickey Phillippi in the semifinals. Why, there are All-Americans all over this bracket!
The bottom half of the bracket features perhaps the best round of 32 bout in the whole tournament, as Austin DeSanto squares off against Iowa State's Todd Small.
In the round of 16, we could see two Greco-Roman specialists in Taylor Lamont and Randon Miranda. Penn's Michael Colaiocco and Michigan's Drew Mattin are also threats to make the semifinals in the bottom half.
---
U23 65 kg
Anything can happen, that's why you pay to watch the matches instead of just reading these previews and skipping the actual wrestling, but the following four wrestlers are good bets to make it to the semifinal round: Kizhan Clarke of American University, the Dangerous Dom Demas of Oklahoma, Maximum Murin of Iowa, and Harold "Brock" Mauller of Missouri.
One or more of those guys may not make the semifinals, of course. Stranger things have happened. The Mongolian coaches at the Rio Olympics, for instance. We all remember that. Very strange event indeed.
---
U23 70 kg
Like 65kg, I could be way off here, but I like UWW cadet world champion Will Lewan of Michigan to make the finals against Iowa All-American Kaleb Young. The fact that Young made weight has to be encouraging for any Hawkeye fans that were concerned about Young holding 157 this year, although those expectations should be tempered by the aforementioned two-pound allowance and day before weigh-ins.
---
U23 74 kg
The top half of this bracket offers an intriguing potential semifinal with two young talents in Phil Conigliaro of Harvard and Danny Braunagel of Illionis.
The bottom half features an outrageously good round of 32 bout with the bulked up Jacori Teemer of Arizona State taking on Pitt's Jake Wentzel. Waiting for the winner in the unofficial #2 seed position is Wisconsin All-American Evan Wick.
I think a Teemer vs Wick match would be excellent, with both wrestlers constantly trying to sit the corner and cradle the other. Who will sit the corner and cradle the other first? Maybe it will be simultaneous. Wouldn't that be something! I'd enjoy it anyway.
---
U23 79kg
David McFadden is one of the most credentialed wrestlers in the U23 division and he'll be sitting in pole position at the top of this bracket. Might we see a semifinal match between him and Utah Valley's Demetrius Romero? I think I'd like to see that. I think we'd all like to see that.
Nelson Brands entering this weight class probably doesn't mean he won't attempt wrestling 184 for the Hawkeyes this season, as with the allowance this is a 178-pound bracket with day-before weigh-ins. Brands is in the bottom half of the bracket, with a potential match against 2019 UWW U23 world fifth-place finisher Muhamed McBryde of Buffalo in the semis.
---
U23 86 kg
I've got two names circled in this bracket, and luckily they're on either side of the bracket because I think a finals match between them would be electric. That's indeed why I circled their names!
Those names are Taylor Lujan, who was recently made $10,000 richer by finishing as runner-up in Flo's 195-Pound 8-Man Challenge at the top, and the recently minted Greco-Roman U23 national champion Cam Caffey of Michigan State. If we don't see this match happen for whatever reason this weekend, then we should all do everything in our power to make it happen as soon as possible. I know I will do my part, I hope I can count on you to do the same.
---
U23 92 kg
I was kinda sorta bad-mouthing the 92 kg weight class to a colleague earlier today, and now I regret those comments. Having seen this bracket, I now recognize them to be foolish and misguided. The reason I say this is because we might see a quarterfinal comprised of the following matchups: Jake Woodley vs Travis Stefanik; Jay Aiello vs Kordell Norfleet; Jacob Warner vs Nathan Traxler; Tommy Penola vs Nino Bonaccorsi.
That is not so different from the caliber of quarterfinals we might see at a typical NCAA Championship. My humble and chastened apologies to all the 92 kilogrammers of the world.
---
U23 97 kg
One of the smaller weight classes of the U23 divisions, this bracket is setting up a finals match that could see South Dakota State's Tanner Sloan face off against West Virginia's Noah Adams in a rematch of the 2020 Big 12 finals that Adams won by the score of 5-1.
---
U23 125 kg
Youssif Hemida, a heavyweight for the Cliff Keen Wrestling Club by way of the University of Maryland by way of the state of New York, will have his hands full with Wyoming's Brian Andrews in a very tough round of 32 bout. Hemida will also have to get by the up-and-coming Zach Elam of Missouri to make the finals.
The bottom half of the bracket is setting up Lehigh's Jordan Wood and Iowa's Tony Cassioppi for a collision in the semifinals. Elam, Wood, and Cassioppi are all very strong contenders for the All-American podium in March.
That wraps up our rapid reactions to the men's freestyle brackets. 20 rapid reax for 20 brax. A generous deal if there ever was one!