2020 FloWrestling 8-Man Challenge: 195 lbs
Myles Martin Rides Ohio RTC Momentum, Kollin Moore Scraps Into Flo 8-Man
Myles Martin Rides Ohio RTC Momentum, Kollin Moore Scraps Into Flo 8-Man
Many people are forgetting just how good Myles Martin is, but the former Ohio State Buckeye is ready to remind them this weekend.
Oct 29, 2020
by Andy Vance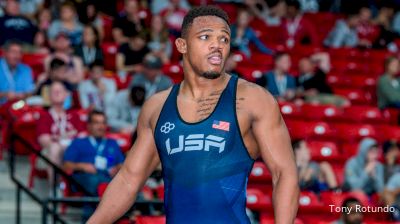 Unlock this video, live events, and more with a subscription!
Get Started
Already a subscriber? Log In
Unlock this article, live events, and more with a subscription!
Get Started
Already a subscriber? Log In
When wrestlers entered Ohio State's Jennings Family Wrestling Facility this week, it marked the first time in more than 32 weeks that Buckeye or Ohio RTC athletes had drilled in the space. Shuttered by the University as part of its COVID-19 mitigation strategy since mid-March, the reopening of the facility was a big moment for the staff and especially for the competitors.
Watch the FloWrestling 195 lbs 8-man LIVE
Myles Martin, just days away from battling for more than $40,000 in total prize money in Flo's 8-man Challenge, was right in the thick of the action.
Like every athlete competing under the aegis of the Ohio RTC, Martin has made the best of a bad situation training-wise, using smaller facilities outside the Columbus metro and drilling with longtime partner Kollin Moore.
"Kollin has a club he works with in Granville, Ohio, which is like 40 minutes off campus," Martin told Flo's Mark Bader Tuesday. "So in the beginning when we had nowhere to go, we were working out there four days a week, driving there 40 minutes and back."
Over the past two months the RTC athletes have moved to an MMA gym closer to campus. While the commute was easier, very few gyms have the five-mat setup of the Jennings Facility.
"They let us roll out a mat, and then the college guys, RTC guys will come in and Tervel will put us through a workout, and that's how we've been managing it," Martin explained of their temporary home. "Just one mat cut in half, so we had to do two groups for live go's, so we've been just grinding it out."
Even training in sub-optimal conditions, Martin could well walk away with $20,000 in his pocket Friday night. The four-time All-American and 2016 NCAA champion is currently ranked No. 3 in the country at 86kg and is one of the top 10 in the world at that weight.
Looking at his competition, he is one of the two most-accomplished collegians in the bracket, bested only by Gabe Dean's two national titles. Dean and Martin are the only two in the field to finish on the NCAA podium four years in a row.
Should the two meet up in the final match of the 8-Man Challenge, it won't be the first time they've scrapped. The two have a history dating back to a pair of meetings in 2016 and 2017, when Dean upended his Buckeye adversary at the All-Star Classic and then in Cornell's dual meet versus Ohio State. Martin's first match versus Drew Foster sets up well for Martin's hopes of facing Dean — or whomever — to win the bracket; the last time Foster and Martin met, Martin walked away with the 10-0 victory.
On the freestyle scene Martin had a strong 2019, finishing as runner-up in both the Bill Farrel Invitational and the U.S. Open Olympic Trial Qualifier. He finished third at the World Team trials. Riding that kind of momentum, the lack of wrestling this year has been tough on Martin's competitive spirit.
That competitive drive led him to jump into the fire against David Taylor at Flo's July event as a last-minute replacement. While there's no shame in dropping a tech to an elite competitor like Taylor, Martin told Bader he feels much more prepared this time than he did in July.
"I've been feeling good, training hard, keeping my weight under control," he said Tuesday. "That's when I feel the most comfortable, that's when I feel the most confident in my wrestling. I feel ready."
Having more time to prep for this tournament, Martin said he followed his normal prep routine, particularly with regard to nutrition and weight management. With a $20,000 purse at stake, having everything dialed in could be the difference between walking away with a pile of cash and walking away wondering what might have been.
---
Andy Vance is a Columbus-based journalist who covers the Ohio State University wrestling program for Eleven Warriors, the largest independent sports site on the internet for Ohio State news, analysis, and community. He is co-host of the site's Eleven Dubcast podcast. Follow him on Twitter @AndyVance.