Unlock this article, live events, and more with a subscription!
Get Started
Already a subscriber? Log In
Caden Horwath began clapping while his knee was still touching the mat following the final whistle.
Manny Rojas turned to greet his supporters and flexed his biceps before tugging on his singlet with both hands.
That's how the pair celebrated making some state of Michigan history during last weekend's Super 32 Challenge in Myrtle Beach, South Carolina.
Horwath, a Davison sophomore, captured the 113-pound championship while Rojas, a Detroit Catholic Central junior, ruled the 170-pound class. That marks the first time two Michigan underclassmen have won Super 32 titles in the same year.
In fact, it's only the second time two Great Lakes State grapplers have finished atop the podium in the same Super 32. St. John's teammates Taylor Massa and Ben Whitford both triumphed in 2011.
The championships, combined with Dundee's Braeden Davis (106) and Casey Swiderski (132) finishing second and fourth, allowed Michigan to end a bit of a dry spell at the tournament. The state's wrestlers won seven Super 32 titles between 2005-2013, but only one from 2014-2019.
Horwath and Rojas also claimed Grappler Fall Classic championships earlier this month. Only Pennsylvania's Nic Bouzakis and Indiana's Christian Carroll also won titles at both tourneys.
Howrath and Rojas, who both improved from not even making the podium last season, also have the potential to become Michigan's second two-time Super 32 winner, joining Lowell's Jackson Morse (2008-09).
Here is a closer look at how Howrath, Rojas, Davis and Swiderski earned Super 32 podium finishes:
CADEN HORWATH
Horwath, ranked No. 6 at 113, faced eighth-grade phenom P.J. Duke in the final. Duke went 45-0 last season in becoming New York's first seventh-grade state champion while Horwath was 43-2 in winning a Division 1 state title.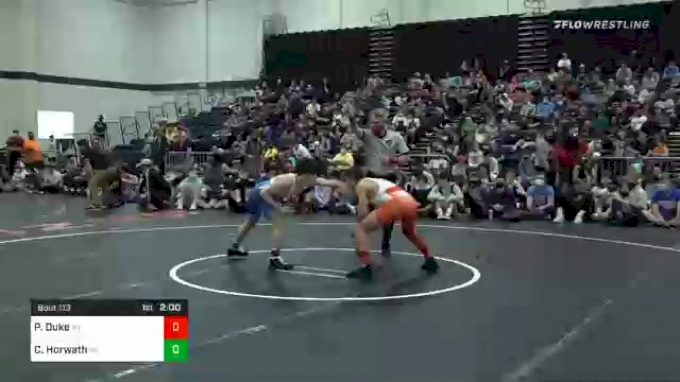 Unlock this video, live events, and more with a subscription!
Get Started
Already a subscriber? Log In
Horwath never trailed after driving Duke to the edge of the outer circle and scoring a takedown just 22 seconds into the match. Duke answered with an escape just 12 seconds later to make it 2-1.
Horwath began the second period down and escaped in six seconds for the only scoring of the period.
The score remained 3-1 until Duke worked his way out of a down position and spun free of Horwath's grasp on his way to reversal with 38 seconds remaining to draw even at 3-3.
Horwath responded by getting to his feet earning an escape point only 12 seconds later. He left Duke little wiggle room, literally, the rest of the way, tucking one of Duke's legs underneath his chin at one point.
Horwath also bested an unbeaten state champion -- No. 19 Cole Hunt of Georgia -- in the Grappler Fall Classic final.
Horwath began with a 95-second pin of New Jersey's Ryan Ford before pinning Washington's Joshua Neiwert in 4:03. He then made short work of Wyoming state champion Sefton Douglas with a 17-1 technical fall.
Horwath knocked off Georgia's Jake Cripps in the quarterfinals, 11-3 before facing seventh-ranked Cory Land of Alabama in the semifinals. Land is a three-time state champion boasting a 110-match high school winning streak, but Horwath edged him, 4-3.
He is Davison's third Super 32 champion along with Facundo and Jon Reader (2005).
MANNY ROJAS
No. 7 in the 170-pound rankings, Rojas edged No. 8 James Rowley of Oregon, 3-2, in the title match to became DCC's first Super 32 champion.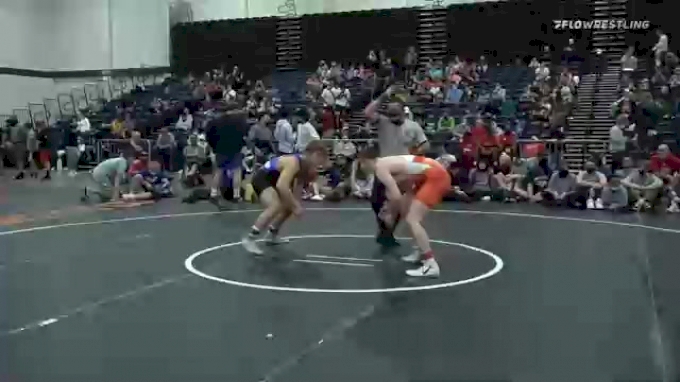 Unlock this video, live events, and more with a subscription!
Get Started
Already a subscriber? Log In
An eager Rojas jumped into the air twice and gave his singlet a tug prior to the match, but the opening period was scoreless. Rojas was down to start the second and escaped within five seconds for a 1-0 advantage.
Rowley, a two-time state champion, was down to begin the third period and escaped in 22 seconds to make it 1-1. It remained that way until Rojas drove Rowley, who went 48-4 last season, to the edge of the mat for a takedown with 33 seconds left.
Rowley, a 15U World Championships bronze medalist in 2019, added an escape point in the final seconds.
Rojas, who began motioning for the championship belt after his arm was raised in victory, edged 14th-ranked Pennsylvania state champion Carson Manville, 7-5, in the semifinals.
He began with a 19-4 technical fall of California's Trent Houle before pinning Virginia's Ryan Henderson (1:08) and Wisconsin's Sam Schwabe (2:29). Schwabe placed third in his state tournament last season, finishing 47-7.
Rojas then outlasted two-time Washington state champion Darion Johnson, 5-3 in overtime. He decisioned 16th-ranked Sammy Starr (Pennsylvania), 7-3, in the quarterfinals.
Rojas was Division 1 state champion at 189 pounds last season, finishing 46-1. His high school record is 71-10.
BRAEDEN DAVIS
Davis, ranked No. 6 nationally, added the runner-up finish to his 2020 Grappler Fall Classic title.
The sophomore began with a 10-1 decision over Conor Collins, a New Jersey state qualifier who finished 38-4 last season, before pinning Pennsylvania's Mason Kernan in 1:27.
Davis then faced fellow Michigander Nolan Wertanen, a St. Joseph junior who was Division 2, 103-pound state champion last season and finished 46-2. Davis took an 11-1 decision before knocking off 17th-ranked Caleb Thoennes of Minnesota, 7-3. Thoennes was fourth in the state last season and made the top five in both freestyle and Greco Roman in Fargo last year.
Davis took care of No. 7 Beric Jordan (Ohio) in the semifinals with a 13-8 decision. He dropped a 5-2 decision to top-ranked Pennsylvania state champion Vinny Kilkeary, who was 30-7 last season, in the title match.
Davis was also a Super 32 elementary school champion in 2016 before placing second in middle school competition in 2017 and 2018. He was Division 3, 103-pound state champion last season, finishing 38-4.
CASEY SWIDERSKI
Swiderski, No. 7 in the current 132-pound rankings and No. 72 on the 2022 Big Board, wrestled nine matches, going 7-2.
The two-time, Division 3 state champion dropped a pair of hard-fought, one-point decisions to fifth-ranked Vince Cornella, a Cornell commit, including 2-1 in the third-place match. Cornella is a three-time Colorado state champion.
Swiderski began with a 17-3 dismantling of Georgia's Garrett Wood, who placed in the top four of his state tournament the past two seasons. Next, he decisioned Wisconsin's Tanner Gerber (7-5), a two-time state champion with a 97-3 record the past two seasons.
Swiderski then decisioned Eric Alderfer (14-2), a two-time Pennsylvania state qualifier with a 76-19 career mark. In his next match, Swiderski knocked off No. 16 Ty Whalen (New Jersey), 6-3. He was third in the state last season.
Swiderski then dropped a 5-4 decision to Cornella before rebounding nicely with an 8-3 win over No. 8 Tom Crook, a two-time Florida state champion. Perhaps Swiderski's most impressive win was a 90-second pin of two-time Missouri state champion Jacob Mann.
He reached the third-place match with a 10-3 decision over 15th-ranked Nathan Lucier (Pennsylvania), a two-time state qualifier with a 96-25 career record.
Swiderski, also a Grappler Fall Classic champion this year, takes an 85-3 record into the coming season during which he hopes to help the Vikings to a fourth consecutive team state championship.
---
Mark Spezia is a freelance writer based in Lapeer, Michigan. He has written for ESPNW, Flohockey, Flint, Michigan-based My City Magazine, the Detroit Free Press, Hour Detroit Magazine and Troy, Michigan-based Oakland Press. He previously worked for the Flint Journal, Lapeer (Michigan) County Press and Daily Mining Gazette in Houghton, Michigan.