Unlock this article, live events, and more with a subscription!
Get Started
Already a subscriber? Log In
The first day of Super 32 was packed with outstanding matches, and tomorrow matchups should be even better. Get caught up on all the action from today and then get ready for tomorrow's quarters, semis, and finals. The quarterfinals get going in the morning. Watch every one that you can, but be sure to focus on these nine.
Watch the Super 32 Challenge LIVE on FloWrestling
Saturday & Sunday, October 24-25, 2020
132 #7 Vince Cornella vs #9 Casey Swiderski
Not only are Vince Cornella and Casey Swiderski ranked in the top 10 in the country, but they have also been point scoring machines this weekend. In four matches, Swiderski has scored 44 points while Cornella has scored 39 in his four.
Swiderski is an uncommitted Junior from Dundee, Michigan who was just shy of placing here last year. Cornella is a senior from Colorado who will be headed to Cornell, the program whose spelling is just one letter different than his name. Check out his major decision win over the surging Jagger Eisch.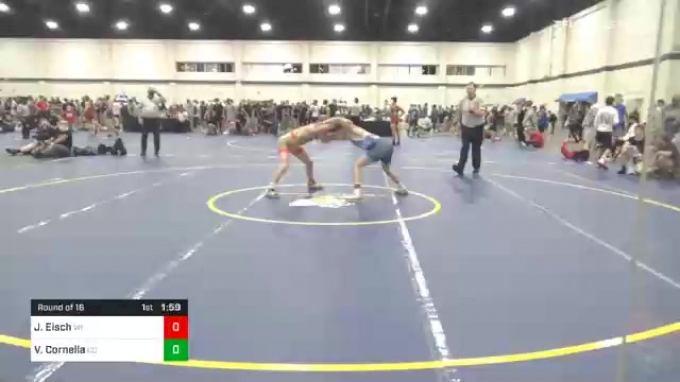 Unlock this video, live events, and more with a subscription!
Get Started
Already a subscriber? Log In
106 #1 Vinny Kilkeary vs Anthony Knox
This quarterfinal at 106 could end up deciding the #1 spot in the country. Kilkeary is the current top man, and Knox was ranked fourth until sources said he would be taking eighth grade again. That turns out not to be the case as Knox is registered as a ninth grader, so he'll be back in play for the next set of rankings.
Knox's path through the bracket has been dominant. He's had two falls and a major decision. Kilkeary's has been tougher with an 8-5 win over Marcello Milani and a match that started close that Kilkeary blew open late against #4 Nick O'Neill.
138 #6 Nick Moore vs #11 Ben Alanis
Ben Alanis has made it a point to seek out top competition this fall. He went to Indiana for a shot at Jesse Mendez and fell short in overtime. Now, he'll get a crack at #6 Nick Moore. Can the Northern Colorado recruit climb the rankings?
Moore's ranking is certainly earned. The Graham senior is as positionally solid a wrestler as you'll find at 138, so Alanis will have his work cut out for him.
113 #7 Spencer Moore vs PJ Duke
UNC commit Spencer Moore is the #2 seed here. The senior from Kentucky has been on the podium here before, and has the experience that would suggest that he's the favorite in this quarterfinal tomorrow.
The problem is that 8th grader PJ Duke doesn't seem to care much about who favorites are in matches. He's coming off a win over Stevo Poulin who sits at #3 at 120lbs, and he's on a hot streak here as well with three bonus-point wins in four matches. Some people think Duke will win this whole bracket. The road runs through #7 Spencer Moore.
120 #3 Cooper Flynn vs #9 Tyler Kasak
When Gary Steen bowed out of Super 32 due to injury and Troy Spratley moved up to 126, this weight was supposed to get easier. Tell that to #3 Cooper Flynn and #9 Tyler Kasak who will meet tomorrow morning in the quarterfinals.
Flynn already has five matches under his belt including a major, two falls, and a tech. The Virginia Tech commit has looked every bit the #1 seed. Sophomore Tyler Kasak has also looked solid in his four matches though not as dominant as Flynn. The edge goes to Flynn, but this match should be excellent.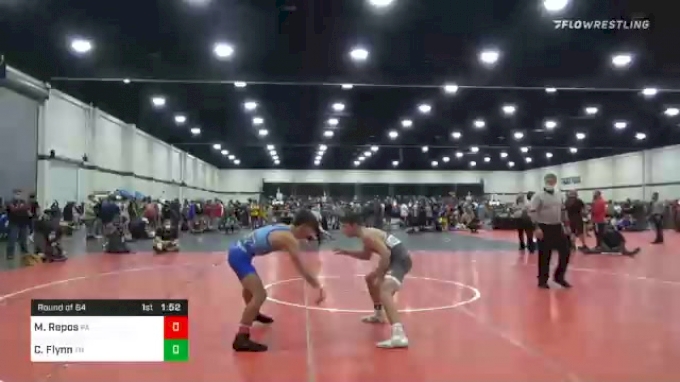 Unlock this video, live events, and more with a subscription!
Get Started
Already a subscriber? Log In
160 #5 Enrique Munguia vs #7 Erik Gibson
Another top 10 showdown in the Super 32 quarters features #5 Enrique Munguia and #7 Erik Gibson. Both had challenging round of 16 matches. Munguia beat a very tough Jack Ganos 6-2, while Gibson earned a major in a very physical bout with Colby Cochran.
Munguia is a senior who's headed to Kent State while Gibson is a Cornell bound junior. The division 1 skill that will be on display in this quarter should be outstanding.
182 #6 Bennett Berge vs #16 Hudson Hightower
Burge earned the top seed here, but he's rewarded with a path that includes the #16 guy in the nation in the quarterfinals. Hudson Hightower is a Princeton commit who has three decisions under his belt this weekend.
Berge has been more dominant with a fall, a major, and an 8-2 decision. Berge has looked solid, but he hasn't had to pass a test as tough as Hightower so far this weekend. This should be fun.
152 #9 RJ Weston vs #18 Paniro Johnson
Weston and Johnson could be seeing a lot of each other for the next few years. Weston will be heading to the University of Northern Iowa while Johnson will attend Iowa State. Fans in Iowa will want to pay attention to this one.
Johnson has the ability to be the most impressive guy in the room at times, but he can also play matches close. Weston has similarly disparate results at times. I'm curious to see this chapter in a potential long-standing rivalry.
Unlock this video, live events, and more with a subscription!
Get Started
Already a subscriber? Log In
195 #9 Martin Cosgrove vs #15 Christian Carroll
Christian Carroll was injured for most of last year, so he fell off some people's radars. He has been back in a big way this fall with multiple wins over ranked 220-pounders. He'll work to add a 195-pounder to the list tomorrow in #9 Martin Cosgrove.
Cosgrove has had an impressive fall too. He went 17-0 between Battle at the Burgh and the Olympic Club Duals, and he's been dominant here with two falls and a 6-point decision. You won't want to miss this high-powered quarter.