NCAA
Brock Zacherl's On-Mat Success Leads To Assistant Position With Clarion
Brock Zacherl's On-Mat Success Leads To Assistant Position With Clarion
Former Clarion wrestler Brock Zacherl rode his impressive on-the-mat career to a coaching gig with his alma mater.
Oct 23, 2020
by Mark Spezia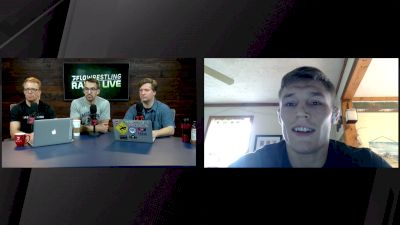 Unlock this video, live events, and more with a subscription!
Get Started
Already a subscriber? Log In
Unlock this article, live events, and more with a subscription!
Get Started
Already a subscriber? Log In
Brock Zacherl's social media accounts are littered with words to live by.
"People will forget what you do, but they won't forget how you made them feel," is scrolled across the top of his Instagram.
"Action conquers fear," greets those who click on his Twitter feed.
Such positivity is the norm for Zacherl, who put the finishing touches on one of the most accomplished wrestling careers in Clarion University's history last spring. The uplifting sayings are often accompanied by photos of Zacherl flashing his trademark huge smile.
The four-time NCAA qualifier was given more to smile about last month when he joined the ranks of those giving back to their alma maters as volunteer assistant coaches.
Golden Eagles head coach Keith Ferraro announced Zacherl's addition to the staff on Sept. 22. He joins second-year assistant coach Nathan Kraisser and fellow volunteer assistant Nick DeLoia.
"Brock was a transformative leader during his six seasons at Clarion, and I have no doubt he will continue to have an immense impact in this coaching role," said Ferraro on Clarion's website. "I have believed for quite a while that Brock's talent and skill set would make him an incredible wrestling coach."
Zacherl filled the vacancy created when Malik McDonald joined Long Island University's coaching staff in July.
"Doing everything I can to make Clarion a better place!," Zacherl tweeted the day of his hiring. "Hope you're not sick of me yet bc I'm never leaving! Wings up baby! Another dream come true!"
Earlier this year, Zacherl deepened his roots in Clarion, just 17 miles from where he excelled at Brookville (Pennsylvania) High School.
Zacherl and fiance Stephanie Lias purchased a home in the community not long after he earned a Masters Degree in business administration. Zacherl completed a Bachelors Degree in economics in 2018.
He went 22-4 last season at 149 pounds, finishing second in the Mid-American Conference tournament to Missouri All-American Brock Mauller.
Zacherl was seeded 11th for the NCAA Tournament, putting him in good position to become an All-American for the first time before the tourney was canceled by the spreading coronavirus pandemic.
Undeterred, Zacherl soon put the turn of events into almost perfect perspective on Twitter.
"If wrestling has taught me one thing it's that you're entitled to nothing," he posted. "Life isn't ever going to be fair but through it all you gotta pick yourself up and find the next goal to chase. Not everyone can be a NCAA champion but everyone can be a champion of life. Quit feeling entitled, Don't be a victim, Find the next goal to chase."
Zacherl was 13th in the final national rankings. He went 6-4 against NCAA qualifiers, including a 5-3 decision over 10th-ranked Collin Purinton (Penn State).
While he did not become an All-American by placing in the top eight at the NCAA Tournament, Zacherl was named a second-team All-American by the National Wrestling Coaches Association along with teammate Greg Bulsak (197). They are Clarion's first NWCA All-Americans in seven years.
"Nobody deserves it more, my guy," Zacherl's friend Mason Beckman, a one-time All-American at Lehigh tweeted. "Most importantly, you're All American caliber human being."
Zacherl finished with a 114-17 record at Clarion, good for 14th on the program's all-time victories list, including a perfect (44-0) home record. He also went 59-2 in dual matches and reached the round of 12 at the 2018 NCAA Tournament.
Zacherl was also second at the Eastern Wrestling League championships twice after becoming Clarion's first league champion in 11 years in 2016. He spent six seasons with the program in all, beginning with his redshirt season of 2014-15.
An elbow injury cost Zacherl much of the 2018-19 season, but he was granted a medical redshirt.
The All-American podium may have eluded Zarcherl, but he defeated eight All-Americans while wrestling for the Golden Eagles. The list includes two-time All-American Nick Lee (Penn State) and 2018 NCAA runner-up Ronnie Perry (Lock Haven).
Zacherl picked Clarion following a productive high school career which he went 130-15 and won a AA state championship at 145 pounds as a senior. He also placed fourth and seventh in the state as a junior and sophomore.
Zacherl is still competing on the mat and split a pair of matches earlier this month in Pennsylvania. He beat 2019 All-American and four-time NCAA qualifier Kyle Shoop of Lock Haven by technical fall (12-2) on Oct. 17.
Three days later, Penn State's Jarod Verkleeren, an NCAA qualifier last season, defeated Zacherl via technical fall (15-4). Verkleeren, also a Pennsylvania state champion, was 15th in last season's final national rankings.
As his first season as a coach approaches, Zacherl can focus on imparting his motivational words on the wrestlers he mentors like:
"Young bucks. Take risks. Make it happen," he tweeted last spring. "Everyone in wrestling works hard but not all of us are able to take the risks and leave it all on the mat. Have no regrets that you did everything in those seven minutes to make it happen."
---
Mark Spezia is a freelance writer based in Lapeer, Michigan. He has written for ESPNW, Flohockey, Flint, Michigan-based My City Magazine, the Detroit Free Press, Hour Detroit Magazine and Troy, Michigan-based Oakland Press. He previously worked for the Flint Journal, Lapeer (Michigan) County Press and Daily Mining Gazette in Houghton, Michigan.