2020 Super 32
What To Watch For At Super 32: The New Jersey Edition
What To Watch For At Super 32: The New Jersey Edition
Super 32 is the best high school tournament in the country. Here's a special "what to watch for" preview for New Jersey wrestling fans.
Oct 21, 2020
by Brendan Scannell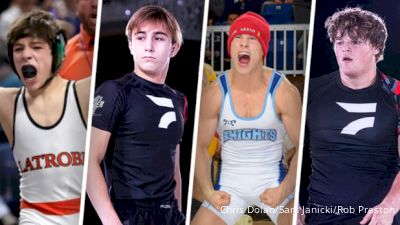 Unlock this article, live events, and more with a subscription!
Get Started
Already a subscriber? Log In
I wasn't sure this weekend would come, but we finally made it.
To celebrate, here is a special preview made for all of you Jersey fans looking forward to watching the state's best wrestlers compete for a Super 32 title in Myrtle Beach, SC.
Watch the Super 32 Challenge LIVE on FloWrestling
Saturday & Sunday, October 24-25, 2020
There are still a lot of question marks surrounding the upcoming season in New Jersey. Most importantly, will all of these kids get the chance to wrestle for state titles when the time comes? I guess we can worry about that after this weekend.
Now, it's Super 32 time. Like all of you, I'm just excited to watch some wrestling.
Wrestlers to Watch
Who will be this year's standout wrestler from the Garden State?
Delbarton's Nico Nardone is the first to come to mind a year after his runner-up finish. In terms of national rankings, he'll be the highest-ranked New Jersey wrestler in attendance at #4. A few weeks ago, it was Dean Peterson who was able to avenge a prior loss to claim the #1 spot in the nation. Nardone could get a similar opportunity this weekend if he can navigate his way through the 132lb bracket and knock off #1 Nic Bouzakis, who beat him in a physical final last year. He certainly has the pace to go with Bouzakis, but he'll need to find a way to some takedowns this time around if he wants to bring home the belt.
Brian Soldano of High Point is another safe bet to place high this weekend. The Rutgers commit finished third at Super 32 last year before dominating his way to a Jersey state title a few months later. I'm interested to see how Soldano does against some of the nation's other top guys, because he's currently in the midst of what I think will be a lengthy winning streak against New Jersey competition.
St. Joe's Alex Almeyda should be on everyone's radar. He's taken a bit of a slide down the national rankings after some losses last year. With that said, I'm not sure that anyone in the country wrestled a tougher regular season schedule than Almeyda. Last season, he took losses to Peterson (in rideouts), Nardone (twice), Robbie Howard (twice), and Eddie Ventresca. But in the spirit of writing lists, why not mention some of his wins? They're impressive: Jordan Titus in the third-place match of Super 32 last year, Cooper Flynn in the Beast of the East quarters, as well as Ventresca on the backside at states. He comes in ranked #13 in the country but has proven his ability to compete with top-five guys. Don't be surprised if you see him in the finals this weekend.
A lot of people are looking forward to the debut of Bergen Catholic's Anthony Knox who, despite being an incoming freshman, sits atop the preseason rankings at 106lbs.
Team to Watch: Kingsway
Yeah, yeah, I know there aren't real "teams" at Super 32, but expectations are high around this Dragons team and I'm interested to see how some of their top guys compete.
After a runner-up finish to North Hunterdon in Group IV last year, Kingsway brings back a bulk of its lineup including two state placers and six qualifiers. Three of them will be at Super 32 this weekend.
It's not quite the murderer's row that fellow Group IV school Brick Memorial flaunts down low, but after a key offseason addition, Kingsway has a pretty solid middleweight trio of its own.
This 145lb to 160lb group of Finnegan McFadden, Cooper Pontelandolfo, and Dakota Morris will lead a Kingsway team that should enter the season as the prohibitive favorite among South Jersey schools. Morris was the only one to place in the state last year, but Pontelandolfo placed sixth in 2019, while McFadden is a region champ. If these three have a good weekend it will certainly make a statement.
However, each will be facing some stiff in-state competition to go along with the countless other landmines scattered throughout their brackets.
At 145lbs, McFadden could see South Plainfield's Anthony White, a fourth-place finisher in the state last year. Hunterdon Central's Colton Washlewski beat Pontelandolfo in sudden victory last year and the two could clash again this weekend at 152lbs. Morris, meanwhile, might have to deal with Aaron Ayzerov of Paramus, a Columbia commit and state runner-up last year.
Kingsway's biggest competition in South Jersey this season will be Camden Catholic — an ongoing battle between these two could've been one of the state's best matchups if we weren't expecting a modified schedule. We'll see what happens.
Anyway, The Irish will also be plenty represented this weekend, sending four wrestlers, including state champ Martin Cosgrove who DNP'd at Super 32 last year but will be belt chasing this time around.
Weight to Watch: 126lbs
126lbs is shaping into what could be the toughest weight class in the state. We'll get our first look at a few of the standouts this weekend with four state-ranked wrestlers headed to Myrtle Beach. There's a possibility Jersey could put two guys on the podium here and I anticipate some rankings shakeups.
Noticeably absent from this weekend's bracket, though, will be #1 and #2 in the state Dean Peterson and Vincent Santaniello. Both are currently ranked in the top 10 nationally.
Still, it's a mean group falling in behind the top two.
Kelly Dunnigan and Joe Cangro will come in as the top guys this weekend. The two met most recently at Beast of the East and Dunnigan prevailed. In Atlantic City, they wound up on opposite sides of the state bracket where Dunnigan was a runner-up and Cangro took third. It's been a back-and-forth affair over the years, but each will have his work cut out for him in a weight featuring a total of 11 nationally ranked wrestlers.
Also featured at this weight are two more former state placers in Westwood's Ethan Fernandez and Jack Maida of Shore. Most recently, Fernandez pinned Maida at states last year, eliminating him from the tournament.
All of these guys have a lot of history, and the pecking order seems clear. Still, his weekend should give us a good idea if that order has changed at all and if anyone can make a push into that top two.
Some Sleeper Picks
Although a podium placement might be asking a lot, these are a few guys with the potential to bust some brackets or notch a few good wins. After all, these brackets are insane.
John Hildebrandt (Williamstown, 113lbs): I said it all year last year and I'm back here saying it again. Don't sleep.
Isaac Dean (Shawnee, 182lbs): Dean had an awesome postseason last year where he won a Region 7 title before falling in the bloodround at states, notching some nice wins in the process. A senior this year, Dean remains uncommitted and could catch the attention of some college coaches with a good tournament.
Ty Whalen (Clearview, 132lbs): After placing fourth in the state at 113lbs last year, Whalen makes the climb to 132. I'm looking forward to seeing how he stacks up at a heavier weight – something I don't expect to be an issue, whatsoever. Whalen has a lot of stuff and could be a tricky matchup if he catches someone sleeping.
Jackson Sichelstiel (Paulsboro, 126lbs): He doesn't come in with a gaudy resume but I like the way this kid wrestles. He's got a great stance, really solid defense and positioning, and keeps a really low-key, unassuming demeanor on the mat. He went 2-2 at states last year in a tough 113lb bracket. Obviously, this Super 32 bracket is even tougher, but add him to the list of 126lbers from NJ I'll be looking out for this weekend.