2020 Super 32
Super 32 Wrestlers By State
Super 32 Wrestlers By State
Check out which wrestlers from your state are registered for Super 32. Plus a bonus heat map!
Oct 18, 2020
by JD Rader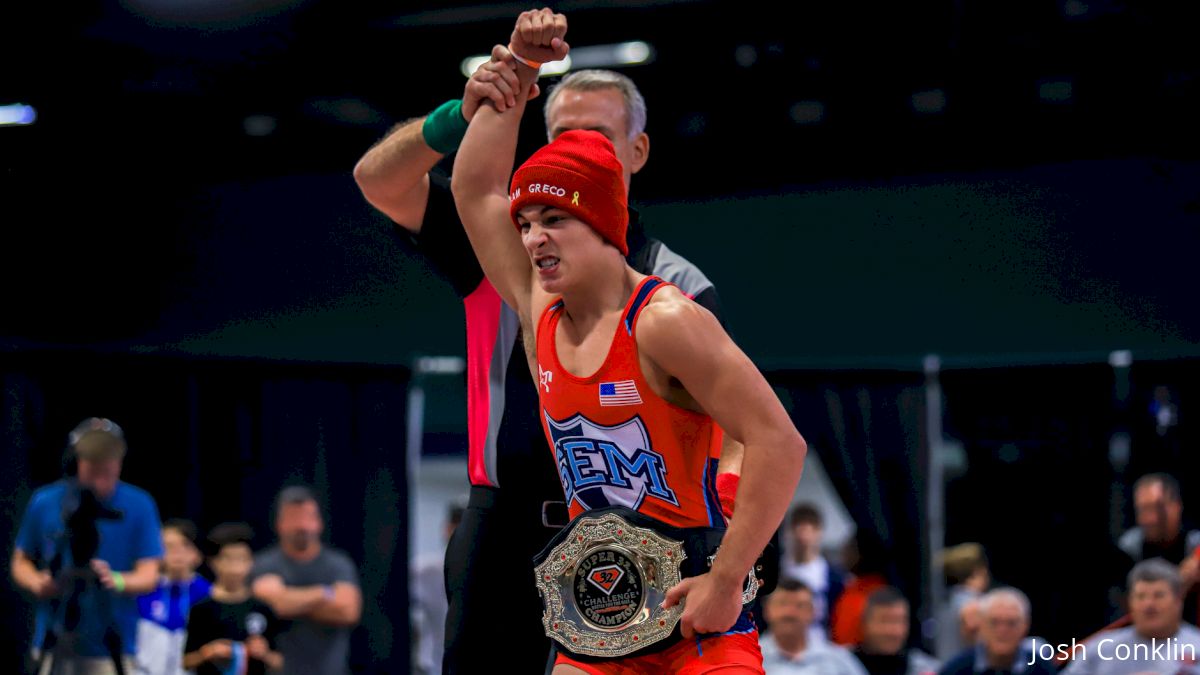 Unlock this article, live events, and more with a subscription!
Get Started
Already a subscriber? Log In
With a total of 1,522 wrestlers in the high school division alone, Super 32 will once again be massive this year. Without sacrificing quantity for quality there will be 300+ state champions, 63 Division I-committed wrestlers, and 128 nationally ranked wrestlers, including 62 in the top 10, 31 in the top five, eight in the top two, and four #1s.
Watch the Super 32 Challenge LIVE on FloWrestling
Saturday & Sunday, October 24-25, 2020
Now, you probably came here to see what wrestlers will be representing a certain state. To quickly find the entries from the state that most interests you, hit command+F/ctrl+F, type in your favorite state, and be taken to the appropriate section of the article at the speed of light. Or you can scroll as the states are listed alphabetically.
Wrestlers are listed in order of weight class with nationally ranked wrestlers at the top.
It should be noted that an athlete is listed under whatever state they registered with. Meaning, a wrestler could go to high school in a different state than what they will be representing this weekend at Super 32 and there could be errors as well.
But first, a beautiful and interactive heat map! If you are on a mobile device, turn it to landscape mode. Pennsylvania has the most registered wrestlers of any state with 153 and Virginia comes in second with 127 while Montana, South Dakota, Mississippi, and Vermont are the four states with zero wrestlers. Tap on a state to see how many entries it has.
Alabama
| | | | |
| --- | --- | --- | --- |
| 113 | Cory Land | 11th | 11 (126) |
| 106 | Brodie Christmas | 9th | |
| 106 | Daishun Powe | 9th | |
| 113 | Zachary McFarland | 11th | |
| 113 | Bentley Briscoe | 10th | |
| 113 | Isaiah Powe | 10th | |
| 126 | Melton Powe | 11th | |
| 132 | Kyler Adams | 12th | |
| 132 | Maney Havis | 12th | |
| 132 | Xander McWilliams | 12th | |
| 132 | Ryan Summerlin | 11th | |
| 132 | Oliver Howard | 10th | |
| 138 | Brody Scoggins | 11th | |
| 138 | Logan Reaves | 11th | |
| 138 | Trent Gilham | 11th | |
| 145 | Gray ortis | 11th | |
| 145 | Jaden New | 11th | |
| 152 | jason minchew | 12th | |
| 160 | Carson Kim | 12th | |
| 195 | matt franks | 12th | |
| 220 | Jacob Ebner | 12th | |
Alaska
| | | |
| --- | --- | --- |
| 113 | Caleb O'Hara | 12th |
| 113 | Benjamin Pope | 11th |
| 113 | Matthew Mitchell | 9th |
Arizona
| | | | |
| --- | --- | --- | --- |
| 138 | Ramon Ramos | 12th | 5 |
| 138 | Benjamin Alanis | 12th | 11 |
| 106 | Daniel Guanajuato | 11th | |
| 106 | Damian Moreno | 10th | |
| 113 | Davian Guanajuato | 12th | |
| 113 | Luis Pastoriza | 12th | |
| 126 | Emilio Ysaguirre jr | 11th | |
| 126 | Colby Ryan | 10th | |
| 132 | Isaias Jimenez | 9th | |
| 145 | Juan Sierra | 12th | |
| 145 | Kaleb Larkin | 11th | |
| 152 | Markell Rivera | 12th | |
| 152 | Dalton Loyden | 10th | |
Arkansas
California
| | | | |
| --- | --- | --- | --- |
| 132 | Maximo Renteria | 12th | 3 |
| 182 | Rocco Contino | 12th | 5 (170) |
| 170 | Joseph Martin | 11th | 8 |
| 126 | Jack Gioffre | 11th | 14 (120) |
| 126 | Maxximus Martinez | 10th | 14 |
| 145 | Henry Porter | 12th | 18 |
| 120 | Beau Mantanona | 10th | 20 (113) |
| 106 | Aden Valencia | 9th | |
| 106 | Alek VanBebber | 9th | |
| 106 | Grigor Cholakyan | 9th | |
| 106 | Isaiah Quintero | 9th | |
| 106 | Jayson Victoria | 9th | |
| 106 | Christopher Creason | 7th | |
| 106 | Brandon Baldonado | 11th | |
| 113 | Collin Guffey | 9th | |
| 113 | Ethan Perryman | 11th | |
| 113 | Ethan Qureshi | 11th | |
| 113 | Isaiah Kainoa Medina | 11th | |
| 113 | Logan Valledor | 11th | |
| 113 | Aidan Munoz | 10th | |
| 120 | Cisco Cabrera | 10th | |
| 126 | Carter Bailey | 12th | |
| 126 | Devin Avedissian | 11th | |
| 126 | Fernando Barreto | 11th | |
| 132 | Miguel Estrada jr. | 9th | |
| 132 | Christian Cabuag | 12th | |
| 132 | AJ Gaitan | 11th | |
| 132 | Jose Farias Jr | 10th | |
| 138 | Jayden Gomez | 12th | |
| 138 | Alec Peralta | 11th | |
| 138 | Nicco Ruiz | 10th | |
| 145 | Alex Ramirez | 12th | |
| 145 | Cade Lucio | 12th | |
| 145 | Gabriel Schumm | 12th | |
| 145 | Julian Victoria | 12th | |
| 145 | Bill Takara | 11th | |
| 145 | Noah Tolentino | 11th | |
| 145 | Oscar Aranda III | 11th | |
| 152 | M.J. Gaitan | 11th | |
| 160 | Ethan Aguiniga | 12th | |
| 160 | Marcus murabito | 12th | |
| 170 | Trent Houle | 12th | |
| 182 | Christian Landin | 12th | |
| 285 | Jake Andrews | 12th | |
Colorado
| | | | |
| --- | --- | --- | --- |
| 132 | Vince Cornella | 12th | 7 |
| 152 | Daniel Cardenas | 11th | 8 (145) |
| 195 | Franklin Cruz | 12th | 11 |
| 106 | LJ Herburger | 10th | |
| 113 | Jeremiah steele | 11th | |
| 113 | Kobi Johnson | 11th | |
| 120 | Jacob Myers | 9th | |
| 120 | Eric Griego | 12th | |
| 120 | Angelo Lozado | 11th | |
| 120 | Dillon Roman | 11th | |
| 126 | Michael Atencio | 12th | |
| 126 | Jacob Bostelman | 10th | |
| 126 | Matthew Fasbender | 10th | |
| 126 | Vincent Cabral | 10th | |
| 126 | weston dalton | 10th | |
| 132 | Oran Huff | 12th | |
| 132 | Elijah Olguin | 11th | |
| 132 | Murphy Menke | 11th | |
| 132 | Jakob Romero | 10th | |
| 132 | Lain Yapoujian | 10th | |
| 138 | Brayden Wilkens | 12th | |
| 138 | Cody Thompson | 12th | |
| 138 | Rudy Lopez | 12th | |
| 138 | Xavier Mendoza | 12th | |
| 145 | Anthony Flores | 12th | |
| 145 | Randall Myers | 12th | |
| 152 | Karter Johnson | 11th | |
| 170 | Gage Bernall | 12th | |
| 170 | Justin Cullen | 10th | |
| 182 | Jacob Judd | 11th | |
| 182 | Roman Cruz | 11th | |
| 195 | Jack Forbes | 12th | |
| 220 | Kyle Hanson | 12th | |
| 220 | Jose Rosales | 10th | |
| 285 | Matthew Moore | 10th | |
Connecticut
| | | | |
| --- | --- | --- | --- |
| 113 | Josh Brault | 12th | |
| 120 | Evan Lindner | 11th | |
| 120 | Angelo Pellicci | 10th | |
| 126 | Michael Rapuano | 12th | |
| 126 | Kailan O'Dell | 11th | |
| 138 | Matthew Lucas | 12th | |
| 145 | Logan Kovacs | 11th | |
| 152 | Caleb Ferland | 12th | |
| 152 | Ty Finn | 12th | |
| 152 | Peter Kane | 11th | |
| 160 | Breon Phifer | 12th | |
| 160 | Saul Pera | 12th | |
| 170 | Jaylen Hawkins | 12th | |
Delaware
| | | | |
| --- | --- | --- | --- |
| 120 | Jack Thode | 11th | |
| 145 | Michael Frederick | 11th | |
| 152 | Carson Kammerer | 11th | |
| 152 | Nicholas Hall | 11th | |
Florida
| | | | |
| --- | --- | --- | --- |
| 132 | Tom Crook | 10th | 10 |
| 138 | Ethan Mojena | 10th | 16 (126) |
| 182 | Tylynn Lukens | 11th | 17 |
| 195 | Michael Talshahar | 11th | 17 |
| 132 | Danny Nini | 11th | 19 |
| 106 | Ethan Rivera | 9th | 20 |
| 106 | Anderson Heap | 9th | |
| 106 | Gabriel Tellez | 9th | |
| 113 | Cameron Gallivan | 9th | |
| 113 | Christopher Albo | 12th | |
| 113 | Aiden Poe | 11th | |
| 113 | Kyler Peraza | 11th | |
| 113 | Tyson Lane | 11th | |
| 113 | Egan Gustilo | 10th | |
| 113 | Nicholas Yancey | 10th | |
| 120 | Corey Gallivan | 12th | |
| 120 | Elijah Lusk | 12th | |
| 120 | Nathaniel Luders | 12th | |
| 120 | Tyler Perrow | 12th | |
| 120 | Christopher Minto | 10th | |
| 120 | Cooper Haase | 10th | |
| 126 | Dalton Huckelberry | 12th | |
| 126 | Elijah Ortiz | 12th | |
| 126 | Morgan Cole | 12th | |
| 126 | Noah Wadle | 12th | |
| 126 | Robert Dusendang | 12th | |
| 126 | Sebastian Melguizo | 12th | |
| 126 | Andrew Austin | 11th | |
| 126 | Braden Basile | 11th | |
| 126 | John McNichols | 11th | |
| 126 | Russell Raabe | 11th | |
| 126 | David McClelland | 10th | |
| 126 | Eligh Rivera | 10th | |
| 126 | JEWELL WILLIAMS | 10th | |
| 126 | JOSHUA BOYKIN | 10th | |
| 132 | Andrew Wittenberg | 9th | |
| 132 | Angel Fernandez | 12th | |
| 132 | Braden Baxter | 12th | |
| 132 | Jared Dinh | 12th | |
| 132 | Jayden Tapia | 12th | |
| 132 | Vincenzo Napolitana | 12th | |
| 132 | Alex Couto | 11th | |
| 132 | George Duncan | 11th | |
| 132 | Alexander Soto | 10th | |
| 132 | Michael Farrelly | 10th | |
| 132 | Ronald Theilacker | 10th | |
| 138 | Alan Diaz | 12th | |
| 138 | Chase Gillis | 12th | |
| 138 | Myles Griffin | 12th | |
| 138 | Preston Walls | 12th | |
| 138 | Will kennedy | 12th | |
| 138 | Jaekus Hines | 11th | |
| 138 | Jack Crook | 10th | |
| 138 | Tyler Smith | 10th | |
| 145 | Garrett Hughes | 12th | |
| 145 | Marcus Patrick | 12th | |
| 145 | Tyler Cabral | 12th | |
| 145 | Joseph Gallo | 11th | |
| 145 | Kenneth Deford | 11th | |
| 145 | Kyle Peacock | 11th | |
| 145 | Michael Shannon | 11th | |
| 145 | Nick Hejke | 11th | |
| 145 | Rafael Romero | 11th | |
| 145 | Cordell white | 10th | |
| 145 | Nathan Furman | 10th | |
| 152 | Bas Diaz | 8th | |
| 152 | Cam Komat | 12th | |
| 152 | Daniel Ferreira | 12th | |
| 152 | Darian Estevez | 12th | |
| 152 | Lucas Willis | 12th | |
| 152 | Josiah Jenkins | 11th | |
| 152 | Koen Hoffman | 10th | |
| 152 | Timothy King | 10th | |
| 160 | Dylan Kohn | 12th | |
| 160 | Jack Dinberg | 12th | |
| 160 | Nick Kendrick | 12th | |
| 160 | William George | 12th | |
| 160 | Cory Cannan | 11th | |
| 160 | Dominic Rodriguez | 11th | |
| 160 | Jonathan Ley | 11th | |
| 160 | Riley Orr | 11th | |
| 160 | Sergio Desiante | 11th | |
| 170 | Bailey Flanagan | 12th | |
| 170 | Cody Rice | 12th | |
| 170 | James Cale Hoskinson | 12th | |
| 170 | Khalil Mitchell | 12th | |
| 170 | Daniel Williams | 10th | |
| 182 | Sawyer Bartelt | 9th | |
| 182 | Alexzander Owens | 12th | |
| 182 | Jeremiah Mauras | 12th | |
| 195 | Chance Gorman | 12th | |
| 195 | Dedric Marshall | 12th | |
| 195 | Ryan Cody | 12th | |
| 220 | Donnie Shoup | 12th | |
| 220 | Ozkan Aydin | 12th | |
| 220 | Chase Thompson | 11th | |
| 220 | Nelson Toro | 10th | |
| 285 | Adrian Sans | 11th | |
| 285 | Matthew Jimenez | 11th | |
Georgia
| | | | |
| --- | --- | --- | --- |
| 285 | Chase Horne | 11th | 1 |
| 160 | Matthew Singleton | 11th | 4 (170) |
| 145 | Garrison Dendy | 11th | 7 |
| 152 | Kamdyn Munro | 12th | 8 |
| 138 | Caden McCrary | 10th | 9 (145) |
| 152 | RJ Weston | 12th | 9 |
| 220 | Noah Pettigrew | 11th | 9 |
| 182 | Jaxon Smith | 12th | 10 |
| 152 | Caleb Henson | 10th | 14 (145) |
| 145 | Michael Kilic | 11th | 15 |
| 113 | Cole Hunt | 11th | 16 |
| 170 | Alex whitworth | 12th | 16 |
| 113 | Nick Corday | 11th | 17 |
| 106 | Braydon Mitchell | 9th | |
| 106 | Hayden Santora | 9th | |
| 106 | Drew Gorman | 8th | |
| 113 | Jake Crapps | 9th | |
| 113 | Christopher Fincher | 12th | |
| 113 | Josh Noble | 12th | |
| 113 | Malik Hardy | 12th | |
| 113 | Dominic DiTomasso | 11th | |
| 113 | jacob silka | 11th | |
| 120 | Connor Castillo | 9th | |
| 120 | Michael Roe | 12th | |
| 120 | Antonio Del Vecchio | 11th | |
| 120 | Art Martinez | 11th | |
| 120 | Austin Thiel | 11th | |
| 120 | Carson Chalk | 11th | |
| 120 | Dawson Thompson | 11th | |
| 120 | Jackson Bond | 11th | |
| 120 | Oran Decker | 11th | |
| 120 | Robert Austin Westbrook | 11th | |
| 120 | Thomas Termini | 11th | |
| 120 | Wyatt Sligh | 11th | |
| 120 | Amantee Mills | 10th | |
| 120 | Tyson Mccullough | 10th | |
| 126 | Caden Prater | 9th | |
| 126 | Easton Bishop | 12th | |
| 126 | Nick Cambria | 12th | |
| 126 | Bryce Kresho | 11th | |
| 126 | Ethan Sellers | 11th | |
| 126 | Mason McClung | 11th | |
| 126 | Reese Jones | 11th | |
| 126 | Carson Bailey | 10th | |
| 126 | Conner Kimbrough | 10th | |
| 126 | Gunner Chambers | 10th | |
| 132 | Christopher Garcia | 9th | |
| 132 | Emil Necula | 9th | |
| 132 | CJ Murphy | 12th | |
| 132 | Eli Knight | 12th | |
| 132 | Mark Metz | 12th | |
| 132 | Tucker Kinsaul | 12th | |
| 132 | Andrew Cory | 11th | |
| 132 | Beau Branand | 11th | |
| 132 | Colton Bishop | 11th | |
| 132 | Connor Powell | 11th | |
| 132 | David Panone | 11th | |
| 132 | Gavin Bates | 11th | |
| 132 | Joseph Kindred | 11th | |
| 138 | Hunter Noland | 12th | |
| 138 | Jackson Whitmire | 12th | |
| 138 | Quay Goldsborough | 12th | |
| 138 | tyler garrett | 12th | |
| 138 | Garrett Wood | 11th | |
| 138 | Jake Swink | 11th | |
| 138 | Tyler-Xavier McNight | 10th | |
| 145 | Jacob Bergman | 12th | |
| 145 | Jarrod Pominville | 12th | |
| 145 | Samuel Bowers | 12th | |
| 145 | Jordan Lee | 11th | |
| 145 | Sam Harris | 11th | |
| 152 | Jake Piccirilli | 12th | |
| 152 | Sam Johnson | 12th | |
| 152 | Jeremy Paradice | 11th | |
| 152 | William Hames | 11th | |
| 152 | Miles Watts | 10th | |
| 160 | Dalton Battle | 12th | |
| 160 | Dawson Lee | 12th | |
| 160 | Colby Cochran | 11th | |
| 160 | Gunner Filipowicz | 11th | |
| 160 | James Eldridge | 10th | |
| 160 | Zachary-Daniel McKnight | 10th | |
| 170 | Jack Dyess | 12th | |
| 170 | Tate Evans | 12th | |
| 170 | Hunter Adams | 11th | |
| 182 | Hunter Noblett | 12th | |
| 182 | Will Parker | 12th | |
| 182 | Nolan Pozzobon | 11th | |
| 195 | brandon fulford | 11th | |
| 195 | Cole Williams | 10th | |
| 220 | Dylan Galloway | 11th | |
| 285 | Brian Shaw | 12th | |
| 285 | Francisco Valle | 12th | |
| 285 | Jesus Riano | 12th | |
| 285 | Robert Joseph | 12th | |
| 285 | Collin Crosby | 11th | |
Hawaii
Idaho
| | | |
| --- | --- | --- |
| 106 | Hans Newby | 10th |
| 113 | Kade Orr | 12th |
| 120 | Michael Mitchell | 12th |
| 120 | Yusief Lillie | 12th |
| 182 | Remington Winmill | 12th |
Illinois
| | | | |
| --- | --- | --- | --- |
| 160 | Dean Hamiti Jr | 12th | 3 |
| 285 | Hayden Copass | 12th | 3 |
| 195 | Brandon Hoselton | 12th | 5 |
| 138 | Nasir Bailey | 10th | 7 |
| 152 | Vinny Zerban | 12th | 7 |
| 106 | Benjamin Davino | 9th | 9 |
| 152 | Connor Gaynor | 12th | 13 |
| 120 | Diego Sotelo | 12th | 17 |
| 106 | Edmund Enright | 9th | |
| 106 | Luqman Masud | 12th | |
| 106 | Jameson Garcia | 10th | |
| 113 | Tallen pawlak | 9th | |
| 113 | Charlie Farmer | 12th | |
| 113 | Colton King | 12th | |
| 113 | Benjamin Aranda | 11th | |
| 113 | Caelan Riley | 11th | |
| 113 | Joseph Fernau | 11th | |
| 113 | Gylon Sims | 10th | |
| 113 | TYLER Evans | 10th | |
| 120 | Elon Rodriguez | 12th | |
| 120 | Josh Koderhandt | 12th | |
| 120 | Nain Vazquez | 12th | |
| 120 | Nick Renteria | 11th | |
| 120 | Brock Smith | 10th | |
| 120 | Santino Robinson | 10th | |
| 126 | Cole Rhemrev | 11th | |
| 126 | Chris Moore | 10th | |
| 126 | Vince Robinson | 10th | |
| 132 | Collin Carrigan | 9th | |
| 132 | Danny Curran | 11th | |
| 132 | Dylan Gvillo | 11th | |
| 132 | Ethen Doty | 11th | |
| 132 | Kole Brower | 11th | |
| 138 | Jaydon Robinson | 9th | |
| 138 | Bryce shelton | 12th | |
| 138 | Caleb Tyus | 12th | |
| 138 | Jeremy Jakowitsch | 12th | |
| 138 | Jorden Johnson | 11th | |
| 138 | Tommy Curran | 11th | |
| 145 | Matthew Jens | 9th | |
| 145 | Adam Thebeau | 12th | |
| 145 | Caine Tyus | 12th | |
| 145 | Grant Hansen | 12th | |
| 145 | Jake Matthews | 12th | |
| 145 | Scott Burke | 12th | |
| 152 | Sincere Bailey | 12th | |
| 152 | Braden Stauffenberg | 11th | |
| 152 | Brody Hallin | 11th | |
| 152 | brayden thompson | 10th | |
| 160 | Gaetano Console | 12th | |
| 160 | Michael Caliendo III | 12th | |
| 160 | Allen Catour | 11th | |
| 160 | Dominic Thebeau | 10th | |
| 170 | Joey Jens | 12th | |
| 170 | Luke Daly | 12th | |
| 170 | Pate Eastin | 12th | |
| 170 | william white | 12th | |
| 170 | Joshua Knudten | 11th | |
| 182 | Andrew Wenzel | 12th | |
| 182 | Chase Baczek | 12th | |
| 182 | Drew Gvillo | 12th | |
| 182 | Raymond Arebalo | 12th | |
| 182 | Tommy Evans | 12th | |
| 195 | Noah Wenzel | 9th | |
| 195 | Joey Braunagel | 12th | |
| 220 | Joseph Swanson | 12th | |
| 285 | Apollo Gothard | 12th | |
| 285 | Ryan Boersma | 11th | |
Indiana
| | | | |
| --- | --- | --- | --- |
| 126 | Zeke Seltzer | 11th | 5 |
| 195 | Evan Bates | 12th | 7 (220) |
| 120 | Sergio Lemley | 10th | 19 |
| 106 | Preston Haines | 9th | |
| 106 | Evan Dickey | 11th | |
| 106 | Keaton Morton | 10th | |
| 113 | Alex Cottey | 12th | |
| 113 | Dylan Driver | 12th | |
| 120 | Tony Wood | 9th | |
| 120 | Brac Hooper | 11th | |
| 120 | Cheaney Schoeff | 10th | |
| 120 | Logan Frazier | 10th | |
| 126 | Christian White | 12th | |
| 126 | Stephen Roberson Jr | 12th | |
| 126 | Matteo Vargo | 11th | |
| 132 | Cameron Clark | 8th | |
| 132 | Alecsander Freeman | 12th | |
| 132 | David Pierson | 12th | |
| 132 | gavinn alstott | 12th | |
| 132 | Ian Heath | 12th | |
| 132 | Kysen Montgomery | 12th | |
| 132 | matthew Koontz | 11th | |
| 138 | Luke Goodwin | 12th | |
| 138 | Hayden Watson | 11th | |
| 145 | brady mckivitz | 12th | |
| 145 | Jaden Reynolds | 12th | |
| 145 | Javen Estrada | 12th | |
| 152 | Jajuan Anderson | 12th | |
| 152 | Trae Anderson | 12th | |
| 152 | J Conway | 11th | |
| 152 | Orlando Cruz | 10th | |
| 160 | Jakob Sheets | 12th | |
| 160 | Brody Baumann | 11th | |
| 160 | Kade Law | 11th | |
| 160 | Tyler Jones | 11th | |
| 170 | Sam Morrill | 12th | |
| 182 | Johnny Parker | 12th | |
| 182 | Keon Sullivan | 12th | |
| 195 | Aiden Warren | 12th | |
| 195 | Joshua Howell | 12th | |
| 195 | Connor Barket | 11th | |
| 195 | Christian Carroll | 10th | |
| 220 | conner specht | 9th | |
| 285 | Jacob Johnson | 11th | |
Iowa
| | | | |
| --- | --- | --- | --- |
| 126 | Drake Ayala | 12th | 1 |
| 106 | Nathanael Jesuroga | 10th | 2 |
| 132 | Aidan Noonan | 12th | 11 |
| 106 | Dru Ayala | 9th | |
| 113 | Garret Rinken | 10th | |
| 113 | Jaiden Moore | 10th | |
| 113 | McKinley Robbins | 10th | |
| 120 | Bailey Roybal | 12th | |
| 120 | Cole Whitehead | 12th | |
| 120 | Lane Cowell | 12th | |
| 120 | Garrett Funk | 11th | |
| 120 | Trever Anderson | 11th | |
| 120 | Ryder Block | 10th | |
| 126 | Damon Huston | 12th | |
| 126 | Thurman Christensen | 12th | |
| 126 | Jace Rhodes | 11th | |
| 132 | Hagen Heistand | 11th | |
| 138 | Damarion Ross | 9th | |
| 138 | Aiden Riggins | 11th | |
| 138 | Carter Martinson | 11th | |
| 138 | Hunter Garvin | 11th | |
| 138 | Jace Anderson | 10th | |
| 145 | Cael Rahnavardi | 12th | |
| 145 | Dreyzon Phillips | 12th | |
| 145 | carson martinson | 11th | |
| 152 | Brent Slade | 9th | |
| 160 | Jack Gaukel | 12th | |
| 160 | Tate Naaktgeboren | 10th | |
| 170 | Mickey Griffith | 11th | |
| 182 | Adam Ahrendsen | 12th | |
| 182 | Fernando Villaescusa | 11th | |
| 182 | Griffin Gammell | 11th | |
| 220 | Luke Walker | 12th | |
Kansas
| | | |
| --- | --- | --- |
| 106 | Jonathan Morrison | 9th |
| 113 | Bishop Murray | 12th |
| 113 | Bubba Wright | 11th |
| 113 | Jacob Tangpricha | 11th |
| 138 | Trace Lawler | 11th |
| 152 | Trig Tennant | 12th |
| 160 | Cayleb Atkins | 12th |
| 170 | Nolan Craine | 12th |
| 182 | Jared Simma | 12th |
| 220 | Mack Hubbel | 12th |
Kentucky
| | | | |
| --- | --- | --- | --- |
| 113 | Spencer Moore | 12th | 7 |
| 120 | Adam Williams | 12th | |
| 126 | Cole Thomas | 11th | |
| 138 | Rusty Craddock | 12th | |
| 145 | Zac Cowan | 12th | |
| 145 | Nick Giompalo | 10th | |
| 160 | Cole Nance | 12th | |
| 160 | Brayden Giannone | 11th | |
| 160 | carter messerly | 11th | |
| 182 | Noah Duke | 11th | |
| 195 | Rodriguez Levid | 11th | |
Louisiana
| | | |
| --- | --- | --- |
| 106 | Ethan Boudreaux | 10th |
| 113 | Brandon Gainey | 10th |
| 113 | Hayden Tassin | 10th |
| 120 | Glenn Price | 11th |
| 126 | Evan Frost | 11th |
| 126 | Jacob Frost | 11th |
| 138 | Jacob Ramirez | 12th |
| 145 | Michael Seal | 12th |
| 152 | Todd Ritter | 11th |
| 182 | Jude Monaco | 11th |
Maine
| | | |
| --- | --- | --- |
| 120 | Jake Craig | 11th |
| 138 | Aiden Clark | 10th |
| 145 | Magnus Heisler | 12th |
Maryland
| | | | |
| --- | --- | --- | --- |
| 285 | Kyonte Hamilton | 12th | 2 |
| 132 | Richard Fedalen | 11th | 17 |
| 106 | Tyson Sherlock | 9th | |
| 106 | Henry Benitez | 12th | |
| 120 | Brady Pruett | 11th | |
| 120 | Dominic Ambrosino | 10th | |
| 120 | Jacob Brenneman | 10th | |
| 126 | Judah Aybar | 9th | |
| 126 | Ike Guttentag | 11th | |
| 132 | Brogan Kealy | 12th | |
| 132 | Carson Kist | 11th | |
| 138 | Caleb Chaves | 12th | |
| 138 | Nico D'Amico | 12th | |
| 138 | Richard Davis | 12th | |
| 138 | John Reho | 11th | |
| 138 | Matthew Walsh | 11th | |
| 145 | Matthew Lawrence | 12th | |
| 152 | Andrew Guttentag | 12th | |
| 160 | James Parana | 12th | |
| 170 | Tristen Dagstani | 12th | |
| 220 | Ty Broadway | 12th | |
Massachusetts
| | | |
| --- | --- | --- |
| 106 | Isiac Paulino | 11th |
| 113 | Cam Soda | 12th |
| 113 | Evan Kinney | 12th |
| 113 | Nicholas Curley | 12th |
| 113 | Zack Soda | 12th |
| 120 | Maximilian Leete | 12th |
| 126 | Danny Lightfoot | 12th |
| 126 | Joseph Perna | 12th |
| 132 | Jimmy Harrington | 11th |
| 138 | Kevin Keegan | 12th |
| 138 | Trevor Nugent | 12th |
| 145 | Rawson Iwanicki | 10th |
| 160 | Chase Anestis | 12th |
| 170 | Mark Thomas | 12th |
| 170 | Joshua Cordio | 10th |
| 182 | CJ Glaropoulos | 12th |
| 195 | Declan Griffin | 12th |
Michigan
| | | | |
| --- | --- | --- | --- |
| 132 | Casey Swiderski | 11th | 9 |
| 170 | Manny Rojas | 11th | 10 |
| 106 | Braeden Davis | 10th | 11 |
| 152 | Josh Barr | 10th | 11 (160) |
| 113 | Caden Horwath | 10th | 15 |
| 126 | Dylan Gilcher | 10th | 18 |
| 106 | Drew Hansen | 9th | |
| 106 | Nolan Wertanen | 11th | |
| 106 | Drew Heethuis | 10th | |
| 106 | Marcello Milani | 10th | |
| 113 | Mason Stewart | 9th | |
| 113 | Anthony Walker | 11th | |
| 113 | Clayton Jones | 10th | |
| 113 | Kaden Chinavare | 10th | |
| 113 | Manus Bennett | 10th | |
| 120 | Brendan Ferretti | 12th | |
| 120 | Connor Cahill | 11th | |
| 132 | Mason Shrader | 12th | |
| 132 | Ty Cowen | 12th | |
| 132 | Aiden Davis | 10th | |
| 138 | Micah Hanau | 11th | |
| 138 | Nathan Jerore | 11th | |
| 138 | Evan Herriman | 10th | |
| 145 | Camden Trupp | 12th | |
| 145 | James Johnston | 12th | |
| 145 | Mike Loney | 12th | |
| 145 | Philip Burney | 12th | |
| 145 | TJ Bunn | 10th | |
| 152 | Kenny Snyder | 12th | |
| 152 | Tyler Swiderski | 12th | |
| 152 | Kent McCombs | 11th | |
Minnesota
| | | | |
| --- | --- | --- | --- |
| 220 | Bennett Tabor | 12th | 4 |
| 113 | Blake West | 12th | 5 |
| 182 | Bennett Berge | 11th | 6 |
| 120 | Cash Raymond | 9th | 7 (106) |
| 195 | Gavin Nelson | 10th | 10 |
| 182 | Quayin Short | 12th | 13 (195) |
| 132 | Derrick Cardinal | 12th | 14 (138) |
| 106 | Alan Koehler | 10th | 18 |
| 113 | Jore Volk | 11th | 18 |
| 106 | Caleb Thoennes | 11th | 19 (106) |
| 106 | Logan Swensen | 9th | |
| 113 | Landon Robideau | 8th | |
| 113 | reid nelson | 12th | |
| 120 | Koy Buesgens | 10th | |
| 120 | Parker Janssen | 10th | |
| 120 | Zach Hanson | 10th | |
| 126 | Matt Hogue | 12th | |
| 126 | Chase Deblaere | 11th | |
| 126 | Calvin Lonnquist | 10th | |
| 126 | Colton Bornholdt | 10th | |
| 132 | Austin Gabbert | 12th | |
| 138 | Cole Becker | 11th | |
| 138 | Maxwell Petersen | 11th | |
| 138 | Kyler Wong | 10th | |
| 145 | Nick Novak | 12th | |
| 152 | Bryce Dagel | 12th | |
| 152 | Cael Swensen | 12th | |
| 152 | Jude Link | 11th | |
| 152 | Adam Cherne | 10th | |
| 160 | Hunter Lyden | 11th | |
| 160 | Landen Johnson | 11th | |
| 170 | Adam Sylvester | 12th | |
| 170 | Ryder Rogotzke | 10th | |
| 182 | Roman Rogotzke | 12th | |
Missouri
| | | | |
| --- | --- | --- | --- |
| 113 | Cael Keck | 11th | 10 (106) |
| 220 | Xavier Doolin | 12th | 11 |
| 138 | Kyle Dutton | 11th | 16 (145) |
| 106 | Zan Fugitt | 10th | 17 |
| 106 | Hunter Taylor | 9th | |
| 106 | KOLBY WARREN | 10th | |
| 113 | Brayden Dubes | 10th | |
| 113 | Sam Ewing | 10th | |
| 120 | Christopher Coates | 9th | |
| 120 | Dillon Witt | 12th | |
| 120 | Jack Lage | 11th | |
| 120 | Owen Uhls | 11th | |
| 120 | Carter McCallister | 10th | |
| 126 | Jacob Sinn | 12th | |
| 126 | James Homfeld | 12th | |
| 126 | Easton Hilton | 11th | |
| 126 | Ethan Barr | 11th | |
| 126 | Kody Ketchum | 11th | |
| 126 | Kyshin Isringhausen | 10th | |
| 132 | Jacob Mann | 12th | |
| 132 | Eli Ashcroft | 11th | |
| 132 | Eli Rocha | 11th | |
| 132 | Braxton Strick | 10th | |
| 138 | Callum Sitek | 12th | |
| 138 | Teague Travis | 12th | |
| 138 | Brayden Shelton | 10th | |
| 145 | Nathaniel Pulliam | 12th | |
| 152 | Tyson Moore | 11th | |
| 160 | Brant Whitaker | 12th | |
| 195 | Dorian Walters | 12th | |
| 195 | Jack Darrah | 11th | |
| 220 | Cole Gripka | 12th | |
| 285 | KJ Miley Jr. | 11th | |
Nebraska
| | | |
| --- | --- | --- |
| 113 | Brandon Baustert Jr. | 11th |
| 113 | Keith Smith | 11th |
| 113 | Kael Lauridsen | 10th |
| 120 | Christopher Williams | 12th |
| 126 | Drew Arnold | 12th |
| 138 | Trevor Reinke | 11th |
Nevada
| | | |
| --- | --- | --- |
| 106 | Saoul Prado | 11th |
| 113 | Ben Miller | 11th |
| 120 | Chase Milligan | 12th |
| 120 | Jahaun Hicks | 12th |
| 120 | Carter Tate | 11th |
| 120 | Sam Gallardo | 11th |
| 126 | Zethery Kinterknecht | 12th |
| 126 | Luke Van Orden | 11th |
| 132 | Devin Griffen | 12th |
| 132 | Anthony Aniciete | 11th |
| 132 | Preston Harn | 10th |
| 138 | Tyler Grady | 12th |
| 138 | Kasius Graham | 11th |
| 145 | Shane Hepner | 10th |
| 152 | Beau Chacon | 12th |
| 152 | GAVIN THAMMAVONGSA | 11th |
| 152 | Raymin Hosseini | 11th |
| 160 | Isaac Garcia | 11th |
| 170 | Jackson Chapin | 12th |
| 170 | Caleb Uhlenhopp | 11th |
New Hampshire
| | | |
| --- | --- | --- |
| 113 | Samuel Oakes | 11th |
| 126 | Konrad Parker | 11th |
| 138 | Codey Wild | 11th |
| 138 | Connor MacDonald | 11th |
| 145 | Nicholas Pallaria | 12th |
| 145 | Zachary Rioux | 12th |
| 152 | Anson Dewar | 12th |
| 160 | Colby Isabelle | 10th |
| 182 | Aiden Hanning | 11th |
| 195 | Conor Maslanek | 12th |
New Jersey
| | | | |
| --- | --- | --- | --- |
| 132 | Nico Nardone | 11th | 4 |
| 182 | Brian Soldano | 11th | 8 |
| 195 | Martin Cosgrove | 11th | 9 |
| 138 | Alex Almeyda | 11th | 13 |
| 160 | Aaron Ayzerov | 12th | 13 |
| 126 | Kelly Dunnigan | 12th | 15 |
| 152 | Andrew Troczynski | 11th | 15 |
| 106 | Alessandro Nini | 9th | |
| 106 | ANTHONY KNOX | 9th | |
| 106 | Ryan Ford | 9th | |
| 106 | Sebastian Ortega | 9th | |
| 106 | Donny Almeyda | 8th | |
| 106 | Leo DeLuca | 8th | |
| 106 | Aidan Carmody | 10th | |
| 106 | Conor Collins | 10th | |
| 106 | Ricky Gomez | 10th | |
| 106 | Ryan Hartung | 10th | |
| 106 | Tyler Lucia | 10th | |
| 113 | Daniel Rella | 9th | |
| 113 | Brett Blaess | 12th | |
| 113 | Jared Brunner | 11th | |
| 113 | Joe Sciarrone | 11th | |
| 113 | Nick Cottone | 11th | |
| 113 | Sam Kotch | 11th | |
| 113 | Colin Bradshaw | 10th | |
| 113 | John Hildebrandt | 10th | |
| 120 | Maxwell Martinez | 12th | |
| 120 | Merlin Senat | 12th | |
| 120 | Vincent Principe | 12th | |
| 120 | Jackson Sichelstiel | 11th | |
| 120 | James Day | 11th | |
| 120 | Patrick Adams | 11th | |
| 120 | Tyler Vazquez | 10th | |
| 126 | August Hibler | 9th | |
| 126 | Jonathan Fuller | 9th | |
| 126 | Damianlee Torres | 12th | |
| 126 | Ethan Fernandez | 12th | |
| 126 | Jack Maida | 12th | |
| 126 | Joseph Cangro | 11th | |
| 126 | Joseph Innamorato | 11th | |
| 126 | mike pescatore | 11th | |
| 132 | Conner Quinn | 12th | |
| 132 | Patrick Phillips | 12th | |
| 132 | Chase Casey | 11th | |
| 132 | Felix Lettini | 11th | |
| 132 | Salvatore Palmeri | 11th | |
| 132 | Ty Whalen | 11th | |
| 132 | Alex Zimmermann | 10th | |
| 138 | Josh Gervey | 12th | |
| 138 | Daniel Wask | 11th | |
| 138 | Giovanni Rivera | 11th | |
| 138 | George Hufnagel | 10th | |
| 145 | Anthony White | 12th | |
| 145 | carson barry | 12th | |
| 145 | Finnegan McFadden | 12th | |
| 145 | JACK JANDA | 12th | |
| 145 | nick stampoulos | 12th | |
| 145 | Tanner Peake | 11th | |
| 152 | Colton Washleski | 12th | |
| 152 | Cooper Pontelandolfo | 12th | |
| 152 | greg croce | 12th | |
| 152 | Nate Camiscioli | 12th | |
| 152 | Colin Calvetti | 11th | |
| 152 | K J Sherman | 11th | |
| 152 | Tyler Barrett | 10th | |
| 160 | Blake Bahna | 12th | |
| 160 | Conner Decker | 12th | |
| 160 | Dakota Morris | 11th | |
| 160 | Luke Tully | 11th | |
| 160 | Owen Disbrow | 11th | |
| 160 | Michael Dellagatta | 10th | |
| 170 | Pantaleo Varga | 9th | |
| 170 | Austin Raynor | 12th | |
| 170 | Chris Fanelli | 12th | |
| 170 | Jack Farinaro | 12th | |
| 170 | Jacob Gerish | 11th | |
| 170 | Justin Griffith | 10th | |
| 182 | Anthony Derosa | 12th | |
| 182 | Isaac Dean | 12th | |
| 195 | Daniel Pereira | 12th | |
| 195 | Remy Brancato | 11th | |
| 220 | Keith Simon | 12th | |
| 220 | John Vinciguerra | 10th | |
| 285 | Shane Whitney | 12th | |
New Mexico
| | | |
| --- | --- | --- |
| 120 | Dallas Dunn | 11th |
| 145 | Joseph (Anthony) Fuentes | 11th |
| 152 | Alexander Holguin | 12th |
| 160 | Mason Alley | 11th |
| 170 | Jacob Fuentes | 11th |
| 195 | Ivan Villareal | 12th |
New York
| | | | |
| --- | --- | --- | --- |
| 126 | Jordan Titus | 12th | 2 |
| 120 | Troy Spratley | 11th | 4 (126) |
| 170 | Kole Mulhauser | 11th | 14 (160) |
| 152 | Nick Sanko | 11th | 16 |
| 138 | Jayden Scott | 11th | 17 |
| 120 | Chase Liardi | 12th | 19 (126) |
| 106 | Gianni Silvestri | 9th | |
| 113 | Caden Bellis | 9th | |
| 113 | PJ Duke | 8th | |
| 113 | Tyler Ferrara | 10th | |
| 120 | Chris Petteys | 12th | |
| 120 | Jace Schafer | 12th | |
| 120 | Justin Fortugno | 11th | |
| 120 | Max Gallagher | 10th | |
| 120 | Ryan Eckerle | 10th | |
| 126 | Cody Merwin | 12th | |
| 126 | Cooper Rice | 12th | |
| 126 | Danté Rigal | 12th | |
| 126 | Jackson Polo | 11th | |
| 126 | Jaime Jarquin Duarte | 11th | |
| 126 | Jared Weinhaus | 11th | |
| 126 | Nicholas LaMorte | 10th | |
| 132 | Avery Leonard | 12th | |
| 132 | Chris Perry | 12th | |
| 132 | Robert Horan | 12th | |
| 132 | Sean Wang | 12th | |
| 138 | Devlin Blanchard | 9th | |
| 138 | Jordan Soriano | 11th | |
| 138 | Rocco Camillaci | 11th | |
| 145 | Zack Ryder | 9th | |
| 145 | Carter Schubert | 11th | |
| 145 | nick fea | 11th | |
| 145 | Timothy Bova | 11th | |
| 152 | Brody Oleksak | 12th | |
| 152 | Carter Baer | 11th | |
| 160 | Jack Spahn | 12th | |
| 160 | Marino Mancuso | 12th | |
| 170 | Christian Hansen | 12th | |
| 170 | Gaven Bell | 12th | |
| 170 | Gabriel Monroe | 11th | |
| 182 | James Araneo | 12th | |
| 182 | Nicky Bell | 12th | |
| 220 | Nino Prisco | 12th | |
| 285 | Sebastian Garibaldi | 12th | |
| 285 | Ryan Stein | 11th | |
North Carolina
| | | | |
| --- | --- | --- | --- |
| 132 | Joseph Sealey | 8th | 15 (138) |
| 113 | Cj Watson | 12th | |
| 113 | Jorden Schlossman | 12th | |
| 113 | Kyle Montaperto | 11th | |
| 113 | Matthew Rowland | 11th | |
| 113 | Noah Luna | 11th | |
| 113 | Damon Landreth | 10th | |
| 113 | Ryley Goble | 10th | |
| 113 | William Gibson | 10th | |
| 120 | Chance Cottingham | 12th | |
| 120 | Elijah Boyd | 12th | |
| 120 | Samineo Myers | 12th | |
| 120 | Jacob Cox | 11th | |
| 120 | Logan Tortual | 11th | |
| 120 | Noah Tocaben | 10th | |
| 120 | Tyler Tracy | 10th | |
| 126 | frank Bianco | 9th | |
| 126 | Caden Hagler | 12th | |
| 126 | Hunter Ross | 12th | |
| 126 | James Joplin | 12th | |
| 126 | Richard Treanor | 12th | |
| 126 | William Cline | 12th | |
| 126 | Adam Szewczyk | 11th | |
| 126 | JT Richards | 11th | |
| 126 | Stephen Cotton | 11th | |
| 126 | Gregory Merriman | 10th | |
| 132 | Louis Mehaffey | 12th | |
| 132 | Riley Edwards | 12th | |
| 132 | WYATT GENTILE | 12th | |
| 132 | Ian Murdock | 11th | |
| 132 | Jacob Woodburn | 11th | |
| 132 | Davis Freeze | 10th | |
| 132 | Elijah Ybarra | 10th | |
| 138 | Eli Murray | 9th | |
| 138 | Isaac Stoker | 9th | |
| 138 | Cole Combs | 12th | |
| 138 | Dominick Molinari | 12th | |
| 138 | George Johnson | 12th | |
| 138 | Grant Kahlenberg | 12th | |
| 138 | Michael Lowry | 12th | |
| 138 | Zachariah Lewis | 12th | |
| 138 | Cameron Rivera | 11th | |
| 138 | David Makupson | 11th | |
| 138 | Jeremiah Price | 10th | |
| 138 | Logan Fite | 10th | |
| 145 | Ethan Binckley | 9th | |
| 145 | Aaron Faison | 12th | |
| 145 | Greyson Harris | 11th | |
| 152 | Jack McDermid | 12th | |
| 152 | wayde sibley | 12th | |
| 152 | Brady Ross | 11th | |
| 152 | Jayden Dobeck | 10th | |
| 160 | Daniel Shoaf | 12th | |
| 160 | David Varner | 12th | |
| 160 | Luke Goodin | 12th | |
| 160 | Noah Rupp | 12th | |
| 160 | Oren Bost | 12th | |
| 160 | Aiden Curry | 11th | |
| 160 | Caden Earley | 11th | |
| 160 | Eli Foster | 11th | |
| 160 | Elijah Brown | 10th | |
| 170 | Luke Artz | 12th | |
| 170 | River Carroll | 12th | |
| 170 | Tony Torres | 12th | |
| 170 | caleb campos | 11th | |
| 170 | Jordan Ruedi | 11th | |
| 170 | Julian Rodriguez | 11th | |
| 182 | Colin Pettine | 12th | |
| 182 | Joe Zovistoski | 12th | |
| 182 | Devon Bell | 11th | |
| 182 | Kyle Combs | 11th | |
| 195 | Dean Omirly | 12th | |
| 195 | Jaron Greer | 12th | |
| 195 | Levi Kluttz | 12th | |
| 195 | Holden Cypher | 11th | |
| 195 | Kyle Fink | 11th | |
| 195 | Tkaii Gaither | 11th | |
| 220 | Triston Norris | 12th | |
| 220 | Carson Floyd | 11th | |
| 220 | Chase Crayton | 11th | |
| 220 | Sakarri Morrison | 11th | |
| 285 | Emmanuel Bell | 12th | |
| 285 | Nicolas Jimenez | 12th | |
| 285 | Cody Hardy | 11th | |
| 285 | Jamier Ferere | 11th | |
| 285 | Jarek Stewart-Karolewics | 11th | |
North Dakota
Ohio
| | | | |
| --- | --- | --- | --- |
| 195 | Seth Shumate | 11th | 2 |
| 160 | Derek Fields | 12th | 4 |
| 182 | Jake Evans | 12th | 4 |
| 145 | Gavin Brown | 11th | 5 |
| 160 | Enrique Munguia | 12th | 5 |
| 126 | Dustin Norris | 12th | 6 |
| 138 | Nick Moore | 12th | 6 |
| 120 | Jacob Moon | 12th | 12 |
| 106 | Beric Jordan | 9th | 15 |
| 170 | Logan Messer | 12th | 15 |
| 182 | Hudson Hightower | 12th | 16 |
| 126 | Camron Lacure | 11th | 18 (132) |
| 220 | Logan Shephard | 11th | 18 |
| 145 | Alek Martin | 12th | 19 |
| 138 | Jake Niffenegger | 11th | 20 (145) |
| 106 | Dillon Campbell | 9th | |
| 106 | Jaxon Joy | 9th | |
| 106 | Reese Stephen | 9th | |
| 106 | Tanner Spalding | 9th | |
| 106 | Tyler Hisey | 11th | |
| 106 | Austin McBurney | 10th | |
| 106 | Max Hermes | 10th | |
| 106 | Micah Medina | 10th | |
| 113 | Ashton Homan | 9th | |
| 113 | Daxton Chase | 9th | |
| 113 | Omar Ayoub | 9th | |
| 113 | Dakota King | 8th | |
| 113 | Colin Noel | 12th | |
| 113 | Daniel Hurt | 12th | |
| 113 | Grayson McLellan | 12th | |
| 113 | Jared Fantauzzi | 12th | |
| 113 | Marlon Yarbrough | 12th | |
| 113 | Alexander Crane | 11th | |
| 113 | Gavin Caprella | 11th | |
| 113 | Mason Brugh | 11th | |
| 113 | Nicholas Rodriguez | 11th | |
| 113 | Peyton Fenton | 11th | |
| 113 | Trevor Hisey | 11th | |
| 113 | Wesley Wydick | 11th | |
| 113 | Cooper Shore | 10th | |
| 120 | Caleb Edwards | 12th | |
| 120 | Cole Skinner | 12th | |
| 120 | Brendan McCrone | 11th | |
| 120 | Cameron Deiter | 11th | |
| 120 | Damion Ryan | 11th | |
| 120 | Max Shore | 11th | |
| 120 | Anwar Alli | 10th | |
| 120 | William Bein | 10th | |
| 126 | Jeremy jr Ginter | 9th | |
| 126 | Mikey Lewarchick | 12th | |
| 126 | Alec Homan | 11th | |
| 126 | Brandon Sauter | 11th | |
| 126 | Griffen Stephen | 11th | |
| 126 | Luke Acuna | 11th | |
| 126 | Matt Ellis | 11th | |
| 126 | Nolan Gessler | 11th | |
| 126 | Roman Jones | 10th | |
| 126 | Sam Cartella | 10th | |
| 132 | Brayden Brown | 9th | |
| 132 | Brayden Zenni | 12th | |
| 132 | Casey Wiles | 12th | |
| 132 | Conner burrus | 12th | |
| 132 | Kody Beal | 12th | |
| 132 | Kyren Butler | 12th | |
| 132 | Ismael Ayoub | 11th | |
| 132 | Quentin Whitehill | 11th | |
| 132 | Te'Andre Allen | 11th | |
| 132 | Andrew Huck | 10th | |
| 132 | Christopher Earnest | 10th | |
| 132 | Hunter Vogus | 10th | |
| 132 | Nathan Kulbe | 10th | |
| 138 | Casey Barnett | 12th | |
| 138 | Lincoln Kuba | 12th | |
| 138 | Nikolas Kiley | 12th | |
| 138 | Ethan Smith | 11th | |
| 138 | Nate Burnett | 11th | |
| 138 | Boede Campbell | 10th | |
| 138 | Kayden Kralik | 10th | |
| 145 | Kael Voinovich | 9th | |
| 145 | Austin Shepherd | 12th | |
| 145 | Logan Ours | 11th | |
| 145 | Joey Blaze | 10th | |
| 152 | Anthony Trivisonno | 12th | |
| 152 | Douglas Terry | 12th | |
| 152 | James Baumann | 12th | |
| 152 | Lucas Uliano | 12th | |
| 152 | Peyten Kellar | 12th | |
| 152 | Tommy Ungrady | 12th | |
| 152 | Caden Stout | 11th | |
| 152 | Carter Chase | 11th | |
| 152 | Noah Ewen | 11th | |
| 152 | Ethan Cooper | 10th | |
| 160 | Hayden Pummel | 12th | |
| 160 | Nicolas Alvarez | 11th | |
| 160 | Shadrick Slone | 11th | |
| 170 | Dillon Walker | 12th | |
| 170 | Rob Boley | 12th | |
| 170 | Timothy Greenhouse | 12th | |
| 170 | Bryce Keckley | 11th | |
| 170 | Remington Bauer | 11th | |
| 182 | Carter Neves | 9th | |
| 182 | Alex Hobbs | 12th | |
| 182 | Cole Hivnor | 12th | |
| 182 | Wyatt miller | 12th | |
| 182 | William HASH | 11th | |
| 195 | Julien griffith | 9th | |
| 195 | Jon List | 12th | |
| 195 | SAMUEL OAKS | 12th | |
| 195 | Dillon Smith | 11th | |
| 220 | Mason Cover | 12th | |
Oklahoma
| | | | |
| --- | --- | --- | --- |
| 152 | Anthony Ferrari | 11th | 4 |
| 113 | Clay Gates | 10th | |
| 120 | Cameron Steed | 11th | |
| 126 | Matthew Garcia | 11th | |
| 145 | Angelo Ferrari | 9th | |
| 145 | Braden Anderson | 12th | |
| 145 | Drake Acklin | 11th | |
| 170 | Jaxon Randall | 11th | |
Oregon
| | | | |
| --- | --- | --- | --- |
| 132 | Chance Lamer | 12th | 5 |
| 170 | James Rowley | 11th | 11 |
| 138 | Daschle Lamer | 10th | |
| 160 | Tyson Resko | 12th | |
| 182 | Hayden Walters | 10th | |
Pennsylvania
| | | | |
| --- | --- | --- | --- |
| 106 | Vinny Kilkeary | 10th | 1 |
| 132 | Nic Bouzakis | 11th | 1 |
| 106 | Nikolaus Oneill | 9th | 4 |
| 120 | Gary Steen | 12th | 4 |
| 120 | Mason Gibson | 9th | 7 |
| 160 | Erik Gibson | 11th | 7 |
| 145 | Rocco Welsh | 10th | 8 (132) |
| 120 | Tyler Kasak | 10th | 9 |
| 160 | Carson Manville | 12th | 9 (170) |
| 138 | Levi Haines | 11th | 10 |
| 120 | Mac Church | 10th | 11 |
| 182 | Joey Milano | 12th | 12 (195) |
| 138 | Kelvin Griffin | 11th | 15 (132) |
| 126 | Jackson Arrington | 11th | 16 (132) |
| 152 | Tyler Lillard | 11th | 16 (160) |
| 152 | Paniro Johnson | 12th | 18 |
| 138 | Finn Solomon | 11th | 20 |
| 285 | Jalen Stephens | 12th | 20 |
| 106 | Antonino Walker | 9th | |
| 106 | Brock Weiss | 9th | |
| 106 | Mason Kernan | 9th | |
| 106 | Parker Sentipal | 9th | |
| 106 | Weston Pisarchick | 9th | |
| 106 | Nathan Desmond | 8th | |
| 106 | Joshua Jasionowicz | 12th | |
| 106 | Carson Wagner | 10th | |
| 106 | Chase Burke | 10th | |
| 106 | Ethan Lebin | 10th | |
| 106 | Logan Sallot | 10th | |
| 106 | Luke Sirianni | 10th | |
| 106 | Tyler Chappell | 10th | |
| 113 | Cody Wagner | 9th | |
| 113 | Gunnar Myers | 9th | |
| 113 | Joseph Simon | 9th | |
| 113 | Kollin Rath | 9th | |
| 113 | Mason Ziegler | 9th | |
| 113 | Nick Jones | 9th | |
| 113 | Luke Ankney | 8th | |
| 113 | Vince Bouzakis | 8th | |
| 113 | Cayden Walter | 12th | |
| 113 | Aidan Oshea | 11th | |
| 113 | Sean OToole | 11th | |
| 113 | Troy Hoan | 11th | |
| 113 | Anthony Ferraro | 10th | |
| 113 | Charlie Bunting IV | 10th | |
| 113 | Coen Bainey | 10th | |
| 113 | Jaden Pepe | 10th | |
| 113 | Kade Davidheiser | 10th | |
| 120 | Gaven Suica | 9th | |
| 120 | Joey Bodnar | 9th | |
| 120 | Jordan Butler | 9th | |
| 120 | Luke Simcox | 9th | |
| 120 | Kelvin Rodriguez | 12th | |
| 120 | Parker Davidson | 12th | |
| 120 | Braxton Appello | 11th | |
| 120 | Dylan Coy | 11th | |
| 120 | Mason Leiphart | 11th | |
| 120 | Owen Reinsel | 11th | |
| 120 | Trevor Husick | 11th | |
| 120 | vince Citrano | 11th | |
| 120 | Zander Phaturos | 11th | |
| 120 | ashton campbell | 10th | |
| 120 | Brandon Dami | 10th | |
| 120 | Matthew Repos | 10th | |
| 120 | Ty Watters | 10th | |
| 126 | Lucas Kapusta | 9th | |
| 126 | Anthony Evanitsky | 8th | |
| 126 | Andrew Johnson | 12th | |
| 126 | Dylan Chappell | 12th | |
| 126 | Owen Woolcott | 12th | |
| 126 | Dominic Findora | 11th | |
| 126 | Luke Passarelli | 11th | |
| 126 | Joe Sentipal | 10th | |
| 126 | Nick Gorman | 10th | |
| 126 | Scott Johnson II | 10th | |
| 132 | Pierson Manville | 9th | |
| 132 | Dawson Miller | 12th | |
| 132 | Nathan Lucier | 12th | |
| 132 | Colton Stoneking | 11th | |
| 132 | Eric Alderfer | 11th | |
| 132 | Jude Swisher | 11th | |
| 132 | Luke Geibig | 11th | |
| 132 | Kelly Kakos | 10th | |
| 132 | Kobi Burkett | 10th | |
| 132 | MJ Turi | 10th | |
| 132 | Nathan Monteparte | 10th | |
| 132 | Nathan Stone | 10th | |
| 138 | Hunter Horton | 12th | |
| 138 | Joshua Miller | 12th | |
| 138 | Kyle Hauserman | 12th | |
| 138 | Maximos Stedeford | 12th | |
| 138 | Noah Frack | 12th | |
| 138 | Zack Witmer | 12th | |
| 138 | Kelin laffey | 11th | |
| 138 | Trey Miletics | 11th | |
| 138 | Andrew Harmon | 10th | |
| 138 | Tyler Withers | 10th | |
| 145 | Conner Harer | 9th | |
| 145 | Amonn Ohl | 12th | |
| 145 | John Altieri | 12th | |
| 145 | Kaeden Berger | 12th | |
| 145 | Kyle Vernon | 12th | |
| 145 | Nathan Higley | 12th | |
| 145 | Ty Cymmerman | 12th | |
| 145 | Logan Newell | 11th | |
| 145 | Nicholas Foster | 11th | |
| 145 | Tyler Soule | 11th | |
| 145 | Dagen Condomitti | 10th | |
| 152 | Bailey Gimbor | 12th | |
| 152 | chanz shearer | 12th | |
| 152 | cooper warshel | 12th | |
| 152 | Dalton Gimbor | 12th | |
| 152 | Evan Gleason | 12th | |
| 152 | Christian Scheller | 11th | |
| 152 | Hunter Mays | 11th | |
| 152 | Jack Pletcher | 11th | |
| 152 | Jared Keslar | 11th | |
| 152 | Justin Richey | 11th | |
| 152 | Samuel Beckett | 11th | |
| 152 | AJ Rohan | 10th | |
| 152 | Grant MacKay | 10th | |
| 160 | AJ Corrado | 12th | |
| 160 | Antonio Amelio | 12th | |
| 160 | Collin McCorkle | 12th | |
| 160 | Ryan Weyandt | 12th | |
| 160 | Wyatt Griffin | 12th | |
| 160 | Enzo Morlacci | 11th | |
| 160 | Jacob Cherry | 11th | |
| 160 | Nicholas Nettleton | 11th | |
| 160 | Nolan Lear | 11th | |
| 160 | Ben Beckett | 10th | |
| 160 | Gabriel Stafford | 10th | |
| 170 | Ethan Richner | 12th | |
| 170 | James Brown | 12th | |
| 170 | Joey Arnold | 12th | |
| 170 | Nathan Ridgley | 12th | |
| 170 | Sammy Starr | 12th | |
| 170 | Sean Getty | 12th | |
| 170 | Matthew Furman | 10th | |
| 182 | Aidan DeLuca | 12th | |
| 182 | andrew vogelbacher | 12th | |
| 182 | Isaiah Reinert | 12th | |
| 182 | Maxwell Gourley | 12th | |
| 195 | Ajay Hiller | 12th | |
| 195 | Brayden Roscosky | 12th | |
| 195 | Ethan Finch | 12th | |
| 195 | Luke Duthie | 12th | |
| 195 | Caden Rogers | 11th | |
| 195 | Leo Muzika | 11th | |
| 220 | Samuel Rodriguez | 11th | |
| 220 | Zachary Evans | 10th | |
| 285 | Max Harar | 12th | |
| 285 | Nathan Taylor | 12th | |
Rhode Island
| | | | |
| --- | --- | --- | --- |
| 160 | Aidan Faria | 12th | 20 |
| 106 | Jacob Joyce | 10th | |
| 126 | Michael Joyce | 12th | |
| 126 | Timothy Cook | 12th | |
| 132 | Aidan Robichaud | 11th | |
| 138 | Jmari Lowman | 12th | |
South Carolina
| | | |
| --- | --- | --- |
| 106 | Jermaine Peace | 9th |
| 106 | Ty Tice | 10th |
| 113 | James Levy | 12th |
| 113 | Aedan Mendoza | 10th |
| 113 | Will Hendricks | 10th |
| 120 | Joseph Morris | 9th |
| 120 | Brandon Flory | 12th |
| 120 | Christopher Compton | 12th |
| 120 | Gavin Butler | 11th |
| 120 | Max Yegge | 11th |
| 126 | Dylan Layton | 11th |
| 126 | Lukas Crosby | 10th |
| 132 | Aden Leonard | 12th |
| 132 | Spencer Cox | 11th |
| 138 | Solomon Cortez | 12th |
| 138 | Zaid Miller | 12th |
| 138 | Brayton Killiri | 11th |
| 138 | CJ Heiselman | 11th |
| 138 | tyler nelson | 10th |
| 145 | Brandon Jacoby | 11th |
| 152 | Chandler Amaker | 12th |
| 152 | Isaiah Poppe | 12th |
| 152 | David Hunsberger | 11th |
| 152 | Garrett Williams | 10th |
| 160 | AJ Dickerson | 11th |
| 170 | David Rundell | 12th |
| 170 | Zane Van Vleet | 12th |
| 170 | Dawson Cashier | 11th |
| 182 | Navruz Ibragimov | 12th |
| 182 | Brendan Ross | 10th |
| 195 | Javin Hackett | 11th |
Tennessee
| | | | |
| --- | --- | --- | --- |
| 120 | Cooper Flynn | 12th | 3 (126) |
| 106 | Bryson Terrell | 10th | |
| 106 | Caleb Uhorchuk | 10th | |
| 113 | Hunter Gentry | 11th | |
| 120 | Noah Creque | 9th | |
| 120 | Thomas Borders | 12th | |
| 120 | Keyveon Roller | 11th | |
| 120 | Daniel Uhorchuk | 10th | |
| 126 | Ben Tucker | 10th | |
| 126 | Caleb Gumlick | 10th | |
| 126 | Hunter Mason | 10th | |
| 132 | Brennan Watkins | 12th | |
| 132 | James Dayne Dalrymple | 12th | |
| 132 | Brayden Ivy | 11th | |
| 138 | Alan 'Cole' Fort | 12th | |
| 138 | Ethan Hylton | 11th | |
| 138 | Josh Parton | 11th | |
| 138 | Sean Pitts | 11th | |
| 145 | Braxton Mann | 12th | |
| 145 | Bronson Clark | 11th | |
| 145 | Garrett Foreman | 11th | |
| 145 | Kodiak Cannedy | 11th | |
| 145 | Maclain Otting | 11th | |
| 152 | Jackson Hurst | 12th | |
| 152 | Aidan Bowers | 11th | |
| 152 | Colby Dalon | 11th | |
| 152 | Rance Horton | 11th | |
| 160 | Gavin Cagle | 12th | |
| 160 | Tre Morrisette | 12th | |
| 170 | Clint Morrisette | 12th | |
| 170 | Matheson Meade | 12th | |
| 182 | Gervacio Gonzalez | 11th | |
| 195 | Connor Billingsley | 12th | |
| 195 | Ethan Sutton | 12th | |
| 220 | Ryver Shelton | 12th | |
| 220 | Noah Todd | 10th | |
Texas
| | | | |
| --- | --- | --- | --- |
| 126 | Noah Gochberg | 12th | 20 |
| 106 | Dragon Davila | 12th | |
| 106 | A.J. Marino | 10th | |
| 113 | Zarek Hernandez | 12th | |
| 120 | Kolten Oborny | 9th | |
| 120 | micah white | 12th | |
| 120 | Corey Camden | 11th | |
| 120 | Trebor Moreno | 10th | |
| 126 | Donovan Fisher | 12th | |
| 132 | Gavin Ramos | 9th | |
| 138 | Jaren Powell | 12th | |
| 138 | Sebastian Jimenez | 12th | |
| 138 | Joel Jesuroga | 11th | |
| 145 | DeShawn Cosby | 12th | |
| 145 | Joseph Hendershot | 12th | |
| 145 | Jaxson Gonzalez | 11th | |
| 145 | Julian Solis | 11th | |
| 152 | Aaron Lofton | 12th | |
| 182 | Eli Sheeren | 12th | |
| 182 | Ethan Wilson | 12th | |
| 182 | Jonathan Wertz | 12th | |
| 182 | Farid Mobarak | 11th | |
| 220 | Mason Ding | 12th | |
Utah
| | | | |
| --- | --- | --- | --- |
| 106 | Jacob Carson | 10th | |
| 106 | Kyison Garcia | 10th | |
| 113 | Quade Smith | 12th | |
| 113 | Kaden Ercanbrack | 11th | |
| 120 | Bridger Ricks | 11th | |
| 132 | Jacob Finlinson | 12th | |
| 132 | Cooper Sanders | 10th | |
| 138 | Ryan Bullough | 12th | |
| 138 | Channing Warner | 11th | |
| 145 | Gabe Sanders | 11th | |
| 152 | Zeke Kelley | 12th | |
| 152 | Moses Espinoza-Owens | 10th | |
| 152 | Riggin Boger | 10th | |
| 160 | Marcus Espinoza-Owens | 10th | |
| 170 | mark rausch | 12th | |
| 182 | Lucas Cochran | 12th | |
| 195 | Talmage Carman | 12th | |
Virginia
| | | | |
| --- | --- | --- | --- |
| 113 | Billy Dekraker | 9th | 5 (106) |
| 152 | Nick Vafiadis | 11th | 17 |
| 106 | Brycen Arbogast | 9th | |
| 106 | Daniel Parkulo | 12th | |
| 106 | Jack Parker | 10th | |
| 113 | Carson Main | 9th | |
| 113 | Isaiah Osborne | 12th | |
| 113 | James Haynie | 12th | |
| 113 | Karon Smith | 12th | |
| 113 | Trevon Gray | 12th | |
| 113 | Joshua Dragovich | 11th | |
| 113 | Hunter Salomon | 10th | |
| 113 | Owen Rawls | 10th | |
| 113 | Patrick Burdsall | 10th | |
| 120 | Jared Galang | 9th | |
| 120 | Robert Owens | 9th | |
| 120 | Evan Rawls | 12th | |
| 120 | Jacob Seale | 12th | |
| 120 | Mac Cafurello | 12th | |
| 120 | Nicholas Kauffman | 12th | |
| 120 | Riley Stevens | 12th | |
| 120 | Foster Cardinale | 11th | |
| 120 | Logan Robinson | 11th | |
| 120 | Max Martin | 11th | |
| 120 | Nikolas Voros | 11th | |
| 120 | Owen Greslick | 11th | |
| 120 | Raymond (Manny) sanchez | 11th | |
| 120 | Keegan McMahon | 10th | |
| 120 | Matthew Eberly | 10th | |
| 120 | Trace Ragland | 10th | |
| 126 | Mitchell Faglioni | 9th | |
| 126 | Tyler Conrad | 9th | |
| 126 | Brenden Barnes | 12th | |
| 126 | Elijah Moshenek | 12th | |
| 126 | Logan Shanor | 12th | |
| 126 | Mason Barrett | 12th | |
| 126 | Raymond Goode | 12th | |
| 126 | Dyson Dunham | 11th | |
| 126 | Eli Blevins | 10th | |
| 132 | Alex Noblin | 9th | |
| 132 | Dustin Smith | 12th | |
| 132 | Mason Ingram | 12th | |
| 132 | Evan Holloway | 11th | |
| 132 | Joshua Pence | 11th | |
| 132 | Trenton Campos | 11th | |
| 132 | Colin Dupill | 10th | |
| 132 | Jake Cline | 10th | |
| 132 | Luke Roberts | 10th | |
| 138 | Brandon Latta | 12th | |
| 138 | Finnian Sofield | 12th | |
| 138 | Jack Zampi | 12th | |
| 138 | Tyler Schaller | 12th | |
| 138 | Alex Frowert | 11th | |
| 138 | Braxton Lewis | 11th | |
| 138 | jack Myers | 11th | |
| 138 | Kaleb Doshier | 11th | |
| 138 | Liam Murphy | 11th | |
| 138 | Luke Robie | 11th | |
| 138 | Seth Stoddard | 11th | |
| 138 | Tanner Jones | 11th | |
| 138 | Austin Weeks | 10th | |
| 138 | Cale Roggie | 10th | |
| 138 | Cody Cash | 10th | |
| 138 | cooper lockhart | 10th | |
| 138 | Patrick Jordon | 10th | |
| 138 | Tyler Haley | 10th | |
| 145 | Thomas Potter | 9th | |
| 145 | Andrew McDougal | 12th | |
| 145 | Austin Manning | 12th | |
| 145 | Benjamin Latimer | 12th | |
| 145 | Blaize Bryant | 12th | |
| 145 | Damon McGee Jr. | 12th | |
| 145 | William Harris | 12th | |
| 145 | Bradyn Waddell | 11th | |
| 145 | Christopher Taft | 11th | |
| 145 | Colin Bridges | 11th | |
| 145 | Jack Hawbaker | 11th | |
| 145 | Joseph Chiappazzi | 11th | |
| 145 | Travis Ragland | 11th | |
| 145 | Owen Cherry | 10th | |
| 145 | Trey Lawrence | 10th | |
| 152 | Luke Hart | 12th | |
| 152 | Blake Frost | 11th | |
| 152 | Ethan Baker | 11th | |
| 152 | John Koroma | 11th | |
| 160 | Brayden Hoan | 12th | |
| 160 | Taylor Jenkins | 12th | |
| 160 | David Reid | 11th | |
| 160 | Josh Seaton | 11th | |
| 160 | Nathan Mallery | 11th | |
| 160 | Nicholas Goenner | 11th | |
| 160 | RJ May | 11th | |
| 160 | Zane Cox | 11th | |
| 170 | Austin Glockner | 12th | |
| 170 | Eric DeWald | 12th | |
| 170 | Harrison Smith | 12th | |
| 170 | Kaine Morris | 12th | |
| 170 | Matthew Lochli | 12th | |
| 170 | Ryan Henderson | 12th | |
| 170 | Ryan Tremain | 12th | |
| 170 | Steven Martinos | 12th | |
| 170 | Caden Mason | 11th | |
| 170 | Domonic Baker | 11th | |
| 170 | Riley Finck | 10th | |
| 170 | Toby Schoffstall | 10th | |
| 182 | Parker Ferrell | 9th | |
| 182 | Carter Shipp | 12th | |
| 182 | Colton Oliver | 12th | |
| 182 | Mauro Pellot-Vazquez | 12th | |
| 182 | Nolan Gerwitz | 12th | |
| 182 | Staley Hampton | 12th | |
| 182 | William Lankford | 12th | |
| 182 | Christopher Barber | 11th | |
| 182 | Kingsley Menifee | 10th | |
| 195 | Jason Heming | 9th | |
| 195 | Benjamin Bell | 12th | |
| 195 | Joshua Evans | 12th | |
| 195 | Luke Estes | 12th | |
| 195 | Carder Miller | 11th | |
| 195 | Jacob Jimenez | 11th | |
| 195 | Marlen Wilson | 11th | |
| 195 | Brady Colbert | 10th | |
| 220 | Bryan Taylor | 12th | |
| 220 | Eli Fortuner | 11th | |
| 285 | Jake Thompson | 12th | |
| 285 | Mason Thomas | 12th | |
| 285 | Gavin Womack | 11th | |
Washington
| | | | |
| --- | --- | --- | --- |
| 182 | Rylan Rogers | 11th | 2 |
| 106 | Elijah Barajas | 12th | |
| 113 | Joshua Neiwert | 9th | |
| 113 | Oscar Alvarez | 11th | |
| 113 | Reyden Huizar | 11th | |
| 120 | Christian Davis | 11th | |
| 120 | Collin Jack | 11th | |
| 126 | Jesus Sanchez | 12th | |
| 126 | Jaden Sanchez | 11th | |
| 126 | Alex Fernandez III | 10th | |
| 132 | Andrew Macias | 12th | |
| 132 | Conor Goucher | 12th | |
| 132 | Francisco Ayala | 10th | |
| 132 | Q'veli Quintanilla | 10th | |
| 138 | Lars Michaelson | 9th | |
| 138 | Owen Cline | 11th | |
| 152 | Lorenzo Gonzalez | 12th | |
| 152 | Steele Starren | 12th | |
| 152 | Mateo DE LA PENA | 11th | |
| 152 | Thor Michaelson | 10th | |
| 160 | Maximus Zamora | 12th | |
| 160 | Aidan Villarreal | 11th | |
| 170 | Darion Johnson | 11th | |
| 182 | Gilbert Marquez | 12th | |
| 195 | Mark Bonilla | 12th | |
| 195 | Isaiah Anderson | 11th | |
| 220 | Levi Kovacs | 12th | |
| 220 | Gage Cook | 11th | |
West Virginia
| | | | |
| --- | --- | --- | --- |
| 160 | Gavin Quiocho | 12th | 19 |
| 106 | Matthew Dolan | 10th | |
| 113 | Gunner Andrick | 8th | |
| 120 | Isaac Short | 12th | |
| 120 | Dylan Tachoir | 11th | |
| 126 | Matthew Mcafee | 9th | |
| 126 | Devin Easton | 12th | |
| 126 | Michael Dolan | 12th | |
| 126 | Nathan Ford | 10th | |
| 132 | Kaleb Ramirez | 11th | |
| 138 | Joseph Cook | 11th | |
| 138 | Justin Bartee | 11th | |
| 138 | Colton SPRADLING | 10th | |
| 145 | Nicholas Serrano | 12th | |
| 145 | Derek Raike | 11th | |
| 152 | Hunter Dodson | 12th | |
| 152 | Gabriel Carman | 11th | |
| 152 | Jude Childers | 11th | |
| 160 | Dakota Hagedorn | 10th | |
| 170 | A.J. Dempsey | 12th | |
| 170 | Nevin Milburn | 11th | |
| 170 | Seth Anderson | 11th | |
| 182 | Ian Bush | 11th | |
Wisconsin
| | | | |
| --- | --- | --- | --- |
| 120 | Nicolar Rivera | 11th | 12 (126) |
| 170 | Clayton Whiting | 11th | 13 |
| 106 | Dawson Johnson | 9th | |
| 106 | Reid Spurley | 9th | |
| 106 | Tyler Klein | 12th | |
| 106 | Luke Dux | 10th | |
| 113 | Easton Cooper | 9th | |
| 113 | Jake Stoffel | 9th | |
| 113 | Shane Corrigan | 11th | |
| 113 | Brayden Sonnentag | 10th | |
| 120 | Alec Hunter | 12th | |
| 120 | Aiden Crawley | 10th | |
| 120 | Greyson Clark | 10th | |
| 126 | Michael Smith | 12th | |
| 126 | Cody Goebel | 11th | |
| 126 | Treyton Ackman | 11th | |
| 132 | Blaine Brenner | 12th | |
| 132 | Jack Severin | 12th | |
| 132 | Jager Eisch | 12th | |
| 132 | Michael Parker | 12th | |
| 132 | Caleb Meunier | 11th | |
| 132 | Tanner Gerber | 11th | |
| 138 | Aeoden Sinclair | 9th | |
| 138 | Bryce Jankowski | 12th | |
| 138 | Tyler Goebel | 12th | |
| 138 | Cael Erickson | 11th | |
| 138 | Gavin Drexler | 11th | |
| 145 | Bailey Thelen | 12th | |
| 145 | Brody Lee | 12th | |
| 145 | Connor Thorpe | 12th | |
| 152 | Zach Gunderson | 12th | |
| 152 | Mitchell Mesenbrink | 11th | |
| 152 | Braeden Scoles | 10th | |
| 152 | Ethan Riddle | 10th | |
| 160 | Aiden Vandenbush | 12th | |
| 160 | Cole Hansen | 12th | |
| 160 | Jack Ganos | 12th | |
| 160 | Luke Mechler | 12th | |
| 160 | Bowen Rothbauer | 11th | |
| 170 | Brody Hemauer | 11th | |
| 170 | Samuel Schwabe | 11th | |
| 182 | Mason Diel | 12th | |
| 195 | Max Ramberg | 11th | |
| 285 | Ben Kawczynski | 12th | |
Wyoming
| | | |
| --- | --- | --- |
| 113 | Sefton Douglass | 11th |
| 120 | Clayson Mele | 12th |
| 145 | Analu Benabise | 12th |