2020 Senior Nationals
Joe Rau Leads Division III Success At 2020 Senior Nationals
Joe Rau Leads Division III Success At 2020 Senior Nationals
Second-place finisher Joe Rau was a bright spot for former NCAA Division III competitors at 2020 Senior Nationals.
Oct 13, 2020
by Anthony Bonaventura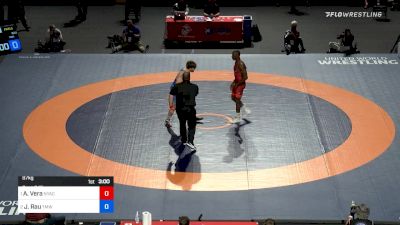 Unlock this video, live events, and more with a subscription!
Get Started
Already a subscriber? Log In
Unlock this article, live events, and more with a subscription!
Get Started
Already a subscriber? Log In
Some amazing wrestling took place this past weekend at the 2020 U.S. Senior Nationals in the Xtream Arena in Coralville, Iowa. Division III had a strong representation in both the Greco-Roman and freestyle field. Let's take a look at some of the best performances by wrestlers that were repping DIII out in Iowa.
Greco-Roman
Joe Rau led the way for DIII in Greco-Roman to kick off the weekend. Rau is no stranger to success at the senior level after capping off his career at Elmhurst University with an NCAA title at 184 back in 2013. Rau has made two world teams and is one of the favorites to make the Olympic team in 2021.
Rau, now training at the Illinois Regional Training Center, came into the weekend as the #2 seed and cruised to the 87 kg final after recording three first period technical falls. Rau matched up with #1 seed Alan Vera in the finals for the 87 kg title. Alan Vera was an international wrestling star competing for Cuba at the beginning of his career and now lives in the United States; he made his first Cuban national team at the age of 18. Vera was up 5-0 at the break and Rau could not get his offense going. He had an opportunity in par tarre in the second but Vera's defense was too much. Rau would finish in second but still sits in a good position heading into the 2021 Olympic trials after qualifying the weight for the U.S. back in March.
A pair of Auggies also had nice showings in their respective brackets. Donny Longendyke took bronze at 130 kg after entering the weekend as the number four seed. Longendyke went 5-1 and avenged his only loss of the weekend in the third-place bout. Ryan Epps made his senior-level debut at 77 kg and started off strong by knocking off the #7 and #2 seeds to make the semi-finals. Epps took on Kendrick Sanders in the semi-finals and it was a competitive bout. Sanders was able to score the only takedown of the bout to drop Epps to the consolation bracket where he eventually would finish in fifth place.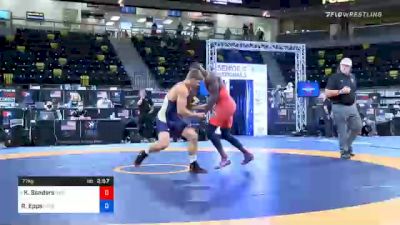 Unlock this video, live events, and more with a subscription!
Get Started
Already a subscriber? Log In
Loras College had two wrestlers in the field that found themselves on the podium, Eddie Smith and Brady Vogel. Eddie Smith was a two-time All-American for the Duhawks and finished in eighth place at 77 kg. After dropping his first bout, Smith rattled off three wins to secure a top-eight finish. Brady Vogel put together an impressive showing at 97 kg. Vogel is a senior for the Duhawks this year and will look to be their guy at 197. Vogel went 3-2 on the weekend and finished in fifth place with a pair of first-period falls.
Freestyle
The former Central Michigan standout C.J. Brucki is currently going into his third year with The College of New Jersey wrestling program as their director of operations. Brucki was a two-time Division I NCAA qualifier and currently trains with the New Jersey Regional Training Center. Brucki has been active on the senior level while coaching with the Lions during the collegiate season. Brucki recorded four wins, one fall, and one tech fall, in the 86 kg bracket and finished in eighth place. This is the second time Brucki has placed at Senior Nationals, he took eighth at 79 kg back in 2019.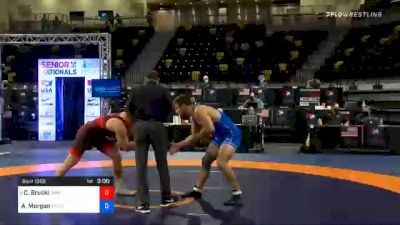 Unlock this video, live events, and more with a subscription!
Get Started
Already a subscriber? Log In
Elroy Perkin had a good showing this past weekend in the 74 kg bracket. He has been competing on the senior level for the last five years, at 70 kg and 74 kg, after a solid career with the Warhawks of UW-Whitewater. Perkin was a two-time All-American for UW-Whitewater at 149. Perkin currently trains with the Minnesota Storm and started the weekend strong with two first period technical falls. Those wins advanced Perkin to the round of 16 where he would face number three seed Anthony Valencia. This match-up had some fireworks and a combined 29 points when it was all said done, it was one of the best matches of the weekend. Perkin had a lead late into the second period but could not hold on as Valencia came roaring back to win 16-13. Perkin would finish his run at Senior Nationals with a 2-2 record.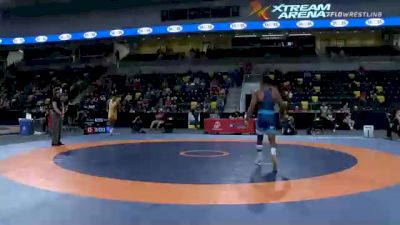 Unlock this video, live events, and more with a subscription!
Get Started
Already a subscriber? Log In
Here is a full list of the rest of DIII wrestlers that competed this past weekend
William Baldwin FS 97 Averett
Samuel Braswell GR 60 Averett
Joseph Jones FS 65 Averett
Alex Logsdon FS 57 Averett
Trent Ragland FS 125 Averett
Jake Evans GR, FS/130, 125 Waynesburg
Tom Foote GR 130 Williams
Jack Nigro GR, FS/77, 74 WPI
Aaron Goldman FS 74 Wesleyan