Unlock this article, live events, and more with a subscription!
Get Started
Already a subscriber? Log In
From its unexpected arrival on the schedule, to a slow-build and subsequent surge pertaining to registration numbers, and then the last-minute switch to a one-day format, the 2020 US Nationals for Greco-Roman somehow managed to take all of the unique circumstances involved and forge its own identity.
As if the tournament were a person instead of a "thing", and decided to declare, 'If this has to be different, then let's show them different.'
And that mission started right away. Beginning with the upheaval in the early rounds at 60 kilograms all the way to the final round Friday night, more than enough evidence was gathered to ensure that no one will forget this event anytime soon.
60 kg
Champion: Alex Thomsen (Nebraska Wrestling TC)
Runner-up: Mosha Schwartz (Unattached)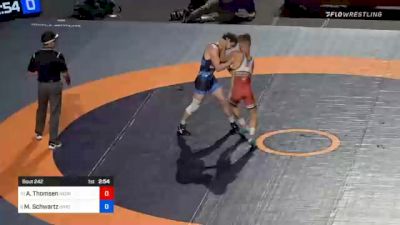 Unlock this video, live events, and more with a subscription!
Get Started
Already a subscriber? Log In
Thomsen, a former enthusiastic Greco age-group participant who placed 6th at the Big Ten Championships for Nebraska last season as a redshirt freshman, caught fire on Friday by defeating 2019 Fargo Junior champ Camden Russell before upsetting top-seeded US National Team member Taylor LaMont. A high tempo, trite perhaps to say, is what aided Thomsen in engineering those two huge early wins, but an ability to negotiate position and stay in exchanges is why he engineered a run to the finals.
'16 Cadet World Team member Mosha Schwartz had made sporadic appearances in Greco over the past few seasons prior to yesterday, but those were fleeting. After this tournament, hopefully he will come around more often. For as impressive as Thomsen's run certainly was, Schwartz's wasn't far behind -- if at all. On his march to the final, Schwartz downed multi-time Junior/U23 World Teamer Randon Miranda thanks to a furious second period, and outlasted Dylan Koontz, who himself was having a very strong outing.
Thomsen deftly and diligently observed a pace that forced Schwartz to constantly react and reset on the feet. Quick ducks and auto-underhooks to Schwartz's left side represented the offensive approach. Thomsen came close to nice scores on a couple of attacks, but Schwartz found success with counters that turned into scramble opportunities. The playback between the two was just about even through most of the contest, and down by two with seconds left, Schwartz nearly came away with a match-clinching takedown. But in the end, it was Thomsen's day, just as it had been all along.
67 kg
Champion: Benji Peak (Sunkist/NTS)
Runner-up: Calvin Germinaro (Minnesota Storm, 5PM #8)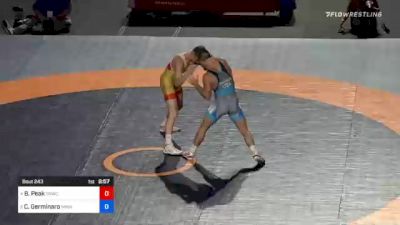 Unlock this video, live events, and more with a subscription!
Get Started
Already a subscriber? Log In
The talk has not subsided. There were three main storyline elements coming out of the tournament: the aforementioned upsets at 60 kilos; the man who won at 77; and Peak's walk-off against '19 National runner-up Germinaro, though really, it was his entire performance as a whole that is still hanging out in the subconscious.
Just to get to Germinaro, Peak first scorched his way to the semifinals by running up three consecutive tech's (outscoring the opposition 29-0 in the process while amassing a mere 1:48 of match time). Once there, he had to somehow solve the Nolan Baker puzzle, which was pretty important since the Illinois product had pinned him twice last year. And...Peak, smartly but aggressively, answered each exchange in their abbreviated showdown to the tune of a 9-0 superior.
Everyone should have seen it coming. He had all the momentum.
A snap to bodywrap to spin combination early in the first set in motion the endgame. Peak got his takedown, and then swiveled up with a side-lift that Germinaro appeared to defend adequately. But as the pair crashed out of bounds, Peak gestured that his legs were interfered. The officials checked, agreed, and docked Germinaro two points. Peak then reset from par terre top and walloped another lift, and that was all she wrote.
As soon as the hold was executed, Peak began celebrating like a madman. Germinaro got a kick out of it. The two finalists are good friends. In fact, Germinaro -- who certainly wanted to nail down that "stop sign" for himself -- laughed and celebrated with Peak, and they posed for the cameras together like two pals on a fishing trip. A much-needed "feel good" moment for wrestling during an era in which smiles have been hard to come by for so many.
77 kg
Champion: Kendrick Sanders (NYAC/NTS, 5PM #12)
Runner-up: Patrick Smith (Minnesota Storm, 5PM #1)
Unlock this video, live events, and more with a subscription!
Get Started
Already a subscriber? Log In
Other than a "fight for your life" win against two-time Division III National champ Ryan Epps in the semis, Kendrick Sanders was nearly untouchable throughout the tournament. Then again, the same can be said of reigning World Teamer Patrick Smith, whose only severe challenge of the day came in the form of teammate Alec Ortiz. The playing field leading into the finals was as even as it could be, given the circumstances; and though Vera/Rau was put last on the card, the 77-kg finals match-up on paper figured to guarantee more action.
And it did. For one athlete.
When people talk about the type of offense of which Sanders is capable, the '20 Nationals (but for one bout) and his finals win against Smith are what they are trying to describe. True to form, Smith was a buzzsaw at the opening whistle, crashing into Sanders in an effort to get moving on what was to be a systematic breakdown intended to leave his opponent an exhausted, ineffectual heap. After all, no one can actually keep up with Smith when it comes to pace, except for maybe Mason Manville. Therefore, the plan against him sees opponents often just try to survive long enough to hopefully get a chance on top, or somehow make him walk into a counter.
To be sure, Smith owned the early exchanges, causing Sanders to play back inside. But after the first minute of action, Sanders started navigating the fight a little more cleanly, patiently. They were trading in the brisk pummel, it wasn't Smith running the show in totality. Then out of nowhere, Sanders ripped the cord on Smith's left side, unfurling a sizzling arm spin for four. Sanders kept Smith's left arm trapped upon taking control and proceeded to roll two gutwrenches. The result was a jolting tech over the #1 guy in the weight class -- along with the third Senior crown of his impressive but enigmatic career.
87 kg
Champion: Alan Vera (NYAC, 5PM #4)
Runner-up: Joe Rau (TMWC/IRTC, world #7, 5PM #1)
Nothing about this was a secret. Without Vera -- whose eligibility to enter a Trials tournament should arrive any day now -- 87 kilograms is doing just fine. Rau already enjoys a spot in the Olympic Trials final after having qualified the weight for Tokyo back in March; behind him, three-time World Teamer Patrick Martinez, multi-time National Team member Jon Anderson, Carter Nielsen, Barrett Stanghill, and Chandler Rogers (supposing he is still a player) provide enough depth to make their Challenge bracket the most compelling of the three heaviest weight classes.
With Vera, 87 is perhaps the toughest up-top counting all of the weight classes. For the likes of Rau, Martinez, and even Anderson (who remains the only active US athlete to have defeated the former Cuban rep), that's a problem. A big one. A real one. And they're just going to have to deal with it.
Friday night's "officially unofficial" main event was a rematch between Rau and Vera from the '19 Schultz semifinal, a bout in which Vera managed to score a blitzing first-period tech. It's Greco, so it pays to dismiss tech falls. Points pile up easily. Two or three techniques in succession can end matches in a near-instant. Technical superiority victories do not mean one athlete is levels above the other, but they do deliver a snapshot of a wrestler's offensive competence. Again, that was not a secret when it came to Vera's skill-set.
Despite the weirdness of this event, with most wrestlers not in peak condition, the anticipation was that Rau would find a way to rake Vera in tight, bully a little bit, plunge an underhook or two that allowed for advantageous positional jousting, and hope to eventually gain a score from par terre. Not that Vera wasn't considered the favorite. He was. But it also wasn't like he was expected to dictate each phase of the match and own the majority of meaningful tie-ups. Yet, he did.
The one thing Rau could not do was give up a multi-score from bottom. In the first period, Vera received the first passivity and managed a single gutwrench that yielded a 3-0 lead. For Rau, this was a net positive, until later in the frame Vera ambled for a takedown. Oddly, the official called them back to their feet immediately, leaving Vera befuddled as to why he was not given the chance to work for a turn. He wasn't alone.
Rau appeared to have plenty of vigor left for the second period. He wasn't making much headway in the ties, but neither was Vera. Thus, Rau got his crack from par terre a minute into the frame. Vera didn't budge on the initial gut attempt; then Rau went to his high-gut-lift but couldn't quite stretch the hold enough to put Vera's heels on the surface.
From then on, Vera pecked, using his reach (and size, and strength, and positional awareness) to keep Rau where he wanted him, which is to say nowhere close to threatening with an attack. Conditioning was probably a factor, for both, but the pace didn't drop off a cliff. Rau still tried to charge, only in the match's waning stages, that resulted in an off-balanced sequence on which Vera capitalized to pick up one more takedown and a commanding 7-1 lead.
For all intents and purposes, those two points sealed the deal, making Vera a first-time National champ and a looming presence everyone at 87 kilograms will see in their dreams until April.
97 kg
Champion: Nick Boykin (Sunkist, 5PM #6)
Runner-up: Chad Porter (Sunkist, 5PM #9)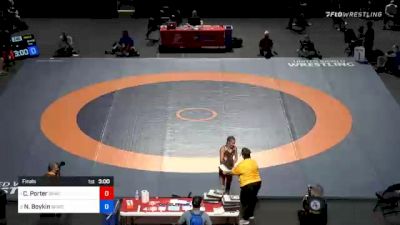 Unlock this video, live events, and more with a subscription!
Get Started
Already a subscriber? Log In
It was a tactical, compelling match-up at 97 kilograms, where two recent Junior World Team members (Porter, '18; Boykin, '19) put forth a battle that, while not big on offense, certainly demonstrated the skill and refinement both have developed over the past few seasons.
To his credit, Porter opened up with a crisp arm spin attempt soon after the whistle, forcing Boykin to adjust and athletically scramble in order to avoid. He held on tight, did Boykin, and countered the maneuver for a takedown. Follow-up from the mat was unavailable, and it was back to the feet. The key for both wrestlers is looseness. It is the one area in which they are most alike. Neither engages in tight, "nothing to see here" type of pummels. Rather, they are apt to switch in and out ties whilst feeling for position -- or appendages -- that lead to opportunities. Few windows were available, and the ones that were disappeared quickly.
Down 2-0, Porter walked out for the second period still keen on observing a more strategic pace. Meanwhile, Boykin had a hop in his step, pouring inside on brief exchanges and negotiating underhooks. The work rate was recognized, giving Boykin a passive point and shot from par terre, but Porter defended without issue. The deficit was now three for Porter midway through the second and he had to make something happen. A promising moment for him arrived shortly thereafter. Coming off of an exchange, he darted towards Boykin and drove him off the line for a point. He was in the thick of it, and the outcome for Boykin appeared in doubt.
It was a race to the finish. Porter needed a score, and Boykin couldn't just deflect any and all movement in the pocket. Something had to give, and that something was Porter, who gave up a very late takedown. Boykin held on the rest of the way to collect his first Senior domestic title, though both wrestlers acquitted themselves quite well throughout the entire tournament.
130 kg
Champion: Cohlton Schultz (Sunkist, 5PM #2)
Runner-up: West Cathcart (NYAC/IRTC, 5PM #7)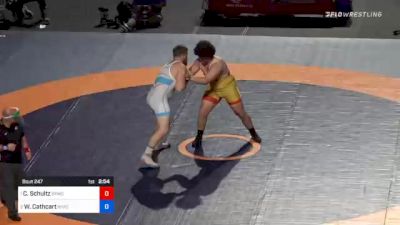 Unlock this video, live events, and more with a subscription!
Get Started
Already a subscriber? Log In
Young Mr. Schultz is adapting to the Senior level as exemplified in two specific areas: 1) he is maintaining stout position at all costs, and if he cannot open up opponents or incite counter-score opportunities, he has little difficulty fighting for underhooks and deciding where on the mat the pummel takes place; 2) he is understanding the value of sending little messages in the middle of matches that are hard to miss.
The latter note is that in three bouts dating back to his '19 National triumph over Jacob Mitchell, Schultz has given opponents an extra shove. He did it to Mitchell in the '19 finals (though an argument exists to where Mitchell asked for it). On Friday, he pushed both Tanner Farmer and Cathcart when they were already off the line.
Schultz is a sportsman; as respectful, well-mannered, and good-natured as it gets. Which is why this isn't a bad thing. Heavyweight wrestling is rough business. It's not a division for slicksters. To cede an inch is to betray a weakness that can come back to haunt athletes during the most crucial moments of a match. Plus, Schultz isn't recklessly bullrushing; he's just letting them know who's in charge.
On the flipside is Cathcart, who himself put forth the best Senior result of his career and seems to be improving at a rapid enough rate to warrant the increase in attention that is surely to come his way as 2021 approaches. Cathcart was mauled by Schultz last year, and was still outmatched positionally in spaces on Friday, but displayed a more definitive sense of where his body needs to be -- and at 130, that is usually half the battle.
Schultz's premier vulnerability in this event stemmed from par terre top. Against newcomer Farmer in the semis, Schultz cranked a gut that shook loose after the turn, allowing Farmer to hip-heist, step over, and put Schultz on his back. It happened against Cathcart, too. Almost identically, with the only difference being that Cathcart didn't expose.
Other than those hiccups, it was rinse-repeat. Schultz reasserted himself in the ties, preferring short to mid-range underhooks. Whether he is able to weave his arm up the back or simply settle for behind the triceps or shoulder, the effectiveness does not diminish. Why? Because even though a score is extremely unlikely with a shallow underhook, Schultz can use his legs and hip placement to do the talking (and walking). His confidence on the feet in this position is unwavering. And Cathcart knows this, as well, since he gave up three step-outs in their final.
All in all, it was a solid match for both. Schultz overcame near-disaster only to lean on his bread-and-butter en-route to victory, while Cathcart showed that he is indeed a very legitimate contender with another six months to shore up problematic areas.
One last item worth mentioning is Schultz's consistency, especially when observing his relative youth. In three Senior domestic events (not counting '19 Final X), he has won a Trials Challenge Tournament and earned back-to-back National titles. Not easy to do, and he has only just gotten started.