2020 Senior Nationals
Senior Nationals Finals Match Notes
Senior Nationals Finals Match Notes
Follow the finals action live from Senior Nationals in Coralville, Iowa.
Oct 11, 2020
by Andrew Spey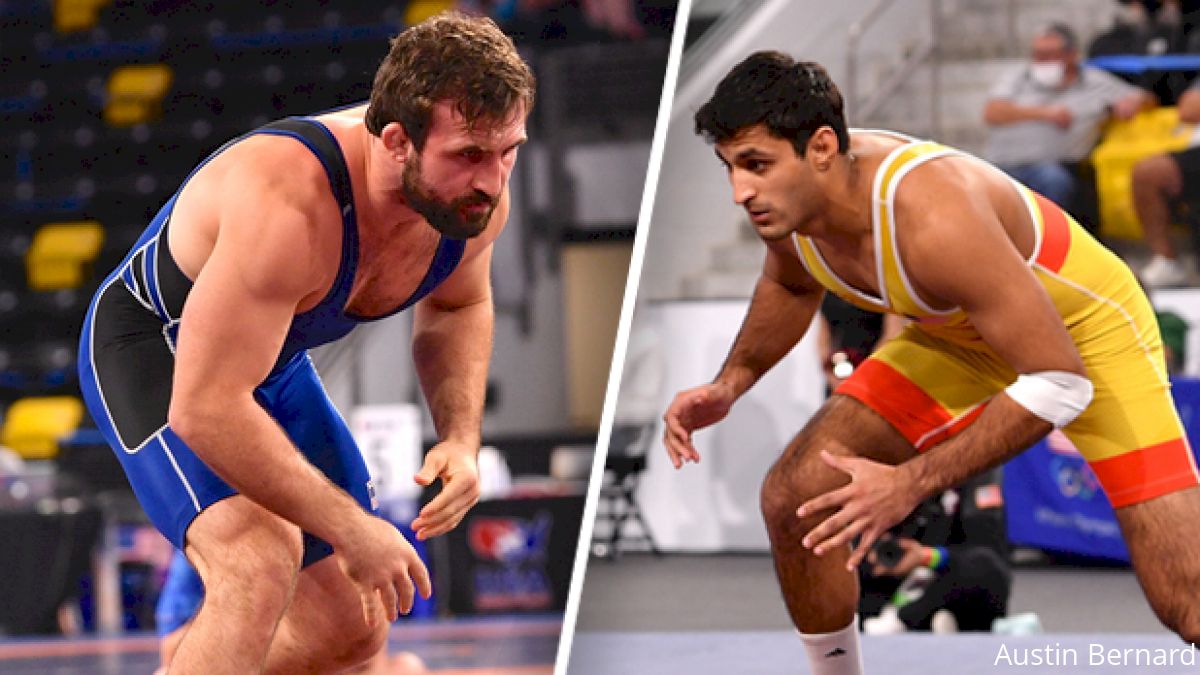 Unlock this article, live events, and more with a subscription!
Get Started
Already a subscriber? Log In
The first major senior-level wrestling tournament since the pandemic has almost concluded and it was wonderful. Senior Nationals from Coralville, Iowa was tremendous. Now for the finals, which I will live blog for you.
I'm all hopped up on yerba mates, let's go!
97 Kilograms
Kyven Gadson vs Kollin Moore
1st period: Quick attack from Kyven, snap down into a head pinch, he'll get two. Moore fires back he gets a duck under for two. Then a turn with a trap up high gut and Moore takes the lead outright 4-2. Gadson with over unders, then finds himself with another head pinch, rolls thru and scores two. It's 4-4, Gadson with the criteria lead. Fast-paced first period. Low single for Moore and he collects two more. Transition to a lace and Moore works for two more. 8-4, Moore with a four point lead. Still 30 seconds to go in the first. And that's how the period will end.
2nd period: Par-terre offense has been the difference for Moore so far. Let's see how Gadson responds. Gadson changes levels, grabs an ankle. Moore able to get his hips back and defends for a stalemate. Two minutes left in the match. Gadson still down four, one minute left. Gadson shoots a double, Moore rolls him through on the counter, Gadson able to recover for a reversal for one. 10-5 in Moore's favor. Gadson can't get the lace going and they'll restart with about 30 to go. Gadson steps in, looking for a trip. Moore drops on to a leg, Gadson tries to tip him over for two, Moore doesn't expose and instead gets the takedown. Final score, 12-5. Impressive victory for Kollin Moore!
---
125 Kilograms
Tanner Hall vs Mason Parris
1st period: In collar ties, Parris drops to a knee, keeps the tricep and there's a dump for four! Early score, Hall counters and rolls Parris for an exposure but Parris recovers then guts Hall for two more. Fast start, its 6-2. Another shot for Parris, Hall tries to counter but Parris gets the takedown. 8-2. Two more guts and just like that it's over! Mason Parris makes a statement. The junior world champ wins Senior Nationals!
---
65 Kilograms
Andrew Alirez vs Evan Henderson
1st period: Surprise finalists in a very deep bracket, though perhaps not to those on Team Alirez or Team Henderson. First attack is courtesy of Alirez. No score. Henderson with the experience, graduating UNC in 2016, Alirez about to enter his true sophomore season at Northern Colorado. Alirez in on a single, he's trying to suck it up, Henderson slaps on a front head lock, no points in the exchange. We're back to neutral. No scores yet so Henderson goes on the activity clock with about a minute left in the period. Deep shot by Henderson but Alirez defends. Alirez picks up a shot clock point, leads 1-0. Alirez with a double leg in short time, finishes on a single out the back door. He collects two and takes a 3-0 lead into the break.
2nd period: Henderson starts the second looking for a shrug and foot sweep. Upper body ties but no scores. Henderson shoot, Alirez sprawls, snaps and goes behind for two more. He's got a 5 point lead, less than two minutes for Henderson to mount a comeback. Henderson on a single leg, Alirez pulls it back and out of danger. Henderson charging forward, Alirez defending. A pause in the action with 41 seconds left on the clock. Alirez might have a bloody nose. He gets checked out and is okay and back to the action we go. Henderson picking up his pace but Alirez is solid. Henderson chases Alirez out of bounds to get one point but Henderson needs more with just 10 seconds to. Alirez circles for the rest of the bout and the young man from Greely, Colorado is your Senior Nationals champion!
And just like that we're halfway through these finals bouts. I may not need that third can of yerba mate after all.
---
74 Kilograms
Logan Massa vs Anthony Valencia
1st period: Valencia went through a couple wars to make this final. Massa has a comparatively tranquil trip through his side of the back. Valencia strikes first with a slideby, quad pod defense from Massa and he gives up one going out of bounds. Massa answers with a single leg, muscles Valencia up, gets rear standing then Massa goes back arch and throws Valencia for four. He leads 4-1. Massa very calm and collected and he ripped off one of the more impressive moves of the finals so far. Massa being aggressive, pushed Valencia out of bounds but its ruled grounded, no points. Massa drives Valencia out again but Valencia sprawls enough to get another grounding rule so no points. 30 seconds left in the first. SHort offesen head in the hole for Massa, Valencia tries to cartwheel his hips over but Massa stays in position and finished for two more. Period ends with Massa up 6-1.
2nd period: Valencia staring at a 5 point deficit. He gets it down to 4 points with a step out. Massa answer back with a double and he drives Valencia into the next mat. Valencia only gives up one though. Valencia trying to catch up, reels off a low shot but Massa is ready and goes behind for two of his own. 9-2 is the score in favor of Massa. Massa keeping the pressure on, methodically works for another takedown, 11-2. 30 seconds left in the match. Massa as chill as can be. Massa counters a Valencia flurry and gets the tech fall. 13-2, Massa overwhelmed Valencia. Massa wins his second Senior Nationals in less than 10 months.
---
57 Kilograms
Vito Arujau vs Dylan Ragusin
1st period: Just as I predicted, Vito Arujau will take on true freshman Dylan Ragusin for the title. Vito comes out of the gates firing but Ragusin whizzers him out of bounds for the first point of the match. A nice flurry in the center of the mat and we're stalemate one minute into the bout. Arujau drops to a single, fights to finish quickly and looks for a turn but won't get it. 2-1 Arujau leads. Arujau in on a shot again, but savvy wing roll by Ragusin gets him two points on the exposure. Ragusin leads again 3-2. Arujau comes up on top to tie it. Then a leg lace for two. Arujau switches his grip to a two-on-one, like he's going to tilt Ragusin but he rolls him throw enough times to get the tech. 13-3! Cinderella run for Dylan is over. Vito earns a stop sign!
---
86 Kilograms
Nate Jackson vs Gabe Dean
1st period: Our main event already! Jackson shoots first and early. Dean defends. One minute in and no scores yet. Dean gets a passivity warning. Dean goes on clock with 90 seconds to go in the period. Dean can't find a way thru Jackson's head and hands and gives up the first point. Jackson picks up a passivity warning but no scores for the rest of the period.
2nd period: Final three minutes of the tournament! Double leg from Jackson, but he can't cram Dean over. That's a tough guy to cram. Jackson goes on the clock now. Dean like a stonewall holding center. He picks up a shot clock point to hold the slightest of edges via criteria. 1-1 with 90 seconds left. Dean pushing Jackson to the edge of the mat. Jackson shoots but Dean steps out of the way. 30 seconds to go. Low shot, Dean down blocks, he's chewing up clock. Jackson stuck underneath, and time runs out for Nate Jackson. Gabe Dean returns to the mat and wins Senior Nationals!
And just like that, our post-pandemic (will post start of the pandemic anyway) tournament is in the books! Thanks for reading and apologies for the typos. See you soon friends!